Happy Thursday everyone, today I am taking you to Hungary for the delightful wedding of Timea and Paul, which ahs been captured perfectly by Matt Bedenoch. Timea is Hungarian, and even though they both met and live in Egland they decided that Hungary would be a more exciting place to get married and it worked out a lot cheaper. In fact they managed to put the whole wedding together for under £6K! As they are both lovers of rock music they chose this as their theme, mixed in with a colour pallet of blue and yellow. A super fun wedding, full of cute DIY touches and a whole lot of love.
A beautiful day followed by an amazing crazy party.
Timea and Paul were married on the 4th June 2016 at the Topart Hotel, Balatonvilagos, Hungary. 'We decided to get married in Hungary because Timi is Hungarian, the Lake Balaton and surrounding area is very beautiful and it was much better value for money than marrying in England. We fell in love at first sight with the Topart Hotel with its small boutique family feel and setting on the lake shore. We had friends coming from all over England, Hungary, Europe and America so we wanted somewhere where they could also have a nice holiday for a few days. We had 80 guests and took a bit over a year to do the planning'.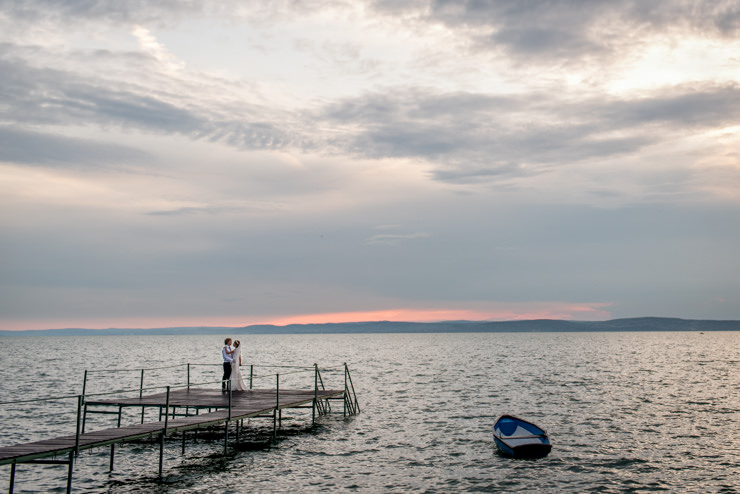 How they met
We first met online and had our first date in Russell Square in central London in January 2008, we'd been together nearly 8 and a half years when we got married.
The Proposal
It was our 7 year anniversary weekend and Paul organised a surprise weekend away in Lisbon, Portugal. I didn't know where we were going until we got to the airport gate. We stayed in a lovely boutique hotel and after all the sightseeing he proposed in the hotel room, knowing I'd have got embarrassed if it was a big public display.
How did you allocate your budget?
We didn't have a set budget though tried to keep it under £6,000 and mostly bought things as we went along from places like Etsy
Where did you splurge and where did you save?
We had about £6000 to spend, so we tried to do a lot of decorations ourselves. The bride with a bridesmaid's helped handmake most of the decorations. Ring pillow, Mr and Mrs banner for the top table and we recycled old pickle jars to use as vases for the flowers, which we decorated with lace and rustic burlap.
Our biggest outlay was the venue and catering though the food at the wedding was a lot cheaper than would pay in England and the hotel allowed us to bring our own alcohol and pay a corkage so we saved significantly there.
The other big splurges were on a top quality photographer and flying him over from the UK and a live band for the evening.
The flowers were a big chunk of the budget, as we had quite a lot around everywhere.
The dress was handmade by a friend of the bride so we saved a lot there. The bracelet was made by a friend of the bride, as a wedding gift.
Why did you choose your photographer?
He was recommended by a friend of ours who was also a wedding photographer. We chose him because we felt like we found a friend as soon as we met. As the photographer would be staying at the venue with us for a few days before, we wanted someone who was fun and would fit in, as well as being able to take awesome photos. In Hungarian tradition the bride and groom have to be the last ones out of the party, when we told him this he agreed he'd wait up to the very end of the night. He was true to his word and ended up in the lake with some of the guests around 3am!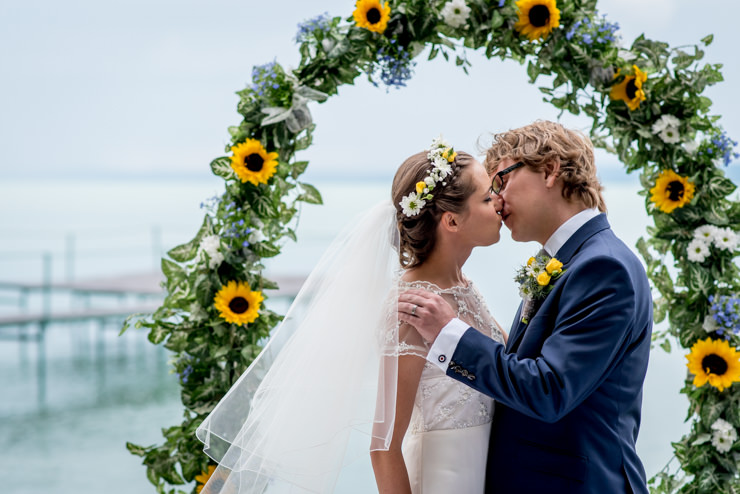 The Dress
My dress was made by a friend who is a dressmaker in Hungary. I bought the material in London and ordered the lace from America. Found my shoes in a sale, was love at first sight. A very good friend Kara Hodges made my bracelet. The florist created a beautiful flower headdress.
The Suit & Bridesmaids
The groom's suit was a Kimodo blue tonal texture by Ted Baker. It was perfect until a bit over enthusiastic dancing at 1am led to splitting the trousers much to the amusement of everyone on the dancefloor.
My 4 bridesmaids were all very different in shape and style so I decided to buy material and let them do what they wanted with it.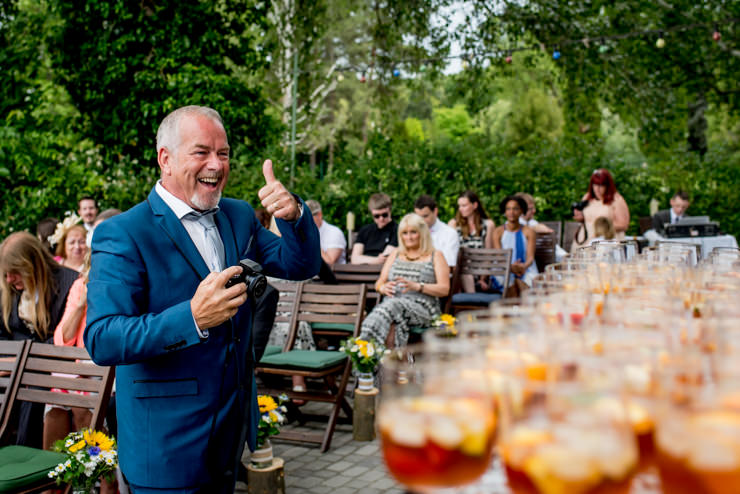 Theme or Colour Scheme
We couldn't really pick a colour at first, so just went with basic rustic colour. Then when I picked royal blue for my bridesmaid dresses and sunflower for my lead flower that somehow set the colour theme. The theme for the wedding was rock music (which we both love). Each table was named after a classic album with the table centre pieces sat on vinyl records. The placeholder names were printed on cd discs made to look like mini vinyl replicas.
Flowers
Sunflowers, camomile and cornflower  as a base and I let my florist play around with the filling flowers. Think they did a great job.
Decoration
We couldn't transport a lot of decoration from the UK so we just decorated the tables and put some candles by the windows. The banner on the top table was handmade with burlap and we bought some small bits and pieces from ETSY such as tiny wooden love hearts to sprinkle on each table.

Food
We had a traditional Hungarian menu, a vegetable soup followed by a mixed meat plate served with vegetables. For dessert we ordered a selection of Hungarian cakes from a small bakery.
Wedding Cake
The wedding cake was a traditional Hungarian caramelised walnut cake (Grillazs) which we had to smash with a hammer and it was a big surprise for most of the guests. You have to smash it hard as the more pieces it breaks into the more years of happiness you will have together.
Entertainment
We hired a seven member band called The Bananas Band. We saw them at a friends wedding in Hungary a couple of years before and remembered they were great fun and played lots of English songs. They played lots of Madness and Specials ska songs and even a rendition of the Benny Hill theme song!
Stationery
We designed the seat plan ourselves and used a local print company captureitprinting.co.uk to print it and album covers for each of the table names. Everything else such as invites, menus etc. we made ourselves. The placeholders were printed on a "vinyl cd" which everyone loved and took home as a keepsake. Our guestbook was handmade by one of the bridesmaids.
Special Moments or Highlights
We loved the whole day, but I think smashing the cake was a pretty good one. We kept it quiet from everyone except the photographer so it was a big surprise.
Also we had another Hungarian tradition where the bride is kidnapped and the groom has to get through tests to reveal the location of the bride and deserve his first dance with his new wife. Paul passed the test but had to do a shot for every question he got wrong. Luckily he only had to do seven!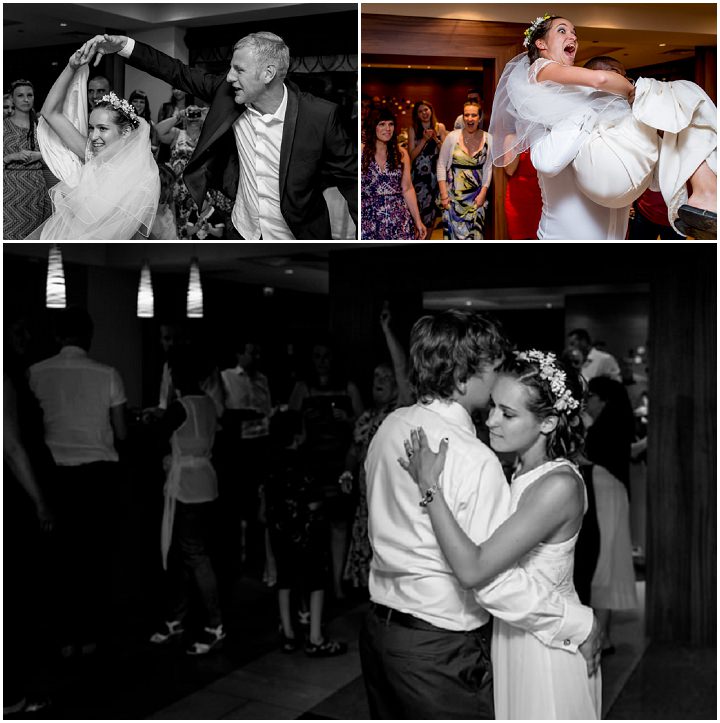 Advice for other couples
Allow yourselves plenty of time if you can and don't leave thing to last minute. We had a few things go wrong leading up to the wedding but luckily had time to fix things before the day.  Also don't worry too much about the small details as very few people will actually remember. Just try to be relaxed about the small things and all will be fine.
Biggest Surprise
When at 11am we had thunder storm coming and it looked like our beautiful lake side ceremony was not going to go to plan, the staff had even started setting up a room inside, but luckily the wind blew the clouds away and the ceremony ended up being perfect!
Also having to ask for directions when we went for the view point for couple photos, and meeting some beautiful Hungarian Vizsla dogs. It's interesting because I'm a dogwalker (Timi) and absolutely love dogs and couldn't resist playing with them in my wedding dress. The owners were worried the dogs would get my dress dirty but I really didn't care and the photos are some of my favourite from the day!
Supplier Shout Outs
For more information about Matt's work go to:
mattbadenoch.com/destination-wedding-photographer / [email protected] /  07905132223 / FACEBOOK / T: @matt_badenoch