Good afternoon everyone! This afternoon we have a lovely little feature with the beautiful Ardanaiseig Hotel set in the rolling Scottish Highlands. Both architechtually grand, and perfectly secluded, this looks like the perfect combination for a get-away wedding. With stunning views and food, I think I might have to make the effort to swing by on my way up to the Highlands next week! I am smitten with the Boathouse bridal/honeymoon suite – the views over the Loch must be incredible.
In a fairytale setting on the banks of Loch Awe, Ardanaiseig is Scotland's most wildly romantic hotel. More than 100 acres of private landscaped grounds, woodland walks past streams and waterfalls, a secret walled garden – and its own island! Bridal/honeymoon suite is the hotel's Boatshed on the water's edge. The 16 bedroom Grade 2 listed house, which sits amid 120 acres of wooded grounds near Taynuilt and has its own private island.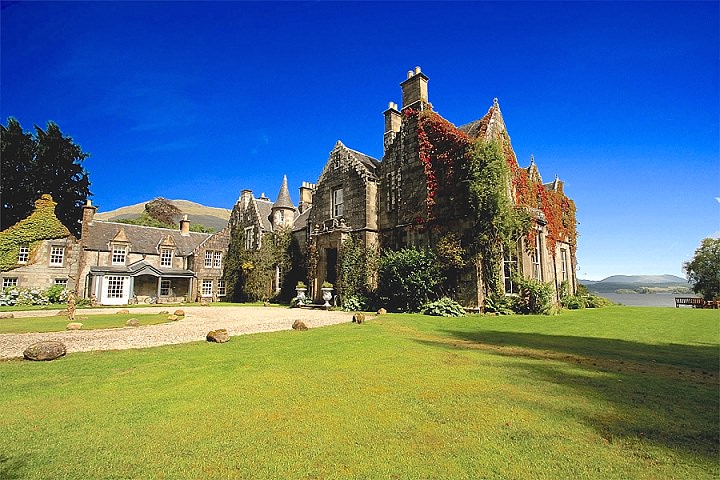 "Filled with antiques, theatrical bedrooms styled by a set designer, dinner served by candlelight. The views of loch and mountain are dreamy, the star-filled skies revelatory," they wrote of Ardanaiseig's romantic appeal. As a country house hotel, they added, "there's a joyous mix of grand and eccentric pieces… Dinner is an elegant affair, with fine cooking."
Ardanaiseig, built in 1834, was designed by William Burn, the architect responsible for two of Edinburgh's most famous private schools – George Watson's College and the Edinburgh Academy which was attended by Treasure Island author Robert Louis Stevenson.
Renowned as a premier wedding venue, its bridal/honeymoon suite is the hotel's Boatshed, a two minute walk from the main building on the edge of Scotland's third largest freshwater loch.
More from Bennie, the owner
What made you start your business?
I fell in love with the property when I came across it in Country Life magazine and immediately felt compelled to drive up to see it in Kilchrenan, Taynuilt in the West Highlands. I bought the hotel in 1985.
What were you doing before?
I was running several antiques markets in London – I still run Grays in Mayfair and Alfies Antique Market in Marylebone today
What makes you different to your competitors?
Our jaw dropping location on the edge of Loch Awe and home-from-home luxury
 What sort of couple do you think you attract?
The elopers!
Can you give me some information on your pricing structure?
We offer a variety of bespoke packages for all sorts of weddings.
Who would be your 5 dream dinner guests dead or alive?
You can see them on the wall of our dining room, in the form of a painting called the "Celebrity Boardroom Meeting"- a Victorian masterpiece originally adorning the wall of Piccadilly nightclub Tokyo Joe. Its former owner soon tired of the unknown Lancastrian town councillors and commissioned a talented artist to paint over them with the recognisable faces of Mick Jagger, Ringo Starr, Frank Sinatra, Rod Stewart, Bryan Ferry, Gunther Sachs, Jimmy Goldsmith, Jim Slater, property investor 'Black Jack' Dellal and Henry Kissinger.
For more information go to:
www.ardanaiseig.com / FACEBOOK / PINTEREST / T: @ardanaiseig / I: @ardanaiseighotel
this is a sponosred post