This afternoon I have a new edition of Bridal Style for you all in the way of gorgeous jewellery and accessories from Cynthier. Their new Gypsia bridal collection features boho head chains, delicate back drop necklaces and all kinds of foot adornment for the barefoot bride. Many thanks to Catch Studios for the images, and can we take a second to appreciate the floral backdrop to the shoot too? Gorgeous. I'm bookmarking those foot-chains for my next beach holiday!
Eclectic, carefree glam styles of jewellery & accessories for brides with wild hearts and free spirited gypsy souls. Various styles to reflect her love of exploring & travelling, from simple elegance to more statement styles. I created pieces for the modern bride: the adventurers, rule breakers & style makers.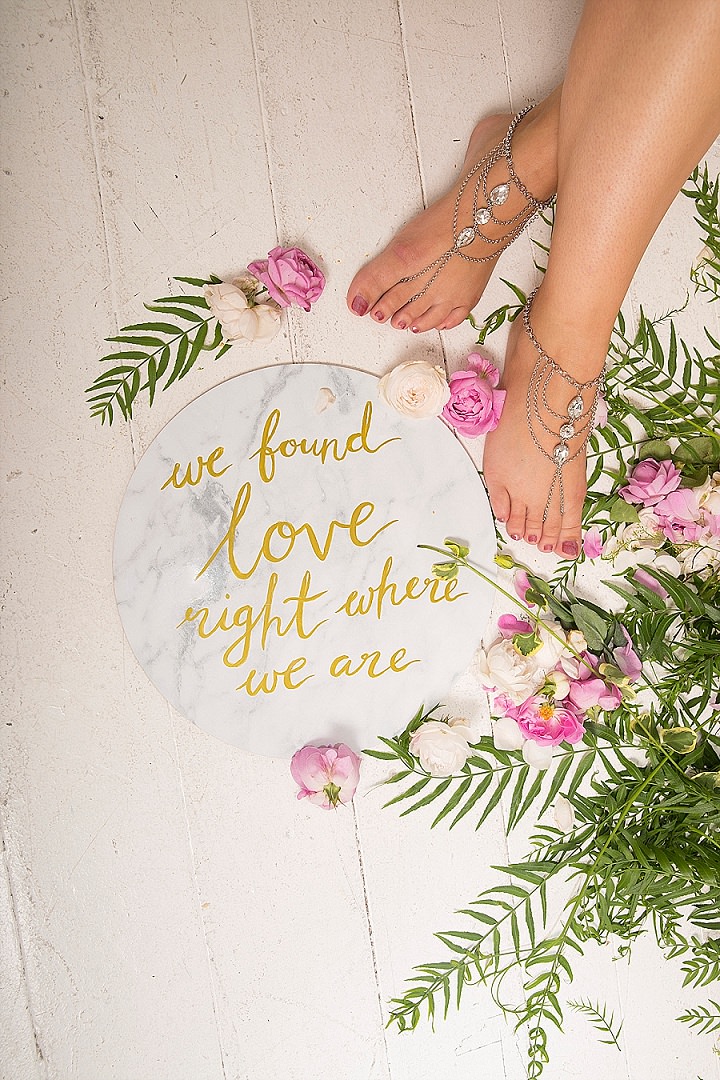 More about Cynthier and the new collection: 
Cynthier began adorning brides in 2013 with beautifully crafted jewellery & accessories for their special day. Inspired by the free spirited bohemian and gypsy flair of strong travelled women, Cynthier creates romantic bohemian, vintage inspired pieces with a little edge. Styles range from classic chic to more modern statement pieces, inviting brides to be adventurous & let her unique personality shine.
Cynthier loves to push past the traditional wedding bounds, by inviting brides to get wild with her modern boho glam styles. With unique accessories including headpieces, body chains, hand pieces & barefoot sandals perfect for brides who dare to be different and want to make a statement on their wedding day. All pieces are also intended for the bride to treasure as heirlooms in hopes that she can wear again as memento of her special wedding day.
What began as bespoke custom pieces requested by brides, Cynthier now also designs a yearly ready-to-wear collection for modern bohemian brides & their bridesmaids. All pieces are hand crafted in her studio in Sydney, Australia. Using the finest quality materials, she loves mixing crystals & pearls with lace and organic shapes into truly bohemian keepsake pieces.
Romantic vintage details fused into modern timeless pieces, the collection includes unique headpieces and body jewellery for the adventurous brides. Styles are suitable for different kinds of weddings from modern industrial, rustic chic to destination beach weddings. To showcase this new collection I gathered other talented wedding creatives to collaborate on a modern gypsy bohemian glam style photo shoot captured by Catch Studio.
Vintage Art Nouveau inspired pearl & crystal jewellery matches beautifully with soft flowing bohemian lace & silk gowns by Candice Lee, including two piece sets perfect for the modern boho bride. Gypsy head chains, hand pieces and statement barefoot sandals paired with the beautiful lace kaftans by Vixen & Kit, perfect for the boho beach & destination bride. 1970s hippie inspired flower crowns, edgy ear cuffs & body chains styled with fun flirty crochet lace & chevron dresses from Rizzkid for the laid back fashion forward bride.
Our headpieces replace the traditional wedding veil, as do all the pieces in the collection are to inspire brides to explore non-traditional modern details for their special day.
When designing this collection I was inspired by images of gypsy dancers and bohemian textures such as dream weavers. I was also inspired by gypset travels especially the Mediterranean. With touches of Grecian goddess, 1920s Gatsby glam and 1970s flower power hippy influences.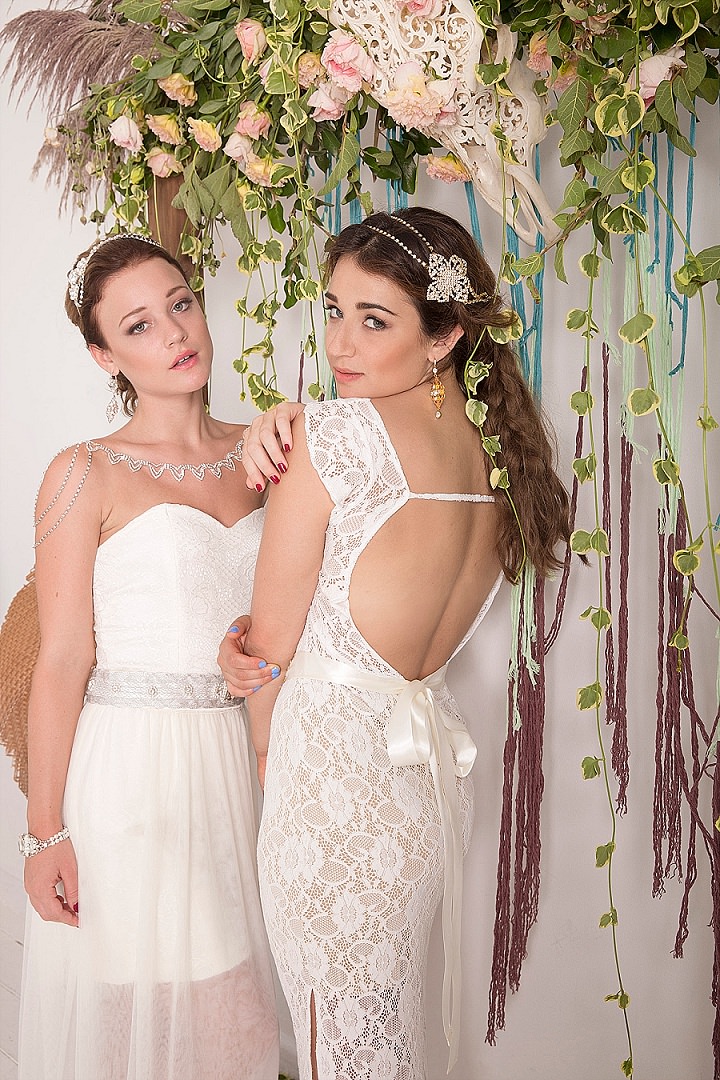 Price ranges from $50 for earrings to $300 for headpieces & necklaces. Brides can purchase my pieces via the website & Etsy shop www.cynthier.etsy.com. Shipping is available to brides worldwide. Local Sydney brides are welcome to our studio to try on pieces or consultation for custom design.
The team eam who made the shoot happen