Happy Friday everyone and how are you today? It's nearly time for another long weekend as it's a Bank Holiday! Woo Hoo! I hope you have something fun planned. We found out yesterday that we are moving house on Tuesday, which is sooner than we thought, so it's all systems go at the moment.
To start the bank holiday weekend in style we have a fabulous wedding from Ayesha Photography. It's a village fete themed wedding set in the grounds of the Chatsworth Estate in a super cute village hall. Matthew and Lucy put together a colourful and incredibly fun day, creating lots of DIY projects and getting crafty with their decoration and entertainment ideas. A thoroughly fun wedding, full of laughter and lots fo love.
'It was an informal, fun, happy gathering of friends and family. The venue and staging were beautiful, and there was plenty of food and drinks to go round!'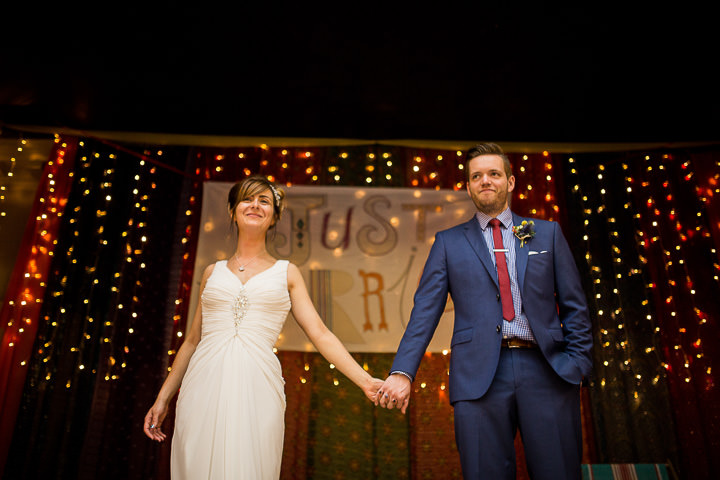 Matthew and Lucy were married on 24th May. 'The ceremony was at the Registry Office in Bakewell, and the reception was at Cavendish Hall, which is a lovely village hall on the grounds of the Chatsworth Estate. Chatsworth is only about 15 minutes in the car from our house, and we love to go there, and have got loads of brilliant memories of fun times we've had there, so it was kind of a natural choice of location for us. The setting was almost too beautiful! We had 80 guests during the day and an extra 50 in the evening. We booked the hall and Orange Tree Weddings around nine months before the wedding, but that was about it until January before the wedding when we started planning, so all in all it was just under five months!  We couldn't have done it all in such a short space of time if it hadn't been for Jules and Mel at Orange Tree, they really did take the stress out of planning for the reception venue!'
How they met
We met at college.  I can't think of anything else to say about it that isn't too mega cheesy – but by the time we were going to be heading our separate ways to university, we realised that we wanted to be us, and that was that really….
The Proposal
Ah, it was such a lovely day! It was our gorgie daughters 5th birthday & we were present opening in bed & Matt had an extra present for me…He had made me a book with a picture of him holding up a sign on every page telling the story of us and our little family & how we could complete it by tying the knot! When I'd finished reading (& crying) our lil girl gave me the ring!
It was the perfect way for him to propose, it suited us so well, for me the idea of Matt getting down on one knee in a restaurant or something made me feel a bit uncomfortable. I also loved the way that he could say everything he wanted to, and I could take it all in & get to keep the book so I can re- live that moment whenever I want to!
How did you allocate your budget
We spent half of our budget on the venue and The Orange Tree, who provided all the decoration, catering, the bar and staff. We divided the remaining money between the band, photographer, the bridal party's outfits, and the remaining decorations, food (the cake, ice cream van, Bakewell tarts and other snacks!).
Where did you splurge and where did you save
We definitely saved by having our reception at a village hall.  We hired it for three days in total, and it cost around £400, which is a really small cost in comparison to most of the other venues we looked at when we were planning.
My dress came from a shop that sells sample dresses and seconds, which helped us to save, I know that dresses are normally one of the most expensive parts of a wedding day. Good old Matt's suit was more expensive than my dress! Not to mention his shoes! What a diva!
We also wanted wedding cars, but were hesitant to spend a lot of money on them. Matt used his grandparents vintage  white SL300, and we called in some favours from our lovely friends Amy and Kev & they borrowed a friends gorgeous camper van, which Kev chauffeured us in!
We were very lucky that a lot of our family helped to chip in towards the wedding, which was a huge help to us, we wouldn't have been able to do it without them.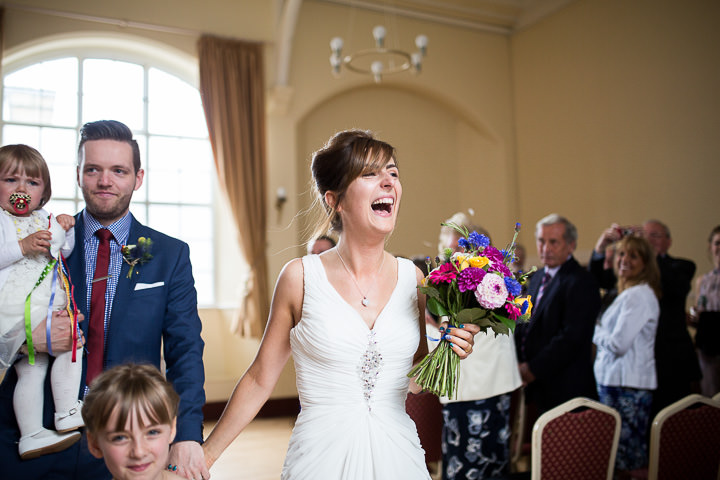 How did you choose your photographer
I feel like it was fate that we found our photographer Ayesha! I ended up finding her through a friend of a friend of a friend.  From the moment we met her we all just clicked & I knew that she understood what we wanted so well, as she is such an intuitive person. We were considering not having a wedding photographer to save some money, but I'm so glad that we did! The photos that she took for us were an extension of the style of our day, and really couldn't have been more perfect.
The Dress
I bought my dress from New York Bride, who source their dresses from designers excess stock, ex-samples and end of ranges. The main reason I went there is because I knew that the dresses were available immediately, as I was a little bit tight for time! Victoria owns the shop & she was simply fabulous! It was the only shop I looked in, as after trying on what felt like a million dresses the one I ended up buying was the second dress I had tried on, I just felt like myself in it which was the most important thing for me!
The Suit and Bridesmaids
Matt's suit was from Hugo Boss, and his shoes were Grenson from Aspecto.
My gorgeous sister in law and bridesmaid Jo had her first baby two weeks before the wedding, so finding her dress was more tricky, we ended up finding a lovely dress from very.co.uk, which we decided if it fitted her at eight months pregnant, then it would fit her straight after the baby was born!
I got my gorgeous big girl Ava's dress from the sale at Monsoon.
My gorgeous baby girl Lila's dress and shoes were from Zara.
Theme or Colour Scheme
We wanted a fun 'village fete' kind of a theme! We didn't want to worry about matching colours or anything like that so the brief for Orange Tree was bright & colourful. It was so good because we like to think that we're creative too, so it was kind of a joint effort in the planning stages.
We also wanted to have games & fun things for the little peeps to do, which fitted in with the (very loose) theme! We had a hook a duck, a very homemade wine bottle ring toss (!!), air hockey and a whole heap of other stuff!
Flowers
I went to The Flower House for our flowers because I know nothing about flowers, but I did know that I wanted something creative & a bit different & Rebecca who owns the shop is certainly that! I just took her a picture with some colours that I liked & told her the amount I needed & left it with her! We had so many compliments about them, they were just right, I couldn't have picked them better if I had tried!
Decoration
The Orange Tree completely transformed the hall, it was almost unrecognisable! They hung beautiful, rich coloured sari fabrics along any plain walls, they used fairy lights, tonnes of bunting & and loads of amazing quirky vintage touches! All of the crockery was mismatched tea sets, and Mel found a dinner plate in a charity shop with Chatsworth House painted on it & gave it to me as a memento to treasure! I still eat my fish fingers off it now!
Jules from the orange tree is the most creative lady & she did mixed typeface colourful chalk boards at the bar, and made the amazing 'Just Married' banner that was on the stage.
We also bought what seemed like hundreds of colourful helium balloons which matt picked up on the morning of the wedding from a party shop in Bakewell.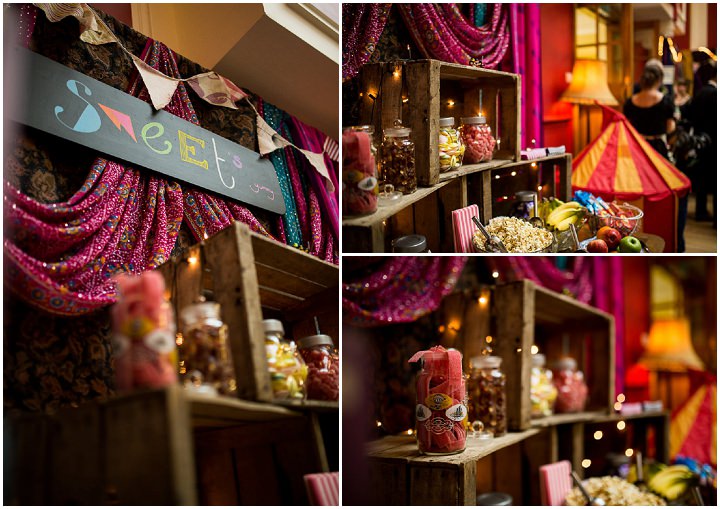 Food
We had afternoon tea for the wedding breakfast, as we wanted something family friendly. It was delicious and all served in a nice informal, laid back way. The evenings dancing was fuelled by hotdogs & a good old cake of cheese, and maybe a few cheeky Orange Tree cocktails!
Wedding Cake
We had a two tier cake completely covered in hundreds and thousands with a lil' Lego bride and groom on top! I had a mad panic that thee wouldn't be enough cake for all the guests, so one of my ace work friends made cupcakes that matched the wedding cake, which disappeared fast!
Entertainment
For the evening, we really wanted a band, we always think that it's that bit more special to have a band, as it's something that you will always remember! We spent loads of time listening to weird and wonderful demos, but we went for Cerone, they were fun & the singer was fierce!!
The Stationery
My husband did it all, even down to the Pantone table plan & place setting!  He really enjoyed designing the invites, we got them printed at Minuteman. He also designed some cool placemats which had questions to fill in about the bride and groom & themselves, and even had space for them to draw a picture! We thought that this would be a fun idea for a guest book!
Personal or Handmade Touches
We wanted to try & make the whole wedding ceremony as personal as we could do, our eldest daughter, Ava wrote an acrostic poem about Marriage, which was adorable and my sister in law read some poems that my Grandad wrote for my Grandma, amongst other lovely readings from our friends and family!
After the service we had a ice cream van and our hardworking ushers gave out Bakewell puddings. The plan was to eat them & have a nice relaxed chat in the sunshine in the memorial gardens next to the registry office.
Instead of paying for expensive decorations for the tables, we made bright tissue paper flowers! Our girlies helped out & we got all of my girlfriends round and with the help of takeaway and wine we made hundreds of flowers!
So many of our friends and family were involved with the wedding, and helped us out in so many ways, Matt's Mum and Nan made millions of balloon weights, our friend borrowed and drove the wedding car, to name but a few things!
As lovely as weddings are, we appreciated the fact that there is always a lot of hanging around for the guests, so we had a sweet stand with loads of added retro crisps, a do-it-yourself photo booth & treats on the tables.  We really wanted people to remember the day as a fun one, and hopefully all of the little touches we added helped to do that!
Special Moments
One of my favourite moments of the day was after we had eaten I looked around the room & our guests were sitting playing cards or dominoes & generally looking relaxed & like they were having a good day, and thought, 'Yess! This is exactly what I hoped would happen!'.
Seeing all of that hard work come together was also one of the best aspects of the day for us. All of the phone calls to a million different people, about a hundred planning emails to the Orange Tree and all of the traipsing around to florists, balloon shops, ice cream parlours, it all seemed so stunted & disjointed until our wedding day, where everything just linked together!
We had been so busy in the run up that the purpose of the day seemed to get a bit lost. It wasn't until our wedding day that it truly hit me that we were actually getting married! This seemed to make the ceremony itself even more special, and was by far the best aspect for me.
Advice to other couples
One of the things we were advised beforehand was to make sure we got a good photographer to help you to be able to remember all of the memories you have put all that work into making! Which is something I would definitely recommend.
The main thing we both thought was really important with our wedding was to stick to your guns & have what you want. Don't just feel obliged to do things because they are traditional, and that is the 'done thing' at weddings!
Enjoy planning it, because it's a blast! A bit of a cliche I know, but the little things that we spent so much time worrying about beforehand went completely unnoticed on the day. I think that it shows in your wedding if you've had fun planning it, which in turn should help your guests to have fun!
Biggest surprise
I am terrible at surprising Matt, he always susses me out before I get chance to surprise him, but I wanted to do something nice for him on the day.  I decided that I wanted to say something during the speeches, but I know that I would hate to do a speech, because I would be too nervous & I wanted to enjoy the day. I had a mini brainwave & decided to copy his proposal & I wrote out a 'speech' on cue cards & held them up for our guests to read. I did it at the end of the speeches & he had no flippin idea!
Supplier Shout Outs
For more information on Ayesha's work please go to:
www.ayeshaphotography.com / @ayeshaphoto / I:ayeshaphoto / FACEBOOK