Today I would like to introduce you to a wonderful company called Bears and Butterflies. If you are planning a festival style wedding, or looking for accommodation for you and your guests, then you need Bears and Butterflies Luxury Bell Tents in your life. Rebecca and her husband have put together a wonderful collection of Bell Tents to create your own personal Bell Tent village for you and your guests. This is perfect for any kind of wedding where you want to create a relaxed, chilled out vibe. Think summer festivals, think weekend long weddings, think outdoor celebrations and Bears and Butterflies will be there to add that finishing touch of homely, cosy Bell Tents.
Bears & Butterflies is a family run, luxury bell tent hire company providing boutique camping accommodation for weddings and hen weekends. Our bell tent village will provide the perfect backdrop to your wedding and we guarantee that you and your guests will love snuggling under our fluffy duvets after a long night of dancing. We look forward to hearing from you!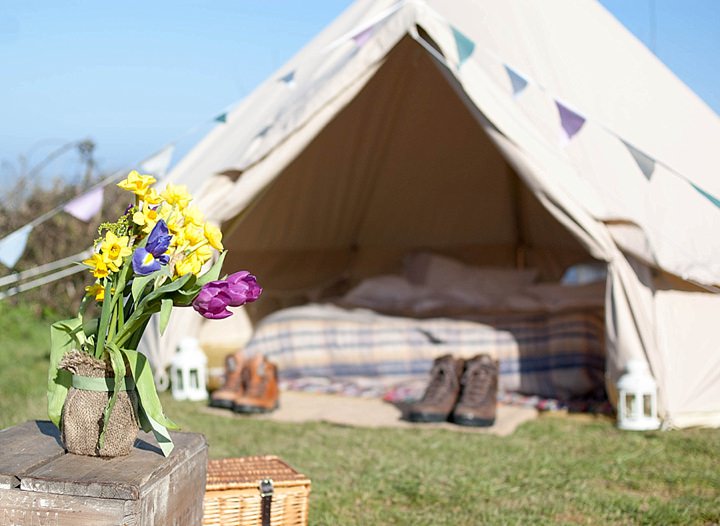 We asked Rebecca to tell us more about her business Bears and Butterflies
What made you start your business
My husband and I wanted to have some of our guests staying over at our wedding but we didn't want them to have to put up their own tents. We couldn't find quite what we after so decided to launch Bears & Butterflies.
Where are you based
Bristol and we cover South and South West England, southern Wales
What were you doing before Bears and Butterflies was established
Working in magazine publishing
How would you describe your style
Relaxed but with a great eye for detail and never compromising on the comfort of our guests!
What is your biggest achievement so far
I'd have to say setting up Bears & Butterflies – working for yourself is a slightly terrifying but brilliant adventure! Creating bell tent villages for weddings, parties and other glamping events is such a joy as everyone is so happy and excited about what you're doing.
What makes you different to your competitors
Our bell tents are only 3m in diameter, making them super cute and cosy. We can still fit in a double airbed so they're perfect for couples or two friends.
What do you enjoy most about your job
Working in an industry where everyone is so happy and excited, it makes everything so much nicer!
What sort of couple do you think you attract
We're ideal for couples who want to stay on site and have guests staying there too so the celebrations can continue the next day! Whether it's a festival-style wedding, barn, manor house or a field, we're happy to pitch up anywhere.
What would be your ideal wedding to work on
Ohhhh gosh, this is a tricky one. To be honest, every wedding is a real delight. I love the individuality that weddings have these days, as a guest you never know quite what you're going to get, which makes it all the more fun!
Pricing structure
We have two options – Atlas bear (furnished tents) or Gobi bear (unfurnished tents). Our Atlas bear tents are £100 for two nights and come with rugs, double airbed, blankets and lovely snuggly bedding. We also have lots of fab extras that can be added on such as bunting, name signs, lanterns and deliciously boozy hampers.
What is your ideal way to spend a day off
A nice lie-in, followed by a walk in the countryside or a trip to the beach with my husband Brook.
What can you never leave the house without
When we're putting up tents for events there are a few essentials: mobile, sat nav, sun cream and waterproofs (because you can never predict the weather).
Who would be your 5 dream dinner guests dead or alive
Right, it's a bit of a mixed bag. I'd start with Sir Ian McKellen, Dame Judi Dench and Sir David Attenborough – I think they'd all have fantastic stories to tell and they all have voices that are very easy to listen to. Then I'd add in James Corden because he seems like he'd be easy going and get on with most people and keep everyone chuckling. Finally I'd invite Jamie Oliver but on the understanding that he would do most of the cooking…
What would you do if you won the lottery
Firstly I'd escape all this rain with a nice little holiday… I'd give quite a lot to friends, family and charities and then invest in Bears & Butterflies – our first purchase would probably be a bigger van!
If you weren't running your business, what would you be doing
I know it's a cop-out, but now we've set up the business I really couldn't imagine doing anything else. Brook's always been passionate about film and has his own wedding film company so he mixes between the two but for me the opportunity to be outside so much in the summer months is just amazing. Watching our bell tent villages come together at gorgeous weddings and events is a magical feeling.
To find out more about Bears and Butterflies
www.bearsandbutterflies.co.uk / www.bearsandbutterflies.co.uk/blog / [email protected] / FACEBOOK / @belltenthire / I: bearsandbutterflies
07583 437750