Happy Bonfire night everyone, are you going out to any fireworks displays tonight, or are you saving yourself for the weekend? Dexter has a bonfire event at is nursery today and then we are all going out on Saturday evening for a local display, I'm really looking forward to it. Whatever you are doing enjoy yourself and remember to look after any animals you have near you. Back to this summer for this gorgeous July wedding that took place at The Thatched Cottage in Derry. A laid back wedding where the couple looked after their budget by calling in favours from friends and making a lot of the details and decorations themselves. Thanks to Paula Gullespie for the lovely images.
'The quickest, most enjoyable day of my life. Our wedding was personal, laid back, colourful and fun'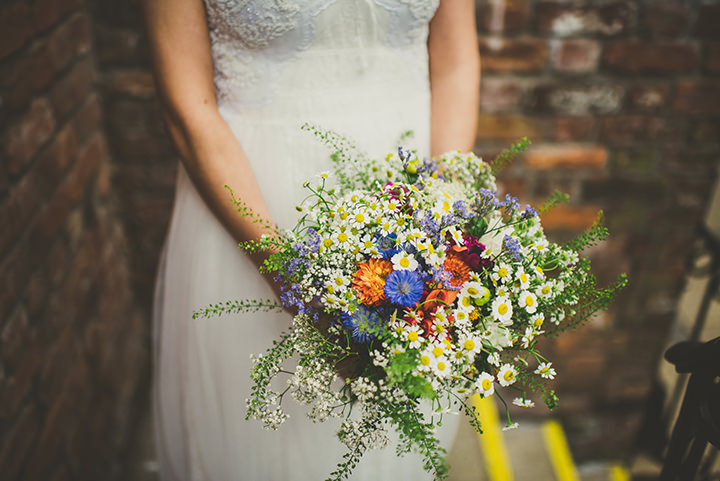 Séanna and Eimear were married on16th July 15 at The Thatched Cottage, The Craft Village in Derry and the Reception was held at The Custom House in Derry.'We wanted an alternative to the average hotel wedding and we also had a smaller budget. We loved the intimacy and quirkiness of the thatched cottage. We wanted a venue that would provide gorgeous food that also fitted with our budget. We had 75 guests in total and we were engaged for 2 ½ years and did bits and pieces throughout the time but mainly in the last few months.'
How they met
We met when we were 15 in the Donegal Gaeltacht, we always kept in contact but we started going out when we met up again when we were both studying Irish in Queen's University, Belfast. We had our daughter in 2010. We have been together for 6 years
The Proposal
We bought a house in 2012, Séanna was in a big hurry to move in for Christmas, while I took a more lay back approach. We stayed in our house for the first time on Christmas Eve.. only to discovered our oven wasn't working, so as I tucked into a bag of salt and vinegar spirals in my dressing gown, Séanna popped the question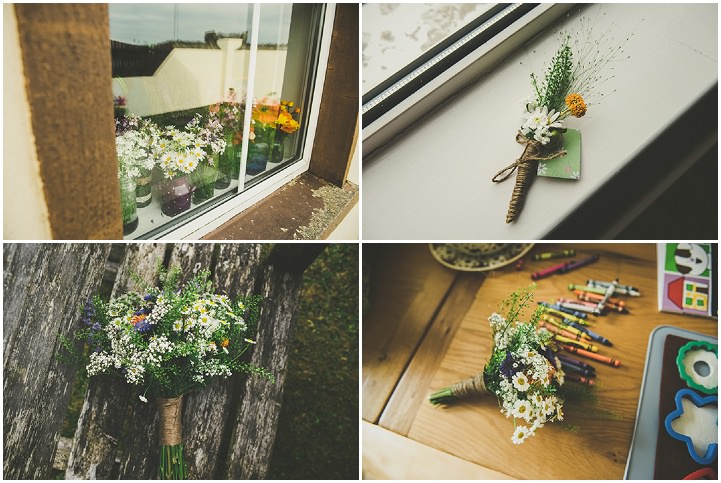 How did you allocate your budget
I was completing my P.G.C.E the year leading up to the wedding, so we wanted to stick to a small budget. We discussed what we wanted to pay more for and what didn't matter. We were so lucky to have friends who helped us, such as my friend of 14 years, Aoife who was my makeup artist. My friend Méabh made our delicious cake and Séannas friends Andy and Decky provided the music.
Where did you splurge and where did you save
We decided to pay for the photographer we loves, Paula Gillespie, regardless of the cost. The rest of the wedding was done on a budget. We didn't hire cars. We got our invitations on paperchase for £40. I got my wedding dress in a sale and my bridesmaids dresses were from ASOS.
How did you choose your photographer
We had no doubts about wanting Paula to shoot our wedding. We saw her photos on facebook and loved the informal style. Séanna hates getting photos taken so we wanted someone who would work behind the scenes. We couldn't recommend her more, we are in love with our photos and she was so helpful and non-intrusive on the day.
The Dress
My dress was by Ozlem Suer. I got it in a clearance sale in Bridal Elegance, Derry. My shoes were from a local shop. Accessories were borrowed from my mum or accessorize.
The Suit and Bridesmaids
Suits were from Next and the bridesmaids were from Warehouse on ASOS.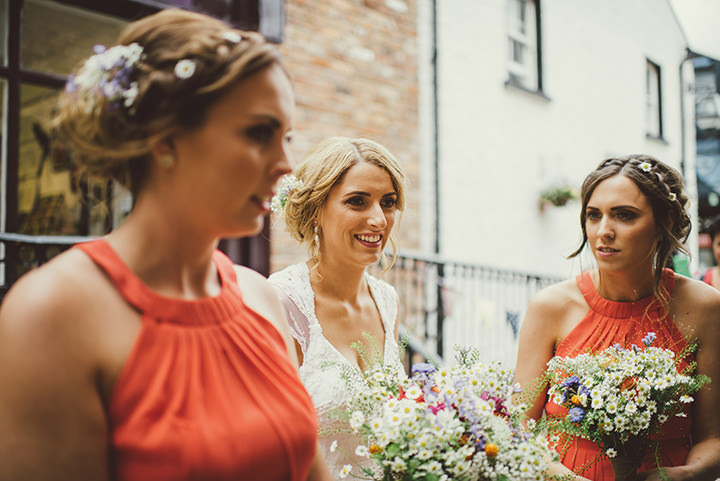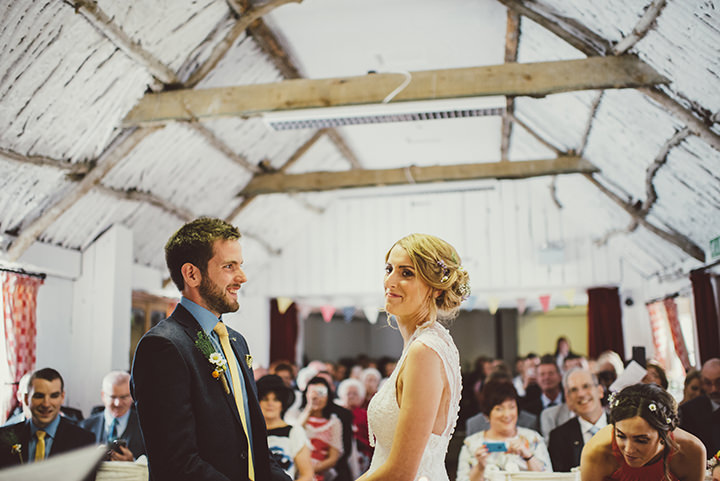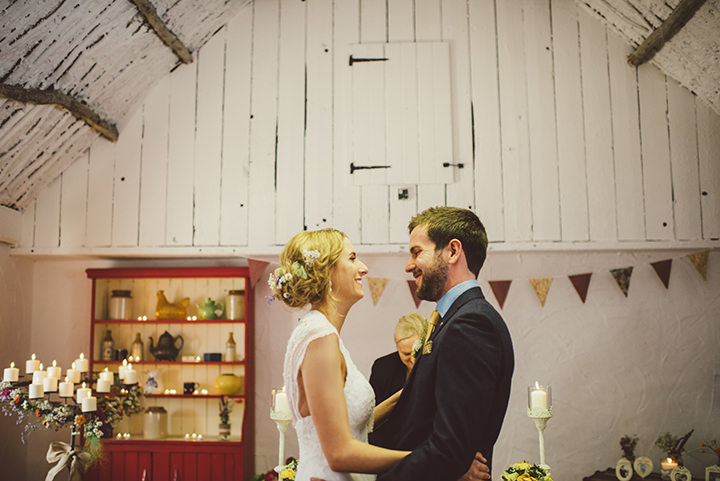 Theme or Colour Scheme
Non at all! Although I love how everything ended up tying together. Because our flowers were a mixture of bright colours I think it tied everything together.
Flowers
I asked for a wild bunch of flowers with lots of daisies with bright orange and purple tied with twine. I think the florist was apprehensive at first as she was used to more traditional brides but in the end she loved them.
Decoration
I covered the thatched cottage in handmaid bunting, I made vases from jam jars and Séanna grew flowers to put in them. We had lots of candles and also an area with photos of loved ones who couldn't be with us.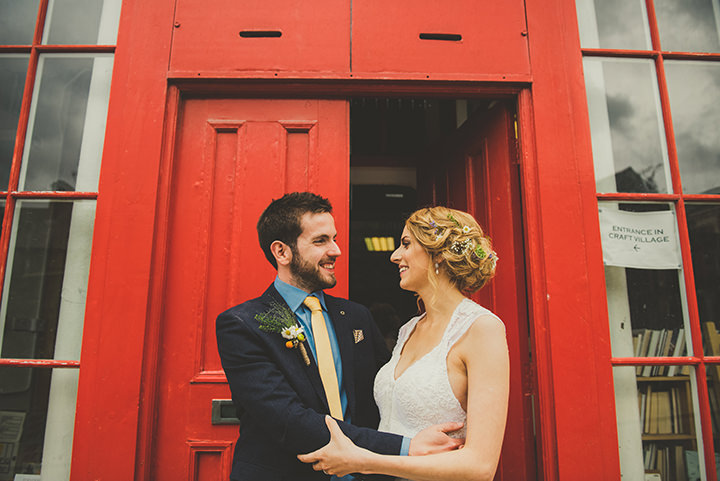 Food
We had a 3 course meal including celeriac soup, goats cheese balls, pork belly, salmon, vegetable tart and an assiette of desert
Wedding Cake
My friend Méabh made a three tiered naked sponge with lemon curd and cream
Entertainment
Our friends Decky and Andy (Gypsys wish) had everyone on the dancefloor. A DJ (Peter Vamos) played after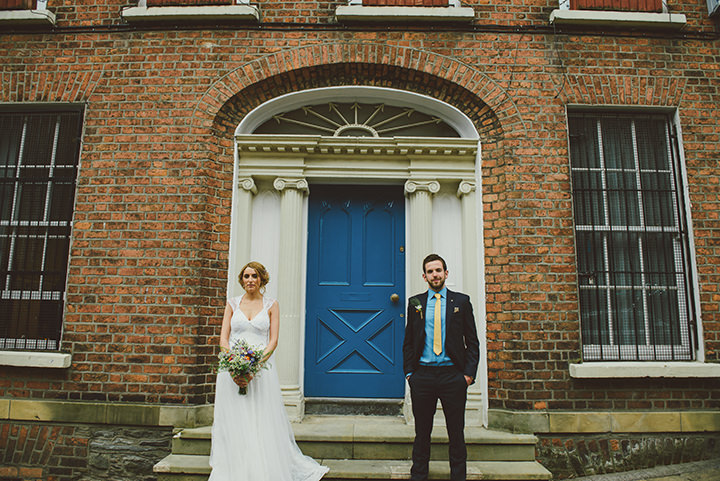 The Stationery
Paper chase
Personal or Handmade Touches
We made decoration such as bunting, jam jars etc. I made the sign for the guestbook, a sign for the dance floor. We made our own order of service. Our friends Dave, Andy and Colly sang throughout the ceremony. My friend Maeve and brother Dermot did readings and my mother in law Anne wrote us a poem, both in English and Irish which had the whole cottage in tears.
Special Moments
I enjoyed the ceremony so much, it was so personal and we felt so loved. I also loved the music. I didn't leave the dancefloor
Advice to other couples
Remember the things that are important to you and stick by that. Don't feel pressured to do the traditional thing. Make it all as fun as possible.. that's what people remember.. not the colour scheme of your seating plan!
Biggest surprise
My sister's speech, it was so touching!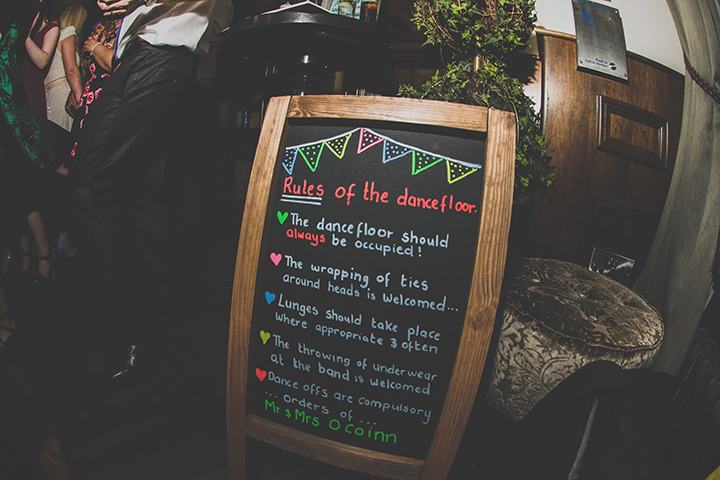 Supplier Shout Outs
For more information on Paula's work please go to: