Today's wedding is all about keeping things simple and local and getting some gorgeous results in return. Eliza and Nicholas wanted to make their budget go as far as possible so they enlisted the help of friends and family to help make their dream wedding into a reality. They created lots of handmade projects and decided to source all the things they needed locally. I just love all the rustic touches, the food, the bouquets, the marquee and the flowers. Thanks to Tom and Murray from One Thousand Words Photography for the images.
'It was so magical with all the flowers, fairy lights, woodland trees, horse and cart, and even a wood henge, we wouldn't have changed a thing. The most perfect and happiest day of our lives marrying our soul mate and celebrating with friends and family'
Eliza and Nicholas were married on 13th June 2015 at St Georges Church, Langton Matravers. The reception was held at The Square and Compass, Worth Matravers (in a beautiful garden around the back of the pub). 'My (Eliza's) parents only live a 2 minute walk from the church in the same house that I grew up in. I have also worked at The Square and Compass for over 9 years. The views are amazing from the pub which look down the valley to the sea. It also meant that all my work colleagues could join in with the celebrations. We had 100 guest for the church and the wedding breakfast. We had a further 50 people for the evening. We got engaged on February 5th 2014 and I started planning then. I love organising events.'
How they met
We met at school when we were 13 years old and became very good friends. We got together at 14 which lasted a couple of months HOWEVER we remained good friends and there was always something between us so we became a couple again at the age of 16 on 1st October 2004. We have been happily together ever since which makes it 11 years in October 2015. We lived together with friends for a couple of years, adopted a feral kitten which was found in the square and compass toilets, bought our little flat together, took on our own allotment plot, got married and the rest is history!
The Proposal
The proposal was ….interesting! Since being together we have both been to university and therefore missed out on travelling so we therefore decided to go to some exotic places. We went to Thailand in Jan/Feb 2014. It was the most beautiful place we have ever been. Nick had decided that this was the place to ask me and had carried the ring with him until the right moment. This moment was supposed to be an elephant ride whilst we were trekking in the North. To Nick's disappointment we were paired with a German man who was placed in between us. We got back into Chang Mai where the locals had been busy preparing for the flower festival which made me very happy as I love flowers. We went for a meal and again Nick couldn't pluck up the courage, but on the way back we found a bench by the river covered in flowers. We sat down and he said 'I've been wanting to do this for a while now' he bent down on one knee, showed me the ring and asked if I would marry him. I burst into tears and obviously said yes.
How did you allocate your budget
We basically wanted to keep costs as low as possible but wanted to use local companies. We are very fortunate to have talented friends and family which made it more personal and affordable.
My sister Janine Drayson designed the wedding map inside the invitations, the order of service and the table plan.
We wanted to have great food so our good friend Emily Strange with her Love cake catering business was our first choice for the wedding breakfast. We also asked Paul Louden at wilkswood farm to serve a tasty hog roast in the evening. Another good friend Victoria Benfield did our beautiful flowers.
Live music is also important to us so we splashed out with two bands. The first was a barn dance with Black Sheep and the second was The John Langan band, which my boss Kevin Hunt and partner Jean Young had booked for our wedding gift, which made us incredibly happy! We are also huge fans of cheese so we splashed out on a stacked cheese wedding cake, which Nick decorated himself. Splurges – Food, Photography, Church, Horse and Cart, Stacked cheese wedding cake and Flowers
How did you choose your photographer
We wanted to capture every moment of the day so it was great having two photographers Tom and Murray from One Thousand Words Photography to help us do this. Murray was able to spend time with the groom in the morning and Tom was able to spend time with the bride. Apart from already knowing them I was drawn to their artistic, natural, beautiful and fun work. They did an amazing job at capturing everyone having fun and smiling. We also got creative with the wood henge, which Charlie Newman, the landlord of the Square and Compass had erected a few days before.
The Dress
I decided not to do the usual thing and go into a bridal shop. I knew if I did then I would fall in love with the most expensive dress. Instead I looked on ebay and ordered about 10, dresses in different styles all under £40. If it didn't work I sold it back on ebay for the price I bought it for. I narrowed it down to three that I loved and finally chose the more vintage looking one as I fell in love with the buttons and lace running down the length of the back of the dress. Shoes were from New look. My lace bolero was my ultimate favourite which was from ebay. The jewellery was borrowed from my mother. The bridal hair and bridesmaid's hair were all done by Fusion hairdressers in Swanage, only a few meters away from my flat.
The Suit and Bridesmaids
Grooms suit was from Taylor for less. Groom shoes: Matalan. Groom tie and shirt: Next. Groomsman tie: Next
Groomsman waistcoat: Primark (Bad I know!) Bridesmaid wore beautiful floral sage green dresses purchased from ebay.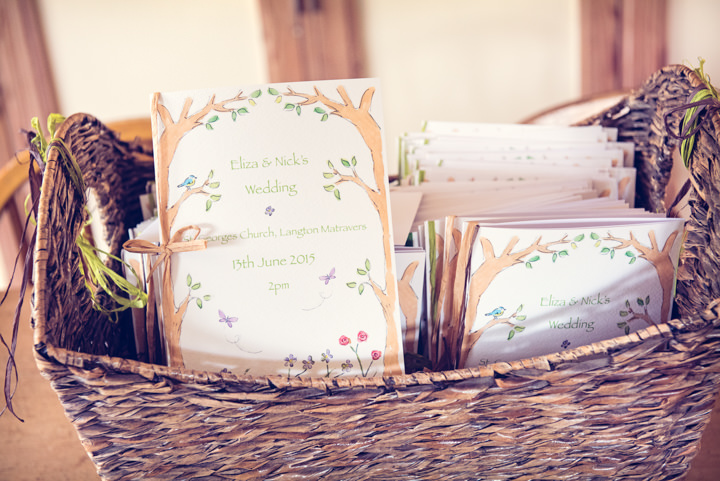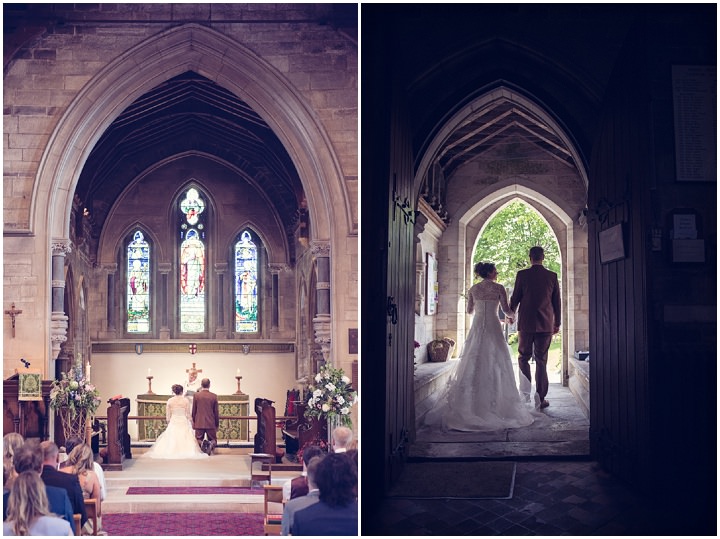 Theme or Colour Scheme
We didn't have a theme as such but we wanted to create a country, garden, forest,woodland, rustic wedding. Our main colours were natural greens, browns and ivory. Bloom floristry added that special touch of colour to bring it all to life.
Flowers
Bloom Floristry were absolutely amazing! Victoria and her team interpreted my wishes into creations that I could not have imagined. My bouquet and bridesmaid flowers were beautiful, everything I wanted and more! They captured elegance and beauty yet fitted in with our woodland rustic theme. My dream was to have a flower arch and hanging baskets and they even made that happen.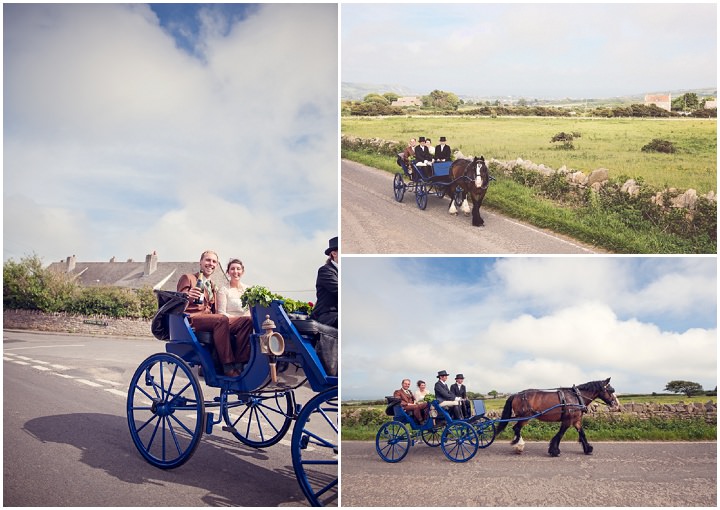 Wedding Cake
We had a less traditional stacked cheese wedding cake which we ordered from The Cheese Shed. We tried to have as many cheeses from Dorset as possible.
Entertainment
During the ceremony we had Titch (a family friend) and John on their fiddle and guitar who played some beautiful celtic music whilst the guest arrived, entrance of the bride, signing of the register and as we left. Also during the ceremony we had the pleasure of listening to the Mixed Media choir. Black sheep: These guys are great fun and are a brilliant way to kick of the celebrations. They are a barn dance band which enabled those who would usually stay at the sides to fully embrace it and join in. The John Langan Band: They are three Scottish men that I had seen play a few times at The Square and Compass whilst working. I fell in love with their music and was able to have them after the barn dance courtesy of my boss Kevin. We feel VERY lucky to have had them play.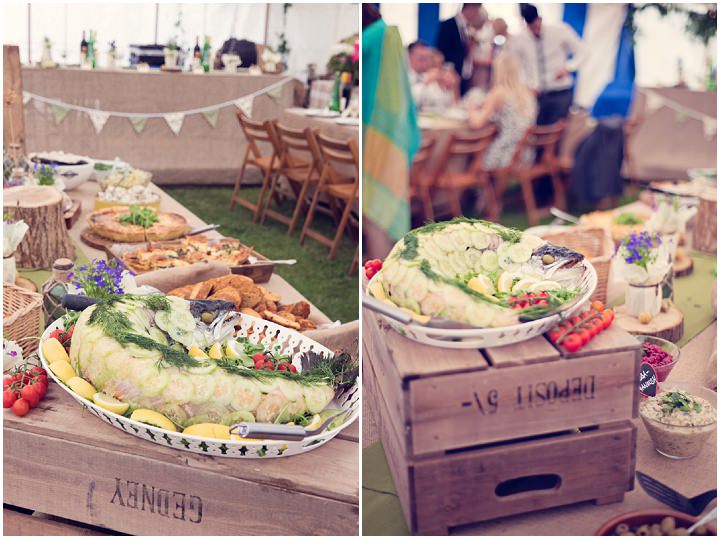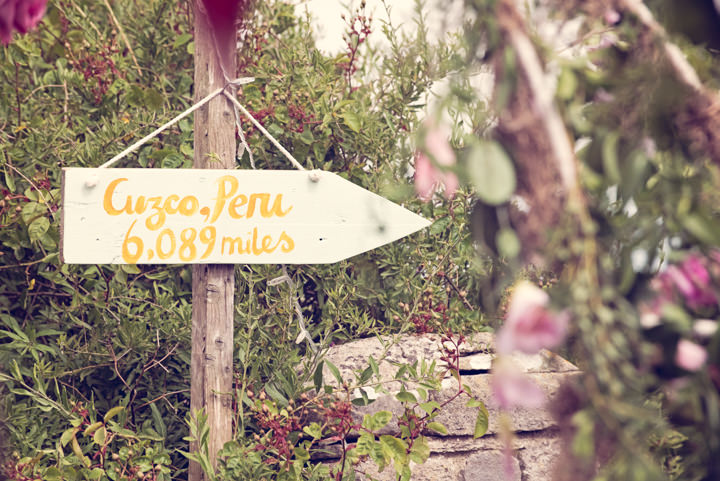 Buy or DIY your Stationery
All hand made by myself and my sister Janine at Janine Drayson Illustration.
Personal or Handmade Touches
-Ceramic hearts for the favours made by myself.
-African song sang by the mixed media choir.
-Our handmade signs.
-Nicks homemade chutney and sloe gin.
-All the companies used were friends and family, which made it very personal.
-Dad's creation of hanging baskets in upturned flower pots.
-Mum and Dad's flowers in jam jars for the table decorations.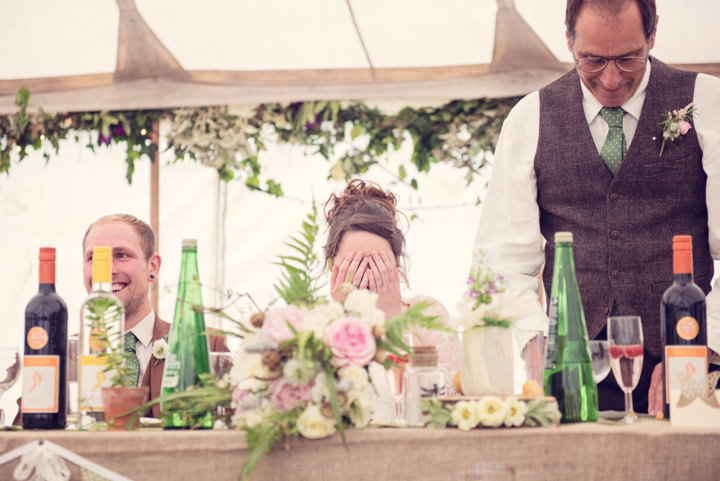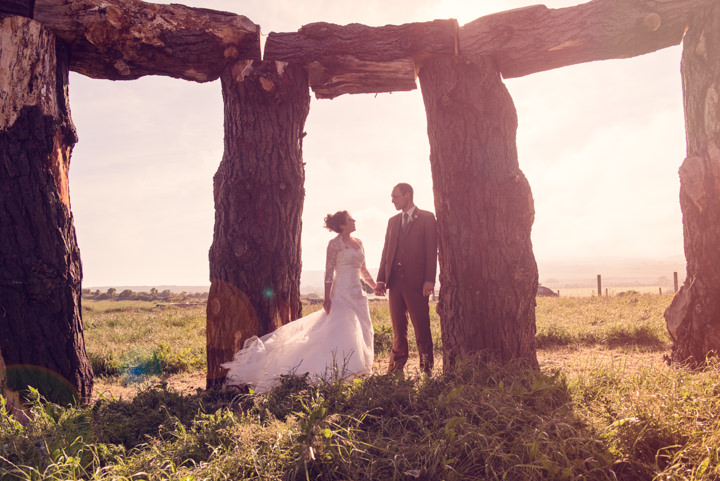 Special Moments
ALL OF IT!!! But we loved the Choir, travelling up to the reception from the church in the horse and cart with a bottle of bubbly in hand was magical, running away to get out pics taken at the wood henge and dancing away to both of the live bands, not to mention the tastiest food I've ever eaten! Also I loved the flower arch!
Advice to other couples
Plan ahead and spread the cost to make it a more enjoyable experience. You don't need to spend the earth to make it a beautiful memorable day. USE LOCAL COMPANIES AND SMALL BUSINESSES, not only will this save you money hassle and time, it also makes it more personal and you are supporting local people
Biggest surprise
The beautiful necklace from Nick which waited for me when I arrived at mums to get ready. It was made by the same lady that made my commissioned engagement ring.
A photobook from my bridesmaids of when we were growing up together.
Mum put up a yurt and decorated it for us to camp in on the wedding night so we could be in the field with our guests.
Supplier Shout Outs
For more information on One Thousand Words work please go to:
www.onethousandwords.co.uk
www.onethousandwords.co.uk/wedding-photographers-blog
[email protected]
FACEBOOK
T: 1000word_photos
I: onethousandwords
PINTEREST
We are onethousandwords, natural, timeless photography. Tom Wishart & Murray Lambert specialising in Documentary wedding photography without limits. Based by the sea in Swanage, Dorset, working all over the UK.