As we reach the mid point of the week it can only be up from here! The sun is shining and I have a corker of a wedding for you today. Boho Reader Susie sent me in her gorgeous wedding a few weeks ago and as soon as it landed in my inbox I knew I had to share it with you. Susie has been an avid reader of the blog throughout her wedding planning and told me that it was a great help when it came to planning her big day, which always makes me happy. I think you will agree the results are stunning. The bell tent village, the gorgeous sunshine, the beautiful outdoor ceremony, the outfits, the decoration, it's all amazing. Thanks to the couples photographer friends Georgina Martin Weddings and Devin Ainslie for the images.
'Our wedding was celebration of love in all its forms, marriage, family, friends and children.
It was community spirited, with a nod to all things festival; fun, live music, installations and a bell tent village'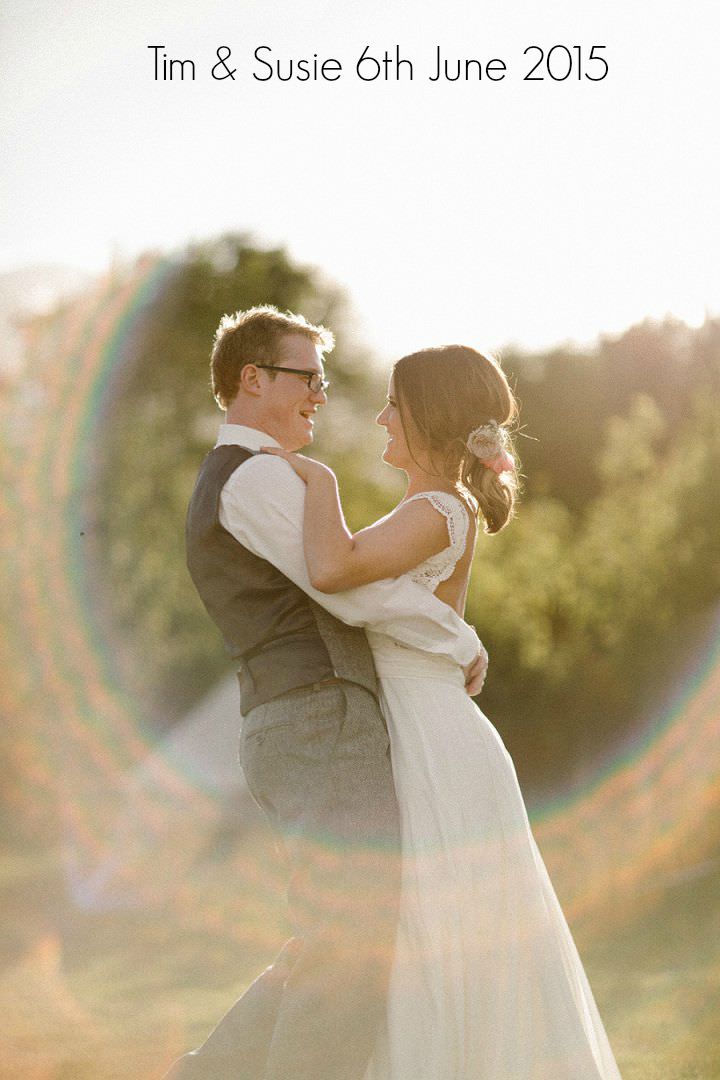 Tim and Susie were married on 6th of June 2015 on their Dads land, in Clayworth, Notts. 'We wanted a camping wedding weekend, my dad has 2 lovely fields and an orchard, it was an absolute joy to get married at home. A lot of guests arrived on the Friday, we got married on the Saturday and everyone stayed until Sunday. We had a total of 143 guests and planning took just under a year.'
How they met
We met through mutual friends about 10 years ago, had a wonderful friendship and got together 4 and half years ago
The Proposal
My Dad has a beautiful water colour painting of Wast Water in the lakes. It has hung above the fireplace in every house he's had, but I had never been there. On my birthday we went in search of the spot from which it was painted. We found the place and I was already emotional to be standing there when I turned round to see Tim down on one knee. We celebrated by jumping into the lake! It was March and its England's coldest lake … so we got out pretty quickly! And dried our shoes by the fire of a nearby pub and celebrated with some warm brandy.
How did you allocate your budget
The two lovely marquees we used for the reception and stocking the bar were our main costs.
How did you choose your photographer
Georgina Martin does wonderful low key wedding photography and is a friend which is exactly what we wanted.
Devin Ainslie, the same, with a lovely portfolio, who knows us and understood what we would want.
The Dress
My dress was a bespoke design, envisaged by me and brought to life by Claire at The Bridal House in Sheffield. My shoes were Vivienne Westwood and I had a clip with fresh peonies in my hair made by Petalis (also in Sheffield)
The Suit and Bridesmaids
The suit was bespoke too, from Ted Williams tailors
The bridesmaids (best women) chose their own dresses, mismatched nude/neutral maxi dresses
Theme or Colour Scheme
We worked with neutrals, duck egg blue, peachy pinks and touches of gold
Flowers
Pink peonies, white hydrangeas, gypsophila, grasses and white stocks
Decoration
Hessian table runners, hand painted glass bottles and jars for centerpieces, paper pom poms made by my mum, flower garlands, wooden barrels and crates, hay bales and lampshades. We had hundreds of fairy lights in the trees and three huge signs situated around the field, that said 'PEACE', 'LOVE' and 'UNITY'
Food
We roasted a pig and served with a rum glaze, with various salads, homemade coleslaw and baked potatoes. All prepped, cooked and delivered to the table by our very helpful guests.
Desert was black cherry and amaretto cheesecake, made in individual jam jars served with strawberries, from the fields behind ours. The cheesecakes were made by a couple of our guests and they were scrumptious.
Our evening food was provided by Kiln Pizza, a brilliant company with a portable wood burning pizza oven. Made to order, delicious pizzas
Wedding Cake
My mum made a stunning three tier 'naked' victoria sponge, covered in fresh berries and camomile flowers. Tim's sister Beth made an absolutely delicious rum, pineapple and coconut cake. They both tasted as good as they looked!
Entertainment
Tim's sister Rowan played 'In my Life' By the Beatles as we walked down the aisle.In the evening we had an incredible swing band called Louis, Louis, Louis. They did their own set first, then for the second set, they were joined by various friends and family members, who had all chosen songs to sing. It was hilarious, and unforgettable!
We also had a Volleyball court, with a Pimms bar, provided by another of Tim's best men. Well, why not?
Buy or DIY your Stationery
Our friend Martha, from Martha and Hespie Ltd designed and illustrated our invites with a drawing of Tim's folk's old tandem as the main motif. We then used her tandem design throughout the wedding, and on our wedding favours.
Personal or Handmade Touches
– All the food was made and served by our wonderful guests
– We made all the décor ourselves, table runners, centre pieces, lanterns, aisle décor, and signage
– The bridesmaids and I arranged all the flowers
– We made our wedding favours which were just little sparklers with a name card which had Martha's tandem on them
– Our stunning silver birch wedding arch was made by our friend Wayne Sealey http www.naturalfusions.co.uk
– The cocktails and all the drinks were made and served by volunteer bartenders from my work
– I made our table plan by using chalk pens and writing on an antique mirror
– We had our own take on the 'guestbook' which involved Jenga pieces and permanent markers, something we will treasure whenever we play for years to come.
– My mum made lots of giant pom poms to hang from the top of the tent
– The layout and design of the day was entirely done by Tim and partners at Mesters Events
Special Moments
There are four that really stand out: Being married by one of our best friends Grace, was truly special.
Just before we said our vows, we took a moment to pause, turn round, and look at all of our guest's lovely faces, and say hello. It was overwhelming to get the opportunity to take it all in, and look at everyone who had made it all possible.
Saying the vows we had written to each other, will always be everyone's highlight I'm sure, and its one of our most vivid memories
After we got engaged, I had a funny dream that it was our wedding day and Tim, and three friends sang 'My Girl' to me. On the day, they made this dream come true! The four of them took to the stage and sang it, harmonies, choreography, everything, just like the dream. It blew me away!
Advice to other couples
Be tenacious, you can make your budget really stretch if you get creative. And don't get lost in the wedding fog; if you are planning a DIY/homemade day then remember why you chose this. Embrace all the little imperfections and quirks that come with that style of celebration. They are likely to be half the charm.
Supplier Shout Outs
For more information on Georgina and Devin work please go to:
Georgina
www.georginamartinweddings.tumblr.com
FACEBOOK
[email protected]
Devin
www.devinainslie.com
FACEBOOK
I: devinleeainslie
T: dev8809