Today I bring you a lovely wedding from South London, a wedding featuring the most gorgeous 1930s wedding dress and the cutest couple. Both Emily and Peter wanted a low-key wedding but wanted to keep it around the area they lived in South London. After 9 months of planning they created a beautiful day that was relatively fuss free but full of charm and personality. With both venues speaking for themselves decoration wise, this wedding goes to show that it isn't all about the endless details that makes a wedding special. Emily also gives some very sound advice at the bottom of her bridal report. Big thanks to Ben from Benjamin Mathers Photography for these gorgeous images, I'm sure you will agree his work is wonderful.
'A relaxed and fun spring day with the people we love'
Emily and Peter were married on 11th April 2015 at Jerwood Space, Union Street, Southwark before a reception held at The East Dulwich Tavern. 'We decided to get married in south London quite early on since that's where we live. We started with the idea of a low key wedding – registry office and pub – and then made it slightly more elaborate! We had a total of 80 guests. We booked the venues about 9 months in advance but didn't figure out any wedding planning details until about 4 or 5 months before'
How they met
We met through a friend about two years ago.
The Proposal
Pete proposed whilst we were on holiday in Tanzania. It was very unexpected and romantic!
How did you allocate your budget
After having some ridiculous quotes from extravagant venues in London we settled on our more modest venues, costed up the main things – booze, food, band, photographer, outfits – and then cut back on the small things – invites, flowers, decorations – to fit into our budget.
How did you choose your photographer
Ben was recommended by a friend from Suffolk where I'm also from. We loved the natural images on his website and didn't look any further. He has a great eye for detail and intuitively captures moments and personalities. He's also a lovely bloke. We can't recommend him highly enough.
The Dress
The dress is vintage 1930s from Heavenly Vintage Brides in West London. I'd recommend it for anyone looking for vintage dresses
The Suit and Bridesmaids
Pete splurged on his suit from Gresham Blake in Shoreditch, but we're expecting it to last for the rest of his life! We found the vintage dress for my maid of honour in the Gathering Goddess also in west London.
Theme or Colour Scheme
The colours really just evolved from the colours of the spring flowers we chose. We like bright colours like orange, yellow and blues so just mixed those up.
Flowers
Spring flowers in season: daffodils (lovely and very cheap), mascari, rananculus.
Decoration
We made some coloured pompoms for the reception which cost about £10 in total.
Food
Posh canapes at the Jerwood, and then pies and Eton Mess at the reception followed by cake.
Wedding Cake
My aunt and mum made a chocolate brownie tower which was delicious.
Entertainment
We found a great band called Café Manouche who play gypsy jazz and are brilliant musicians. We wanted something memorable that everyone could enjoy. We followed that with classic play list from the likes of the Beach Boys and the Supremes.
Buy or DIY your Stationery
We made our invites so they cost next to nothing. We literally drew them up one evening and got them printed the next day. There wasn't any other stationery.
Special Moments
Saying our vows to each other in front our friends and family was the most important part of the day.
Advice to other couples
My advice would be to not get too worked up about it all. Easier said than done. There is a lot of pressure on couples, and especially women, to make the perfect day and for everything to somehow represent you both as a couple. Not everything has to mean something, you'll probably make some random decisions because you don't want to devote your whole life to organising a wedding. The most important thing is that you are marrying the person that you love, and that you're committed to the marriage ahead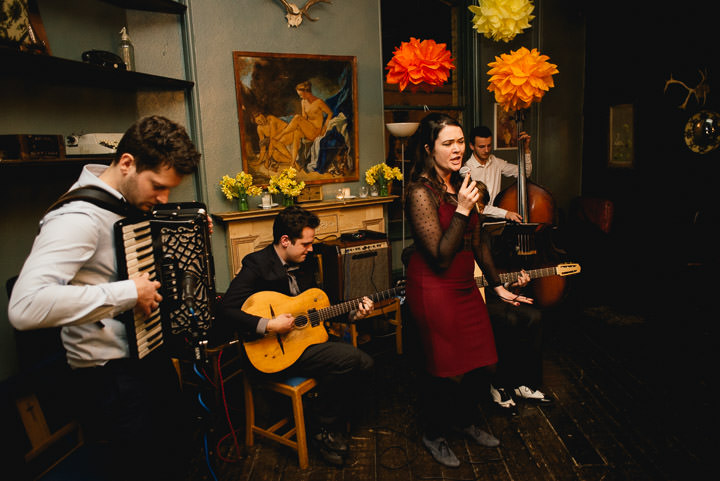 Supplier Shout Outs
For more information on Ben's work please go to:
www.benjaminmathers.co.uk
[email protected]
07855330916
FACEBOOK
T: @benmathersphoto
I: benjaminmathers
I'm based around Norwich and photograph weddings in Norfolk, Suffolk, London, the UK and beyond! I'm a documentary photographer specialising in natural, creative wedding photography. I love my amazing clients, I love getting to know them and hearing their stories, I love seeing their personalities shine through in the way they plan their beautiful weddings!