Happy Monday everyone, I hope you are all ding well? As I mentioned on Sunday the blog is undergoing a bit of a facelift behind the scenes, and with this I will be changing around the afternoon features. One thing I will be brining you more of is bridal style, so today starting as I mean to go on, I am delighted to be able to share with you the gorgeous 2016 Collection from Jesus Peiro. This collection is just stunning, it includes a variety of deigns, from full skits to full on sequins to the more floaty numbers, which means there will be something to suit every brides tastes. Embellishments, layers, cut our features as well as some pretty breathtaking ideas, this collection is elegant, flattering and high fashion.
Here's a bit more about this 2016 collection………….
About the designer
Merché Segarra has been head of design at Jesus Peiro since 2003. A graduate of fine art, Merché went on to study fashion in Milan, combining her love of fashion with her artistic talents. Each season Merché creates a collection which is original, breath-taking and artistic, reflective of Merché's own background in fine art.
The inspiration behind the 2016 collection
The 2016 Jesus Peiro collection is called "Nanda Devi". Nanda Devi is the main of the amazing and beautiful mountain that lies between India and Nepal. Its name means "Bliss Giving Goddess" and it serves as the inspiration behind the 2016 collection. From the vantage point if its eternal snow, Nanda Devi illuminates the sanctuary devoted to its goddess. Merché Segarra has imagined snow princesses that go to this sanctuary, creatures of the cold that leave a trail of frost and a glint of sparkle, splashing their delicate dresses with crystals.
The influence of "Nanda Devi" can be seen throughout the 2016 collection, the fabrics seem to be frozen, they appear wet, sometimes illuminous. They are layered, iridescent with textures, sequins and embroidery. The collection has an air of exoticism, delicate veiling of open backs, tinkling sleeves that drape over the shoulders and the addition of statement almost tribal accessories all point towards the mysticism of Nanda Devi.
Price Point
Every Jesus Peiro gown is individually hand made in Barcelona. Using exceptional quality fabrics from France and Italy and with impeccable cut a Jesus Peiro wedding gown is a true heirloom piece. Jesus Peiro gowns are of couture standard, with the possibility to have changes and even made to measure if required; it makes the average price of £1,500-£2,200 seem like very good value.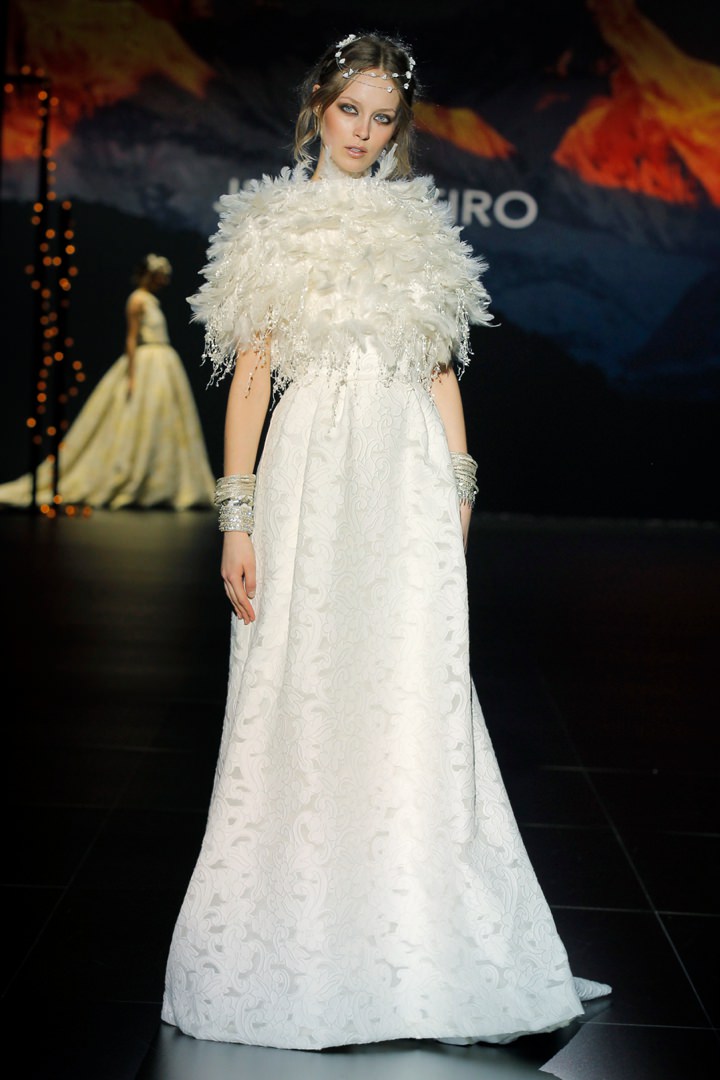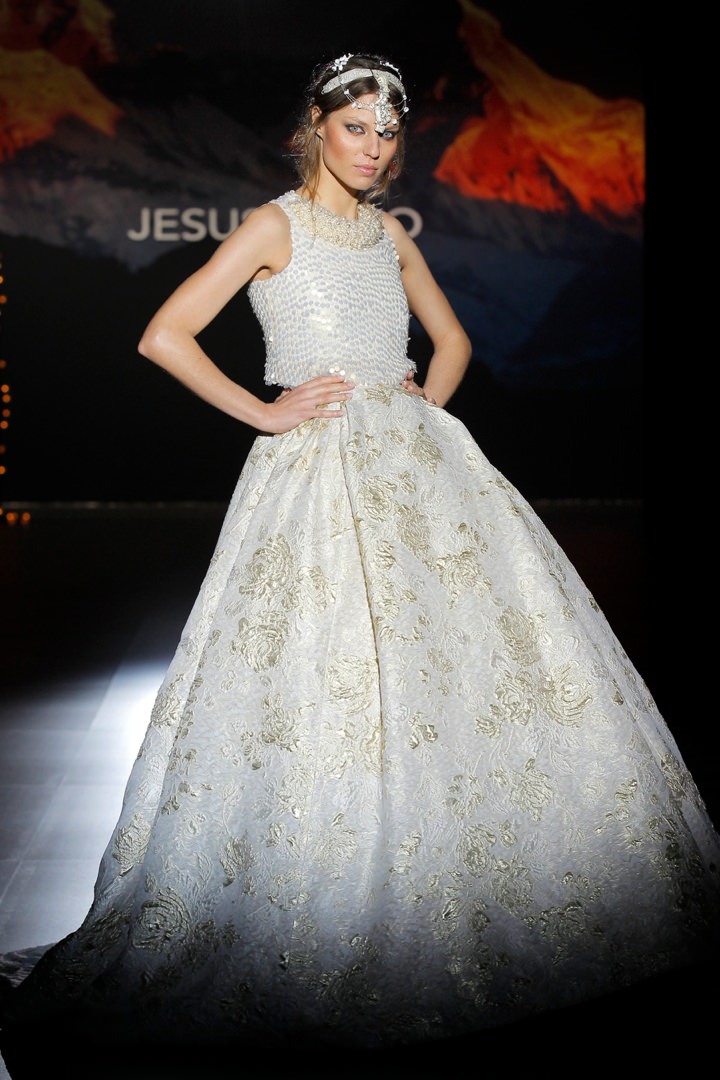 Stockists information
The Collection has a network of quality independent bridal retailers in the UK. This is the comprehensive list of stockists of the 2016 Nanda Devi collection for Jesus Peiro:
Morgan Davies, London/ Miss Bush Bridal, Ripley, Surrey / Morgan Davies, Hitchin / White Mischief, Henfield, West Sussex / The Bridal Boutique Warwickshire, Henley in Arden / Perfect Bridal Rooms, Aberdeen, Scotland / Perfect Day Bridal, Bradford on Avon, Near Bath / Isaac Charles, Birmingham / The White Closet, West Didsbury, Manchester / Belles Bridal, Liverpool / The White Room, Minchinhampton, Gloustershire / Lara B Bridal, Newmarket, Suffolk / Andrea Bambridge, York /Blackburn Bridal, London / Pleser, Potardullais, Swansea / Alexandra Anne, Pilsley, Derbyshire / Cicily Bridal, Ashby-de-la-Zouch, Leicestershire / Exquisite Bridal, Winchester, Hampshire / Bridal Wish, Newcastle Upon Tyne / High Society, Cowbridge, Wales / Mia Bridal, Carlisle / Ellie Sanderson, Beaconsfield, Buckinghamshire / Marrime Bridalwear, Kendal / Lovebird Bridal, Addingham, Yorkshire / Anna Bridal Couture, Ringwood / Forever Bridal, Belfast / The White Room, Mullingar, Ireland / Ti Amo Bridal, Limivaddy / Say I Do Bridal, Cork, Ireland.
For more information on Jesus Peiro go to
www.jesuspeiro.com
FACEBOOK
T:@J_Peiro
I: jesus_peiro
Pinterest