Today's wedding is a bit special as I have invited the couple Hannah and Dean back to the blog this afternoon to talk to you about their new wedding business, but more about that this afternoon. This morning is all about sharing with you their gorgeous wedding photos. Hannah and Dean decided early on that they were going to set a budget and stick to it and that is exactly what they did. With a lot of careful planning and quite a few spreadsheets they kept the budget on track and only spent what they had saved and what they felt was rally necessary for their big day. They managed to call in favours from friends and family and created a lot of DIY projects which really helped keep the budget down. Thanks to Emma Stoner Weddings for the images.
'A relaxed countryside wedding, with lots of DIY personal touches to share with our closest family and friends'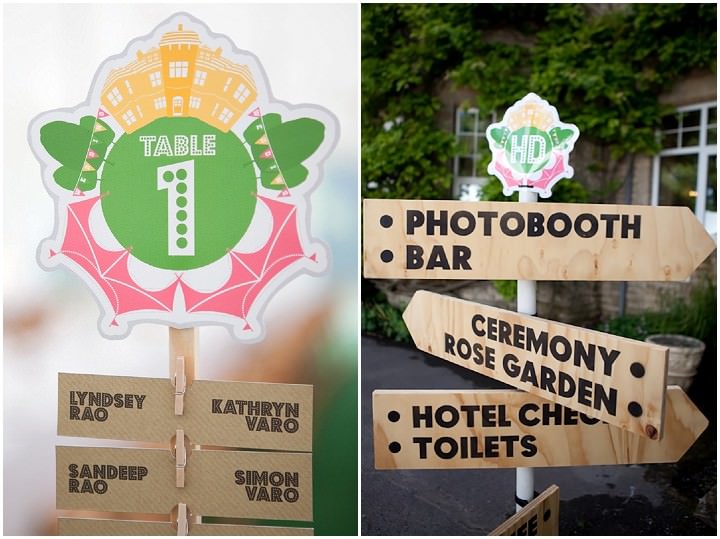 Hannah and Dean were married on 7th June 2014 at Middle Aston House, Oxfordshire. 'The ceremony was outside on the lake-view terrace, with speeches and drinks in the rose garden. The reception was on the front lawn where we had a marquee. I noticed the venue whilst out on my bike, and thought to myself what a great place for a wedding! They were setting up a marquee on the lawn so I dropped in to have a look and pretty much decided there and then that I should ask Hannah to marry me. I even pencilled us in for a date as I didn't want to miss the chance to book it. Fortunately Hannah felt the same once she has seen it. Because it was so close to our home, it felt really personal. There was a small alcove on the terrace for outdoor ceremonies, which was exactly what we wanted (weather permitting of course). We were able to have a marquee on the front lawn, and the venue was happy to do a BBQ, so it was the perfect venue for a relaxed summer wedding. They have a small boating lake and are surrounded by beautiful Oxfordshire countryside, so the views are amazing. On the practical side, there was on-site accommodation which made life super easy for our guests, many of whom were travelling quite a way to be there. The staff at Middle Aston House were so helpful and friendly – they really took care of us on the day and we couldn't have asked for more really. We had 76 guests in total – 67 adults, 6 children and 3 babies to be precise. All the guests attended the full day. From proposal to wedding it was just under 7 months. From the date that Dean decided to propose to the wedding was 9.5 months.'
How they met
We met at Loughborough University, both studying engineering and with a shared love of Formula One. We got together in 2005, so we have celebrated being together for 10 years.
The Proposal
Dean: Once I realised I was going to ask Hannah to marry me I sketched up a ring design and went to Harriet Kelsall Jewellery to get it made. I wasn't totally sure this was the right approach as I know many brides-to-be would like to choose the ring themselves, but I really wanted it to be a surprise for Hannah. I proposed at Blenheim Palace, in front of the Temple of Diana. I remembered learning on a previous visit that this is where Winston Churchill proposed, so it seemed like a pretty good spot. I planned a surprise day that coincided with Hannah's birthday – there was a Christmas Fair so this was the pretence of our visit. We arrived early and I told Hannah I wanted to get some photos of the grounds – I set the camera up to take our photo in front of the temple and then quickly got down on one knee – so we have the exact moment caught on camera. Fortunately Hannah said yes! Blenheim Palace has a champagne bar, so we were able to celebrate properly. We later went for dinner, and I had secretly arranged for both our families to be there – they thought it was a birthday surprise, so they were as surprised as Hannah when we arrived and revealed the news. It went well!
How did you allocate your budget
We set out with a budget of £10,000, which was an amount we were happy to allocate from our savings. We set up a spreadsheet to keep track of it all, and started plugging in as many of the costs that we could think of. There were some key aspects of the wedding that were most important to us, such as the venue and catering, the marquee, the bride's dress and photographer, so they went in first. Then we added the lower priority things to see what the total would be. The first estimate was quite a bit over our budget. So we went back and dropped quite a few things that just weren't that important to us, such as a cake, DJ/band and wedding car to keep within budget. Most of the things we dropped we either ended up doing ourselves, such as the music, or just left them out altogether, like the cake. In the end we spent just over £10,500, so not too far over budget. We have subsequently sold the foosball table we bought as part of the entertainment and made back £250! We also made sure we bought things we would continue to use after the wedding, like Dean's suit
How did you choose your photographer
We noticed some of Emma's photos on The Natural Wedding Company's blog, and knew instantly that it was the right kind of style to suit us. Emma seems to have a knack for taking natural looking photos that really capture the mood of the event, and as we didn't want anything too formal or staged it was a perfect match. Also, Emma supplies all the photos for the couple to keep, so you then have the freedom to share them with your friends and family on social media, and to select your favourites for prints or for an album. We arranged to have a Skype video call with Emma, and once we had spoken to her we felt totally relaxed and confident that we would have amazing photos. We met at the venue a couple of months before the wedding to go through the various photos we wanted and what Emma thought would work best, so come the big day we were well prepared.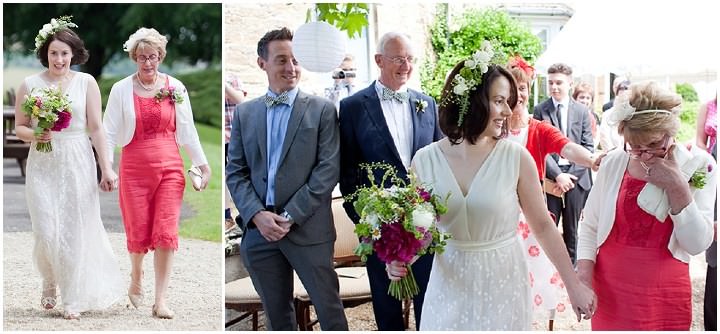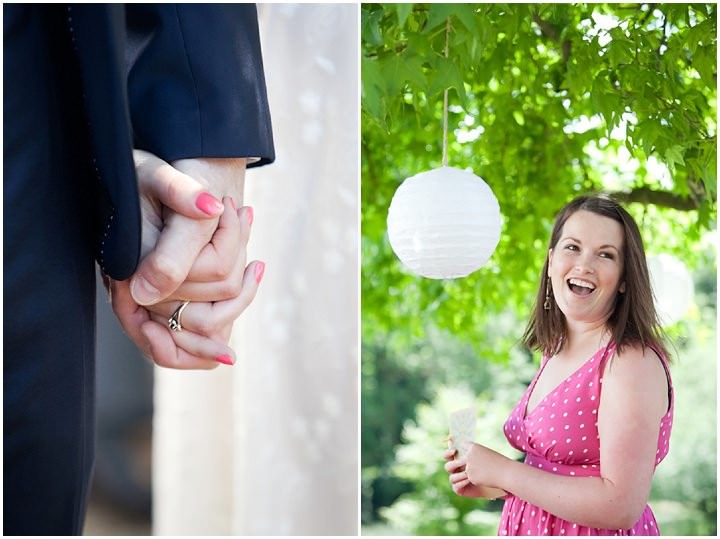 The Dress
Hannah: I was quite nervous about finding a wedding dress. I knew I wanted something light and floaty that I would feel relaxed in, but I struggled to find anything I really liked that didn't cost a fortune. That was until I found the bridal dresses by Minna in a blog post on Boho Weddings. I booked an appointment at their studio in Brixton and went for a lovely day in London with my Mum. As soon as I put on the Nicola dress on I knew I'd found my wedding dress. It was such a simple, beautiful silk and lace dress that just made me feel great when I put it on. I added a long satin belt to finish it off. I was very relieved to only do a single day of dress shopping. I decided early on that I wanted flowers in my hair to go with the outdoor nature of the wedding, so I decided to keep my outfit very simple so the flowers could shine. I wore some gold mini wedge sandals from Head Over Heels by Dune, which were very comfortable and great for walking on grass.
The Suit and Bridesmaids
Dean: I wanted to make sure the suit was something I could keep and would wear again afterwards. It's a slim fitting navy blue suit by DKNY – we live just down the road from Bicester Village so it was fairly painless finding something I liked for the right price. I had a little of my budget left over so I treated myself to some braces from Sharp and Dapper, and a custom bow tie from Dina Malkova. I bought matching bow ties for the groomsmen too as a little keepsake and thank you for all their help.
Theme or Colour Scheme
We wanted a rustic, country fayre style wedding, which was relaxed and fun. The colour scheme derived from Hannah's choice of flowers – pink, yellow and white.
Flowers
It made sense to us that the flowers should be seasonal and locally grown, so they looked like they had been picked from your garden to fit with our theme. As we didn't have the time or space to do this ourselves we started to look for local flower growers. We found Babylon Flowers, who grow flowers which they can arrange for you or they can supply them ready for you to arrange yourself. We decided to have a mixture of pre-arranged flowers for the more difficult things, and unarranged flowers for simple jam-jar table arrangements which we could do. This was a great way for us to save money and make things more personal. The jam-jars also doubled as favours if people wanted to take them home. Juliet at Babylon Flowers was great at providing advice on the flowers that should be available at the start of June in our chosen colours; although you can't guarantee what will actually be in flower. The main star of the show were large cerise pink peonies, accompanied by white roses, daisies, cow paisley, alchemilla mollis (Lady's Mantle), euphorbia and yellow achillea.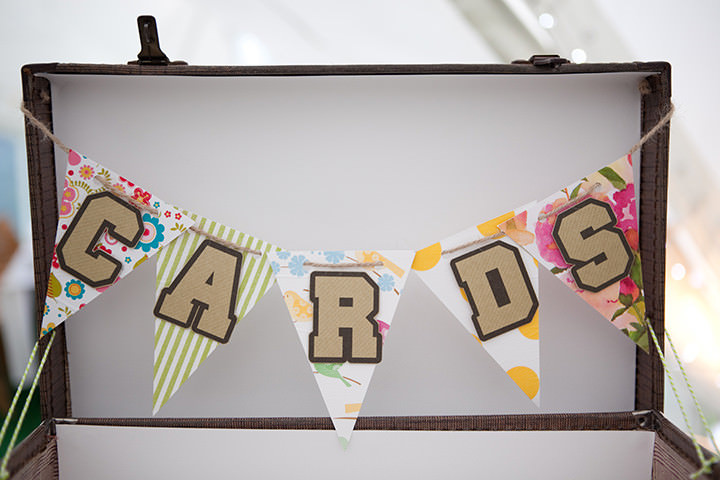 Decoration
We made most of the decorations ourselves, both in an attempt to save money and also to personalise them as much as possible. This homemade vibe also fitted in with our rustic country fayre theme.
As the setting for the outside ceremony was already so pretty we didn't need many decorations here. We had a few flower arrangements and paper lanterns hung in the tree under which we stood for the service. We draped the marquee with as much bunting as we could make, including some mini bunting to decorate the old suitcase used for the cards. We decorated the tables with jam jars filled with flowers and our favourite photographs of our guests. As friends and family kindly collected so many jam jars for us, we also made jam jar lanterns which looked a bit like stained glass when lit up. The seating plan was an adapted wine crate filled with plants. We also had a 'story of us' photo display with polaroid-style pictures of us and our family. At the entrance to the marquee we had giant H and D light-up letters and a signpost to guide people, including a schedule for the day.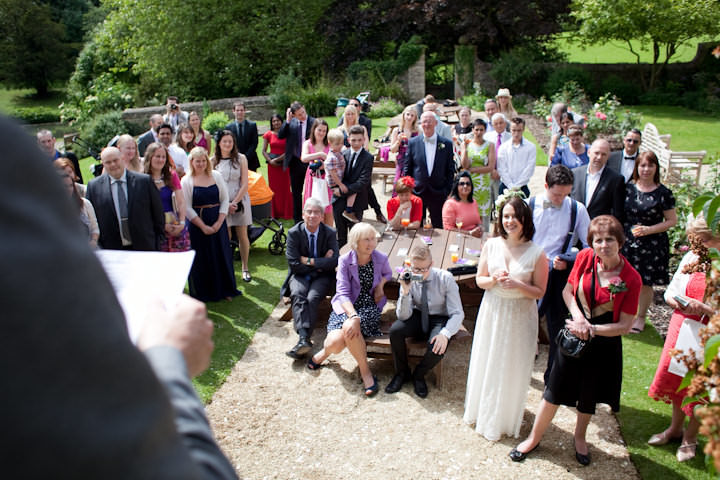 Food
We had a BBQ lunch with handmade gourmet beef burgers, herb stuffed sea-bream and vegetable kebabs. Sides included corn-on-the-cob, salads, pasta and roast potatoes in plum sauce. There were jugs of cider and apple juice on the tables. To follow we had ice creams served from a tricycle with apple sorbet, vanilla, mint choc chip, banana & toffee, strawberries & cream and chocolate fudge brownie options. Of course there were sprinkles and flakes too. In the evening we had a selection of our favourite pizza
Wedding Cake
We decided not to have one as a cake wasn't important to us, so it an easy cost saving to make.
Entertainment
We did the music for the wedding ourselves, it was really important that all the music was a reflection of us. It did take quite a few days to select all our favourite songs and mix them together. For the disco in the evening we borrowed some speakers and disco lights, and then we just set our pre-mixed music playing. To be honest we don't think anyone even noticed there wasn't a DJ. We wanted to make sure there was lots of things to keep people amused in the afternoon between the BBQ and the disco in the evening. We arranged a 3-legged race, and sent a sign-up sheet round at lunch so people could pair up and tell us their team name. It was fantastic fun – most people fell over, but after a couple of rounds we had a winner and we awarded them a bottle of bubbly for their efforts. We also had various games, such as croquet, aunt sally and foosball, and for the less energetic we had some origami. Our friends own a photobooth company called PicMe Photobooths, and they offered us a deal we couldn't refuse! Seriously, if you can justify hiring a photobooth in your budget get one – they are such good fun and will bring out the flamboyant side of even your most reserved guests. We set up the guest book next to the photobooth so that our guests could stick their photos in next to their message – we had such a laugh looking through them the next day.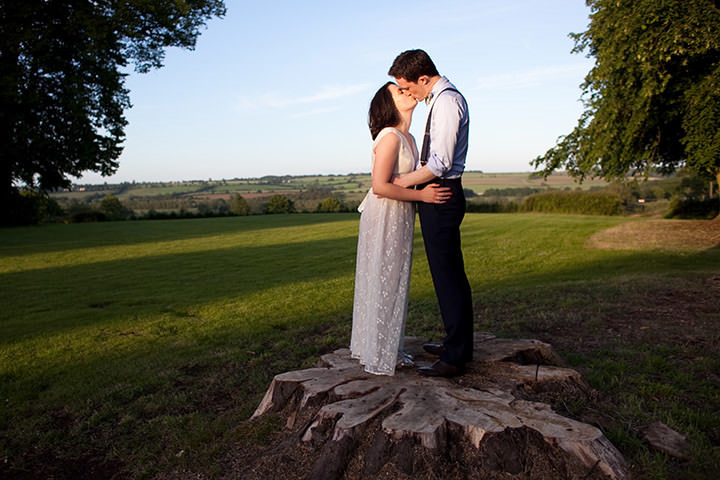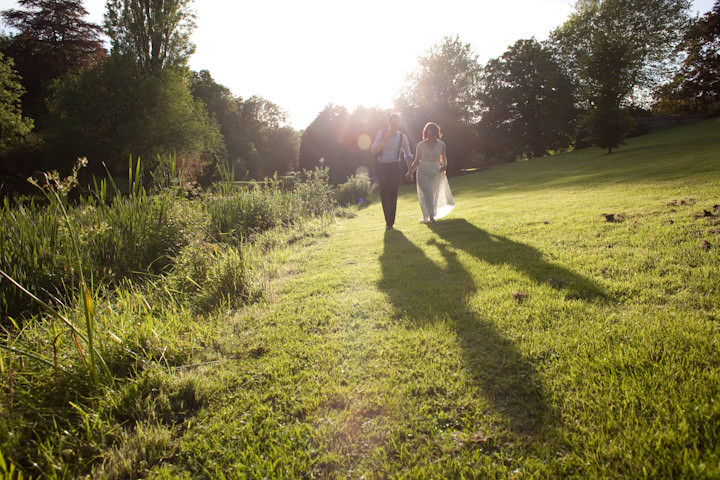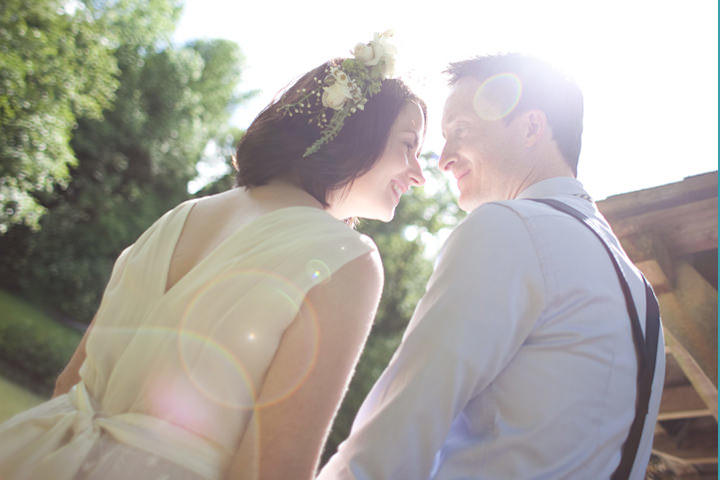 Buy or DIY your Stationery
We designed and produced all our own stationery. Dean designed a logo which incorporated our initials and the venue – this featured on much of the stationery. The save-the-date cards and invitations were printed on craft card for a slightly more rustic feel. We had little name cards for the tables which doubled up as tickets for the ice cream, and designed our own menu boards for the BBQ and ice creams.
Personal or Handmade Touches
We were very hands on with the decorations so everything was personalised. We really enjoyed doing all the arts and crafts stuff in the build up to the wedding, but we did need to tone down a few of our initial ideas to get everything done on time.
– Bunting – As neither of us can sew we opted for card bunting which was much easier for us to do. We brought a selection of patterned tissue paper which we mounted on large sheets of card, and then cut in to flags.
– Seating Plan – We repurposed a wine crate for the seating plan by adding poles with mini pegs attached to hold the name cards. We filled the wine crate with plants which we later planted in our garden.
– Giant H & D Light-up Letters – Dean made adult sized light-up letters of our initials from plywood with flashing festoon lights attached.
– Photo Display – We painted an old frame and hung a selection of polaroid-style photos of us and our families. This was a really good way to include our loved ones who couldn't be there.
– Jam Jar Lights – We used PVA glue to cover jam jars with the same tissue paper as we used for the bunting. With the battery powered tea lights inside these looked like stained glass.
– All the stationery – Because we created the stationery ourselves it meant everything from the invites to the menu boards had the same theme, and the wording could be just how we wanted it.
We spent the day beforehand setting up the venue with some of our family and friends who had arrived early to help. We had a small production line to arrange the flowers in the jam jars. It was a lot of fun, and we had fantastic weather.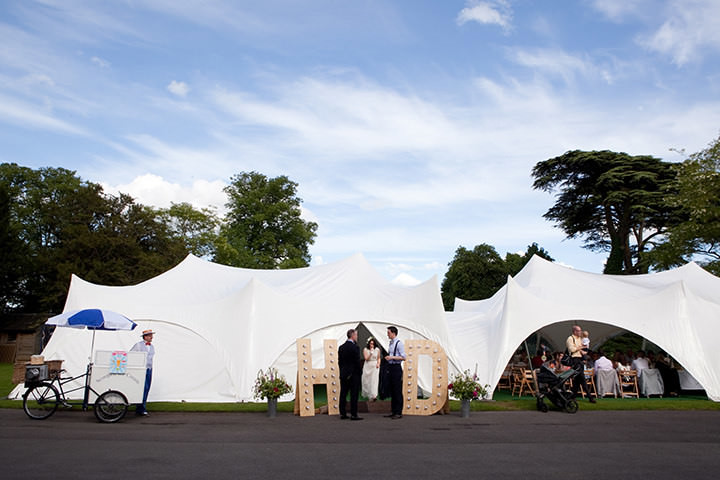 Special Moments
Dean: For me the highlight was the fact that after torrential rain in the morning, the clouds dispersed and the sun came out just at the right time so I got to see Hannah walk down the aisle with the ceremony outside as we had hoped. The highlight was definitely the ceremony itself – it was so peaceful and relaxed. It felt very personal.
Hannah: I have two really special moments that I remember very clearly. The first was waiting with my Mum just before the ceremony, I think it was quite emotional for my Mum to be walking me down the aisle and it was lovely to have a few quiet moments together first. The second was being stood in front of all of our guests holding Dean's hand at the beginning of the ceremony, it was beautifully sunny (at last) with the lightest of breezes rustling the leaves of the tree and the birds were twittering. It was just what I had hoped for.
Biggest surprise
Dean: The amazing gifts we had. We said on the invite that we didn't expect gifts, but nobody took any notice – we were truly overwhelmed by how generous everyone was.
Hannah: I was surprised just how calm I felt on the day. Even when it was pouring with rain in the morning, although I'm glad I didn't know the rain was flooding the marquee at the time as that might have raised the stress levels. We'd done so much planning and preparation beforehand that I knew it would go smoothly, and by this point it's kind of out of your hands anyway.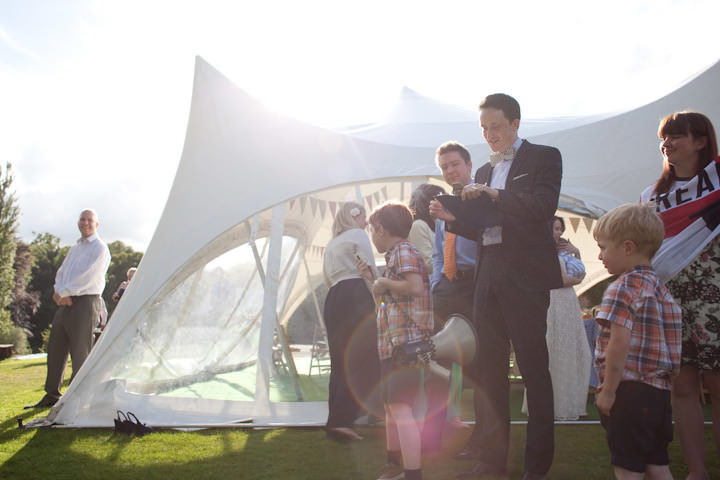 Advice to other couples
-Take lots of photos in the build up to the wedding – we have photos of all the preparations including us making the decorations and visiting suppliers. It's a lot of fun looking back at these afterwards – the journey is as much a part of the wedding as the big day itself, so make the most of it.
-Whether you like it or not, you have to stick to your budget. So choose the things that are really important to you, and spend most of your money on them. If there are things that push you over budget, try and work around them – either DIY or just drop them completely. Don't forget the smaller costs which can creep up on you – things like stationery, postage and insurance for example.
-Make sure you have a solid plan B if you're planning an outdoors wedding to cope with a sudden rain storm. Nothing is going to spoil your day more than a soaking wet bride! Luckily we didn't need to use our plan B (or C) in the end but it did lessen the stress to know we had a plan just in case.
-Keep track of your plans using a shared spreadsheet or document, so you can both see what is going on. We got totally carried away and after the wedding decided to write a book and share our spreadsheets to help others – we've setup a small website for them at www.ownyourwedding.com.
-Give the key people a timetable for the day – the bride, groom, best man, venue, caterers and photographer for example, to make sure everyone is singing off the same hymn sheet.
-Once it's clear that everything is going to be OK (i.e. once it's too late to change anything anyway), relax and take it all in your stride – this is the beginning of the journey not the climax.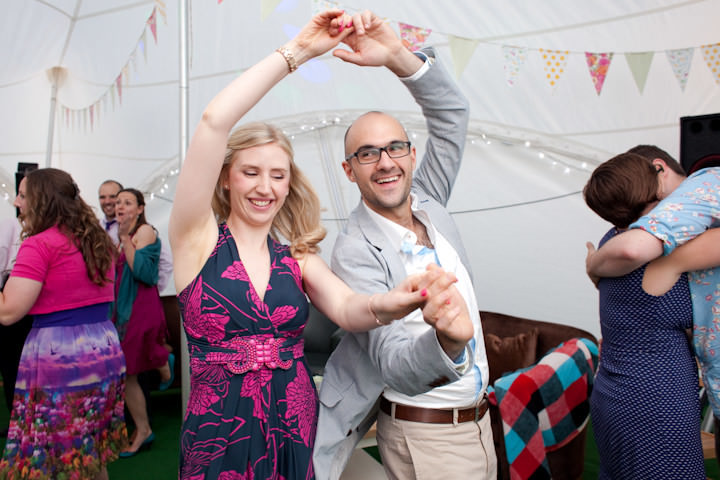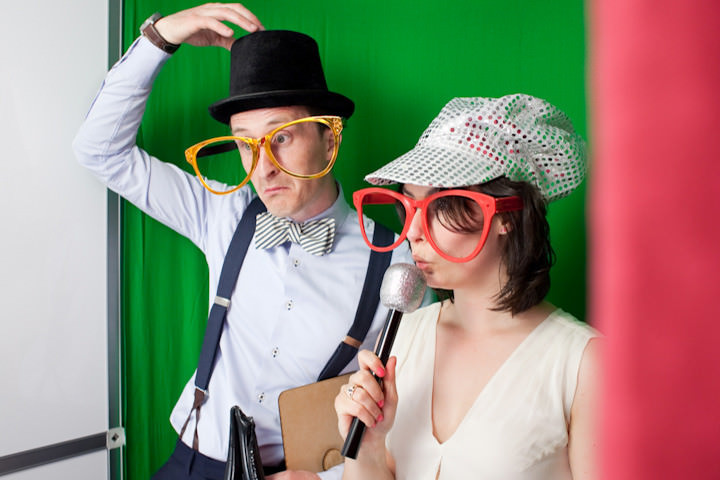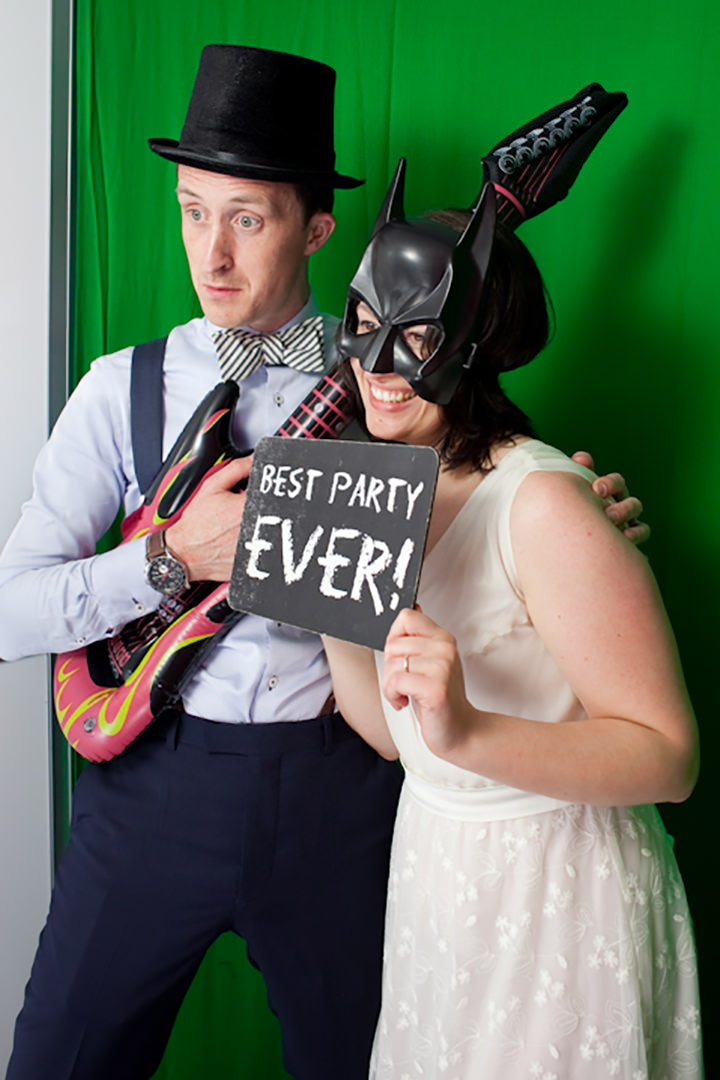 Supplier Shout Outs
For more information on Emma's work please go to:
www.emmastonerweddings.com
www.emmastonerweddings.com/blog
[email protected]
07554934750
FACEBOOK 
PINTEREST
T: @missestoner
I: missestonerpics
I am based in Stroud, Gloucestershire and I specialise in non-traditional and alternative weddings with an eco-friendly ethos. Most of the weddings I shoot are farm weddings and I also photograph lots of handfastings, humanist, pagan ceremonies and some festival themed weddings. I shoot in a documentary style, keeping posed shots to a minimum and capturing the magic of the day as it unfolds.
Besides wedding photography I freelance for clients including; Greenpeace, Friends of the Earth and Glastonbury Festivals.