Today we have a real wedding dress treat for you from those lovely ladies at House of Mooshki. House of Mooshki are wonderful UK based wedding gown designers, who specialise in tea length dresses as well a full on wedding gowns. Form Vintage to Gothic, anything goes and every bride is given the chance to wear her dream dress on her special day. I just love these dresses and I know you will to.
'Vintage inspired wedding dress designers specialising in bespoke and custom wedding dresses, bridal gowns from tea and calf lengths through to gothic' 
'We are here to help each of our brides develop the wedding dress of their dreams. Our design team has years of bridal experience and we love nothing more than the excitement of developing a new design. Although some people may take inspiration from some of our own collection, they always personalise their dress so that it is truly unique.'
We asked House Of Mooshki to tell us a little more about their 2016 collection 
Who are House of Mooshki? and where are you based?
We are Olivia Wright – Creative Director and Designer and Vikki McCarthy Managing Director. HQ in the north east of England (Vikki), Design Studio in London (Olivia)
Tell me a bit more about your business and what made you become a designer
It's been 5 years since the start of our journey and in that time Mooshki has grown from a small local company into an internationally known brand. We now have over 50 stockists internationally enabling more and more brides around the world to get the House of Mooshki experience!Every Mooshki bride has the chance to customise her dress to match not only the theme of the wedding day but also her style and personality. Whether that is changing a neckline, sleeve length or back details. Adding beading or adding pockets, the options are endless.
How would you describe your style 
Our 2016 collection includes many of the Mooshki staples, from flirty tea length dresses to long sumptuous 1950's ball-gowns and of course our sleek, elegant pencil dresses with show stopping detachable trains.
What influences your designs 
We're inspired by the inspirational Couturiers of the late 50's and early 60's like Coco Chanel and Cristobel Balenciaga who we feel, really captured the sheer elegance of women of the times. At Mooshki, we not only recreate these dreamy silhouettes for the modern day bride, but deliver the levels of service that are associated with a top fashion house.
Can you tell me more about this collection
Because we believe that there is no typical Mooshki bride we create each collection to span age ranges, body shapes and sizes so that there really is something for everyone. Experimenting with fabrics and textures, Duchess and Mikado satin's, embellishments and guipure laces in shades of ivory, blush and champagne; our 2016 collection dovetails our classic quirky edge with sophisticated style to create a signature range of dresses that are Mooshki through and through.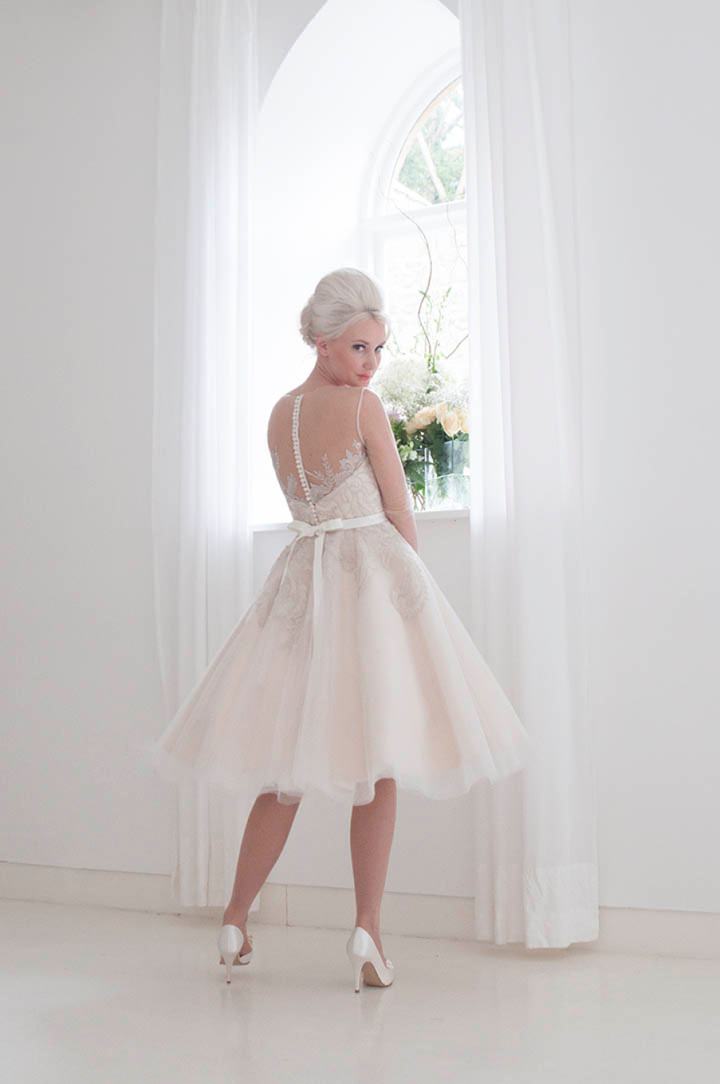 Which is your favourite piece
From the 2016 Collection, Kimmie, Tilly, Leonora, Jemima…too many I can't choose! However mine and Vikki's all time Mooshki fave would have to be Audrey one of the first we ever did and still my ultimate favourite, she is just a super cutie pie
What do you have planned over the next few months/year
We are just about to jet off to the far east to do our fabric buying and lace shopping and working on some fabulous future collections! (I will be like a kid in a candy store) We will be releasing the new 2016 collection at White Gallery which will be available to try in our stockists in the summer. Another New York Trunk Show is planned for the fall!
For more information on House of Mooshki
www.houseofmooshki.com
TWITTER
FACEBOOK
PINTEREST