Where has this week gone?  I really cannot believe it's Thursday already.  The great weather we have been blessed with over the past few days looks like it is here to stay with us.  Hurray I hear you shout!
Today we have a beautiful styled shoot to share with you courtesy of Jaye and Matt from Tux and Tales.  Jaye and Matt are regulars to the blog.  Both Kelly and I are big fans of their work and we absolutely love this shoot.  There are so many great wedding suppliers and even a hedgehog takes centre stage! There are beautiful ballerinas, pink hair, dreamy dresses and oh my the table decorations are just beautiful. Big thanks to Tux and Tales for these amazing and inspirational images.
'A wedding shoot inspired by all the things I love – wool, tulle, ballet & fluffy animals. A chaotic, bohemian and eclectic shoot.'
I'll pass you over to Jaye to tell us more about the shoot……….
The shoot took place lastyear at Danby Castle in East Yorkshire.  'I wanted to photograph a styled shoot that was reflective of my personal style rather than thinking about what was 'on trend'. I am a very tactile person and I am always looking to surround myself with things that are beautiful to touch – wool, felt, tweed, feathers, soft cotton, fine fabrics, etc. I was hoping that people would walk away feeling as though they had 'touched' the photos rather than just seen them.
I got to work with a wonderfully creative team. Gemma from Rosy Apple and Fiona from Firenza Floral Design really 'got' my way of thinking when they designed the flowers and tablescapes. It was wonderful to feel like I could just walk away knowing that they would create something amazing and chaotic and beautiful. Additionally I got to fulfil a dream of photographing the gorgeous wool wedding dresses made by Makepiece in Hebden Bridge. Seriously, what more could a girl want for her winter wedding than a finely loomed wool wedding dress?!?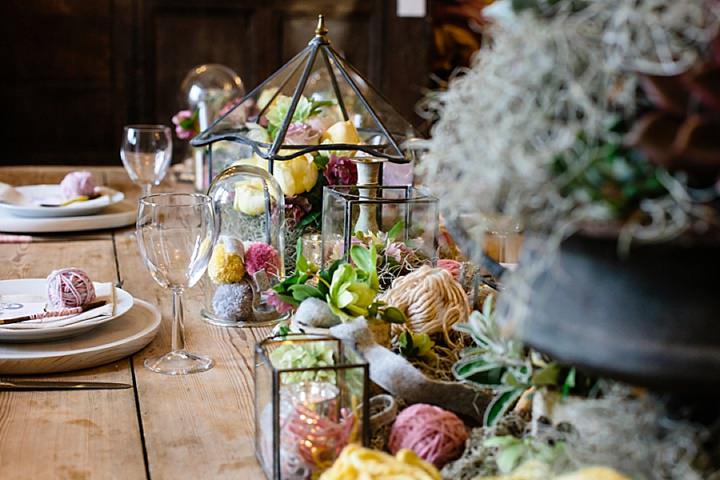 Styled Shoot at Danby Castle: Featuring Tux & Tales Photography & Friends from Mulhern Media on Vimeo.
The suppliers who made it possible…..
For more information on Tux and Tales work go to
www.tuxandtalesphoto.co.uk
www.tuxandtalesphoto.co.uk/#blog
FACEBOOK
@tuxandtales