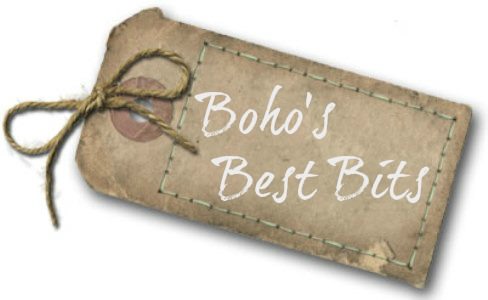 Happy Sunday everyone and how are you all today? What a week of amazing weather we have had, I hope you all managed to get out and enjoy it? I have had a lovely week, on the down side I have had no child care, which means I am now working all weekend while Nik has Dexter. On the plus side it means I had all week to enjoy the sunshine. It's been a lovely week catching up with friends and family, going to parks, visiting farms. It has got me really excited for the summer ahead of us, as well as our holiday to Ibiza in 4 week time (so excited!)
On Blog news Kelly C is now back from Chicago after a lovely week away, she will be sharing her adventures over on A Boho life in a few weeks time. In  3 weeks time she is off again to St.Lucia and Barbados, but this time on a very exciting assignment for the blog, more on that coming up very soon. I have had a peek at the weddings coming up for you this week and they are all looking pretty wonderful, I just know you are going to love them!
On now with this weeks Boho's best Bits, my weekly highlights package of the best the wedding world has to offer. Enjoy!
Best Wedding
I just love this wedding, the first thing I noticed was the dress, I just LOVE the colour block of sequins, so pretty. Secondly the location, set up, reception and overall decoration is just so gorgeous. Found via Wedding Chicks Photo by Back Road Photography
Not Your Ordinary Wedding – From Wedding Chicks
Best DIY
Braided Chignon Hair Tutorial – From 100 Layer Cake
DIY Vinal Record Wedding Inviation – From DIY Weddings Magazine
DIY Fabric Flower Brooch – From Mollie Makes
DIY Test Tube Table Plan – From Bespoke Bride
DIY Suspended Tassle Backdrop – From Ruffled
DIY Fresh Flower Sticks – From Style me Pretty
DIY Push Pop Confetti – From Boho 
Best Photography
Gio and Claire – From The Willinghams
Sarah and Paul – From Our Labour of Love
The Ashes Wedding – From Claire Penn
Prested Hall Wedding – From Samuel Docker
Louise and Tom in Manchester – From Toat of Leeds
Ryan and Bex – From Matt Parry
Rik and Alexa – From Joanna Brown Photography
Tunnels Beach Wedding – From Debs Ivelja
Mexico Wedding – From Fer Juaristi
Columbia River Gorge Wedding – From Nirav Patel
Best Quote
Best Styled Shoot
Romantic Moroccan Bridal Inspiration – From Green Wedding Shoes
Spring Wedding Inspiration with a Hand Painted Gown – From Ruffled
Modern Romeo and Juliet Wedding nspiration – From 100 Layer Cake
Vintage Hot Air Balloon Weddng Inspiration – From Green Wedding Shoes (Photo by Studio EMP)
Pastel Bohemian Spring Wedding Inspiration – From Oh Lovely Day
Best from A Boho Life
Things to do – Visit the Deep in Hull 
Best from Boho Weddings
Beautiful and Offbeat Handmade Wedding
Best of the Rest
SmoggShoppe Wedding – From 100 Layer Cake
Music Inspired Colorado Camp Wedding – From Green Wedding Shoes
Secret Summer Garden Party Wedding – From Love my Dress
Modern Palm Springs Wedding – From 100 Layer Cake
Rustic DIY Outdoor French Wedding – From Rock my Wedding
Hawaii Elopment with the Bride in a Jumpsuit – From Rock n Roll Bride
Botanical Garden Wedding – From Ruffled
Chic Shipyard Wedding – From Wedding Chicks
Outdoor Tuscany Wedding – From Rock my Wedding
Big Boho Love
Kelly xx