Happy Friday everyone, I hope you have had a good week so far? How amazing has the sunshine been? I have thoroughly enjoyed some time in the garden, Dexter has been in what he calls the swimming pool (it's really a paddling pool) I've been enjoying our new garden furniture, life is good! This weekend I am hoping for much of the same, as well as some baking, dropping off presents for friends birthdays and no doubt a few walks! How about you? I would love to hear how your wedding planning is gong on? Are you managing to get much done? Or is everything on hold for a bit? On with today's wedding and it's the turn of Thomas and Ariana who were married on 14th September at The Pointe  in San Diego. This whole wedding is absolutely stunning. The flowers are incredible, so full of Boho goodness and earthy tones. And I love how Thomas and Ariana incorporated some of their Native American culture by having a Pendleton blanket in their ceremony. The whole day is totally adorable, big thanks to Astray Photography for the images.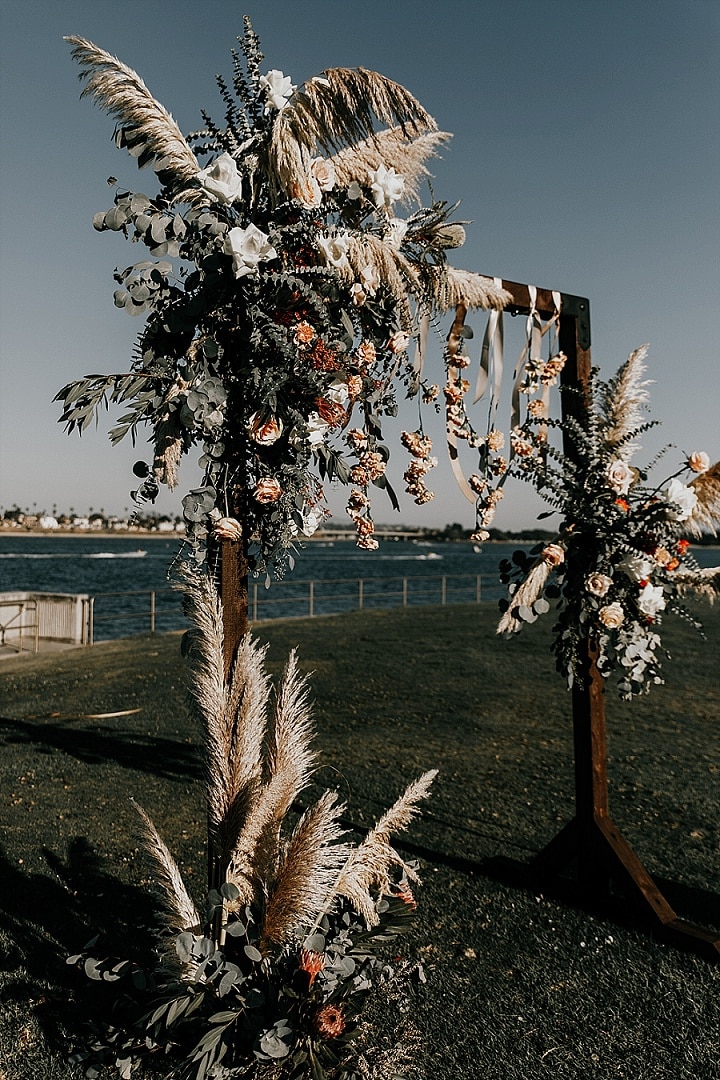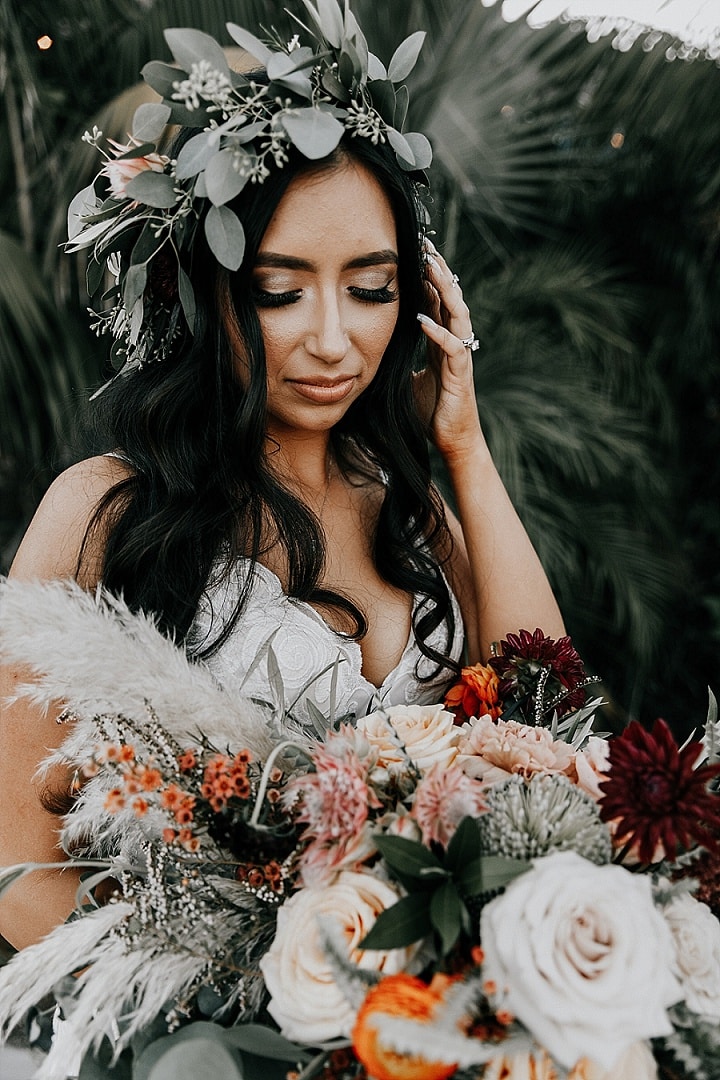 The proposal
We actually met each other in high school and were good friends. After high school we kept in touch and eventually were a couple. The rest is history! After being together for almost 5 years he popped the question on me. It was such a surprise because the day of, I was taking family photos of my whole family. We all met at this really nice outdoor park and while I was busy taking pictures he stands behind me, taps me on the shoulder, and gets down on one knee. As I turn around speechless, my whole family is standing around holding up pictures of me and Thomas as he asks me the question! One of the best days of my life and he was so sweet enough to gather all my family there to witness it all!
Outfits
Thomas knew from the beginning that he wanted to have an all burgundy tux for the wedding. Red is his favourite colour so we search for a nice deep earth tone red to match the whole style of the wedding. He also had a white shirt underneath with a black tie which went very well. I knew I wanted a long boho fit and flare wedding dress. I was searching for a dress that had lace detail throughout the whole dress. I found the most perfect dress with geometric detailing styled lace throughout the whole gown. It had small straps with a beautiful open back and a long train. The color was white and ivory. I didn't want a traditional bright white dress so this one perfect fit the boho chic I was looking for!
Theme or colour scheme 
The inspiration for my wedding day was a mix of me and Thomas' style. I wanted to incorporate a really natural simple yet classy style. I love earthy tones and colours and wanted to have a lot of greenery. I wanted it to be more of a earthy/boho wedding style rather than a ballgown formal one. Me, being full Mexican American, and Thomas being Cahuilla and Mexican, we knew we wanted some cultural meaning for our special day. We incorporated some Native American cultural aspects in our wedding by having a Pendleton blanket wrapped around us after we said our "I do's". This was a representation of our unity as a newly married couple. Thomas also sang "bird songs" with his bird singing group which are called the "TM bird singers." While the men sing, women stand across from them and dance. The songs are traditional gathering songs. Sung to bring people together and celebrate. They are about the history of Cahuilla people. This was especially meaningful for us because of Thomas' appreciation and pride for his cultural background.
Decoration 
The location of our wedding was a small, simple yet beautiful one. With nice views of the harbor to grass and palm trees, there was not too much that I had to decorate. I wanted to keep it simple and earthy. The ceremony decorations had one focus which was the big floral arbor. My florist Angeline did an amazing job with this beautiful view of lush eucalyptus leaves and an array of florals. The arbor was really the centerpiece of our ceremony and brought my vision to life. For the reception, our venue provided beautiful wood tables and greenery within the reception building. I wanted the tables to be bare with no cloth covering and decided that eucalyptus garlands would stand out and look natural along with the wood tables. The rest of the decorations were small touches that brought everything together.
Flowers
When it came to florals I wanted the main focus to be more on greenery than flowers but I did incorporate some flowers. The flowers were mainly use to bring in lots of texture to the bouquets to make them appear sort of messy to create sort of a boho chic look. Pampas grass and other dried flowers/leafs added a sharp, almost pointy, texture also. The florals definitely played a big role in the style and look of my wedding overall. I loved every detail my florist added to each piece especially my flower crown.
Personal touches
The location we picked was really not a traditional style venue but we customized it to our liking. We wanted a place really relaxed and a space with indoors or outdoors settings. The place itself and the view outside was one of my favourite things about that day. I also really loved how there were tv's inside of the building and we were able to play our favorite show during the whole reception which was "The Office." I think that our guest really enjoyed that entertainment. I really love everything about that day and it's hard to choose a favorite!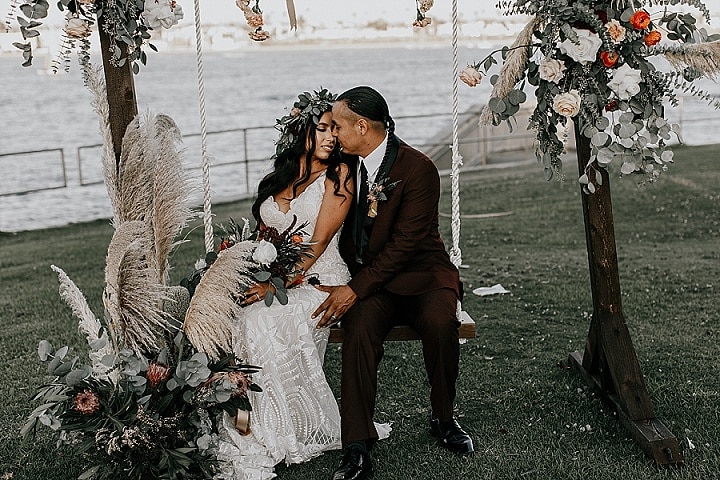 Special Moments
Thomas and I knew we wanted to get married early on in our relationship and having that day finally come was beyond amazing. The most anticipated and special moment of my wedding day was to finally say "I do." It was the most emotional moment but the best one. I'll always remember that feeling. I also really wanted to celebrate with our family and friends who supported and love us. Everything was so special and worked out just as I planned.
Advice for other couples
If I could give other couples advice it would definitely be to plan, plan, plan. The best thing to do is give yourselves enough time to plan and get everything you want for your special day. I spent a year planning my wedding and it all went by so fast. Finding good reliable vendors takes time and is worth the wait. Also have a wedding planner book/binder so that you stay organized. I will make things much easier to find. And last but not least try not to stress and just enjoy your special day because it will go by so fast.
Supplier Shout Outs
For more information on Astray Photography go to