Happy Friday everyone, not long before we can all clock off for the weekend! Before you go though, it's time for another edition of Diary of a Boho Bride. This time it's the turn of Kerry and Jon. Last time Kerry talked to us about her save the  dates, as well as the all important photographer. The last few weeks have been a touch quite on the wedding front for Kerry but she has managed a meeting with her florist and tried her hand at confetti making. Armed with he new DIY skills, Kerry is here today to tell us how to make this gorgeous natural flower confetti.
(Photo by Claire Penn Photography)
I'll hand you over to Kerry…
Hello Boho Brides!
Today is my birthday (as I write this), two years ago today Jon asked my to be his wife and in just over 11 months all our planning will come together. So as you can imagine, today is an exciting day, full of lovely pressies and an unusual day off work for me.
We've had a quieter month in the land of wedding planning. It was Jon's birthday in August and the school summer holidays, which we've been busy enjoying. That said I took a trip to see our florist a couple of weeks ago, as I was keen to see what type of flowers would be available this time next year.
Unfortunately, I'm not very good when it comes to flowers; give me roses, lilies, orchards and carnations, that's about all I know. Luckily I had my Mother in Law to be on hand, a keen gardener and flower enthusiast. I really don't know what I would have done without her there.
I love flowers, especially ones that look as though they have just been picked from the garden, all rustic and earthy. Whilst I don't want to give too much away, I'm hoping to get this across in the day.
What's I'm keen to share with you though, is one of my first DIY projects coming to light. I adore confetti shots, they look simply stunning and I've always had a plan to purchase natural petal confetti for our guests to use on the day.
The lovely Jenny who will be creating our wedding flowers suggested making it ourselves, as it's dead easy to do. I wasn't so sure. I decided to give it a go and enlisted the help of my daughter Caitlin, who is now a pro at making natural confetti and wanted to share this with you.
How to Make Natural Confetti
You will need:
Kitchen Towel
Tray
Scissors
Flower heads in your choice of colour (we used roses that had been in a vase for 1 week)
How to Make Natural Confetti at Home:
STEP 1) Lay the kitchen towel over the tray covering it completely.
STEP 2) Carefully hold the flower head by the stem.
STEP 3) Gently tease the petals away from the stem one by one. They tend to start to come away themselves once you get going.
STEP 4) Place each of the petals on the kitchen towel.
STEP 5) Once you've removed all the petals, discard the stem and eye of the flower.

STEP 6) Place the tray of petals in a dry, dark airing cupboard. If you don't have an airing cupboard, you can use another room or garage where the area is warm and dark.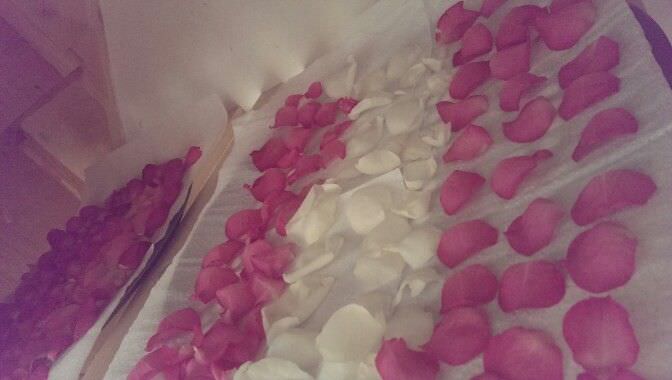 STEP 7) Leave for 2-3 days to dry out naturally. They will shrink in size and feel crispy to touch. The colours may vary slightly once dried, I noticed that mine have gone a bit darker.
STEP 8) Once ready seal in a box or paper and store in a dry place until ready to use.
STEP 9) When you're ready to use, you can add some fresh petals or fragrance oil to provide a gorgeous scent.
STEP 10) Hey presto, your very own homemade confetti!
We're currently on our fourth batch, I think by the time August 2015 arrives, we should have plenty of confetti for that special moment when we leave the church.
It's really is that easy, although it takes a while to gather a substantial amount. However, it's a great excuse to have fresh flowers in the house every week and gives my daughter a very important job for our big day.
Let me know if you give it a go, I'd love to hear and see different varieties.
Much Love,
Kerry & Jon