The Cotswolds is such a beautiful place and where better to end the week than Moreton-in-Marsh for the wedding of Catherine and Chris. With photography by Natasha Cadman, who truly captures the beautiful scenery and obvious joy of the happy couple, Catherine and Chris' wedding is full to the brim with decoration and personal touches inspired by their travels around the world. My personal favourite is the cake in the shape of a vintage suitcase! If you're thinking of a geographical theme for your wedding day, then read right the way to the end of this post for lots and lots of great ideas.
'A beautiful spring wedding in a stunning Cotswold setting where best friends tied the knot surrounded by happy friends and family.'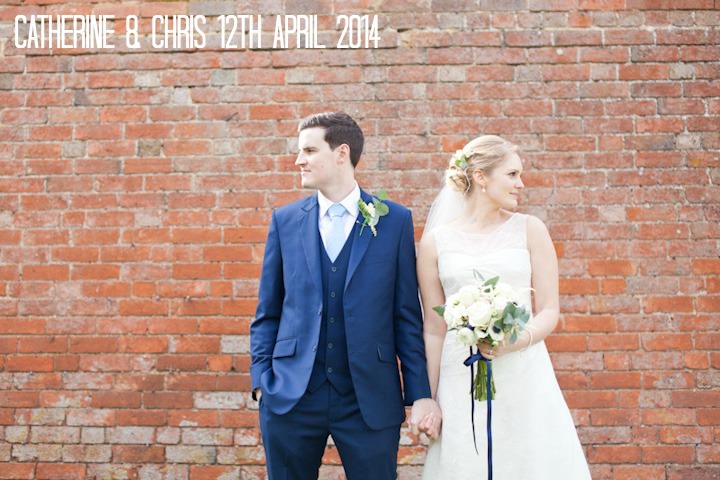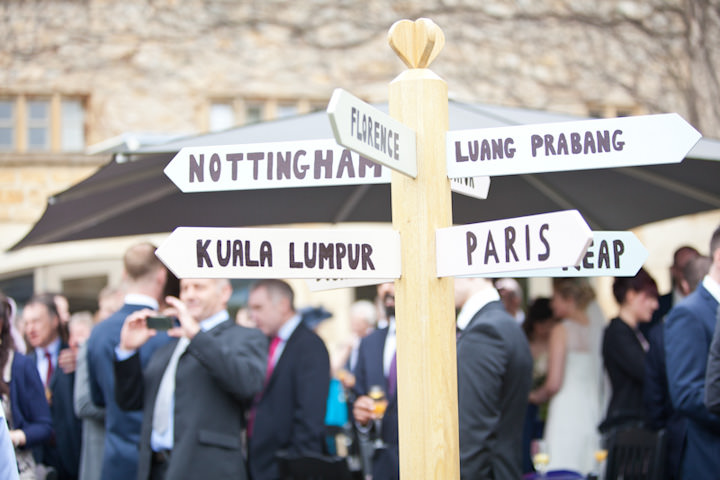 Catherine and Chris were married on 12th April at the Manor House Hotel in Moreton-in-Marsh, Cotswolds. "We live in Reading, Catherine comes from Norfolk and Chris from Northern Ireland and we have friends all over the place. So we decided to get married close to the most important guests: Catherine's fabulous grandparents. We had 80 guests in the day time and a further 20 in the evening. We got engaged in September 2012 and booked the venue in December that year giving us around a year and a half to plan."
How they met
We met at Nottingham University in the fourth year of our French degree. Our exam candidate numbers were sequential so we would have sat our exams for three years sitting next to each other. We finally locked eyes in an exam in January 2009 and were inseparable from then on! After graduating in June 2009 we went back to our home towns (Norwich and Belfast) and saved up enough money for a six month trip. In February 2010 we went to Malaysia, Thailand, Cambodia, Vietnam, Laos, Singapore, Sri Lanka and India! We survived scary bus trips, food poisoning, trekking, and living out of grubby back packs and it confirmed we were extremely compatible! In August 2010 Chris got a job in Reading so he moved to England permanently and we moved into a tiny little flat together…and have lived happily ever after since!
The proposal
I (Catherine) am a hard person to surprise. I know everything that is going on, everywhere, and always plan weekends, dinner dates and manage the shared iPhone calendar! Therefore Chris had his work cut out trying to make the proposal a surprise. One random Thursday, I went shopping after work with a friend. Chris took the opportunity to get home from work before me (a surprise in itself!) and filled the bedroom with hundreds of candles and then sat on one knee waiting for me to get home. When I got home I went upstairs (smelling my favourite candles and expecting a bath to be running!) and Chris was there on one knee, dressed in his suit, holding a platinum brilliant-cut diamond ring! After lots of nodding and tears, Chris pulled out two glasses of ready-poured champagne from the wardrobe. We then went to our favourite restaurant in Reading for an incredible meal.
How did you allocate your budget?
We prioritised our budget for the aspects that meant most to us. 1. A gorgeous setting in a hotel that was large enough to hold the ceremony but not so large there would be many other hotel guests around. There was a spreadsheet with around 25 venues and we viewed a far few of them looking for the right balance of flexibility, friendly staff, a lovely place for our guests to stay and above all: beautiful gardens and reception rooms. 2. We LOVE our food and our Facebook and Instagram pages are full of meals we've cooked and restaurants we've visited so it was important to us that the food looked and tasted good and we wanted to allocate a good budget for a fantastic 3-course meal and canapés and to meet the demands of one Bridesmaid: to have lots of cheese in the evening! 3. Our outfits –We gave ourselves a generous budget for the dress, suits, shoes, accessories and pampering (for Catherine! )
Why did you choose your photographer?
I (Catherine) was passed a list of recommended photographers from a friend at work and started making my way down the list. Most of the photographers were local to Oxford where I worked but Natasha Cadman's website featured on there as she had photographed a couple who worked in the same office as me, despite being from Leeds. I looked at Natasha's website, her blogs, and the complete gallery and kept going back to her website although I did feel someone local would be more practical. I did research, made another enormous spreadsheet, and kept viewing other photographer's pages but just kept coming back to Natasha's as her style was exactly what we wanted: photos with lots of light, a focus on wedding details, and capturing relaxed moments between couples and guests. In the end I got in touch and asked if she was willing to travel from Leeds to the Cotswolds to photograph our wedding! She said yes, we had a Skype date (more like a first date – we were all nervous!) and then we met in person 8 months later at our engagement shoot. This was hands down one of the best decisions we made: not only do we adore the photos Natasha took at the wedding, but we also love our engagement pictures, and loved the way she blended in with our friends and family. Natasha came to our pre-wedding meal the evening before and everyone thought we had been friends for ages and not that she was there on a work capacity! We are now firm friends and keep in touch with each other daily through the medium of social media!
The dress and accessories
My dress was called Eloise by Alan Hannah. I brought it in a sample sale in Ellie Sanderson in Oxford. I walked past the shop every day on my way to walk and often stopped with friends to coo and smile at the beautiful dresses in the window. When they advertised a sale a year before the wedding I jumped at the chance to go with a close friend from work. I had put a good few hours (ok, weeks and months) research into designer dresses and although there wasn't a spreadsheet, there was an epic Pinterest board of my favourite styles and shapes. I wanted a classic look with lace, buttons and an elegant silhouette. I tried on the Alan Hannah gown and it ticked all the boxes and it was half price – so my logical mind screamed BUY IT! So I did and took the dress home leaving it to hang in our second bedroom for the next 7 months… Chris isn't the type to peek so I knew it was safe there without ruining any surprises! I found two brilliant seamstresses in Norfolk – a Mother/Daughter duo – who made alterations to the dress – removing the cap sleeves and lifting the neckline plus bringing it down a couple of dress sizes. They were extremely patient and willing to work around my trips home to Norfolk.
For shoes I wanted blue and a pointed toe that would point out from below the dress. I bought gorgeous dark blue suede shoes from Carvela and wore them all day through to the early hours of the morning on the wedding day they were that comfy! I got my veil from a small shop in Norfolk – simple ivory fingertip length. I wore a pearl bracelet that belongs to my Mum and Chris surprised me on the day with a gift of Tiffany pearl drop earrings which are now my most treasured possessions!
The suit and bridesmaids
Chris' suit was tailor made by 'A Suit That Fits' who were recommended to us by a friend. He got a three-piece suit in an electric blue and looked amazing. The experience was great: one measuring up session followed by a couple of fittings and some tweaking. It was a more expensive option that buying off the peg but the result of a one-of-a-kind suit is worth the price and he's worn the suit to another wedding since. My bridesmaids' dresses were from House of Fraser and my sister found them early on in the planning. All three bridesmaids approved so we quickly snapped them up. They were a lovely blue lace and very flattering shape.
The theme
There was a blue colour theme running through the day included in the suits, bridesmaids' dresses, ribbon around the cake tiers; and ribbon on my bouquet. The theme for the wedding was travelling based upon our Asia travelling experience back when we first met and our love for holidays since! Each table was named after a location we've visited; the table plan was a world map; we had a wooden signpost pointing to all of the locations; there were mini travel quizzes on each table; and the favours were mini suitcases. I also incorporated the airmail colours in our save the date, invitations, and string tying up luggage tags on the table plan.
The flowers
My wonderful Aunty offered to do the flowers for the wedding and she did a fantastic job! I loved researching flowers and amused my family as I chose flowers – always out of season – and ones I could hardly pronounce! My bouquet was exactly as I pictured it: a spring like collection of flowers that looked like they were picked from the garden: white anemones, white double O'Hara roses, blue juniper berries, white lily of the valley, pale pink ranunclusus, pink dahlia (out of season but ONE opened on the day hooray!), pale pink astilbe and eucalyptus. I also had eucalyptus and small white garden roses in my hair.
Around the ceremony room we had white birdcages draped with ivy and fairy lights and filled with all the flowers used in the other designs.
The jars on the tables had varying heights of flowers with white, blue, mint and dusky pink flowers. They included freesias, white gypsophilia, pale pink garden roses, blue muscari, and white tulips (grown by my Granddad!).
The buttonholes were white freesias with foliage and my Mum and Grandma had a similar small corsage.
The decoration
As well as the wooden places sign post which was placed outside when the canapés were served which featured in a lot of people's photos, we also had a table of travel-themed decorations: a globe, vintage suitcases and atlases. For the guest book I collected over 200 postcards from all over the globe by sending out a request to friends and family after we got engaged to collect postcards for me. We placed these in a suitcase and asked everyone to write a message, joke, or tips for married life on the postcards. These are hilarious to read and especially the ones written towards the end of the night! I'm really pleased with how they worked out and am going to bind them up into a keepsake book.
At the end of the aisle in the hotel there was a lovely feature of tree trunks and over the top of these we put up fairy lights. These sparkled during the ceremony and make a lovely background to all the photos of us.
I put up a couple of posters around the venue: a hashtag for our guests' Instagram photos and pictures of us as children outside the Ladies and Gents loos!
We bought a vintage mirror and painted it with blackboard paint to write our food menu on. The morning of the wedding my brother, dad and I took on the challenge of writing the menu out in straight lines and measuring the mirror to make everything even. In my haste to go and get ready I wrote one word on the menu twice. Knowing how much it would bother me no-one mentioned it until the following day – and it still irritates me to this day!!
I lined a vintage suitcase for people to put cards in and made some bunting to hang over it using map fabric from John Lewis.
The food and wedding cake
We had canapés outside in the garden following the ceremony and they were travel themed: mini fish and chips, mini onion bhajis and samosas, and mini ratatouille bon bons. These were served with peach Bellini's.
For the meal, the starter was a salad of prosciutto ham with marinated with a basil dressing; the main was a supreme of chicken wrapped in parma ham with gratin dauphinoise, sautéed green beans and a tarragon jus and for dessert we had a hot chocolate and walnut brownie with vanilla ice cream. We are already looking forward to returning the hotel for our anniversary to taste more of their food!
We went for a three tier wedding cake from Marks and Spencer with different flavour layers: fruit, chocolate sponge and vanilla sponge. It was a really reasonable cost and extremely tasty. We decorated the cake with pearls made from icing, blue ribbon to match my bouquet, and on top a small bouquet of silk flowers to match mine.
Not only did we have the traditional wedding cake: but Catherine's parents also surprised us on the day with an enormous chocolate cake made in the shape of a suitcase covered in edible picture names and place names. It was stunning and tasted so good!
The entertainment
After we had the formal pictures outside and everyone was making their way back into the hotel, we had two of Chris' friends play their guitars and serenade all our guests! The lights were dimmed and their music carried up the hallway and through the hotel. It sounded like a random idea originally to ask our friends to bring their guitars along but it worked really well.
Following them, Neil the DJ started and he kept the dance floor packed all night! In our invitations we asked each guest to RSVP with a selected song for the DJ. Alongside this list of requests Catherine made a list of all-time favourite songs – which surprised Chris – included a lot of 90s songs and RnB. Neil said he was thrilled and didn't often get the chance to play Let Loose 'Crazy for you'. It went down a treat! Our first dance was to Ben E King 'Stand by Me' which was the theme tune to the first ever film we watched together
Entertainment was provided by the two Ushers – our brothers – who thought they were straight out of an American High School dance movie and performed dance-offs and ridiculous moves all night.
Buy or DIY your stationery?
My beautiful friend Louise created the invitations! I knew I wanted to incorporate travel, a postcard, a map and a place stamp but just couldn't find what I wanted online despite months of research! Louise is an Architect and nifty with design programmes so she created the invites and after some back and forth to finalise the design, I found a local printer and printed a postcard invite with a mini postcard for the RSVP. I was absolutely thrilled with the invites and we got so many compliments about them. Thanks again Louise!
I tied the two invites together with blue and red string and wrote guests names with a calligraphy pen on a brown luggage tag.
I created a wedding website using the site gettingmarried.co.uk and included on the site information about the hotel, accommodation, travel and timings plus lots of photographs.
Personal or handmade touches
– DIY: I had a craft day with some friends before the wedding and we made Mr & Mrs letters made out of decoupage with materials from Hobbycraft.
– The table plan was made out of a canvas painted mint with a map attached to it. From each place name we attached blue and red string and around the outside of the plan added the names of the guests on each table on a luggage tab.
– Blackboard menu made from a mirror – mentioned above
– On each table I made an A5 card with the place name and photos of us visiting that place along with landmarks. These stood in white heart stands from Hobbycraft.
– My sister made a photo slideshow of Chris and I through our childhood with photos of us at the same age. This was playing as the guests came into the reception room for the wedding breakfast.
– We hired white chivari chairs for the ceremony and wedding breakfast which definitely completed the setting
– To hold the flowers on each table, Catherine and her mum collected coffee jars and jam jars for well over a year. We like the shape of Douwe Egberts coffee jars so a lot of friends and family were converted into drinking this coffee and keeping the jars for us in the lead up to the wedding! Catherine's Mum and Sister decorated all jars with lace and ribbon in mint and blue.
– I lined a vintage suitcase for people to put cards in and made some bunting to hang over it using map fabric from John Lewis.
– The invites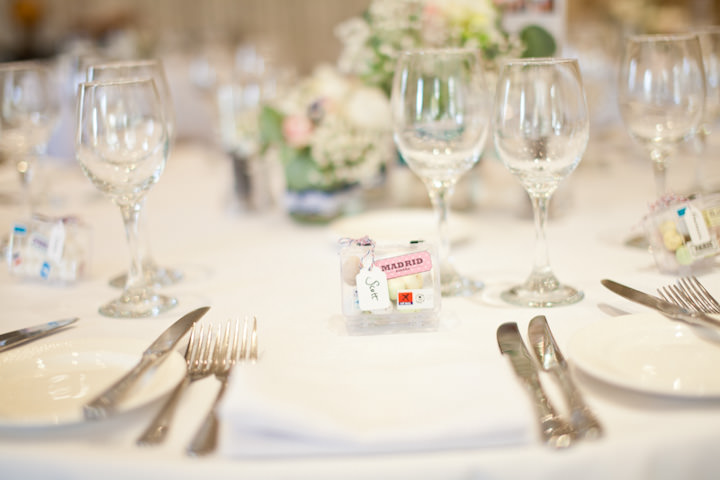 Special moments
Our very close friends Monika and James did a reading during the ceremony and although we had helped to choose the poem – Louise Cuddon 'I'll be there for you' – the words felt more special and more sincere in that moment. They had obviously rehearsed and read the poem together smiling across to us the whole time!
Here's the poem – we picked it because of the references to travel, every day experiences and things we'll face in married life.
Louise Cuddon. I'll be there for you.
I'll be there my darling, through thick and through thin
When your mind's in a mess and your head's in a spin
When your plane's been delayed, and you've missed the last train.
When life is just threatening to drive you insane
When your thrilling whodunit has lost its last page
When somebody tells you, you're looking your age
When your coffee's too cool, and your wine is too warm
When the forecast said "Fine", but you're out in a storm
When your quick break hotel, turns into a slum
And your holiday photos show only your thumb
When you park for five minutes in a resident's bay
And return to discover you've been towed away
When the jeans that you bought in hope or in haste
Just stick on your hips and don't reach round your waist
When the food you most like brings you out in red rashes
When as soon as you boot up the bloody thing crashes
So my darling, my sweetheart, my dear…
When you break a rule, when you act the fool
When you've got the flu, when you're in a stew
When you're last in the queue, don't feel blue
'cause I'm telling you, I'll be there for you.
Advice to other couples
I'm a project manager so organisation and tracking tools were key elements of planning and staying sane. I had a live budget where I tracked every cost and estimate, activity planner, and to do list that I could access online from anywhere which meant I was always on track and didn't have to hold all the information in my head. It can be very stressful nearing the day as you try to line up how everything will run and people start to ask questions about timings so the more planning done ahead of the day the better. I also created a wedding day schedule which I sent to everyone in the wedding party a week before the wedding with a list of who's who, timings for the day and contact numbers. They probably thought I was mad but there were no hiccups during the day and everything ran to schedule so I take some credit for that!
For the day itself I took on a lot of advice I'd read on wedding blogs: to soak it all in, try to spend as much time with Chris as with chatting to all the guests, to go away as a couple and have the formal shots so we had time to chat. Most importantly I would advise having a relaxing morning before the wedding rush begins: I was staying in a beautiful cottage in the hotel gardens and at 6am in the morning I had a bath in the free-standing tub, watched some tele, had a chamomile tea and let all the stresses about planning wash away!
Biggest surprise
The speeches surprised us as we didn't expect them to be so emotional and such a highlight. The Father of the Bride speech was both funny and touching and had the whole room captivated and smiling throughout. We had three Best Men and were slightly anxious about what they would each say – and how long the speeches would go on for! But we need not have worried. Tim, Scott and Mark gave brilliant speeches: with great anecdotes about Chris at university, us as a couple, and about the wedding. Chris also pulled off a fantastic speech and luckily he wrote it all down so I've put that away in my wedding keepsake box for safe keeping!
The suitcase cake was another massive surprise and a really thoughtful one planned months before the day.






Supplier Shout Outs:
For more information on Natasha's work please go to:
www.natashacadman.com
natashacadmanblog.com
FACEBOOK
@NatashaCadman