Happy 4th July everyone! Today's wedding was sent to us by the lovely Sarah-Jane and Simon from SDS Photography. Right from the start, bride and groom, Nicola and Harry knew they needed a venue that could give them flexibility and the blank canvas they needed to completely personalise their wedding day. So when they found these beautiful tipis and teamed them up with the grounds of Kirkley Hall in Northumberland, it became a match made in heaven. Open log fires, twinkling fairy lights and bunting galore, this wedding is a true coming together of families and loved ones to create one great big, massive celebration.
'A great celebration with all our family and friends. It was exactly the type of day we had in mind when we started planning!'
Nicola and Harry were married on the 12th April at Holy Trinity Church in Horsley with a tipi reception on the lawn at Kirkley Hall, Northumberland. "The church is Harry's local family church. We thought it would be nice to get married in a church there was a family connection to, even if it was a bit of a trek for most of the guests to get there! I'd worked lots of weddings in a hotel when I was younger which made me want something a bit different for my own wedding. As soon as I found the tipis online I thought they were perfect but we had to wait three months after getting engaged to see the tipis at an open day. We visited a few more traditional wedding venues while we waited but quickly decided we wanted more of a blank canvas that we could personalise. Once we visited the tipis we were sold! We then focussed our efforts on finding somewhere to put them. We initially looked into putting the tipis in a field close to the church but the cost of bringing in generators, toilets and catering facilities was extortionate. When we visited Kirkley Hall it was exactly what we were looking for. There was a lovely flat lawn for the tipis with great views and unlike other venues they were really flexible with all our ideas."
How they met
We met in the first week of our Economics degree at Newcastle Uni in 2005. We were queuing in the corridor to meet our tutor and got chatting.
The proposal
The proposal plan was somewhat ruined by me. Harry planned to propose at Tynemouth beach where we often walk the dog and visit the market. It was two days before Christmas and we were preparing to visit our families separately for Christmas. When we woke up the weather outside was awful. Because we had lots to do and it was miserable outside I was pretty insistent we should cancel the walk at the beach. Harry had wrapped some decoy empty boxes under the Christmas tree so when it came to exchanging gifts before we parted for Christmas he had no choice but to pull out the ring! I'd always said that I'd love a ring with a coloured stone and the ruby ring he'd picked was perfect. I was especially impressed that he'd picked it out by himself (on the way to a Newcastle match where it was shoved in his pocket). He often reminds me 'You couldn't have picked better yourself.'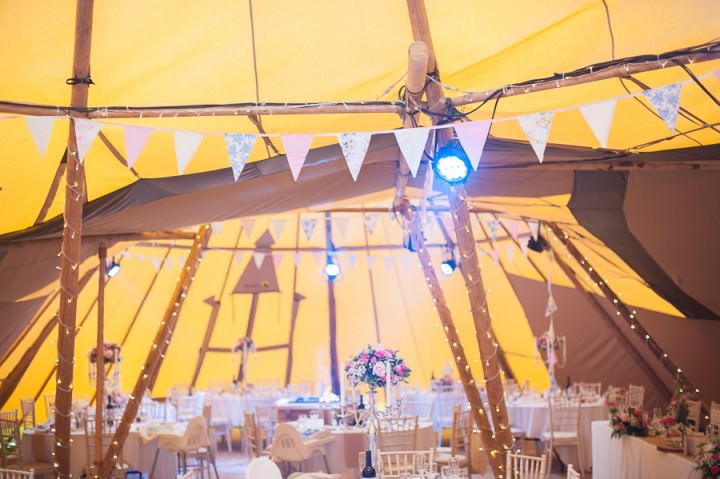 How did you allocate your budget?
The tipis took up a large chunk of our budget but were definitely worth it! For everything else we found a suggested split of spend by category online and used this as a starting point for dividing up the budget. Conforming to accountant stereotypes, I had a twenty tab spreadsheet for planning and tracking what we were spending.
Why did you choose your photographer?
Neither of us liked the idea of posing for a photographer for lots of awkward, formal photographs so we started looking for someone with more of a reportage style. Initially we struggled to find someone locally. I really loved a photographer I found based in Edinburgh but Harry convinced me that it wasn't very practical to work with someone based in a different city. Eventually we came across SDS Photography. We really liked their style and when Simon and Sarah-Jane came to meet us we were really impressed. Their package was really reasonably priced compared to some and we especially liked the fact we got all the rights to the photographs. On the day they made us feel very comfortable and we love the end results! It's going to be difficult to narrow down 900+ photographs for the album.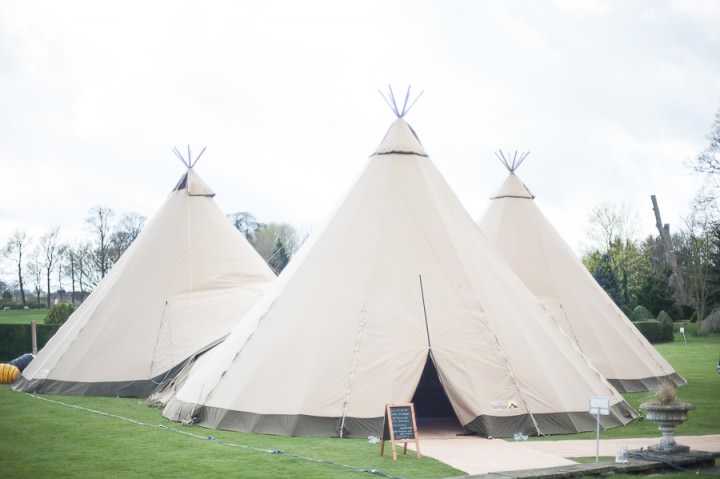 The dress and accessories
My dress was Alice by Charlotte Balbier, bought from Wedding Essentials in Newcastle. It was the first dress I tried on. I was in town with my Mam shopping for my brother's birthday present when we decided to pop into a couple of bridal shops to make appointments. I had no idea what type of dress I was looking for but when I saw Alice I loved it. When I tried it on I felt it suited me and was really comfortable. The dress was in the sale and the last one left so I decided to just go for it!
I initially bought Rachel Simpson Mimosa shoes in pale mint but changed my mind after realising all the bridesmaids were planning to wear huge heels and I'd be the shortest one. I bought a pair of Carvela Kurt Geiger's with a larger heel that I planned to wear during the day before changing into the more comfortable Mimosa for the evening's dancing but on the morning of the wedding I forgot to take them with me. It does mean I have a very nice pair of shoes to wear to the next event I go to.
I bought myself a pair of rhinestone and pearl earrings from Katherine Swaine at Not on the Highstreet and wore a bracelet bought by Harry as a wedding present. I was going to wear a pearl necklace that my Mam wore on her wedding day but our plans to restore it never quite came off so my parents bought me a new a lovely new one to wear on the day. On the morning of the wedding we had our hair styled at Boilerhouse in Jesmond and I treated myself to make up from F.A.C.E Makeup Artistry.
The suit and bridesmaids
Suits were from Moss Bros. They were really helpful and pointed us in the right direction when we didn't have a clue. Bridesmaid dresses were from BHS. I loved the look of them but we had a bit of a disaster on the day when a zip broke and one of the bridesmaids had to be stitched into the dress on the way to the church. Luckily I had a crafty bridesmaid to do the needlework because I wouldn't have known where to start.
The theme
There was no set colour scheme. We picked things we liked and hoped they would look ok together on the day. We were aiming for a fairly relaxed, informal wedding with a loose country/ vintage type theme.
The flowers
I had a bit of difficulty finding a florist. I don't know much about flowers but I knew that I wanted a relaxed, thrown together type look rather than anything too formal. It took a few difficult consultations before we eventually came across the wonderful Hollie at Fleur Couture who seemed to really understand my garbled explanation of what I wanted. We were even more impressed when Hollie managed to produce our amazing flowers less than a week after having a baby! The flowers included sweet avalanche roses, lovely lydia spray roses, lisianthus, gypsophilia and stocks.
The decoration
We often visit Tynemouth on a weekend. They have a great market so we spent months gathering decorative bits and pieces from there. We collected a mix of glass jars/ dishes for the sweet bar, bought an old typewriter to make place names and found plenty of fabric scraps for bunting. My Mam also got her friends from work to collect jam jars which we decorated and dropped tea lights into.
The food and wedding cake
We had arrival drinks of pimms or beer and canapes. During the afternoon we served afternoon tea on vintage crockery. In the evening we had a hog roast and hired in Monsieur Crepe (another Tynemouth market find) to serve sweet crepes for dessert.
We decided that the wedding cake was an area we could compromise on so we got a Marks & Spencer cake and covered it in lots of fresh flowers. It looked great and we were pleased with the decision when we woke up the morning after the wedding with an uncut cake that fed 150 people!
The entertainment
Harry came home merry from a night out convinced he had found our wedding entertainment. I was pretty sceptical but when we went to see Simma, a local singer/ musician, a few weeks later I was sold. We then spent a couple of months stalking him around pubs to make sure it was still in his diary. His set was amazing and got everyone up dancing! Between Simma's sets we had the Kirkley Hall house DJ to keep the party going.
I'd really wanted some live music during arrival drinks. Luckily Harry discovered a very talented friend on his PGCE who was able to play! Rhea played/ sang a lovely combination of songs and even managed to squeeze in some Carpenters which is my favourite!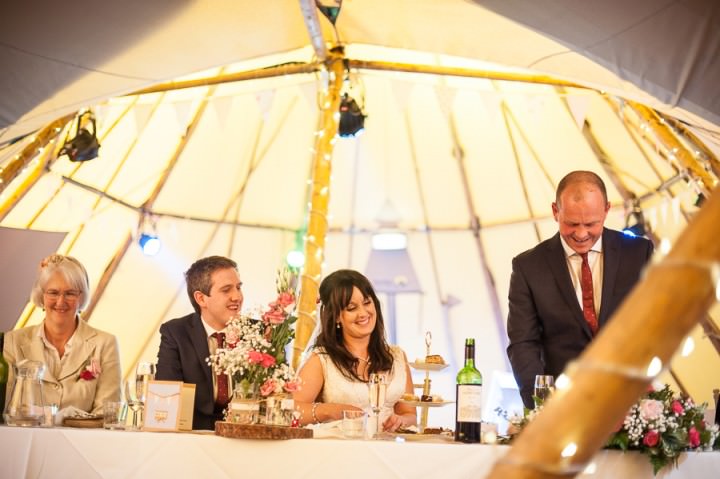 Buy or DIY your stationery?
We bought our stationery online as we knew we'd never have enough time to DIY along with all our other planned projects! Our invites were 'A very country wedding' collection from Sarah Wants. We thought they fitted nicely with the feel of the day.
Personal or handmade touches
– We made our table plan by spraying an old frame cream and covering the canvas inside with a polka dot fabric. We listed each table on a luggage label and hung from rows of string.
– Harry's parents made jam with plums from their garden. We had personalised stickers printed for the jars and topped with floral fabric tied with string. We used these as favours for the ladies and the men got a bottle of Northumberland ale.
– My dad made our wooden direction sign.
– We recruited family, friends, neighbours and bridesmaids to decorate jam jars.
– We made chalkboard table numbers.
– My mam helped me decorate canvas bags with the initials of the children. We filled the bags with toys and books to keep them occupied during the day.
– We bought a chalkboard to list out the order of the day.
– We collected glass jars/ bowls to make a sweetie table.
– We put out a selection of pashminas, flip flops and umbrellas for guests to help themselves to.
– We made napkin ties from the same floral fabric used to top the jam jars.
– We used a vintage typewriter picked up at the market to make name cards on brown luggage labels.
– Our lovely friend, and best man's girlfriend, Sasha made us lots and lots of bunting.
– Each table had a different handmade menu.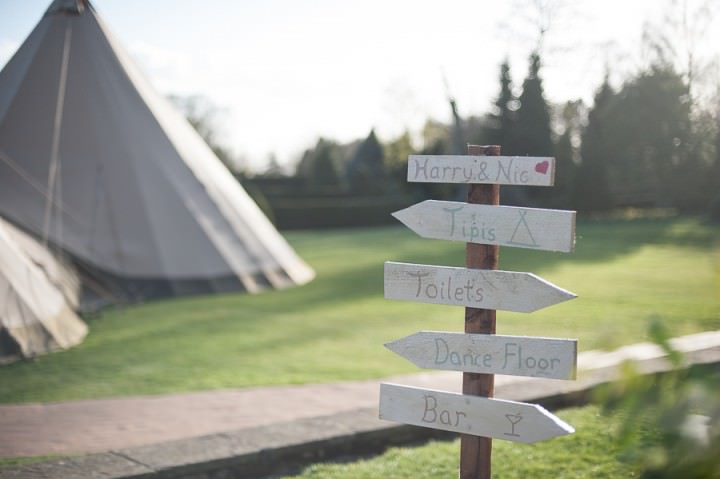 Special moments
We enjoyed it all! As clichéd as it sounds, the day completely flew by and we wish we could do it all again. We both really enjoyed the evening as all the formalities were over and we could really relax and have fun.
Advice to other couples
Try to relax and enjoy it as much as possible because when it's over you'll be gutted you can't go back and relive it all for a second time!
On a practical note, make sure you include a contingency pot in your budget. When we were dividing up our budget we allocated a buffer amount. It came in really useful towards the end when costs were spiralling! All the little costs you don't consider at the start can quickly add up.
Biggest surprise
That the sun came out! The weather was a bit wild and windy up at the church but as soon as we arrived at Kirkley Hall the sun came out.





Supplier Shout Outs:
For more information on Sarah-Jane and Simon's work please go to:
sdsphotography.co.uk
sdsphotography.co.uk/blog