Shelly from Toast of Leeds is no stranger to Boho and so when she told us about today's wedding, we knew it was going to be a corker and couldn't wait to share it with you! She has captured Kate and Dan's personality so well in these images and you can see that they had the most fun on their wedding day, which was held at the beautiful St Wilfred's Church in Calverley just outside Leeds. They went on to hold their reception in a barn in Keighley where their theme of gold, white and green worked perfectly against the barn's warm, wood interior. Don't you think Kate's white 'swan' jacket is divine?!
"White, gold & green; a relaxed day for our friends & family to celebrate with us that had the personal touch."
Kate and Dan tied the knot on 3rd May at the beautiful St Wilfrids Church in Calverley just outside Leeds with the reception at the Airedale Barn at East Riddlesden Hall in Keighley. "We picked East Riddlesden Hall from the start; we looked at a few other venues but fell in love with this one, such a lovely space with amazing high ceilings, nothing quite like it in Yorkshire.
We chose St Wilfred's in Calverley largely for its location – it would be on the way from Leeds to Keighley for most of our guests – but we've also had our eye on Calverley for some time as somewhere we'd like to live. It took us just over a year, but we're sure we could have done it quicker. Kate had been completing her accountancy qualification at the same time so we had to work around this."
How they met
Dan: We met when Kate was on a placement year from university. Kate was the intern, I was the manager. I stalked her round the office for a few months then sat next to her on the bus home from work one day, and the rest is history. We got engaged in December 2012, after being together for 6 years, and then were married 16 months later.
The proposal
Kate: We had just wined and dined at the New Ellington in Leeds for our 6 year anniversary. We got home and I asked Dan if he wanted a cup of tea, and he said "How about you marry me instead?" to which I squealed and said "Yes please!"
How did you choose your photographer?
When we were looking at wedding venues online in Yorkshire we kept seeing these crazy beautiful photographs of East Riddlesden Hall by Toast of Leeds and knew we had to have Shelly! We knew the day would go by so quickly so knew how important the photographs would be in years to come so wanted to make the right choice. The photos are just stunning, how she has captured the light and the moment perfectly. She is a photography ninja!
The dress and accessories
Kate: I was never that bothered about the dress. I had never imagined what it would be like or what I wanted. I went to a few shops in Leeds and London but nothing took my fancy, most of them made me look like one of those dolls that sits on top of a toilet roll! This said I quite liked the Jenny Packham dresses I tried on but was not prepared to pay that much for one day.
On a recommendation I went to Abbey Wedding Warehouse in Kirkstall in Leeds and knew it was the place; nice and informal with such an amazing selection and all at knock-down prices! My sister picked out the dress in the end; I had passed over it on first look. It turned out to be a Jenny Packham dress so she was over the moon. My mum added some delicate pearls and made my 'white swan' jacket, she is a very talented lady! I got my shoes from House of Fraser and earrings from Etsy.
The suit and bridesmaids
Dan and his best man's suit were from Tiger of Sweden. Their bow ties and pocket squares came from Mr Bow Tie. Dan matched them to the bridesmaids dresses perfectly.
The bridesmaids dresses were from Debenhams. It was very difficult to find green dresses and took months, but they ended up being the perfect green. Well worth the long hunting process. Their accessories were also from Etsy.

The theme
We didn't really set out with colour theme; it all just sort of fell together and ended up being green, white and gold.
The flowers
A family friend who is a florist advised us to get fake flowers as we only needed them for the bouquets and button holes. We were sceptical at first, but after we had been to Country Baskets in Dewsbury we were convinced. The selection of fake flowers was amazing, and they looked so real. We also spent a 10th of what we had been quoted for real flowers! It was great to know exactly what you were getting and to have them all ready on the morning. We had ranunculus for the bouquets, then a selection of small white and green foliage and flowers for the button holes. It was really good fun making them all.
The decoration
– The church and reception venues are stunning, so did not want to detract away from this, so wanted to keep it very simple.
– In the church we had Cow Parsley in large glass vases that Kate & her bridesmaid scavenged from her parent's garden.
– In the barn, there were fairy lights up and as many candles and as much glass as we could squeeze in. On the tables we had vases of moss with dried Hydrangeas that Kate had been scavenging from my neighbourhood (very generous neighbours). Very simple and free! Kate also made the gold glittery table numbers that sat in the vases.
The food
GFS were amazing and the food was incredible. We had Duck and orange terrine to start, followed by lamb shank, which just fell off the bone. We had a chocolate torte for desert, then a cheese feast in the evening.
The entertainment
Dan was very keen to have something a bit different from a standard cheesy wedding band. We settled on Lindypop, a six piece jazz band who knock out great jazz cover versions. After the band were done we had our good friend of ours – DJ Tom Styles – spin the wheels of steel. He's a great wedding DJ and provided loads of other help throughout the evening, the consummate pro.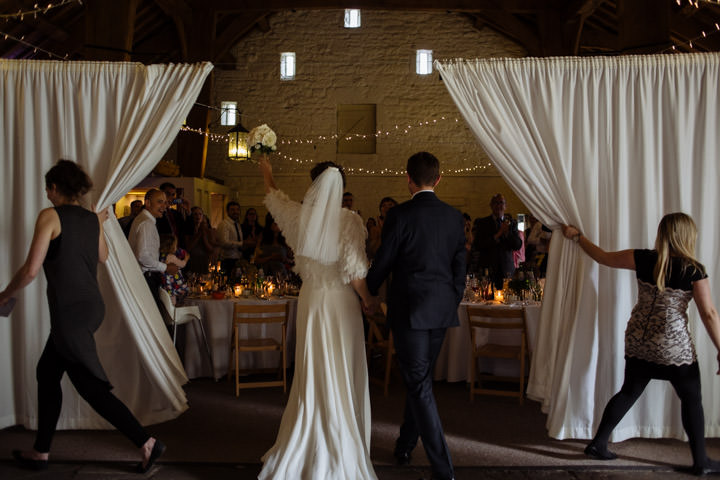 Personal and handmade touches
We made most elements for our wedding. Dan designed our invites; we got them printed at our local print shop and then assembled them all by hand with the help of our friend. Dan also designed all the wedding stationary, again printed locally in Leeds. Kate made all the candles in jars for the tables, the glittery table numbers and the ivy leaf name places. She also made the elderflower cordial we had as one of the reception drinks. We spent a long time choosing all the wine for the wedding too, but the tasting was the fun part! We also did make your own Mojito's at the tables at the wedding breakfast. This was a great ice breaker (excuse the pun) and really got everyone talking.
Special moments
Kate: The highlights for me were walking down the aisle and Dan turning round and giving me the most beaming smile. Also, the speeches. They were just incredible, from the heart and they just topped the day off perfectly. Oooh and our cake made by our friend.
Dan: I gave an end-of-The-Breakfast-Club 'fist in the air' at the end of the ceremony, and Shelly managed to get a cracking photo of it!
Advice to other couples
– It goes so fast so make sure you just relax and enjoy it
– Get a photographer that you love, as memories fade, but the photographs will live on
– Don't spend a ridiculous amount money on your wedding and get into loads of debt; look for every opportunity you can to save a bit of cash; it's just a day, it's the rest of your lives that are important!
– Chaps keep the engagement as short as you possibly can; it's a nightmare having to talk about weddings all day, every day.
– If you've got even the smallest spark of creativity, give it a go yourself. It's not for everyone, but I think we found it a lot more rewarding knowing we tried to give it a personal touch rather than rolling out another bland 'vintage wedding' (shudder).
Biggest surprise
Kate: We'd planned fairly meticulously so there were no big surprises on the day, but Dan had kept his outfit a complete secret from me, I loved that he was wearing a bow tie.
Dan: Likewise, Kate's dress was the only real surprise, she looked amazing. Oh, also managing to hold it together during my speech, I'd had a few 'nerve-calmer' drinks by that point.





Supplier Shout Outs:
For more information on Shelly's work please go to:
www.toastofleeds.co.uk
toastofleeds.com/blog
FACEBOOK
@toastofleeds