Monday is upon us and I hope you had a lovely weekend. Mine was spent with friends, a BBQ and lots of laughter. Followed by Father's Day lunch with my three boys (our two sons treated their Dad to dinner at the local pub and I was allowed to join them – seeing as I was paying and all!). Today's wedding filled me with a real sense of calm when it landed in my inbox and so I thought a Monday morning would be the perfect time to share it. The couple, Hillary and Shea, wanted a natural, relaxing day filled with fun, games and dancing and they certainly had that in bucketfuls. With a limited budget they were keen to make sure they didn't scrimp on the things that were important to them. Photography was one of them and the couple chose Rachael from Rachael Lindsy Photography because of her informal and unstuffy approach. My advice- take five, have a cuppa and enjoy this wedding at your leisure.
'We wanted something outdoorsy and simple, yet romantic and clean. We managed to keep it casual without crossing over into the "rustic" territory.'
Hillary and Shea were married on the 26th April at Trinity Park in Fort Worth, Texas. "The venue was a gorgeous park with privacy, right in the city we live. We started planning about a year before the wedding, with a few breaks for other projects."
How they met
And how long have you been together?: We met online and had our first date four years before the wedding.
The proposal
We're both really into craft beers and he proposed at a beer festival we went to last Spring. He coordinated with the person running a particular booth to slip a note into my tasting glass. A gust of wind ended up spilling the beer onto my shirt before I saw it and I frantically ran off to clean it up so I mucked up his plan a bit, but it still turned out beautiful and I was shocked when I finally saw it.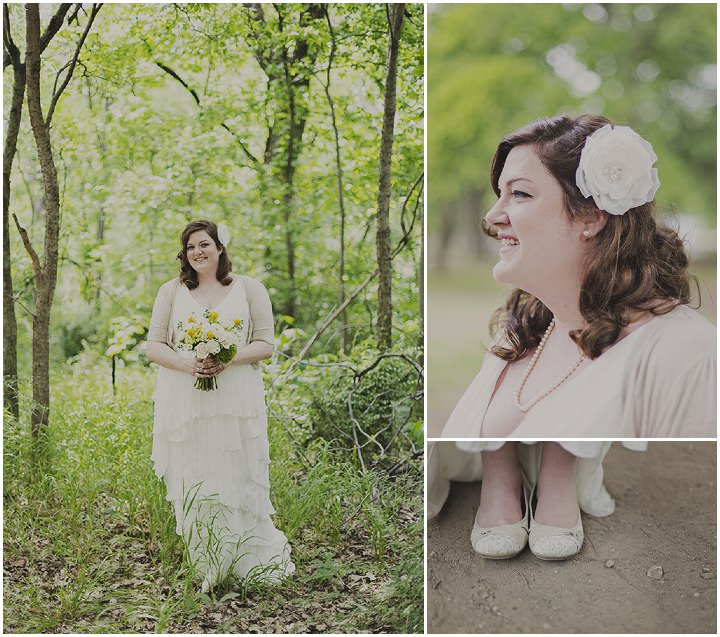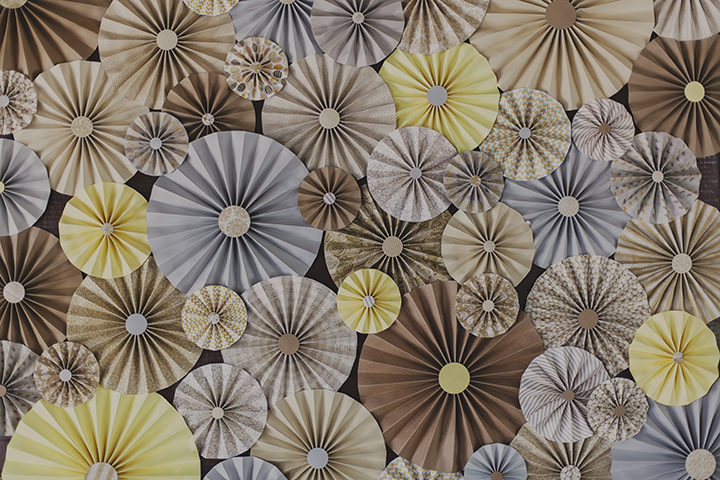 How did you allocate your budget?
There were certain aspects that were more important to us than others so we cut corners where we were willing and went all out on others. Photography was something I wasn't willing to sacrifice on and music was something Shea wasn't going to go without – a playlist on an ipod was NOT going to fly. Since Shea's parents and I made all the decorations and the park rental was super cheap, we were able to save quite a bit to put towards professional services we couldn't make happen ourselves.
Why did you choose your photographer?
I had come across Rachael's work on a few websites and loved the way she utilized light in her photographs. They were professional and beautifully done without being stuffy and overly formal. EVERYONE has commented on how wonderful they turned out.
The dress and accessories
It was a cheap online purchase with alterations made to it. It was hectic getting everything fixed and changed but I couldn't resist the layers in the skirt.
The suit and bridesmaids
All of the guys rented pants/vests from Al's formalwear and the girls got their dresses at David's bridal.
The theme
With the setting of the park, I wanted to stay with naturals colors that would still stand out with all of the greenery. We went with yellow, gray and various cream tones.
The flowers
A combination of billy balls, white roses, white monty, and going along with our love of beer, we had dried hops flowers in with the bouquets and boutennours.
The decoration
Besides the flowers, we had string lights and cream linens over everything. I had made quite a bit of bunting to outline the dancefloor, a pinwheel display which hung in the pavilion, and wood and string table numbers. Shea's father made an incredible archway for the ceremony as well.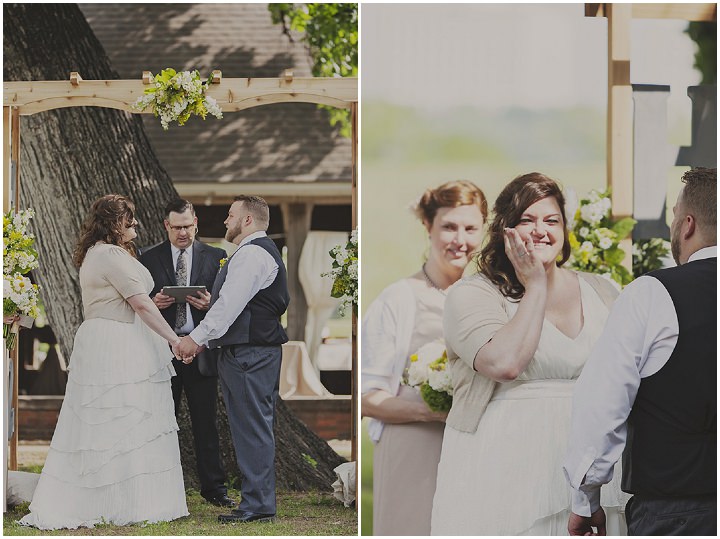 The food and wedding cake
An assortment of sliders (cheeseburgers with pretzel buns, crab cake sliders, mini chicken salad sandwiches), avocado and tomato soup shooters, risotto cakes, home-made kettle chips, fruit, veggies, and cheese.
The wedding cake was three tiers of crème brulee and Grand Marnier cake with cream cheese frosting. The groom's cake was in the shape of Peppermint Butler from Adventure time and had dark chocolate cake with chocolate mousse and apricot jam filling.
The entertainment
DJ Robert Williams
Buy or DIY your Stationery?
I did ALL of the stationery and it was the most time-consuming part of the whole event. Save the dates, invitations, place cards, programs, etc.
Personal or handmade touches
I did the stationery, pinwheel display, place card display, bunting, favors, table numbers, etc. Shea's parents made the archway, lawn games and all signs.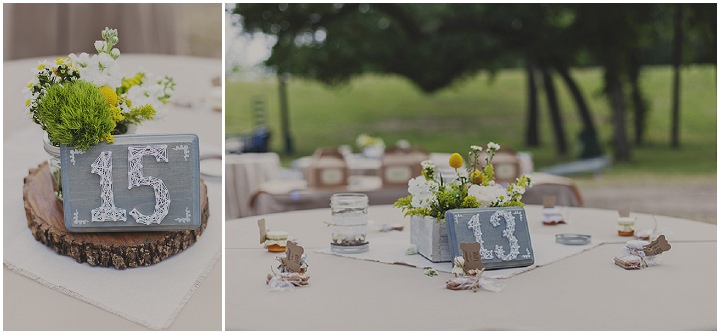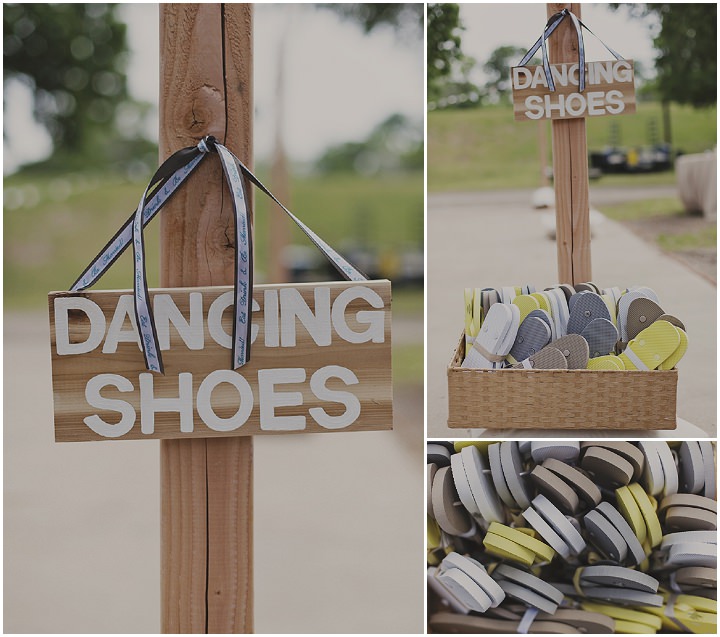 Special moments
The reception as a whole was so much fun. Honestly, it's a big blur to me now so it's hard to pinpoint a specific moment but the feeling of having this huge weight lifted off my shoulders was so calming. It was so great after many months of planning to just be able to relax and enjoy the moment.
Advice to other couples
I would say know your limits on what you can realistically achieve if you want to do the DIY route. I started a year before and was still scrambling the few weeks prior to the wedding. As for the day itself, try your best to get everything delegated out so you don't have to take care of anything except for getting ready and being there.
Biggest surprise
How busy I was the morning before the ceremony. There were so many details that a few got overlooked until the last minute. Also, I was really surprised at my lack of nerves for the actual ceremony – I never had the stereotypical "oh my gosh, I'm about to get married" panic attack.





Supplier Shout Outs:
For more information on Rachael's work, please go to:
www.rachaellindsy.com
blog.rachaellindsy.com
FACEBOOK
@rpacholko
I am a Dallas, Fort Worth Wedding Photographer based out of Flower Mound, Texas. I started shooting wedding as a second shooter and truely didn't think I really liked weddings. It wasn't until I photographed a very small, intimate wedding by myself, that I fell head over heals in love with capturing love. There's been no looking back!