Hello everyone and happy Friday to you all! I hope you are all ready for the weekend, do you have anything exciting planned? I certainly have that Friday feeling and am looking forward to spending Saturday with some old Uni friends. To end the week I have this gorgeous woodland inspired wedding that has been sent into me by Igor Demba. Lisa and Joseph chose an old mill for their wedding ceremony that was set within an old woodland, they included loads of handmade details as well as DIY projects put together by their families, as well as some beautiful vintage inspired touches within the decoration. A truly beautiful day and a wonderful way to finish off the week.
'A fun, intimate day filled with love, happiness and our nearest and dearest. A true celebration of our relationship and futures together.'
Lisa and Joe were married on the 17th of May at Gibson Mill, Hardcastle Craggs, Hebden Bridge followed by a reception at Holdsworth House, Halifax. 'We wanted the ceremony to be more of an event as civil ceremonies can be over so quickly. The Mill was in a location that required a 20 minute walk in each direction from the car park and we rented a vintage bus to take everyone there from the hotel. It was heaps of fun and getting the flat shoes out for a wedding was certainly a talking point amongst the female guests! The room in the mill was previously used as an old dance hall with its wooden floor boards, high ceilings and beautiful windows it is the perfect blank canvas to be creative and add our personal style. The reception venue was in a 16th Century Jacobean manor with beautiful gardens and full of charm and history. We had 65 guests to the day and 120 to the evening so kept it to close family and friends at the ceremony. We took approximately 12 months to plan the wedding which was a nice amount of time. No stress!'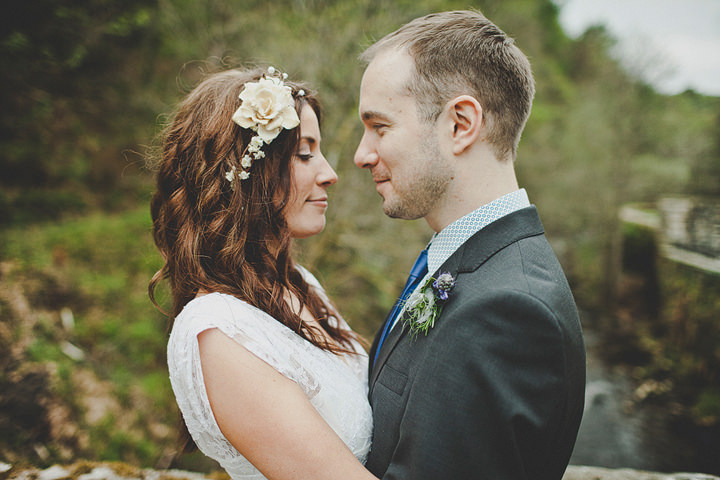 How they met
Joe and I met on a dating site 4 ½ years ago. I approached him!
The proposal
Joe proposed on Valentine's day, the old romantic. He set up a treasure hunt around the house with clues leading me eventually to the living room where there was a huge bunch of red roses and Joe on his knee with a ring! It was completely unexpected!
How did you spend your budget?
The great thing about planning the wedding early was that we had chance to spread the costs of everything and carry on saving. We kept everything within an affordable price range in terms of the food and venues but didn't go without anything. After all you can't go back and do it all again so you don't want to regret not having something you wanted.
Why did you choose your photographer?
We were recommended Igor our photographer by our best man who is also a wedding photographer. We took a look at Igor's portfolio and knew straight away that he could offer the style and touch we were going for. We like the more natural shots that tell a story and aren't too posed and Igor captured this perfectly.
The dress
The dress was by Cymbeline Paris which I purchased on the preloved website from a seller who had managed to maintain the dress absolutely immaculately from her big day. It was so light and comfortable and I just loved wearing it. My mum is a dressmaker so made all of the alternations needed. The shoes were called Imogen by Rachel Simpson and were just beautiful and comfy. My hair piece was from Etsy website in America which was handmade from wooden twine and flowers. This did snap soon after the ceremony though! Oh well I enjoyed wearing it for the short time I did! My hairdresser Sara was just fantastic and somehow managed to get all of the ladies looking beautiful on the morning single handed.
The suit
Joe's suit was by Hugo Boss, the rest of the guys brought their own. Bridesmaid dresses were in the sale from House of Fraser and their shoes were by Jenny Packham Debenhams range. Flower girl was Monsoon.
Theme or colour scheme
The theme was loosely based on a vintage/woodland style but with plenty of modern twists. We love old buildings and the outdoors so had chosen our venues based on these and the rest of details were partly to compliment this style but also keeping to the things we love. I had a fairly loose colour scheme as well with the bridesmaids being in a green/silver dress and silver shoes and the men wearing bluebell blue ties and socks. The reception room chairs were decorated in sage green sashes. So there was a bit of a colour scheme but we weren't fastidious about it – we're too laid back for absolute perfection but it was still perfect to us!
Flowers
I wanted wild flowers – each bouquet was slightly different and tied with lace. The flowers on the tables were scattered throughout the bottles which created a really beautiful spray of colour and for the top table a beautiful garland was made. Our florist was amazing and knew exactly what we wanted. She had supplied flowers before at our venues and so knew them well to offer tips and guidance on what worked best where etc. We went for whatever was in season at the time with plenty of blue, green and violet colours which included Veronica, Italian bluebells and many other beautiful kinds of weird and wonderful flowers of which I can't remember the names!
Decoration
The largest amount of decoration was for the mill as this was our blank canvas and opportunity to dress the room however we wanted. My mum Rose made enough bunting to cover a football pitch which we hung from all of the beams and down the staircase. Joe's mum Bonnie was responsible for much of the inspiration in the mill and worked for months sourcing all of the little touches such as muslin bows to attach to the chairs along with sprigs of lavender and hearts on twine. Large hearts were hanging in the windows, and additional jars of flowers were dotted around the venue. Joe's father in law Brian made a beautiful cut out made of wood which was painted and filled with moss saying 'Lisa & Joe's Wedding' to stand on an easel at the entrance of the ceremony room, and we had 'wedding this way' signs along the walk. The room was so beautiful we didn't want to overdo it – we got married in a 18th century mill because we loved its character and imperfections and so just wanted to highlight the venue.
Entertainment
We had a fantastic DJ called Paul Dunphy who rocked out all of our requests as well as many more from an eclectic mix of motown, rock, 70's and 80's. We had everyone up on the dance floor at some point or another and it certainly seemed to keep all age ranges happy. He has a show on radio Leeds and came via a recommendation from John the best man.
Buy or DIY your Stationery?
The stationary was all designed by my wonderful mother in law Caryn Gough who is by profession a graphic designer. We loved the first template she created and had that printed straight away! This was all in a woodland theme with the colours we were using in our flowers.
Personal or handmade touches
• For the table/flower decorations Bonnie, Joe and I sourced 50 or so antique bottles which we scrubbed up and tied lace around.
• We bought a selection of candle holders from dotcom gift shop and scattered these around the bottles, the overall effect was really pretty. The jars of flowers in the mill were collected mainly by Bonnie and hessian and lace was tied around them.
• For the table name displays we used jewellery stands in the design of a tree which were again from dotcom giftshop.
• Joe made a compilation of music we had chosen together to play during the ceremony whilst the guests were arriving and he said that one particular song nearly had him blubbing before my arrival!
• The favours were a personalised bag of seeds to plant and remind of our guests of the day, these were from not on the high street website
• The next morning after the wedding all of the guests were offered to come and collect a few bottles and flowers etc as a memento.
• The personal touches and effort put in by our families to make, source and design so many elements made it all very special and unique.
Special moments or highlights
A very special moment for us both was the ceremony and saying our vows in front of everyone dear to us. I had initially been quite nervous about this part as I'm dreadful at public speaking but all of those fears disappeared and I enjoyed every second of it. The speeches by Joe and his best man were truly heart warming and at many times hilarious, they had the room in fits of laughter. A projector and screen were used, I'll say no more!
The party at the end of the night was better than we could have imagined. Our friends absolutely did us proud and kept the dance floor well and truly bouncing all night long.
It's probably the only opportunity we will have ever had to get all of our friends and families together in a room like that and we will cherish it forever.
Biggest surprise
Joe busting his moves during the first dance! He was awesome!
Advice for other couples
Throw ideas about and make decisions together as a couple, I think many couples have a similar vision of their day and so together you will make the best choices. Don't follow convention and tradition too much and most of all enjoy it and feel the love.
Supplier Shout Outs:
For more information on Igor's work go to:
www.igordemba.com
[email protected]
FACEBOOK
TWITTER
07891057424