Today I am delighted to welcome back Jo and Nick one of our past Boho Bride and Grooms to the blog as they share with us their wonderful wedding pictures. You will remember Jo and Nick as the couple who wrote together, proving that it isn't just the bride who gets involved with the wedding plans. Today's wedding report is no different as they have both had an equal say in putting it together. It's so lovely to see the wedding after hearing so much about it in their diary entries, I'm sure you will agree they both look gorgeous! I am loving the green touches in the decoration and flowers. BIG thanks to Paul and Kelly from Paul Joseph Photography for the fab images.
 'The best day of my life with everyone I love around me. A day cemented in my memory forever.'
Jo and Nick were married on the 27th July at St Stephen's Church, followed by a reception at 315 Bar and Restaurant, Huddersfield. 'I'd always taken it as a given that when I got married it would be in a church. I also loved that fact that we both pass the church everyday as it is just down the road in our village. We could see the confetti on the pavement outside for days afterwards! The 315 was perfect for us, it has a modern feel and the room size was spot on for the size of our wedding. The 315 also prides itself on its food, as first and foremost its main business is the restaurant. This was massive for us as when you're feeding so many people you want the food to be fantastic. We had 100 guests in total and the wedding took 18 months to plan'.
How they met
The first time I met Jo was in Manchester. I had just got the sack from Nando's, was rotten drunk in a bar when a friend walked in with Jo. It would be romantic to say that when I was at my lowest Jo came into my life and it all changed for the better. However I made such a rubbish impression Jo can't even remember meeting me. We thankfully met again a few months later at another friend's party, and this time we both remember this, and the rest they say is history.
The proposal
We got engaged on New Year's Eve 2011. Nick and I have a New Year's tradition of staying at home, cooking a fancy dinner and making cocktails. After the main course Nick disappeared to "go and put my phone on charge" – ever the romantic! He came back and produced a present. I opened it to find a wedding planning book and the next thing I knew Nick was down on one knee with a diamond ring in hand asking me to marry him! I said yes, we cried a lot (Nick will deny that) and drank lots of champagne in between excited phone calls to friends and family.
How did you allocate your budget?
We started off by assuming that the venue would be the most expensive part of the day and then working from there. I had a vague idea of how much to expect to pay for things from reading wedding magazines and blogs and we discussed what was important to us. The biggest spends went on the venue, the photographer and the videographer.
Why did you choose your photographer?
Paul Joseph Photography were recommended to me by a work colleague a few weeks after we got engaged. I had a nosy at their website and really liked the style of photographs that I saw. We got in touch and when they suggested we meet at Krispy Kreme for a chat I knew we'd get on. As soon as we met Paul and Kelly I knew they were something a bit special. They are so down to earth and have no airs and graces. Paul can be quiet and collected and then suddenly out of nowhere he gets this look in his eyes that lets you know his creative juices are flowing. The best words to describe Kelly are whirlwind and nuts (Kelly was our unofficial wedding planner). They have a boundless energy about what they do and that really rubbed off on the pair of us and most definitely helped us to get such great photos back.
The dress
My dress was by Mark Lesley and it was bought from the same shop that my sister bought her wedding dress from 7 years ago. I knew that I didn't want a strapless dress and that I wanted it to have a 'princessy' feel without being too much of a meringue! I tried on 6 dresses (including a couple of strapless ones just to be sure!) before my Maid of Honour picked out a dress and suggested I try it on. It ended up being THE most perfect dress and I couldn't bring myself to try on any more. Prior to the wedding I thought that I'd probably sell the dress afterwards however now I can't bear the thought of losing it! As soon as I tried on a veil I knew I had to have one and that was from the same bridal shop. My head comb is from Glitzy Secrets, as were the earrings that I was originally planning to wear. But then at the last minute my bridesmaids surprised me with some presents from Nick; a beautiful pearl necklace along with some pearl and diamond earrings which finished everything off perfectly.
The suit and bridesmaids
We got the suits from the same shop as the bridesmaid dresses. I went for a grey 3 piece suit for myself and the rest of the groomsmen, the only difference being they all had green ties and handkerchiefs whilst I went for ivory. I decided against top and tails as I wouldn't have felt comfortable in all that get up.
The bridesmaid dresses were by Dessy. We had originally chosen a slightly different style but when we went to order them they had unfortunately been discontinued. However, I actually prefer the ones we ended up with instead! I loved the relaxed look of the dresses and the girls all said how comfortable they were. The gorgeous green also complemented each of the girls beautifully.
Our page boy suits were from Monsoon and we matched these up with some very cool Converse. Our flower girls princess dress and shoes were also from Monsoon.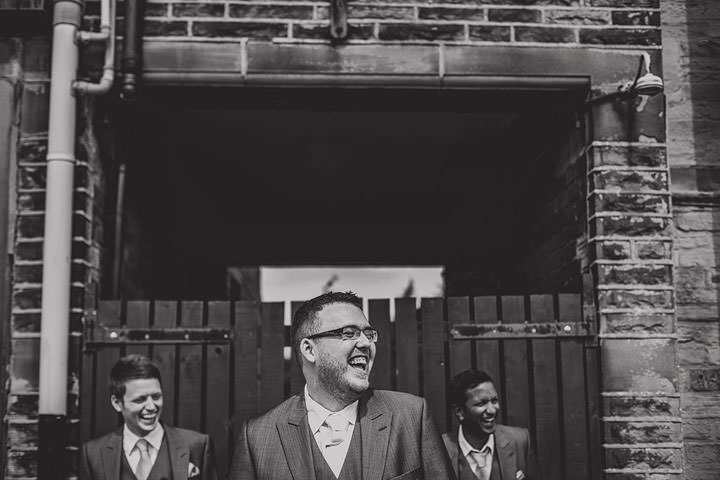 Theme or colour scheme
Back in our first blog for Boho, Nick wrote that our theme was "tradition with a twist" and I went for "shabby chalkboard cocktail chic" and I guess that is what we ended up with! Our colour scheme was natural greens and ivory.
Decoration
Our venue was fairly modern and simple but that was one of the reasons that we chose it. We wanted to keep it tidy and uncluttered with just various bits and pieces dotted about to keep in with our rustic-modern theme.
Flowers
My maid of honour's friend, Katie, is a fabulous florist and she did an amazing job with my vague yet specific instructions! Hydrangeas are my favourite flowers and I knew that I wanted everything to be natural with only greens and creams as the colour scheme. We wanted to avoid a matchy matchy look and so had a variety of arrangements across the tables at the reception. Katie managed to get exactly the look I was after and the flowers are definitely one of my favourite things of the day.
Entertainment
As I mentioned in a couple of previous blog posts it had always been my dream to walk down the aisle to a string quartet and we found the most talented group of students at the local university who had formed The Milsom String Quartet. The funny thing is I have no recollection of hearing them as I walked down the aisle – a full on rock band could have been playing for all I knew! But they also played "I'm Yours" during the service (later to be our first dance song) and "Marry You" as we left the church which I remember every minute of and loved to bits. We opted for a DJ in the evening as the size of the venue didn't really lend itself to accommodate a band and it wasn't something that felt would work for us. I knew a DJ who had done a brilliant job at the Year 11 Prom at the school I work at and he did an even better job for us. I barely left the dance-floor all night!
Buy or DIY your Stationery?
A bit of both really. Jo found a local designer called Gareth who was absolutely fantastic. Jo and I had very strong opinions on what we wanted and what we really hated. Unfortunately neither of us had the skill or the patience to do the job to a standard we would have been proud to post. Gareth did a brilliant job of taking on board all of our ideas and adding a few of his own so that we ended up with a complete bespoke stationary package that we loved to bits. I really enjoyed the whole process and it really brought the stationary alive for me and Jo.
Food
Our venue gave us the opportunity to give our guests a choice at no extra cost which we liked the idea of, plus it meant each of us was able to have our favourite desserts! In the evening the waiters took plates of various buffet food around the room meaning that we didn't lose space by having to have a big table, and also guests didn't have to join a line for food. Starters- Cream of asparagus soup or chicken and duck liver parfait; mains- Pan fried salmon on a beurre blanc or roast leg of Yorkshire lamb on a potato puree; desserts- Classic eton mess (for Jo!) or sticky toffee pudding with vanilla ice-cream (for Nick, although he was too busy chatting away to eat it!)
Wedding cake
Neither of us wanted a traditional wedding cake as neither of us like them. We do however like chocolate, so a chocolate cake was always going to be on the cards. We got our cake from Lippylicious cafe and cake shop near to where we live and it was immense. 3 tiers of chocolate orange sponge with chocolate cream icing surrounded by full size chocolate Flakes and covered in marzipan mixed fruits all topped off with strawberry bride and groom cake toppers. My mouth is watering just writing about it….
Personal or handmade touches
Our biggest DIY job of the wedding was the chalkboard martini glasses we used as our wedding favours. It took us months to get them all finished but that was mainly down to poor motivation rather than the size of the task. I was chuffed to bits with the finished job and think our guests liked them too as they were all taken home at the end of the night. They were featured on Boho as a DIY project if anyone out there fancies giving it a go. We had lots of other personalised bits and pieces featured throughout the day. From the Mr and Mrs Thompson sign on the top table, to the guest book featuring our Love Shoot photographs, photos of us as toddlers, and the buckets of multi-coloured confetti which the 3 children did a brilliant job of distributing to our guests.

What were your special moments or highlights of the day?
Jo:
– Walking into church feeling like I might throw up at any minute but then seeing Nick beaming at me from the end of the aisle and instantly relaxing.
– Our pageboys (my nephews) and flowergirl (Nick's goddaughter) walking down the aisle and high-fiving Nick when they got to the end.
– Saying our vows to each other and feeling like we were the only 2 people in the world.
– Being thrilled that the 1kg of confetti I had ordered worked like a dream (and being amused at seeing the people from the church hovering it all up as we drove away!).
– Doing our speech together.
– My 4 year old nephew, who does not do kisses or cuddles, climbing up on my lap during the speeches. And dancing and singing to One Direction with my 6 year old nephew who was giggling away.
– Dancing all night long with my favourite people in the world.
Nick:
– Spending a whole day with everyone you know and love.
– The first time we walked into the wedding reception room. We had total faith in Emma from our wedding venue doing a great job. That doesn't stop you from worrying though. It was amazing to finally see so much planning and effort all come together.
– The speeches were brilliant, I am a big show off at heart. Although I was worried so much I didn't even eat my meal. It is not often you can tell people just how much they mean to you, and my jokes weren't that bad either.
– The last song. To say the place was rocking was an understatement. No one who was there will be able to listen to Macklemore "Can't Hold Us" again without smiling.
Biggest surprise
Jo: This may sound strange, but I genuinely still cannot get over how happy the whole day was. I was 99.9% certain that my emotions would come out in tears but instead it was smiles and laughter. When we look through our photos and watch our wedding dvd it is amazing to see so much joy and happiness. It really was the best day ever.
Nick: The whole of the church was special for me. I am not religious at all and didn't really understand the hype. Everything from the decoration, string quartet, Jo walking down the aisle, to the range of emotions you experience as the groom before and during the ceremony completely took my breath away.
Advice for other couples
Jo: Don't be afraid to do things how you want. Whether this means keeping with tradition or going all out to be unique – it doesn't matter! What is important is that everything you choose is right for you. We kept many traditional elements to our day but also adapted many of them so that they worked for us. My biggest advice for the day would be do a joint speech! I loved standing up alongside Nick, thanking all the people that helped make our day wonderful and sharing stories about each other and our relationship. The wedding day is all about the two of you becoming a team and we thought this was the perfect starting point. We have had so many of our guests tell us they thought it was a great idea.
Nick: As for some tips I would definitely suggest to everyone to get to know your photographers as well as you can. You spend so much of your day with them it really helps if you consider them friends. Another would be to be flexible with your timings, something will inevitably over run. We had no set time for anything at the reception other than sitting for the meal. It meant we didn't have to rush anything and we were able to just go with the flow of the day.
Supplier Shout Outs:
For more information on Paul's work go to:
www.pauljosephphotography.co.uk
pauljosephphotography.co.uk/blog/
FACEBOOK
@Paul_PJPhoto