Happy Monday everyone and welcome along to another week! I have a week full of amazing weddings for you and to start the ball rolling I have this absolutely stunning wedding from the incredibly talented Matt Parry. Matt has done a first class job of capturing the day, I am so in love with these photos! The couple Debbie and John are pretty special as well. After Debbie battled cancer in 2010, John proposed to her in New York and they decided to get married in their newly renovated home in France, and what an amazing job they did with the renovation. This wedding is a pure celebration of life and love, and these amazing photos bring it to life for us all to share.
'The wedding was a relaxed, vintage style country wedding. It was quite simply the most perfect day ever.'
Debbie and John were married on 17th August. 'The ceremony was held at a small catholic church in Baleyssagues, a village in SW France near Bergerac. Following the ceremony, guests had a 5 minute walk up a hill to our French home where there were marquis tents on the lawn. We bought a renovation project in Baleyssagues about 7 years ago – the place was simply a shell with no running water, bathrooms, toilets or kitchen so we spent a lot of time, effort and love doing it up. We really wanted to celebrate the renovation of the house that we love in the village which we have made our own.There were 104 guests, 90 adults and 14 under seventeen. Many of our guests had flown in for either the weekend or had designed their summer holidays around the wedding. We had guests from England, France, Ireland, Sweden, America and Australia. In addition to our guests, it is tradition in France to invite the village to a Vin d'Honneur (literally a 'drink of honour') to celebrate the wedding. We thought it would be a great way to involve the local villagers and many more people turned up for a glass of champagne before we sat down for our meal. We were concerned that we would have random villagers stay around for the meal which would have been a bit embarrassing but etiquette really did mean the villagers only stayed for one or two drinks before leaving. We got engaged around Christmas 2011 and decided to get married in France shortly after. We found a great wedding planner who lived in SW France (Beth Stretton of Marry Me in France) which I would highly recommend. We did a lot of research on venues near us in France before asking Beth whether she would consider organising the wedding at our house. Thankfully she agreed and was a real gem in planning the day and suggesting suppliers.'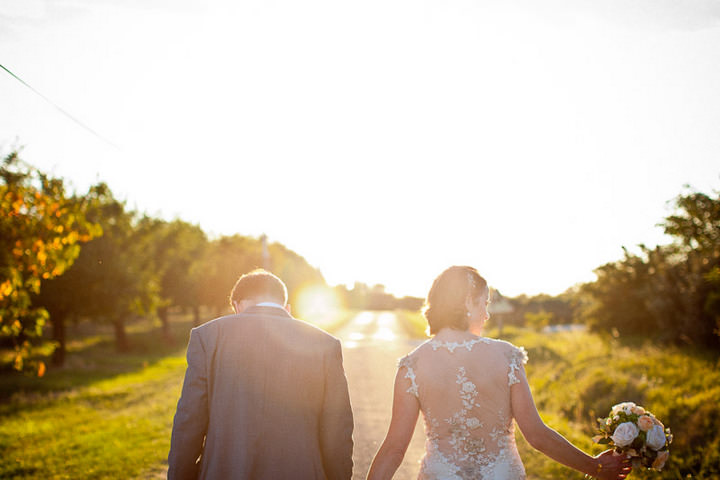 How they met
We both work in the City and met at a social event after work. John worked in New York and I in London so it started as a trans-Atlantic romance but John moved to London shortly after. We have been together 15 years!!
The proposal
I was diagnosed with breast cancer in the Autumn of 2010 which was a real shock to both of us. I had a year of aggressive treatment: chemotherapy, an op and radiotherapy. After which we visited New York for a holiday, did some talking and simply decided that we wanted to get married. We really wanted some happy times after the darkness of cancer. We wanted to celebrate with our friends and family who had all been there for me when I was at my lowest.
How did you allocate your budget?
We knew that we wanted to put on a good party after 15 years and, given the fact that people were prepared to fly long distances to attend, we did not want to scrimp. That said, of course the budget wasn't unlimited. Absolutely essential cost was the church although that was negligible in the grand scheme of things. Tents and equipment hire, catering and a good band were extremely important so focus was on those areas first. Following on from that we looked at flowers, decorative details for the day and our outfits and those of my bridesmaids. John was in charge of sourcing local wines from the Cotes de Duras region – he enjoyed that! We were lucky to have a famous pianist neighbour offer to play piano in the church which of course we accepted – we had to hire a baby Grand piano which we hadn't anticipated. Lastly, we organised coaches to pick our guests up from two hotels and have two pick ups in the evening to take them home so no-one had to worry about driving. This was an expense but really worth it as everyone relaxed.
Why did you choose your photographer?
I did a lot of research on photographers on the internet – it is so great that you can look at so many photos these days and get a feel for someone's work. I searched wedding blogs like Boho Weddings and I narrowed it down to a few before contacting them. I used Matt Parry and I have to say that this was a great decision. He captures the essence of a day and really tells a story with his photos. I didn't want a traditional look at all. I cannot tell you how many people have told me that his photos of our big day are the best wedding photos they have ever seen! I would recommend him in a heartbeat!
The dress
I splashed out on my dress. I bought a dress by Claire Pettibone called Viola from Blackburn Bridal in Blackheath. It is a champagne colour withcapped sleeves and a small train – slinky silk with a lace material and additional hand-worked embroidery over the top. It has the most amazing back. It was right at the top of my budget but was absolutely right for the feel of the day. It was modern with a vintage feelI felt amazing in it and that's the point right?! I plan to sell the dress so any offers for a size 12 dress are welcome! I also had a headpiece by Jenny Packham and shoes from Emmy in Cross Street in Islington near my house.
The suit and bridesmaids.
John had a suit made at Charlie Allen in Islington. My bridesmaids, aged 16 and 11, wanted a vintage, festival look in tones of pale peach / creams. We were lucky enough to find dresses for them in Miss Selfridges – the dresses will be worn over and over again by them.
Theme or colour scheme
Vintage country wedding. Champagne dress, bridesmaids in pale peach / creams. Flowers similar with the odd shot of vibrant colour. I had bunting made which reflected the general colours.
Flowers
A mix of roses and country style flowers with the odd blast of vibrant colour. Beautiful flower arrangements in the church which were then brought up to the house and placed around the tents and garden. The table arrangements were gorgeous too.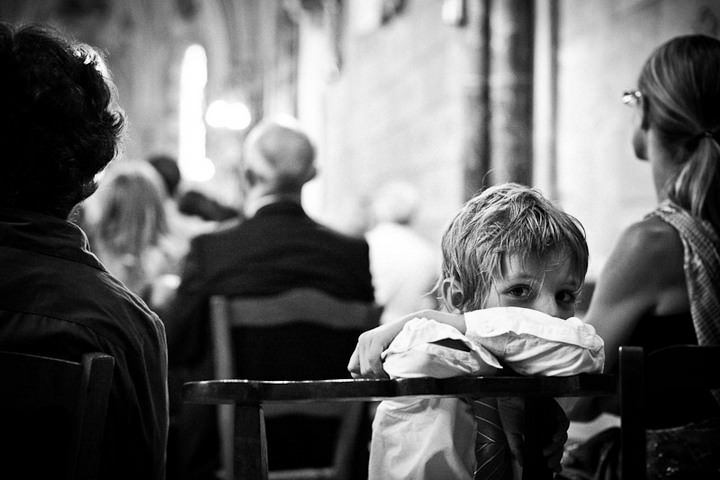 Food
During the Vin d'Honneur, there were a mix of canapés including fois gras which is traditional in France. The starters were a sort of French tapas – charcuterie, a baked camembert or two on each table, pates etc. The main course was either confit de canard (a local speciality) or poached salmon or a vegetarian option. We also had a dessert table groaning with all sorts of French tarts, profiteroles, fruit kebabs, a gluten-free chocolate cake and a massive cheese board with all the trimmings.
Wedding cake
We had the typical Piece Montee expected a French weddings – Croque en Bouche – a tower of profiteroles.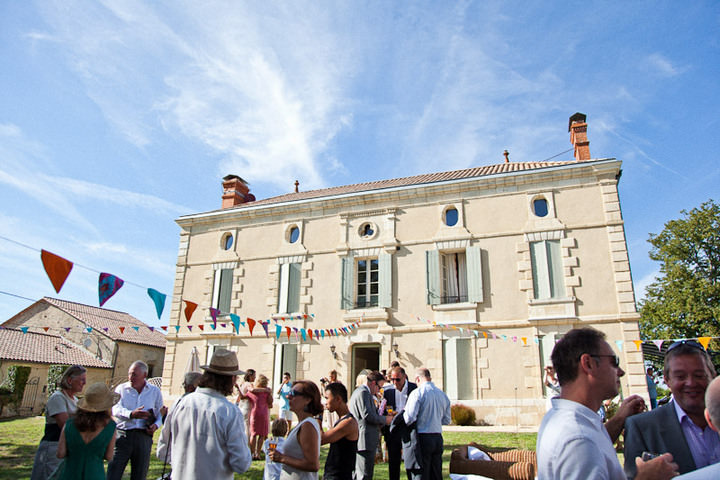 Entertainment
We were very lucky to get a good local band who are really talented. They played as strolling minstrels during the Vin d'Honneur – doing Rat Pack style jazz and then played in the evening as a more traditional wedding band. They kept everyone on the dance floor. They did the most amazing version of our wedding song – One Day Like This by Elbow. We also had a DJ after Midnight.
Buy or DIY your Stationery?
Again, by searching through lots of wedding blogs, I found a really talented stationery designer called Kate Ruth Romey. She specialises in vintage style and between us we came up with the design for the invitations – a design which we then carried through to place cards and table names. She was amazing and I would recommend her.

Decoration
Simple flowers, candles and bunting. We also hired comfy wicker sofas and wrought iron tables which were placed around the lawns in groups for people to spill out onto.
Personal and handmade touches?
Our table names were places where John and I have travelled like Perito Moreno Glacier, The Himalayas and the Taj Mahal. The table card was a photo of John and I in that place. I designed a table plan which carried that theme – it was a large map of the world with photos of us on our travels glued all around it. There was a pin in each place with a table name along with a luggage tag with the guests' names on each table.
Special moments
The entire day was absolutely perfect in every way – from the attendees, to the ceremony, the reception, catering, the music, the weather. The photos that followed were amazing and everyone loved it as much as we did. I loved every minute!
Biggest surprise
John's speech – it made me cry!
Advice for other couples
If you are planning a wedding abroad, it really is less stressful to engage a wedding planner like Beth. I did not have to worry about anything except getting there and enjoying the day. We did a few things which I would recommend:
1. Use what you have – we were lucky to have a beautiful venue which was the gardens of our own house.
2. Our photographer Matt did not keep us away from our guests for long, but when he did steal us away it was when guests were busy drinking We were never 'missed'.
3. Don't overplan your day with things to do throughout – relax and go with the flow.
4. Most importantly, enjoy every minute.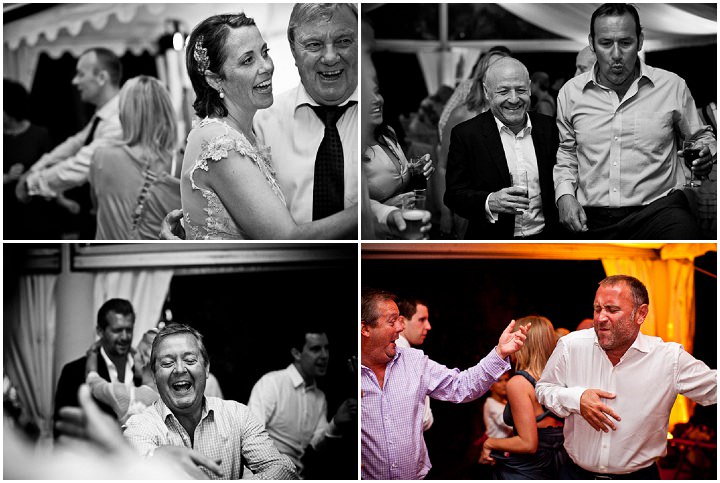 Supplier Shout Outs
For more information on Matt's work go to
www.mattparryphotography.co.uk
www.mattparryphotography.co.uk/blog
[email protected]
FACEBOOK 
@mattparryphotos