We are in Scotland today, St.Andrews to be exact for this gorgeous homemade wedding which is bursting with colour. The wedding has been sent into me by Zoe Barrie, from Photos by Zoe and she really has done a fabulous job of capturing this wonderful day. The wedding broke with many traditions as the couple really stuck to their guns and created a wedding that was true and personal to them. Full of beautiful plants and blooms, along with some gorgeous vintage touches, this wedding is brimming with colour, fun and personality……oh and bumper cars! Every wedding should have bumper cars right!?!
'It was colourful, relaxed and homemade, with a vintage feel. The emphasis was on making it really personal to us and having fun with all of our friends and family, so we didn't do a lot of the traditional wedding stuff like cutting the cake, formal speeches and a traditional first dance- all those things are just not us!'
Helen and Anthony were married on 4th May. The ceremony was held at St Salvator's Chapel, St Andrews and the reception at Kinkell Byre, St Andrews. 'My family live just outside St Andrews and Anthony and I met in St Andrews. Much of our early relationship was spent on the beaches around the town where Anthony kite surfs and where we took my family dogs for walks. When we were deciding where to get married, St Andrews was the obvious choice because so many of our memories of getting to know each other are connected to the town and the surrounding area. It also helped that it is so pretty! We chose St Salvator's firstly because it is a beautiful old chapel and for the practical reason that it is in a great, central location! But we also chose it because the pews in the chapel don't face forwards towards the alter, but face in towards the isle. We faced the congregation throughout the ceremony and because they were all facing inwards too, it felt like they were less of an audience and more a part of the ceremony. We chose to have our reception at Kinkell Byre because it was so different from the usual country house/ marquee wedding venues, which we felt didn't reflect our personalities at all. Kinkell is a group of old cow byres, which are beautiful in themselves in a rustic, shabby kind of way, but which also provided us with a blank canvas to do whatever we wanted to make our wedding reception as personal to us as possible. We had 106 guests and it took almost 2 years to plan.'
How they met
We have been together 9 years. We met in a bar in St Andrews and were introduced through a mutual friend when I was 17 and Anthony was 22, so we have really grown up together!
The proposal?
Anthony proposed in July 2011 while we were on holiday at my family's holiday home in Tiree in the Inner Hebrides off the west coast of Scotland. He proposed on a really sunny hot day after we had hiked to the top of a hill and were sitting amongst the wild flowers at the top of a cliff looking out over the Atlantic. I have been going to Tiree on holiday since I was a baby and we have been every year since we started seeing each other. It meant so much to me that he had chosen a place that was so special to both of us to propose!
Why did you choose your photographer?
I chanced upon some of Zoe's photos on a wedding blog one day and loved the really relaxed style of them. My only experience of wedding photos in the past has been of the really cheesy, staged sort, so it was a revelation to me that wedding photos didn't have to be that way! All of Zoe's wedding photos that I looked at seemed to reflect the couple that she was working with, rather than conform to what a traditional wedding photo should look like and that was exactly what we were looking for. When I spoke to Zoe on the phone she was so relaxed and easy to get on with that I knew she would be the perfect person to take our photos and on the day she somehow managed to make the unusually very uncomfortable experience of having our photo taken enjoyable!
The dress
My dress was by Pronovias. My shoes were from Dune and bought on a whim when I just happened to spot them on my way past the shop! My veil was made by the lovely Margaret Byrne from Dream Veils and it really was my 'dream veil'- 126" soft silk ivory tulle and it felt gorgeous! The shawl I wore to keep warm was borrowed from my sister who bought it in Itlay years ago. I also wore pearl drop earrings, which were my grandmothers.
The suit and birdesmaids
Anthony's suit was from Charles Tyrwhitt, we decided on light gray because we wanted something different to the dark suits that grooms so often wear. I had one bridesmaid, my sister, and one flower girl, Anthony's niece. I ordered the flower girl dress on Etsy from Gilly Gray and my mum made the bridesmaid dress! I had real trouble finding a bridesmaid dress that I liked and that my sister liked, all of the dresses available seemed, well, too 'braidesmaid-y'! Instead we chose an original 1950's vogue pattern and some beautiful pale blue fabric and my mum added on details like a sash and bow. The finished dress was better than I could have imagined and was so special because of all of the hours that my mum had put into making it. I had no idea she was such a talented seamstress!
Theme or colour scheme
I actually have a colour scheme aversion! I knew I wanted the whole feel of the day to be bright, colourful, fun and homemade but the idea of choosing one or two colours and matching the flowers, decorations, bridesmaid dress etc gave me a headache! There are so many beautiful colours, which one would I chose?! As a result, the 'theme' kind of turned out to be bright and multi-coloured! We were also really keen that nature should play a big part in the day, so the reception venue was full of living plants, some provided by a nursery, but a lot planted and grown by my mum.
Flowers
My bouquet, and the bouquets for the bridesmaid and flower girl, where big and bold and full of bright colours. We all also had bright coloured flowers in our hair. We filled the reception venue with plants! We got a local nursery to provide us with a whole variety of plants, but my mum (who is a keen gardener) also planted over 700 tulip bulbs along with other flowers in old crates, tin baths and pales and a whole load of other containers to make a really vibrant display at the reception! The flowers on the table were all cut from my mum's garden the day before the wedding and looked so pretty in jam jars spaced down the long trestle tables.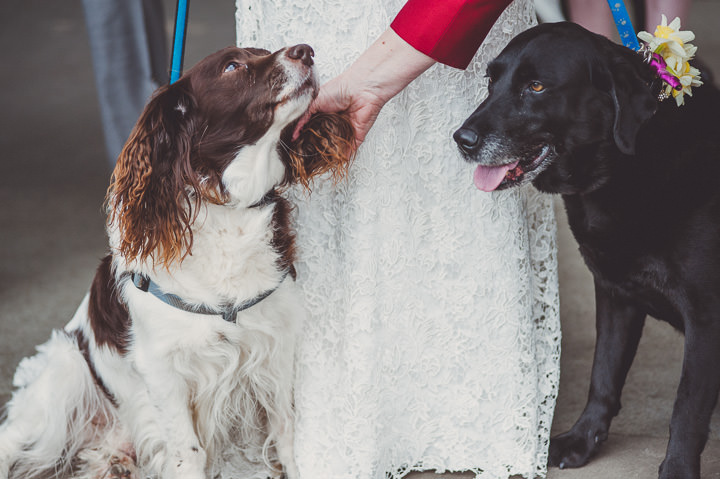 Food
The food was a really big part of our vision for the day. We wanted it to reflect the type of thing we really love to eat and to make sure that it was enjoyed by everyone. I am a vegetarian and at home Anthony and I don't eat any meat. Though we did have lamb at the wedding, we wanted the majority of the food to be vegetarian. We wanted the meal to be as relaxed as possible so the wine was served in carafes and we drank out of little tumblers and all the food was laid out on the table to share. Tthe food was presented on wooden boards, in vintage teacups and saucers and vintage style dishes for people to help themselves to. The food had a middle-eastern feel to it and was very varied so that there was something for everyone. It was delicious!
Entertainment
During the canapés at the beginning of the reception we had dodgems! They were such a massive hit and such a great way for people to mingle because everyone just jumped into the cars with whoever was closest to them, whether they knew them already or not! We also had a ceilidh, which, since a lot of our guests had come from outside Scotland and had no idea what they were doing, was pretty messy and a lot of fun! The band was brilliant because as well as playing traditional Scottish ceilidh music, they played a great mix of contemporary music too.
Decoration and DIY
Almost all of our decorations were homemade.
• My sister made over 100 paper pom poms in a whole range of colours and we hung one from the back of every chair along the dining tables.
• Our chairs didn't have pom poms, but we had bright coloured ribbons hanging from the back of them.
• For dinner we sat at long trestle tables and we used flower paper as a table runner and placed little groups of jam jars with candles and flowers in them down the middle.
• We had fairy light canopies over the dance floor and bar area and we had lots of hay bales with brightly coloured rugs for people to sit on.
• I made all of the save the dates, invitations and order of services myself.
• We also bought papier-mâché letters to spell of Helen & Anthony and covered them with bright coloured paper to put in the entrance to the reception venue.
• The favours were little jars of my mum's homemade strawberry and raspberry jam.
Special moments
It is hard to pick just one of two highlights because it was all so fantastic and fun! The most special moment for both of us was probably seeing each other at the church. We couldn't stop smiling!
Advice
It is easy to get caught up in the fact that because you are planning a wedding you have to do certain things. In fact, the only thing you really have to do is sign the appropriate piece of paper! We didn't like the formality of lots of the traditional things that lots people do at a wedding, so we just didn't do them! Do exactly what you want, what reflects you as a couple and what will make you happy and ignore everything else.
Suppliers Shot Outs
All of our suppliers were brilliant and went out of their way to make sure everything was perfect for us. Jack, Amy and their team and The Laughing Stock went over and above to ensure that the food was perfect and that the way it was served fitted with the feel of our day. They also made sure that the reception ran really smoothly and that we didn't have to worry about anything. I would also recommend Margaret Byrne at Dream Veils to anyone! She is so friendly and you get such a personal service from her.
For more information on Zoe's work go to:
http://photosbyzoe.co.uk
http://photosbyzoe.co.uk/blog
FACEBOOK
@photosbyzoe