To end the week I thought I would bring you a bit of beautiful Ibiza sunshine in the form of this gorgeous Ibiza Villa Wedding. As you now I got married in Ibiza and like this bride and groom, Nik and I did so in a Villa, so it was a real trip down memory lane when these photos landed in my in box. The lucky couple are Rachel and Olly who were married on 14th September and it really is a gorgeous day, thanks to the very lovely Ana Lui for the photos.
Why Ibiza?
Olly proposed to me in Edinburgh (where we met) and we live in London but our family is spread all over the UK and beyond so when he suggested we held the wedding ceremony in Ibiza, it was the perfect solution. Ibiza is a special place for us. We first went there as a couple when I arranged for fourteen of his friends to join us for a week on holiday as a surprise for his birthday. We have returned almost every year since for long weekends or short trips.
The Planning
The first thing was to investigate the cost of things over there to see if it was possible within our budget as well as considering the flights for all our family and friends. I run events as part of my job in the UK so have a whole host of contacts here but we didn't have any idea how much things were in Ibiza for a wedding. I knew that we wanted to avoid the traditional hotel idea and so we set about looking at villas online so we could do it all ourselves and hire all local suppliers for all the other elements on the island. Once we made our minds up we went for a brief trip in November to see a shortlist of our favourite villas.
Venue
In the end we hired a gorgeous villa through dynamic lives villas – It was set in the hills in the south of the island in a very quiet area. The view is amazing across the hill and was far away form the lights and clubs that are normally associated with the party island! Completely stunning and just what we wanted for a relaxed wedding.
Photography
We  have some gorgeous photos of the day to remember it well – Ana Lui was a local Ibiza photographer who was really great. I did a lot of research to look at photographers before we chose and she really listened to what we wanted. She took some really special natural shots which is exactly what we wanted.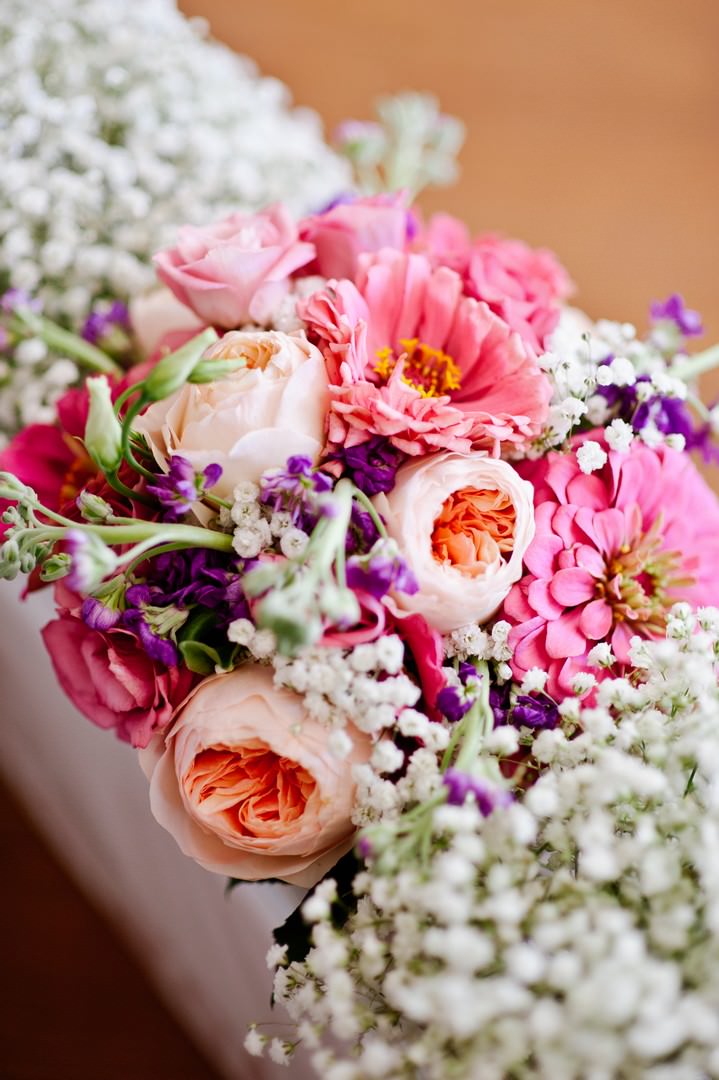 Dress  and Suit
I got my dress over in the UK at Surrey Brides so it was easy to get fittings here and my bridesmaids all got their dresses here too. All my friends are completely different figures so I asked them to choose what they liked as long as it was blue but in the end they all chose to have the same dress from Not On The High Street. My shoes were from Jimmy Choo (indulgence but well worth it!)
As with the bridesmaids, we wanted everyone to feel comfortable and to keep the relaxed feel of Ibiza so Olly asked his best men and the wedding party to wear dark suits of their choice but we gave them all matching ties as opposed to any traditional wedding wear, which we felt was too formal.
Food & Drink
Our food was a BBQ with Spanish tapas to start and salmon, steak, chicken and sausages. It was better than I could have wished for, very high quality and the service was also really brilliant. Mark at La Grand Beuff really did a superb job. We also hired all our drinks form Ibiza delivers who were incredible.
One of our friends (who makes delicious cakes for a lliving back here in the UK) made us some beautiful cupcakes with flip-flops to match our invitations.
Entertainment
We had a brilliant singer – Jude who sang "you got the love" a cappella while I walked back down the isle and also sang our first dance.
We had a DJ with  Jude's amazing vice singing over the tracks. It worked really well.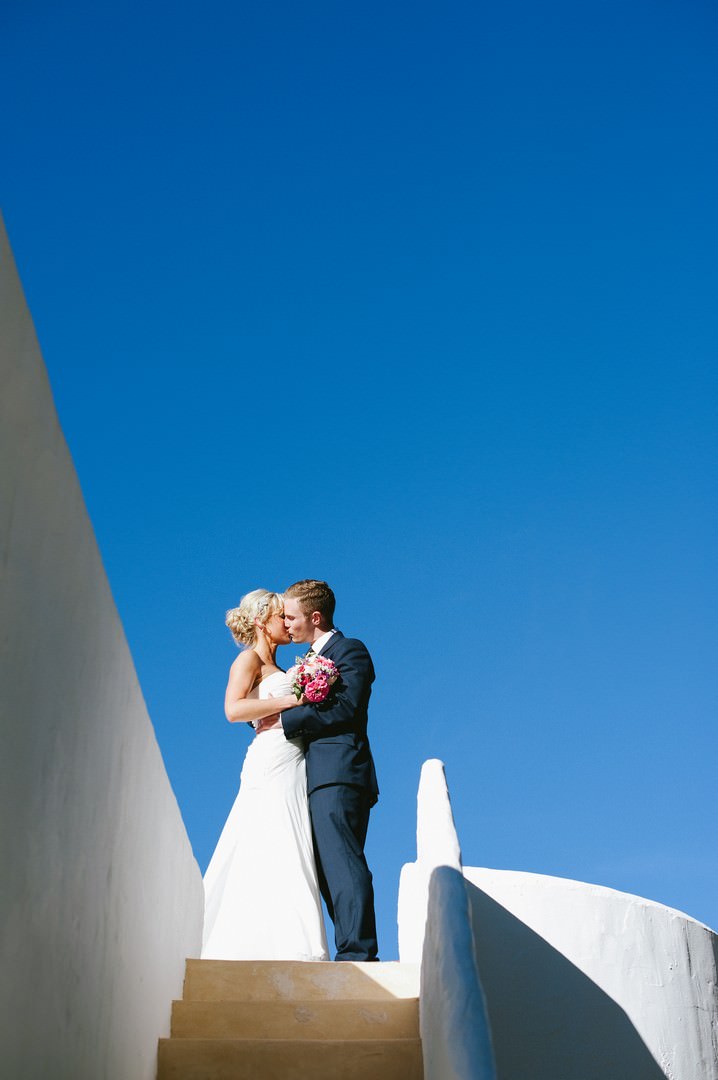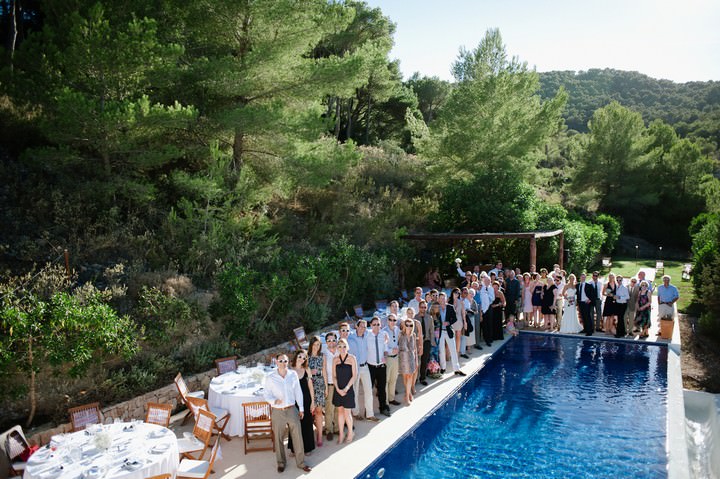 Personal Touches/DIY Details
My mum made our invitations, which made it all the more special and so the date was set!
I did arrange for some wayfarer sunglasses to be made with "R&R Ibiza 14.09.2012" on the arm for all our guests, which were laid on the seats for the ceremony – they were meant to be a bit of fun but everyone loved them and some of my favourite pictures are of all our guests in the sunglasses
Special Moments
All in all – it was the best day of our lives (I honestly cringed when people said that to me beforehand but now I understand). The best thing about it (aside from marrying Olly)  was just how much all our friends pulled together on the day to help with setting things out, making everything look stunning and the lovely things that were said I the speeches. WE are lucky to have such talented friends!! Compared to that – the rest was irrelevant but the sun, brilliant food, stunning views and stunning villa definitely helped to make it a perfect day. We loved every minute.
Advice
Id recommend to anyone else doing a wedding abroad that they not only go out and visit the space before booking but also do it around the time of year that you plan to get married. We married in early September but our venue-seeking pre trip was in November the year before and the whole terrain and venue looked totally different. It was also difficult to tell where the sun fell at the time we planned to have the ceremony (which is a consideration when you are having an outdoor wedding)
The venue is the key and from there you will get recommendations from one supplier to the next. Always ask for quotes first. the more Spanish speaking suppliers were harder to pin down to a fixed cost. Transport was the biggest problem as the roads were very remote and not many taxis were able to find the venue so we were lucky to have the time before the day to discover this and befriend a few taxi drivers in advance who did multiple runs on the wedding night.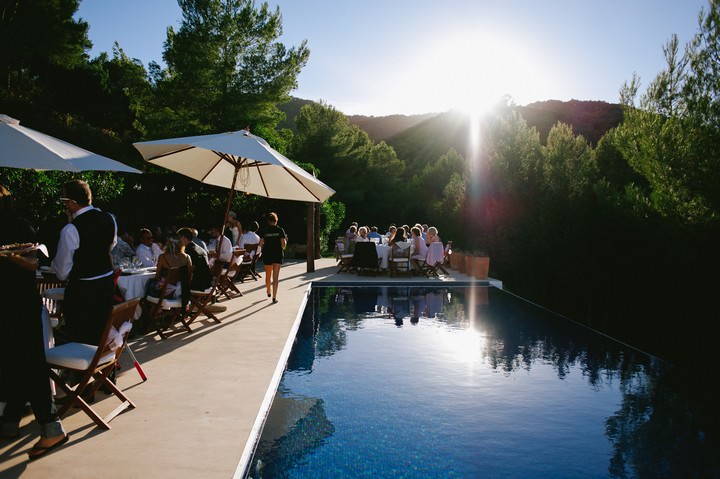 Supplier Shout Outs
For more information on Ana's work go to
www.analuistudio.com
FACEBOOK
[email protected]
+34 636 003 416