Today's DIY Tutorial comes from the very lovely Lauren from Flat Broke Bride. Lauren is the queen of DIY and has been a regular on the Blog for quite some time now. Today's DIY Tutorial is pretty simple, You only need 3 items, it's cheep and it doesn't take to long to do, so everyone's a winner!
I'll pass the Blog over to Luren…………..
If you are like me, I tend to be a last minute shopper, (the kind who buys gifts the day before a holiday). So I thought I'd send a last-minute DIY gift your way that takes about an hour (tops) and is a really cute personalized gift. I saw this one on Pinterest of course!
Not only does this take a short time to put together, it also won't cost you more than around $5! Can't beat that!
It has to be a sharpie, I figured it out the hard way, nothing else will stay
Step 1) First draw whatever you want on it but with pencil. Careful that you don't wipe it all off, drawing on ceramic with pencil is difficult but it's better to do a dry run with pencil than the sharpie!
Step 2) After that, trace and fill in your creation with the sharpie. Make sure to try and have a steady hand!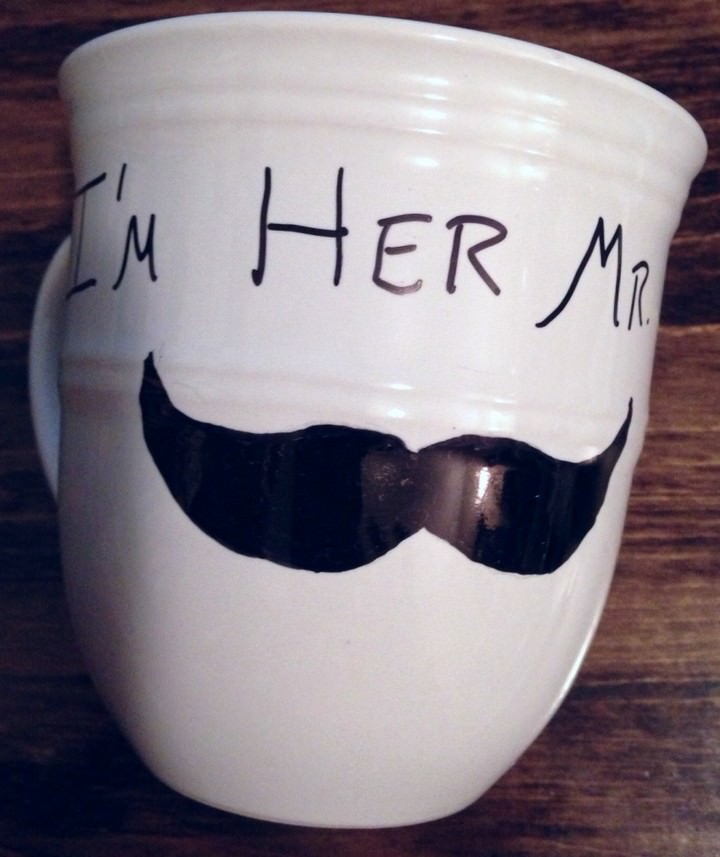 Step 3) Now pre-heat the oven to 350 degrees and put your mug in on a cookie sheet. Bake the mugs for 30 minutes, turn off the oven and let the mugs sit in the cooling oven for 24hrs. And that is all! You're all done!
The cutest, most fun DIY, it only takes an hour and costs $5! How much more perfect can a gift get! I hope my honey loves these!
To see more of her posts you can read Lauren's blog here:
http://flatbrokebride.wordpress.com
[email protected]
FACEBOOK  
TWITTER
'I'm broke and planning a wedding! My fiance and I met about a year ago. He is the perfect man for me and I can't wait to marry him, but it is so difficult to plan the wedding of your dreams on a teeny-tiny budget! However, I refuse to go into serious debt for the wedding. This is not the time to be in debt, especially when you are young and still paying off college loans. I started my blog, Flat Broke Bride, to show how to achieve the wedding of your dreams on a tight budget. I offer lots of DIY tutorials as well as some great inspiration pictures. This is my first (and hopefully only) time planning a wedding, so check out the site and come along as I feverishly plan away!'