Today I am sharing with you a relaxed country fete wedding from a fun loving couple with loads of personal handmade details. I was only saying to Nik the other day how I wish someone would have Fajitas for their wedding food and then this wedding comes along and that's exactly what they had! Mix in some nachos and a chocolate brownie and you have wedding food perfection! The wedding also sees some inflatable props and Bridget Jones knickers!
The lovely couple are Helen and Des who were married on Friday 13th July. The ceremony and reception took place at Wentworth Castle Gardens (Barnsley). The ceremony was held in the Long Barn with 95 guests and the reception was in a marquee on the South Lawn with 240 guests! The wedding took 10 months to plan.
'Our country fete wedding day was filled with things that made us both smile. It was a day full of laughter, champagne, rustic details and plenty of inflatable props!'
How they met
We met in a local Sheffield nightclub called The Leadmill just over 3 years ago. Des' friend was trying to chat my friend up. I was extremely drunk and told Des to buy me a drink. The night was going well until I became really ill through all the alcohol and ended up totally embarrassing myself in front of Des! For some reason he wasn't put off and text me the next day… and the rest is history! It was rather ironic meeting in the Leadmill as my mum had been saying to me for ages that I would never meet a nice man if I kept getting drunk in the Leadmill!
The proposal
Well this is quite an embarrassing one for me! I had been at work all day so when I got home I decided to take advantage of Des being out and went for a power nap before we were due to go out that evening. I woke up when I heard Des come through the front door and so got up and went to the toilet. The next minute I heard Des knocking on the bathroom door. I kept asking him to come in but he wouldn't, he just kept knocking. I was in a grumpy mood already so I started shouting "I am on the toilet- leave me alone!" Eventually I threw the door open- ready to tell him off- and there Des was, on one knee with a big bunch of red roses in one hand and the ring I had been eyeing up for a while in the other! To add to the embarrassment, I was wearing my extremely large Bridget Jones style knickers and a vest top that had food on it from the previous night's meal and no make-up!
The Venue
We had looked at so many venues, but with such a large guest list it was difficult to find somewhere big enough without compromising on beauty. When we first visited Wentworth Castle Gardens it was a sunny afternoon and the views from the South Lawn, across South Yorkshire were incredible. I remember jumping up and down and excitedly saying to Des "I want to get married here!" At that point we both knew it was the venue for us.
How did you choose your photographer?
We had spoken to a few different photographers at wedding fares we had been to, but none of them really seemed very "us". Someone I know is into photography and he recommended Adam Riley. After looking at his website we just knew he was right for us. We didn't want to spend too much of the day posing for photos. Instead we wanted someone to capture the day so people could look at the photos and feel like they were a guest at our wedding even if they weren't actually there. He is such a lovely guy, not at all pushy or bossy like so many photographers we had met previously. He kept telling us that it was our day and he would fit in any way he could. On the actual day we both completely forgot he was there! We still can't believe it when we see some of his photos, as we don't even remember him taking them. We have had such good comments from people who have seen the photos. We can't recommend Adam enough.
The Dress
My dress was by Maggi Sotterro and it was called Florencia. I always knew I didn't want a strapless dress and I absolutely love lace. I tried so many dresses on but none of them gave me that "wow" feeling. In the end I decided to go dress shopping on my own to take the pressure off a bit. I walked into Blushes Bridal in Sheffield and the women in there made me feel so welcome. They really listened to what kind of dress I wanted and asked lots of questions about the wedding and about Des and I as a couple. The lady helping me, Helen, picked out 3 dresses for me to try on- the first one I tried was the one I ended up wearing. I knew right away that I loved it!
The suit and bridesmaids
Des' suit was from Topman.
I was never one of those little girls that spent hours imagining my wedding. However, I have always had a great dislike for bridesmaid dresses and I have always known I would not want them to be matching and too "bridesmaidy"! I wanted to find dresses that would suit each of my gorgeous girls and ones that they would hopefully wear again. They were all from the high street- Coast, Miss Selfridge, Warehouse and ASOS.
Flowers
I don't know very much about flowers so was a bit nervous about this aspect of the planning. I knew I didn't want a "perfect" look but more of a rustic bouquet that looked like I had picked the flowers from a field myself. I love roses so they featured heavily and the lovely florist recommended lavender so they would smell nice.
Theme
We wanted our day to be really relaxed and informal. "Shabby-chic" seemed to be like this the most, so we went with that. As we were in a marquee, we wanted it to have more of a country fete/ garden party feel than a traditional wedding. This theme meant all colours were in, so it made it easier choosing decorations.
Food
We had canapés during the drinks reception, nachos with melted cheese and various dips for starter. Chicken fajitas, potato wedges, rice and salad for main, then chocolate brownies and scones with clotted cream and jam for desert. The food was all served "family style" so food was placed in the centre of each table and everyone round the table could just help themselves. Des and I both wanted food that we enjoy to eat as a couple and wanted something that was fun to eat.
Entertainment
During the drinks reception we had a lovely guy called Josh Shires sing and play guitar and in the evening we had The Fab Beatles who were unbelievable! We also had a prop box on hand throughout the day so people could take silly photos of themselves and some large garden games outside the marquee. To keep the children happy, we bought lots of toys and games and filled up goodie bags for them which were placed on their seats. This is something we would recommend to anyone as it kept them quiet throughout the speeches, which in turn kept their parents happy! Probably the most popular thing we had was our sweetie buffet. Des wasn't convinced at first as he thought it would get forgotten about and there would be loads of sweets left over. However, it went down a storm!! Adults and kids were fighting over the last few bon-bons at the end of the night!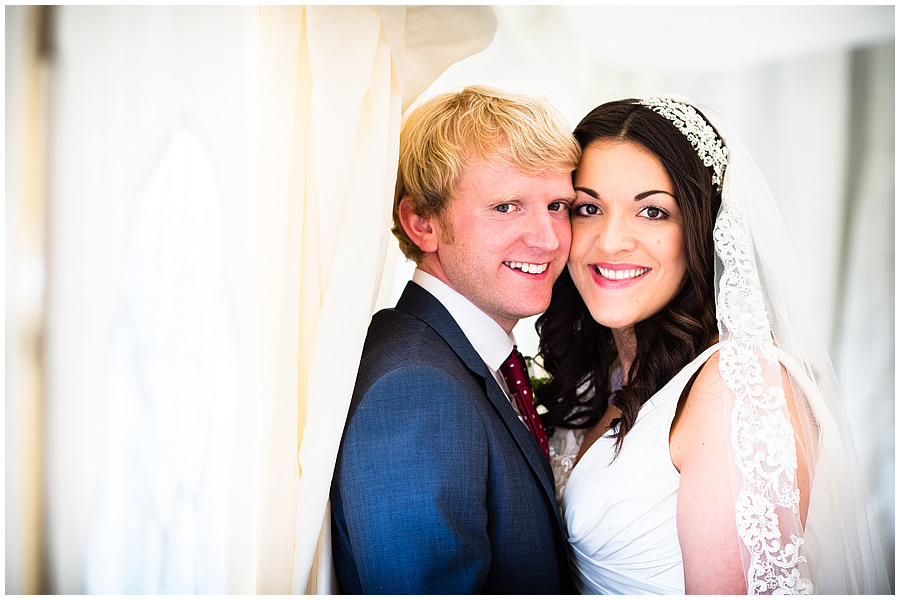 Decoration
Bunting, and lots of it! The people who we hired the marquee from generously threw in lots of bunting to decorate the marquee and the Long Barn. As the ceremony was only about 25 minutes long, we didn't want to spend much money on decorating the Barn. Luckily though, the room is gorgeous the way it is so with a bit of bunting and some lanterns and wicker hearts that the venue already had, the room looked great.
On every table there was a vintage bottle that held the table name, vintage books, jam jars, china cups and saucers and framed photos of ourselves as children.
There were luggage tags throughout, used for the place cards and the table plan- all made by Jil and Tony at Garden Craft Studio.
My colleague Robyn also made us some "Mr and Mrs" bunting to hang on the top table as our wedding gift- complete with stuffed fabric love birds.
To go along with the country fete theme, we had lots of hay bales placed outside the marquee.
Personal touches
• Framed photos of our Grandparents at the entrance of the marquee
• Des' Uncle Norman is a bit of a romantic and still to this day writes love poetry for his wife Ann. We chose ten of our favourite poems and placed one on each table.
• Flip-flops for the guests
• Our tables were named after characters from the TV programme Sopranos as this was the first TV series Des and I watched together
• The table plan which my bridesmaid Toni helped me make.
• Our wedding favours- we donated money to Weston Park Hospital Cancer Charity which is very close to my family's heart.
Special moments
Seeing my grandma admire her wedding photo that was on display was a really special moment for me.
Before the first dance, when the reveal curtain in the marquee was still down, hiding the dance floor, Des and I snuck behind it for a few minutes. It was so nice to have a bit of time on our own to laugh and gossip about the day.
I had arranged for my Dad and I to have a dance together- to a Beach Boys song that reminds me of him. It is a moment I will always remember and makes me emotional just thinking about it now!
Wedding Advice
Plan ahead! Get all the big decisions out of the way as early as you can. Also be organised and keep a wedding file to help you keep track on all your ideas. Do it your way- don't feel like your wedding has to be a certain way. We chose to forget that we were planning a wedding and just kept imagining it was a really great event. This helped us stick to our guns on ideas that some people thought weren't suitable for a wedding. Most importantly, try to spend as much time together on the day as possible.
Biggest surprise
Probably when my bridesmaid held up a pair of my huge Bridget Jones knickers to the room to embarrass me during her speech!! Unbeknownst to me, Des and my Mum had arranged for these to be sent to her!
Supplier Shout Outs
For  more information n Adams work go to:
www.adamrileyphotography.com
www.adamrileyphotography.com/blog
FACEBOOK
TWITTER
♥  You can see more Real Weddings featured on the Blog HERE  ♥