Today I have a gorgeous wedding brought to you courtesy of Andrew Billington. It's the wedding of Suhaine and Malcolm who were married on 30th July at Hexham Winter Gardens in Northumberland. The wedding has a 'English Garden Party' themed wedding and it's full of handmade DIY details that Sushaine did herself. Sushaine is an events manager so she really enjoyed getting stuck in and getting creative with her big day. It took her a total of 8 months to plan their wedding of 94 guests.
They describe their day as 'When we started planning our wedding day we knew we wanted it to be a happy celebration surrounded by the people we love, eating tasty locally sourced food (and a free bar!) in the beautiful Northumbrian countryside. The day surpassed everything we could have hoped for with a lovely venue, glorious sunshine and lots of smiles and ceilidh dancing'
Andrew has been kind enough to tell me a bit more about the day aswell
The theme was pretty much 'English Garden Party' with a lovely vintage look.
It was the venue that made it for me. Being a school everything had that slightly worn look which tied in perfectly with the theme of the day. I'm told the venue was a Spa Hotel at some point in it's past and the wedding breakfast took place in what was the Solarium – beautiful wooden floors with massive windows allowing it to flood with light. Suhaine is an event organiser in her day job and had organised the decoration of the Winter Gardens with military precision – bunting was flown, fairy lights threaded around the room to twinkle in the evening, handmade table plans and flower decorations set up.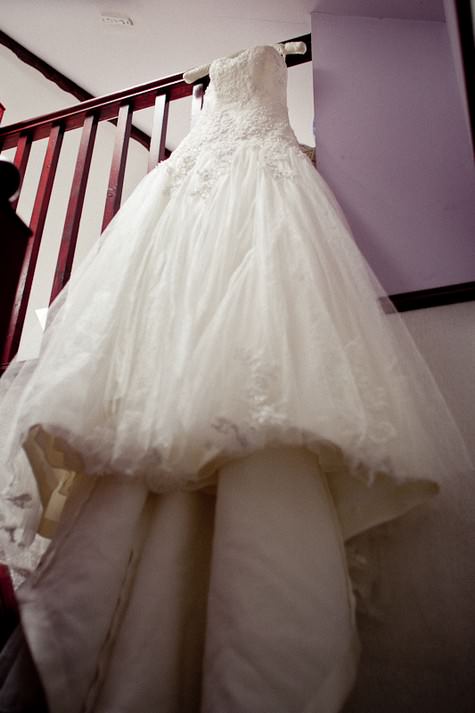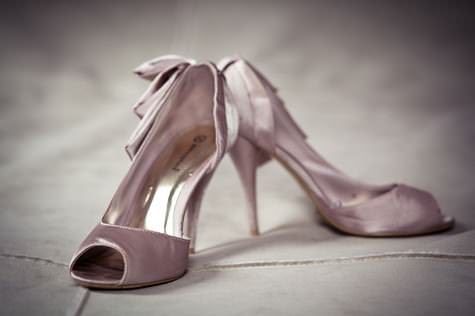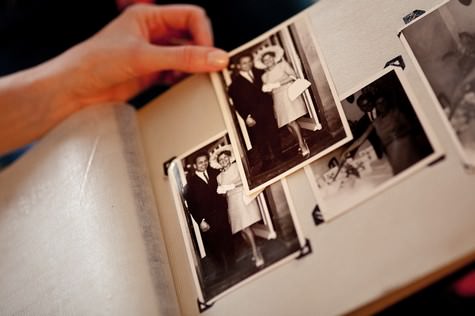 The previous day Suhaine had been to the flower market and bought boxes of flowers so she could decorate the tables and venu – plus she spent part of the wedding morning making the button holes, bridesmaids bouquets and her own bouquet (with no signs of any panic I might add).
Suhaine and Malcolm wanted a very family orientated and relaxed wedding day which is probably why they chose me to photograph it – I like the day to flow and spend more time capturing the day as it unfolds rather than creating generic wedding images and lining people up.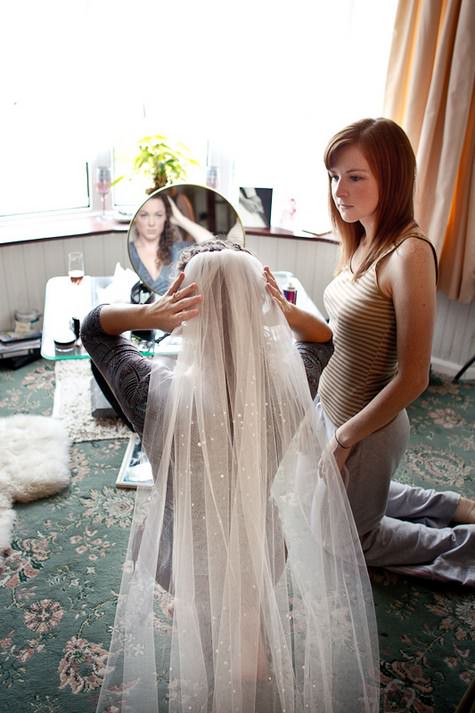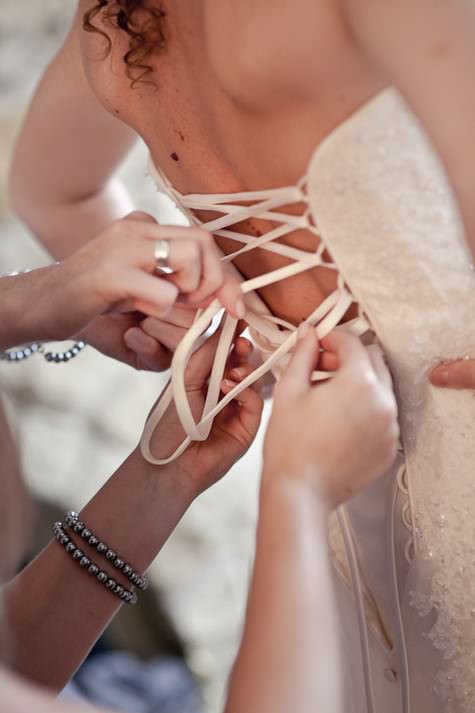 People gathered for the ceremony from all over the country and once it was over had drinks on the front lawn of the school. A few formal pics were taken of family and friends and we had the opportunity to use a beautiful Kitchen Garden that is part of the school's learning programmes. But it was their approach to the wedding breakfast that was really refreshing: everyone was called in to be seated and then Suhaine and Malcolm circulated for about half an hour talking to each table before the hog roast was served (buffet style) and a few emotion filled speeches were delivered at the end. The evening was a Ceilidh which meant everyone joined in and had a whale of a time – also negating the 'First Dance' fears of standing in the middle and swaying for 3 minutes whilst others look on!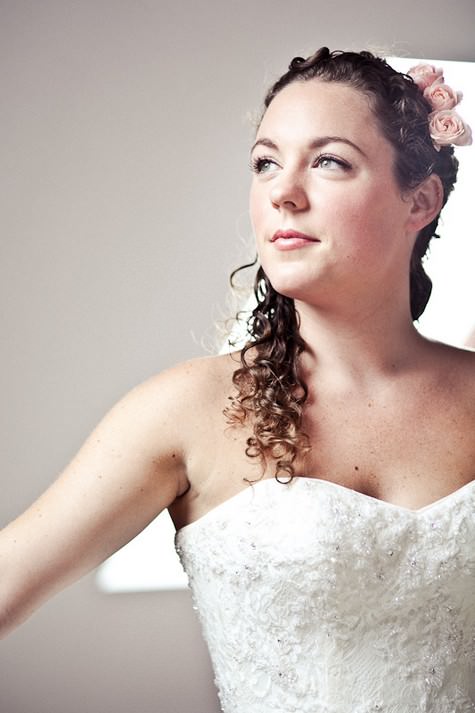 How they met
Malcolm & I met at a mutual friend's birthday party – we had both (separately!) been unable to attend a few of his previous nights out so we'd made an extra effort to be there! We had been together just over a year when Malcolm proposed and got married a year later.
The proposal
Malcolm planned to propose at the summit of Ben Starav near Glencoe however when we got there it was overrun with charity climbers and I was starving! (Never a good thing!) Malcolm decided to wait for a more opportune moment and proposed a day later – we'd been for a meal at our favourite French restaurant in Edinburgh and we walked down to a jetty at sunset on the River Forth where Malcolm got down on one knee and I said a very happy yes!
The venue
As mentioned, it was important for us to have a venue in the Northumberland countryside and one that would give us the freedom to personalise our day – including bringing in our own caterers and setting up our own bar. Hexham Winter Gardens was perfect – the windows stretched along all walls, allowing beautiful light for the ceremony and giving you the feeling of being outdoors whilst having the security of being inside if the weather wasn't good!
The Dress
My dress was Maggie Sottero's Belinda. The dress had quite intricate detailing on the bodice so I didn't feel a necklace would work. I chose to wear a bracelet my mum had bought me for Christmas. My shoes were my guilty secret as I bought them from Primark! They were outrageously comfortable, a cute colour (dusky pink) and an absolute bargain :)
The suit and bridesmaids
Malcolm is a proud Scot and was always going to wear full Highland dress. He found a fantastic company called Geoffrey (Tailor) Kiltmakers and Weavers on Edinburgh's Royal Mile who created a bespoke kilt using his family tartan – Hunter, and an Argyle jacket and waistcoat. My bridesmaids wore full length, one shoulder pewter gowns from BHS.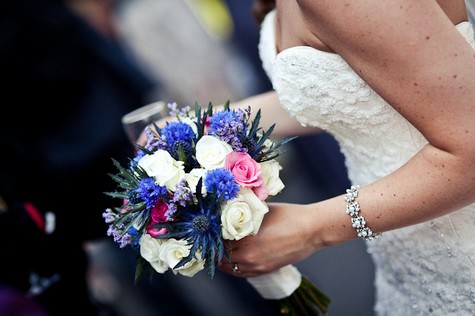 Theme
We didn't have a set colour theme, though shades of green were prevalent and as the Winter Gardens were surrounded by trees – the foliage tied in nicely!
Entertainment
We hired a local Ceilidh Band called The Hedgehog's Skin which had been recommended to us by the venue. The band were fantastic, really friendly and exuding enthusiasm, keeping everyone of all ages up and dancing with a mixture of traditional Scottish and Northumbrian reels. After a couple of hours of ceilidh dancing we changed pace and had a DJ for the rest of the night.
Food
The hog roast was a must! Malcolm and I are happy carnivores and it was a delicious way of having a relaxed meal using the best of local produce. We had a selection of salads including a greek salad and a mozarella and tomato salad, beautiful roast potatoes, coleslaw, stuffed peppers, bbq prawns and curried chicken skewers amongst a host of other tasty treats!
We opted for a dessert table rather than a tiered wedding cake as neither of us are huge fruit cake fans but we both love chocolate! We had four chocolate truffle cakes from a talented chocolatier in Edinburgh at The Chocolate Tree, plus a Pistachio and Pear tart from the same company and a French Almond Cake prepared for me by my brother Jamie.
Flowers
My mum has always been passionate about flowers so I decided (with the hope that her skill has rubbed off on me!) to do the floral arrangements myself. I took inspiration from florists websites and focused on using flowers and foliage that was in season. My bouquet included white Akito roses, erythinium for their vibrant colour and similarity to thistles, pink roses, limonium and cornflowers which had been growing in the garden. Everything apart from the cornflowers I got from the Flower Market at the Team Valley Trading Estate, Gateshead.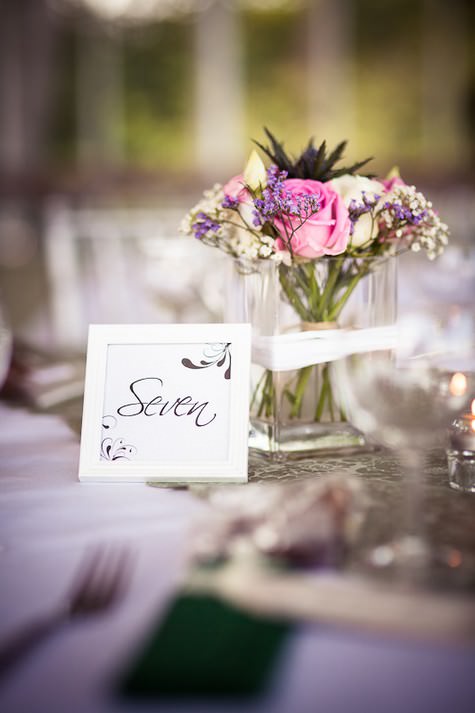 Decoration
When it came to decorating the venue DIY was definitely the way forward! I made 80 metres of cream and green lace effect bunting to give the venue a vintage feel whilst allowing all the lovely light to beam into the glasshouse. I purchased fairy lights en masse and these were strung around with the bunting by enthusiastic family members the day before the wedding!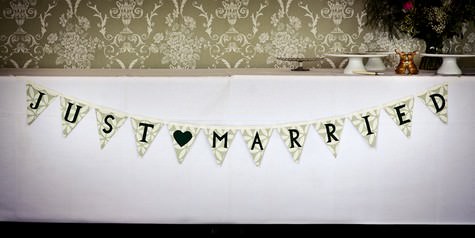 Personal touches
• I made all of the bunting
• woven pew ends
• luggage tag placecards
• table numbers
• table pla
• running order
• fabric squares for the tables as well as our cake topper of two little mice!
• I put together a sweetie table and cheese table for the evening using a range of vintage glass bowls and apothecary jars for the sweets and more rustic wooden logs and marble cheeseboards for the fruit and savoury nibbles.
Part of my day job is being an event manager, so the wedding was a wonderful way to be creative and put my existing skills to good use!
Special moments
The day was one wonderful memory rolling into another for me – from my mum walking me up the aisle, to catching Malcolm's eye and not being able to look away! The memory of saying our vows in front of our family and friends will stay with me forever as well as the giddy 'we did it!' feeling we both had after the ceremony.
Advice
I Believe that the main thing is to create a day that captures the heart of both of you – be yourselves and make decisions about the day which make you happy. Also, remember to have a rummage around your garage – you never know what decorative gems you might find!
Biggest surprise
Probably being thrown over Malcolm's shoulder during the ceilidh! Each couple had to think of a different way of moving from one end of the ceilidh line to the other and I wasn't sure what I could manage in a bridal gown – Malcolm told me not to worry and that he had an idea – the next thing I know I was over his shoulder and couldn't stop laughing!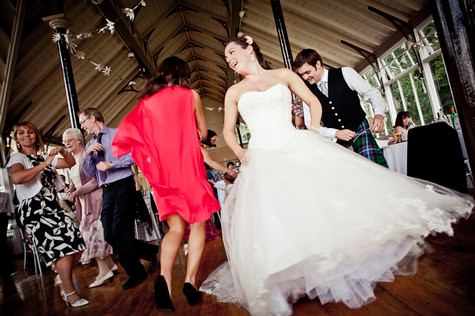 Supplier Shout Outs
Venue –

 Hexham Winter Gardens

Catering

–  North East Pig On A Spit Hog Roast Company  www.northeastpigonaspithogroastcompany.co.uk  The caterers were brilliant, they were both friendly and professional and we had a host of compliments about the hog roast and all the trimmings!

Photography

 – Andrew Billington, Photographer. http://documentary-wedding.com/ Andrew was an absolute star – he captured all the aspects of our day with one beautiful photo after another. I wouldn't hesitate to recommend him as his friendly approach brought out the best of everyone on the day.

Catering Hire

 – John Brown Caterhire (hire of tables, chairs linens etc www.johnbrowncaterhire.co.uk  This company was great to work with, really friendly and gave  helpful advice on the set-up of the room.

Kilt

 – Geoffrey Tailor Kiltmakers and Weavers: www.geoffreykilts.co.uk

The Chocolate Tree

– http://www.the-chocolate-tree.co.uk

Band

– The Hedgehog's Skin – no website but the contact is David Oliver 01434 607432. The band was a fantastic find, they were full of enthusiasm and ensured a packed dance floor all evening!
For more information on Andrews work go to:
http://documentary-wedding.com
[email protected]
FACEBOOK
TWITTER
Phone: 07748 352 464 / 01782 631 994