A bit of a self-indulgent post this morning, as I have a new Boho logo to reveal to you all.
For a while now I have been having a bit of an identity crisis, running the wedding planning business as well as the blog can sometimes be a bit confusing! The two things have grown enormously since I started back in December 2009 and they have both separated to become their own businesses. I work equally hard with both of them, and they each have their own demands and needs.  This is all amazing and I couldn't be happier but I have been feeling for a while now I needed something to unit them together.
Often people ask me for a logo for a press piece or for publicity and I never really know which one to give them, the wedding planning logo or the blog logo. Yes they are both very similar and I have tried to keep the Boho brand running throughout both of them, BUT it has been hard to promote one without promoting the other.
So I decided that I needed a Boho Weddings Logo that would form a umbrella brand for the two of them………….and for whatever other ways I decide to develop Boho in the future! So with a lot of help from my graphic designer and a few of my industry friends (you know who you are and thank you for your opinions and comments) I have a new  Boho Weddings Logo.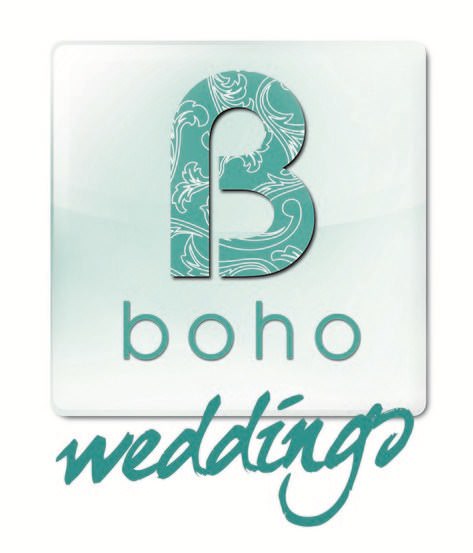 This Logo will be used for all Boho publicity from now on, and will be used for new business cards and literature. The wedding planning website will stay the same, and the wedding blog will stay the same for now BUT It will be having a  massive re design at the end fo the year, so this logo will be used then as the basis of the design.
I tried to keep it similar to the original Boho Brand, more of a development from the original design, clean and modern,  I didn't want to move to far away from the original.
There is also this variation on the Logo which can be used as an app type logo for the mobile blog and other things that will come up.
So do let me know what you think, I hope you like it?
If you follow me on twitter you may notice that I have also changed my twitter name from Boho Events to Boho Weddings, something that I hope will unit the whole Boho Brand together a bit better.
Next I will be working on a new Boho badge to send out to suppliers I have worked with and people who have been featured on the blog, so if you have an old one keep an eye out as I will be sending out shiny new badges in the next couple of weeks.
Big Boho Love
Kelly x