My attention was drawn to a new bridal wear collection on Monday, and one that I instantly fell inl ove with. Urban Outfitters has gone Bridal……and in my opinion has does it rather well!!
I instantly knew that I had to blog the collection, so I contacted the press office to get some more information from them and obviously their permission to share the collection with you.
So a bit more about the background of the collection:
URBN, which is the parent company behind Urban Outfitters, Free People and Anthropologie, has expanded into a new market with a chain of bridal boutiques.
BHLDH, which is pronounced 'beholden' it has an offbeat, vintage and more alternative style that so many brides these days are crying out for. With a fantastic range of Bridal dresses ranging from $1,000 – $4,000 and bridesmaid dresses from $200 – £600 the collection brings a new edge to the bridal world………….and personally I LOVE it!!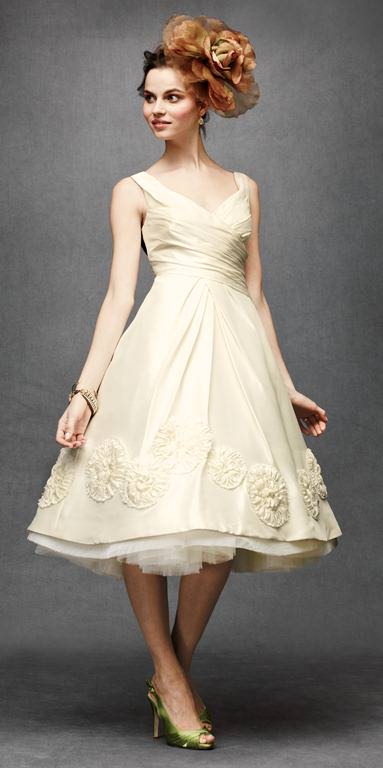 The press office told me:
BHLDN's first collection was launched this Monday on Valentines day www.bhldn.com It has brought together a curated collection of heirloom quality wedding gowns, bridesmaid frocks, party dresses, assorted jewelry, headpieces, footwear, and lingerie.
Inspired by the very brides BHLDN will serve, the Anthropologie creative team began dreaming up a wedding brand after hearing tales of its customers' nuptials. "We know our customer, and we know she's looking for a brand that reflects her unique perspective. She may have interests common to her friends, but she's looking to create a moment that's all her own…it's not so much about our point of view as it is about capturing hers," explains Managing Director, Kristin Norris.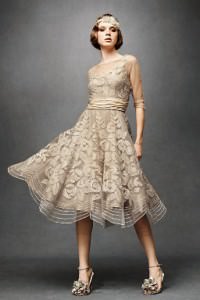 The collection will feature own-brand designs, as well as established and up-and-coming guest designers – its point of edit being a twist on tradition. Gowns pay respect to the old, new, borrowed and blue, but each with a wink and a nod. Fleur Wood, Tracy Reese, and Catherine Deane contribute exclusive designs to the tailored and voluminous, soft and draped, embroidered and embellished assortment, complete with refinements like built-in boning and corsets. Retail prices for the brand range from $1,000 to $4,000 for gowns, and $200 to $600 for event dresses.
The accessories assortment is vintage-inspired, but decidedly modern. Artisans, ateliers, and milliners including James Coviello, Jennifer Behr, and Yestadt Millinery craft feathers, tulle, and jewels into luxe headpieces. And jewelry designers like Erickson Beamon, Katie Diamond, and Petra Domling offer baubles, from delicate to bold.
Following in the tradition of Anthropologie, BHLDN puts emphasis on not just apparel, but the imagination and detail of every element that makes up a wedding. Decorations will round out the collection later in the year, encompassing varied interests and themes. BHLDN will carry everything from cake toppers and lanterns, to lovely DIY-type items that are already made, as well as more aspirational items like candelabras and mouth-blown glassware.
A wedding may be the biggest and most important party a woman will ever throw or attend, and BHLDN plans to be there for all of the special moments throughout its customers' lives.
The first store is expected to open its doors in the second half of the year. BHLDN will become the sixth brand to join the URBN family.
AS well as a host of amazing Bridal Gowns BHLDH has also put togetehr an extensive range of bridesmaides dresses: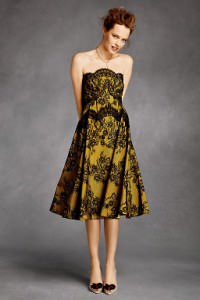 Fabulous clothing collections at BHLDH, they have also put together a unique collection of Shoes and Hair Adornments: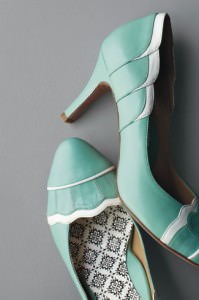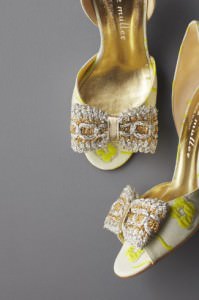 I'm sure you will agree the collection is outstanding! there is something there for everyone! I can't wait for it to hit our stores in the UK!…..may just need a little trip out to the states to purchase a few of those lovely dresses…..Oh and the shoes!!….and the jewellery!!! Fantastic if you are looking for something a bit alternative, unique or vintage inspired to wear on your wedding day!
To view the full collection go to:
www.bhldn.com