Happy Friday everyone, how are you all doing? Well, at the end of Week 2 of lockdown things seem to be settling down a bit? I guess we are all getting used to things in our new way of life. I have to say though I can't wait for this to be over. I'm sure like you some days are harder than others. Personally I am trying to count my blessings every day and today I am looking forward to the weekend. I love my job but man it's hard trying to juggle child care and work, it sure isn't easy! So the weekend is just about family time and enjoying being with each other. Today though we are celebrating the wedding of Grace and Craig who held a beautiful day last June in the gorgeous French countryside. They had a very chilled outlook on the whole day and this was reflected in their laid back celebration. Minimal fuss, simple decor and a fuss free celebration. Goes to show you don't need a whole load of stuff to make a wedding special. Big thanks to Jessica Grace Photography for the lovely submission.
A blur of smiling faces and champagne. All our favourite people in the French countryside.
Grace and Craig were married on 22nd June 2019 in Monflanquin, France. 'We wanted a whole weekend of fun and felt like the best way to get that would be to go away. We also wanted a better chance of good weather. We had around 100 guests. We left most things a little last minute, even though we were engaged for 2 years. We properly kicked into gear about 6 months before. We had a lot of help from (much more organised) friends and family because we are a bit useless at this kind of thing.
The proposal
We have been together for 6 years. I had been badgering Craig to go to Go Ape for ages (I know, I'm a child). We went over one of the May bank holidays and I was in my element. We then stayed in a lovely house in the country with an amazing view of the sunset. Craig had it all planned out perfectly. Being unaware, I had a few too many G&Ts and actually thought he was joking for quite a while. Thankfully he wasn't.
How did you allocate your budget?
We were buying a house at the time so we were pretty strict with our budgeting. We basically knew the amount we weren't allowed to touch, and everything else went on the wedding.
Where did you splurge and where did you save?
We knew we wanted to provide wine and champagne for the whole weekend, so that was a pretty big part of the budget! The venue was our biggest expense but we saved money in other places – Grace's mum was resident florist, and her sister made the most amazing cake.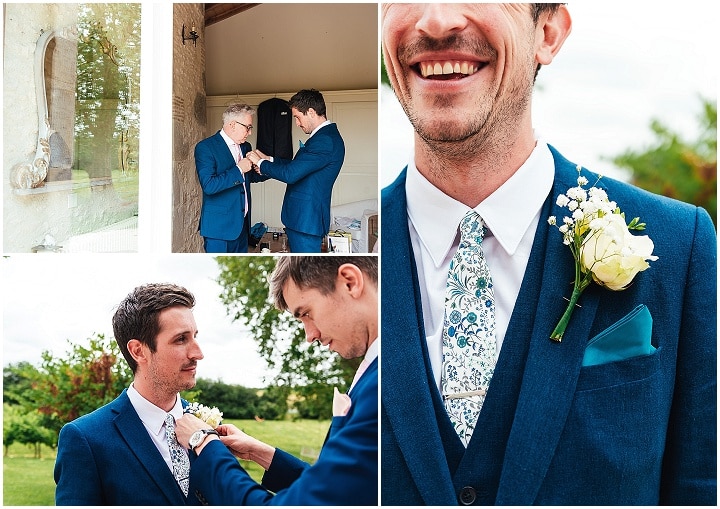 How did you choose your photographer?
Jesse photographed Grace's sister's wedding a year prior and did the most perfect job of capturing that day. It was an easy decision! In fact, booking Jesse was the first thing we did. We're obsessed with the way she captures the atmosphere and all the candid moments. She's the best!
The dress
I actually fell in love with a Topshop Bride dress and so happily made a very easy purchase. Wedding dress shopping is my idea of hell, so was very pleased that I found something so easily (and so cheap!). Jewellery was all Catbird NYC – an amazing brand I love.
The suit and bridesmaids
Bridesmaids were asked to pick anything they like in pink, so dresses were a variety. Craig's suit was equally fuss-free, from French Connection.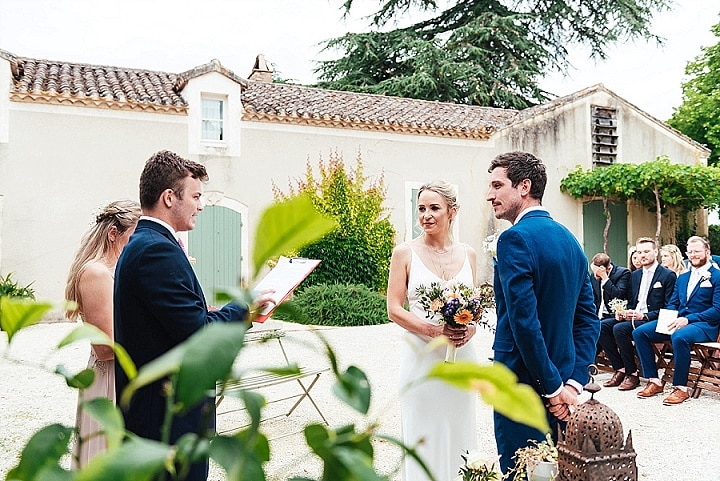 Flowers
One of Craig's groomsmen picked wild flowers for the table decorations on the wedding morning. With regards to the bouquet…I'm not totally sure. All I know is it was beautiful and my mum cleverly made it herself.
Decoration
Lots of fairy lights and some wild flowers and vines from the fields nearby.
Food
We wanted easy food so we got a couple of food trucks with a whole variety of options for people. Later in the evening, we brought out a gargantuan cheese board from one of the local farms. Not sure many people actually noticed the cheese board though (see above re. copious amounts of wine).
Wedding cake
Grace's sister, Freya, made the cake. She's very talented and slaved away on the most beautiful lemon and elderflower cake. It was absolutely delicious.
Where did you go on your honeymoon
Santorini
Personal touches
We pulled together all the table decorations and put up a photo slide show outside which the families in particular enjoyed. We also had Grace's sister and her fiancé perform the ceremony. Neither of us are religious, so instead of hymns we chose a couple of songs that meant something to us. It made the ceremony much more personal and upbeat.
Special moments
We just had the absolute best day.
Advice for other couples
Chill and enjoy. And overbuy the wine!
Biggest surprise of the day?
How much we enjoyed it!
For more information on Jessica Grace Photography go to
www.jessicagracephotography.co.uk / www.jessicagracephotography.co.uk/blog / [email protected] / FACEBOOK / INSTAGRAM / PINTEREST / TWITTER

Hello I am Jesse, of Jessica Grace Photography. I am a wedding and family photographer based in Surrey, but I travel all over the country and world capturing love. Describing my photography style I would have to say I take a natural approach to capturing images. I am drawn to a laugh and a giggle, you can find me on the dance floor getting stuck in and I adore a cracking sunset.

[jprel]