Well hello everyone, we have reached the middle of the week, how are you doing? Lets give each other a virtual pat on the back for making it this far, you are all doing great! Today we are heading over to Texas for the delightful wedding of Caitlin and Samuel. This whole wedding is super stylish, yet simple in it's approach. The decoration is simple, yet it all looks beautiful. Just the right amount of everything. I especially love the pampas grass and greenery together, the cake looks delicious and Caitlin's dress is just gorgeous. Big thanks to Local Embers & Co for the photography and Treasured Heart Events for the submission.
Our wedding day was an absolute dream because all of the people that we love more than anything from all over the world were together in one room celebrating love. We were able to glorify God through our unity in marriage all while tearing up the dance floor with our people.
Caitlin and Samuel were married on 23rd November 2019 at The Grand Ivory in Leonard, Texas. 'It was actually the first venue that we visited and we fell in LOVE right away. It had the simple look that we envisioned, so we cancelled all of the other tours! We invited 350 guests and had roughly 240 come, it took a year to plan.'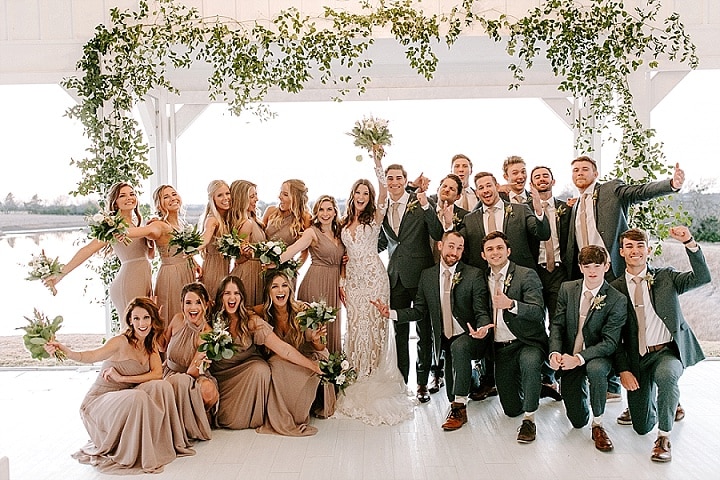 How they met 
We met and started dating our sophomore year of high school (Cait was 16 and Sam was 15), and have dated ever since — a little over 7 years! 
The proposal
It was perfect. I was completely shocked – had no idea at all. Lots of tears. Here is the link to our website where we both walk through our proposal stories from our own perspectives.
How did you allocate your budget?
The Knot Wedding Planner Binder has a breakdown for what percent of a wedding based on your budget would "typically" go to which areas. It was super helpful. We tracked ALL of our purchases and payments as they came (had a separate planner designated to all wedding deadlines and stuff).
Where did you splurge and where did you save?
We saved on ALL of our stationary (used an online site called Zazzle and everything was so simple and pretty and high quality). We did Postcards for Save the dates. We also saved on rentals by using nicer looking plastic ware for dinner, dessert, and drinks, since it was laid back food trucks they weren't a part of the place settings so it didn't mess with the "look/vibe." We splurged on photography and videography, which I am SO glad we did. I do not remember so much from the day/night because it was just so much going on at once. I am so happy we have so many pictures and videos to look back on and remember our day from different angles.
How did you choose your photographer?
I was just looking on instagram and happened upon their page. They were the first vendor I fell head over heels in love with, their style and vibe is exactly what we were looking for. Would recommend LOCAL EMBERS & CO. to any and everyone. They are so kind and talented and make the whole engagement/bridal/wedding photo process so enjoyable!
The dress 
My dress was Allure, but it never went beyond the runway so it was one of a kind which is pretty cool! I am simple, I wore my engagement ring and the diamond necklace I wear every day that used to be my mom's as accessories. My shoes were plain Steve Madden low heels so I could dance the night away.
The suit and bridesmaids
The suits were all rented from Menguin. The bridesmaids dresses (and guy's ties) were all from Azazie.com, super affordable & colors match!
Theme or colour scheme
All that I kept saying throughout the whole process was neutral, simple, US! I wanted the wedding to look like our style and really reflect who we are.
Flowers 
We did simple greenery with pampas grass for decor! The bouquets were very natural looking with lots of greens, whites, and tans!
Decoration 
We had very simple decor. Greenery, pampas grass (In bulb glass vases), hanging backdrop from a copper pipe, candles and votives, table runners, gold chargers, grey napkins with twine tied around them, everything neutral! Our venue really spoke for itself with the natural white wood and string lights.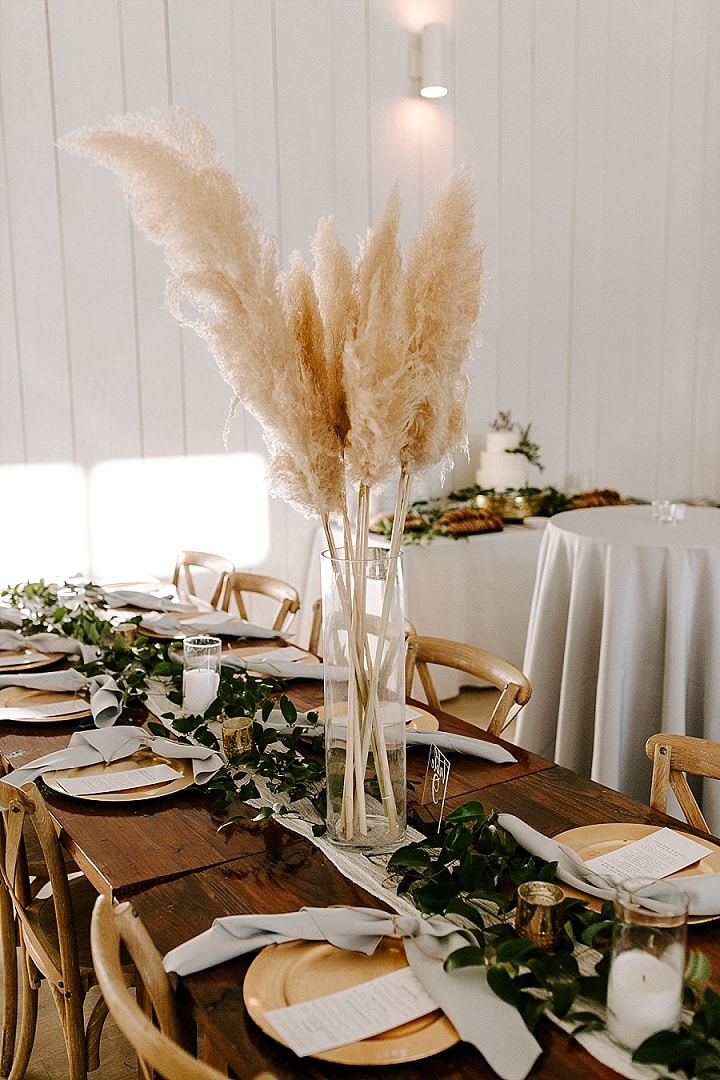 Food
We had 3 food trucks for dinner at the wedding! Guests could go grab a bite as much as they wanted! One was BBQ, one had mini sliders, and one was Mexican food. THEY WERE ALL SO GOOD. I was so nervous/not thinking I had a cheese quesadilla haha but it even that was awesome.
The wedding cake?
We had a 3 tiered cake with white frosting. Vanilla and chocolate — can't go wrong! It was amazing and beautiful and simple with a pretty gold topper that said mr & mrs Avers. Our florist arranged greenery around it and it was perfect.
Entertainment
We had a DJ, he was wonderful. He listened to our vision and really cared about getting to know us and our music taste before the wedding so it was very personalised. Adam Morgan with LeForce Entertainment – highly recommend!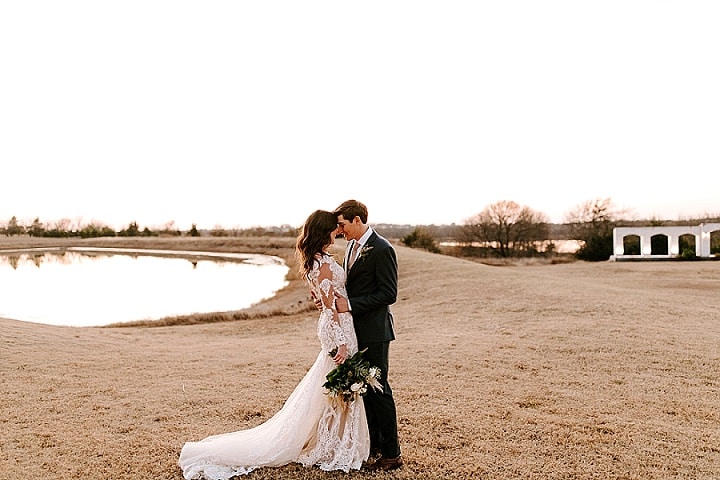 Who supplied the stationery?
We used Zazzle for everything — SUPER affordable and simply beautiful. We liked that it let you alter the design/formatting to fit your own style.
Where did you go on your honeymoon?
We went to Hermitage Bay, Antigua — best week of our lives and honestly one of our favorite parts of the wedding hahaha
Personal touches
I had a piece of my mom's and Sam's mom's wedding dresses cut into small hearts and sewn on my garter so I got to carry a piece of our parents' love stories with me throughout the day. We also worked on a massive bulletin board together. It had pictures of us throughout our entire relationship (through awkward high school phases and all), a lot of guests enjoyed looking at our huge picture board because it kind of showed how we truly grew up together.

Special moments 
I loved doing a first touch and praying together before the craziness began. It was just me and my future husband and we had a sweet moment together. I LOVE that Sam did not see me before, because it added such a fun and special element of surprise to our ceremony.
Advice for other other couples
The wedding decorations, details, food, and outfits are all so FUN but our wedding would have been just as amazing if we were in a shack with sweats on because all of the people that mean the MOST to us in the entire world were there, and THAT is what made it our best day ever. Focus on soaking in the special moments with family and friends, not just on the wedding day, but throughout the entire engagement season and all of the celebrations that come with that. We have never felt so loved than in that season of life, and it is easy to miss out on that feeling when you're worried about everything else.
Biggest surprise 
HOW FAST IT WENT. Once dancing started I did not leave the dance floor at all until the end of the night, and I'm honestly surprised at the fact that I felt at peace enough to just dance my booty off and not worry about doing the right "bride" things that can be so stressful. It was awesome!
Supplier Shout Outs