This afternoon it's business as usual on the blog as we talk about engagement rings. Maybe you chose your own engagement ring, maybe your fiance chose it for you, or maybe you are still waiting for that special moment and in turn special ring. Whatever your situation the ring that you wear on your left hand can say a lot about you. Each colour of ring has a different meaning from blue sapphires to black onyx. Today we look at each stone and what it means.
What the colour of your engagement ring really means
If you have recently become engaged and catching yourself looking at your newly acquired ring perched on your left hand, you may be wondering what that particular stone and colour mean – after all, we all have one assigned to us at birth, each with a different meaning. 
Diamonds are not the only option to pop the question with; there many other unique, rare and special gems also available. If you have a bright and stunning colourful jewel, we take a look at what it could mean.
Blue
Sapphire: A firm favourite with royalty, this regal jewel is considered a symbol of loyalty, faithfulness, and trust – making it the perfect choice for a couple starting their journey to married life.
Aquamarine: Similar to sapphire, what an aquamarine symbolizes makes it a fantastic ring to ask that all-important question with. The gem is believed to represent health, courage, and clear communication – all things important in every relationship.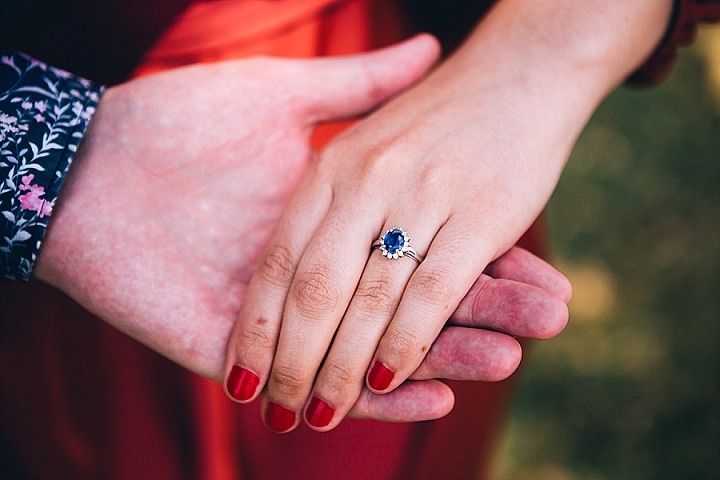 White
White diamond: The white diamond is the most iconic engagement ring jewel and with it being a symbol of forever love, it's not a surprise that it has cemented itself at the go-to engagement ring stone. It's also said to purify any negative energy which has been stored in your body – meaning you will live a happy life filled with love.
Pearl: Known as the stone of sincerity, while they are delicate – especially as an engagement ring – the stone is thought to symbolise innocence, integrity, loyalty, harmony, perfection, purity and faith. Pearl engagement rings were a regular sight on the left hand; now, however, they are a much rarer sight.
Green
Emerald: Successful love is the hidden meaning behind the striking green emerald. It's thought that an emerald used as an engagement ring is given in the hopes of having strong, unwavering love and commitment for as long as the couple is together.
Black
Onyx: A black gemstone creates mystery and is a rare sight in engagement rings. It is the gemstone of protection and balance and is believed to possess the ability to reflect negative energies and emotions. While doing this, it also is said to encourage physical well-being and balanced emotions.
Pink
Morganite: With the rose gold trend remaining very popular in a range of industries, morganite is having a moment. These feminine and delicate pink-hued gems are said to carry the energy of divine love and compassion.
Red
Ruby: The ruby has long been considered the stone of love thanks to its deep red shade. It is also the symbol of energy, passion, and power. As an engagement ring, this precious jewel perfect to represent powerful feelings.
All gems are special in their own way, with each one holding a special hidden meaning. From representing love and honesty to courage and communication, these colourful stones are all perfect at encapsulating what's important in a marriage.
So what colour is your engagement ring? Did you go for a classic diamond? or have you been bold in your choice of stone colour and opted for something different? I would love to hear your engagement stories and what you/your fiance chose.
[jprel]