Today's styled shoot is the perfect combination of urban cool mixed with soft bohemian botanical goodness. The shoot took place on 24th March in Baltimore, at Habitat at Seya. It has been sent into me by the Event Planner Love Clark Events and photographed by Garnet Dahlia Photography. This shoot is a great example of how you can mix a touch of urban with a touch of boho and create a cool, yet warm mixture of beautiful tones, stunning floras and vintage inspired outfits. All of this is pulled together by this beautiful couple, who add a real sense of style and love to the shoot.
Baltimore Oasis Style Shoot
Love Clark the event planner tells us more about the shoot
The beauty in Rustic bringing bohemian elements placed in a historic area captivating a beautiful gathering of love mixed with romance. Fine dining with city lights all in your own oasis that you mixed within this historic city. We were deeply inspired by a soft oasis, we wanted our styledshoot to reflect the feeling of passion while tasting the aroma of your own bohemian oasis.
We started with florals, included palm leaves throughout the room and in each arrangement then creating a softness in the bridal bouquets. Tall but distinctly low centrepieces with vintage candle lights mixed with fine details. Creating the mood with palm fan leaves surrounding a rustic sweetheart table and beautiful peacock chairs for the bride and groom.
Our Venue Habitat at Seya, located in the heart of a historic area featuring an overview balcony overlooking the city and update it with modern features, including a view of the outdoor surrounding you with their tall windows, hanging chandeliers and brick wall throughout the venue creating the perfect aroma for our style shoot.
Hair and makeup were soft and classic with neutral tones, small hair accessories that weren't too overwhelming.  Rustic Tablescape that's inviting with white chairs, cuisine and white table settings mixed with golds and those soft pinks as our bridal boutiques and gowns. Creating a delicious celebration with a modern donut wall and a gold trim two layer cake. The gowns were modern and vintage but as elegant as the night. Our wooden arch touched with florals and an aisle of palm trees for the Ultimate grand oasis.
The photography was moody but warm creating the entire night falling of an astonishing bohemian meets oasis in a pleasureful event.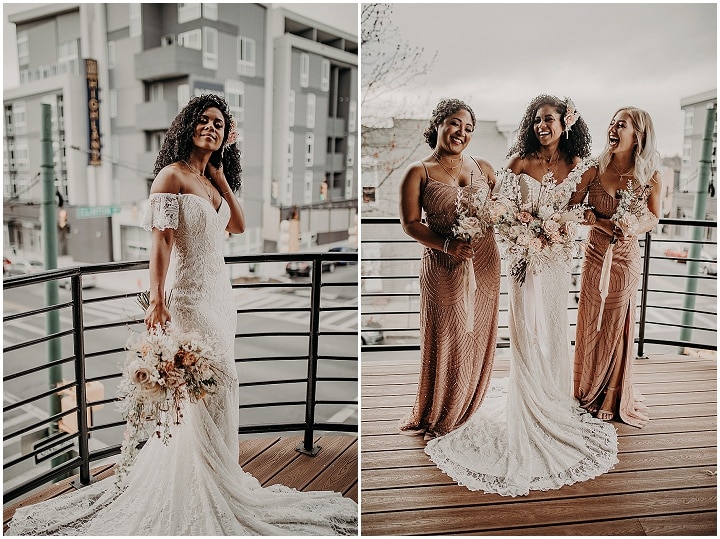 The suppliers who made the shoot possible
[jprel]