Happy Wednesday everyone. How are you all? As we reach the mid-point of the week I have the most gorgeous wedding to share with you. Anna and Ilaria are our two beautiful brides, who decided to get married in Italy, close to their home town and a place that Anna used to visit as a child. This exquisite palace makes such a breathtaking venue for a wedding, filled with the most amazing backdrop and perfect for a grand yet laid back outdoor reception. I love their sense of style, their use of colour, the cactus favours, the handmade dreamcatchers, the smoke bombs and the 2 gorgeous outfits. What an amazing wedding. Big thanks to Laura Stramacchia for sharing the images with us.
Dreamlike and full of music and joy. Best day of our lives so far.
Anna and Ilaria were married on 14th September at Palazzo della Loggia, Brescia Palazzo Barbò, Torre Pallavicina in the Italian region of Lombardy. 'We were looking for a place not too far from our hometown, Brescia, and possibly close to our families too. We wanted a place reflecting our love for nature and our idea of simplicity and we decided to visit Palazzo Barbò, a 15th century palace in the middle of the countryside. Anna immediately fell in love with the venue, a wonderful place full of history and magic. Moreover Palazzo Barbò was part of Ilaria's childhood memories. She used to cycle there with her dad and her brother as a child. We knew it was the right place the moment we saw it. We had 110 guests and it took about 5 months to plan. Anna proposed on April the 5th and Ilaria started planning the wedding the day after.'
How they met 
We've been together for about 4 years now. We met by chance at a bar on a Saturday afternoon. I (Anna) was trying to juggle a mobile phone, a lit cigarette, my dog and a glass of coke and Ilaria came to the rescue out of nowhere, offering to hold my glass. We started talking and we haven't stopped since.
The proposal
It was April the 5th 2018 and we'd both had a rough day at work. So we decided to go to our favourite Indian restaurant for dinner (India was our first travel destination as a couple). Nevertheless, Ilaria was still quite sad. I had been waiting for the right moment to surprise her and she actually helped out when she said "please cheer me up". So I told her to close her eyes and, right in front of the bathroom door, I pulled out the ring. She wasn't expecting it and she started crying. It took about ten minutes for her to say yes.
How did you allocate your budget?
We really didn't think about the budget. We didn't want to waste any money of course – we are not that rich – but we just went for what we liked.
Where did you splurge and where did you save?
We had allocated a specific budget for wedding favours. At the beginning we had decided to go for small cactus plants, but our florist called us two days before the wedding telling us that she had found some beautiful prickly pear leaves that our guests could plant at home and see grow. The only problem was the price tag: they cost three times as much. The thrill of the moment and the looming wedding day made us say yes. But in the end it was absolutely worth it.
How did you choose your photographer?
We met Laura by chance. I (Ilaria) had seen some of her photographs from a friend's wedding and thought they were lovely. So I sent her an email and her reply was really friendly and so enthusiastic that we decided to choose her before we even met her in person. It was the right choice.
The outfits 
Ilaria knew exactly what she would be wearing. A few days after I proposed she jumped on a train with three friends of hers and went to Laure de Sagazan atelier in Rome, where she bought the dress. I wasn't so steadfast instead. I had bought a suit but then I changed my mind. I went to Max Mara Milano with my mother and I bought a jumpsuit. I had to try it on to understand that it was the one.
Ilaria wore Anniel shoes; Anna went for a pair of sneakers designed by Fendi.
Theme or colour scheme 
There was no real theme but a leitmotif was probably succulent plants. They were painted with watercolours on our wedding invitation and we used prickly pear leaves as wedding favours.
Flowers 
In addition to cactuses and succulent we had many different colourful flowers.
Decoration
Ilaria's mother knitted 15 dreamcatchers, using local plants and coloured ribbons that matched the flowers we had on the table and around the venue. They were hanging from the trees of the garden and we gave away some of them to our closest friends and family at the end of the day.
Food 
Since we're both vegetarians we had decided that no animals would be harmed for our celebration, so we went for a fully vegetarian meal. We knew it was no easy task because of the standards of Italian food culture and we were afraid our guests might not like it, but we wanted our wedding to symbolise who we are. Our caterer Roberto helped us make our idea into a reality, giving us great advice and planning all the dishes. The result was astonishing. Everyone was happy with the food and unexpectedly satisfied.
Wedding cake
We went for a number of delicious mini cheesecakes, different in size, placed on a table with candles, lights, flowers and cactuses to create the most beautiful setting.
Entertainment
One of Ilaria's best friends is a well known DJ in our hometown and as a gift to us he performed especially for us and our guests. Besides, Anna's aunts and cousins dressed up in wedding costumes and sang a song from a musical in the middle of the evening.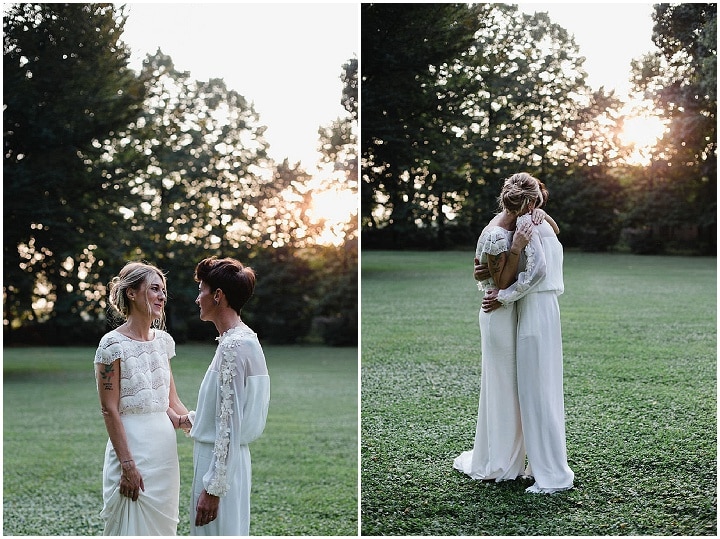 Who supplied the stationery?
The amazing Alice Pasinetti from Little Pine Alice.
Personal touches
We wanted to have a temporary tattoo station in the garden. We bought around a hundred tattoos from Tattly and at the end of the evening almost everyone had got one, especially uncles and aunts.
Special moments 
A very special moment was the car ride from the town hall in Brescia to the venue, which is 40 kilometres away. We drove Anna's parents' 1990s Volkswagen Golf Convertible. We had some time just for ourselves, listening to music, enjoying the late afternoon summer light and just smiling.
Advice for other couples 
Find a partner who can plan things properly……No, seriously, first of all for us it was an opportunity to share our joy with our loved ones. It's your day and you should make sure that it truly reflects who you are, regardless of formality or "rules". Also, trust professionals.
Biggest surprise 
We were blessed with the most breathtaking sunset.
Suppler Shout Outs
For more information on Laura Stramacchia go to
www.wedding.laurastramacchia.com / www.wedding.laurastramacchia.com/blog / [email protected]  /FACEBOOK / INSTAGRAM / PINTEREST