I have the most gorgeous wedding for you today, courtesy of Rosy and Shaun Wedding photography as I take you off to Michigan for the wedding of Kristen and Garrett were married on 10th May 2019. Kristen and Garrett's wedding day was perfect. The ceremony was held at St Anne's cathedral and the Reception was held at Eastern Market Corporation. Their dogs and Sparty (Michigan States mascot) made an appearance at the reception just in time to congratulate them! The reception venue looks absolutely amazing, huge flower arrangements add a modern look to this stunning warehouse type venue and the rose gold detailing keep it looking super stylish. Pure wedding perfection!
How they met 
We met at the ripe old age of 11 in sixth grade. We quickly became friends and were always involved in each other's lives. We started dating during our first semester of senior year in high school and went on to attend Michigan State together. After college, Kristen moved to Chicago while Garrett finished law school at, you guessed it, Michigan State. Once he graduated, he moved to Chicago to be with her.
The proposal
When Garrett decided it was time to pop the question, he went to Kristen's parent's house to ask for their permission and they happily agreed. Garrett planned on proposing at the Belle Isle Conservatory in Detroit during their next trip home, but that didn't go according to plan. Kristen started to get an idea that the question was coming (thanks to Garrett's dad almost giving up the secret) so he had to improvise. The ring was made and ready to go – but it was in Michigan. On the morning of the proposal, Garrett's brother drove the ring from Detroit to Chicago while Kristen was at work. When she got home, she found a bouquet of flowers at the door with a letter, but no Garrett in sight. As she realised what was happening, Garrett came out from hiding and dropped to one knee and asked her to marry him. Once the ring was on her finger, their friend and Garrett's brother were waiting with champagne to celebrate.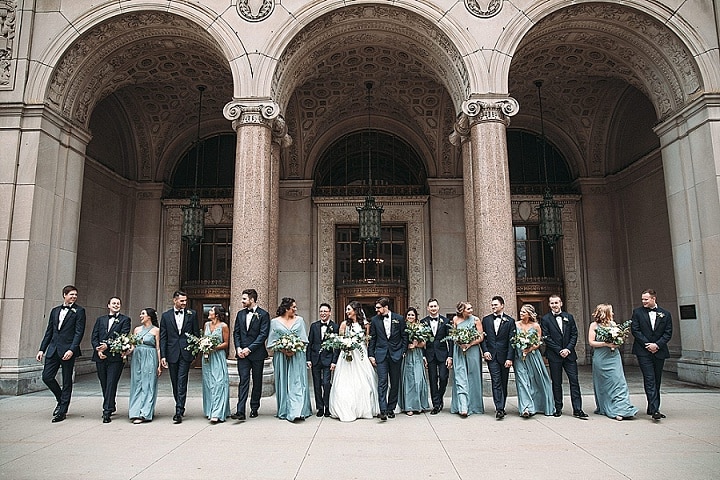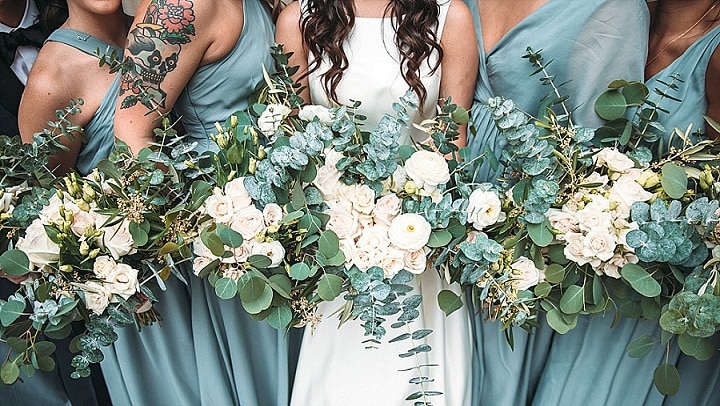 Outfits
Kristen has never been into glitter or sparkle so she wanted to find a dress that was classic but still unique. Originally she wanted lace with satin but once she tried on her dress (the first one she put on) she knew the all satin A-line with high neck was the one for her. Kristen's jewellery consisted of pearl pieces that her mother and mother-in-law wore on their wedding days. Garrett's mother gave her pearl earrings and her mother gave her a pearl necklace that she fashioned into a bracelet. Garrett wanted to look great too, so he chose a dark navy tuxedo with black lapels; he also got Michigan State suspenders for himself and his groomsmen to personalize his look.
Theme or colour scheme
We wanted a rustic yet still classic styled wedding. Kristen's engagement ring is rose gold so we wanted to incorporate that into our big day, so that was our starting point for inspiration. We stuck with a lot of rose gold metal, wood elements, greenery and white flowers. We were married at Sainte Anne de Detroit which happens to have a piece of history in Garrett's family. A direct relative on Garrett's maternal side was a part of the founding parishioners of the church when it was founded in 1701. During the ceremony we incorporated Kristen's Mexican heritage by performing the Lasso Ceremony which is a long standing tradition in Mexican weddings. Our mothers were chosen to place the lasso around us which was very special.
Decoration 
Eastern Market's Shed 5 is an enormous space to fill, so we knew we had to make sure we used the space appropriately with decor. We had a mixture of farm tables and banquet tables to break apart the space and create more dimension. The centrepieces had to be large enough to help bring the shed depth. There were a few DIY projects the whole family worked on to make the shed special for the big day. Kristen's mother built 7 large pillars for our seating chart display, Garrett's mother and grandmother helped us with mismatched rose gold chargers for the tables and Kristen made our marble tile table numbers.
Flowers
The florals were incredible, Kevin at Twigs and Branches knew exactly what we wanted and did a fantastic job! We had a lot of olive branches, eucalyptus, roses, white lisianthus and white ranunculus in the bouquets and centrepieces. Kevin and his team created a mixture of tall and short centrepieces on the tables to give the shed the necessary dimension. The head table's centrepiece was made of tall rose gold harlow stands with a 12 foot greenery hedge laid above with an array of candles and greenery running along the centre of the table.
Personal Touches
With so much space in the shed, we were able to create a beautiful lounge area for guests to relax and catch up. An ivory antique sofa with emerald velvet accent chairs were used to surround rustic style tables. We used the area to create a cigar bar for guests and incorporated a remembrance table for family members that could not be with us to celebrate. We had backdrops of ivory pipe and drape with rose gold and greenery hoops to frame the lounge area and dance floor. Kristen is known for her love of Miller High Life, so we made sure to have champagne bottles of the beer at the head table for our "champagne" toast. Kristen's grandmother had a favorite drink so we recreated the perfect blue margarita in her honor as our specialty drink, we called it the Mimas Margarita. As we are both Michigan State Alumni, Garrett's parents surprised us with the most special guest – Sparty!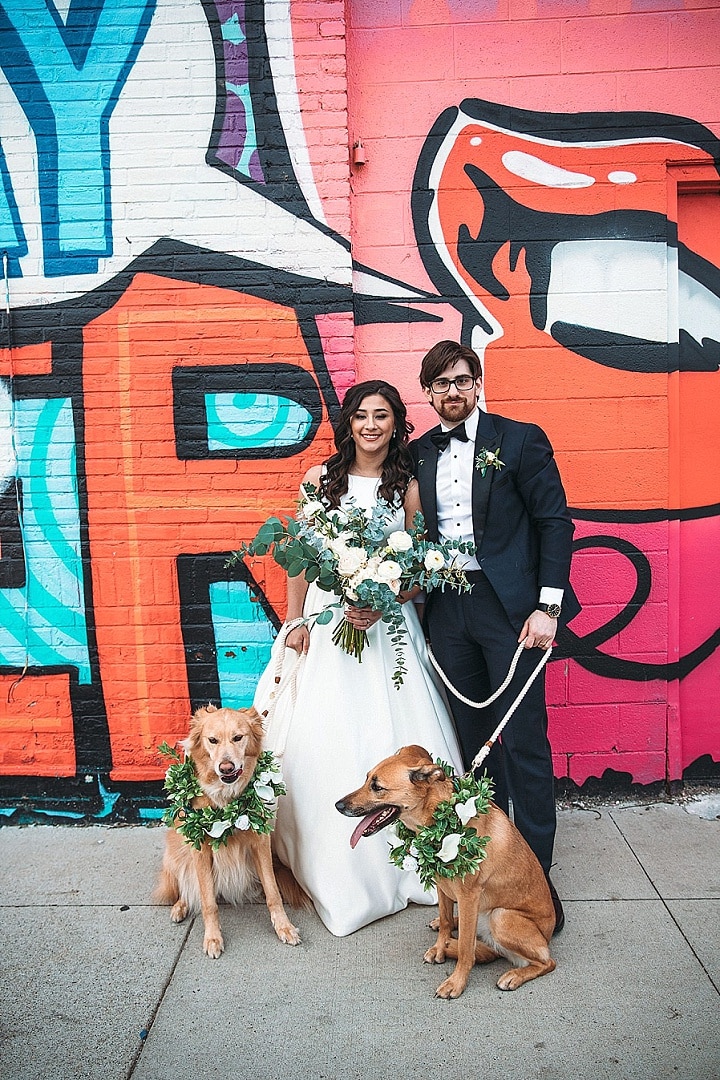 Special moments
The most anticipated part of the day was our first look before the ceremony. That was the moment it really hit us – we are getting married! After 10 years of dating and 17 years of being best friends we were actually doing this. But what Kristen was most anxious for was to finally walk down the long aisle of Sainte Anne's with her father to give her away to Garrett. Seeing each other at the altar was a breath of relief and we were both so excited to be getting married in the presence of all of our family and friends.
Advice for other couples
During the planning process, things are going to be so fun but also overwhelming at times. Just keep in mind that this day is a culmination of all the love around you, both with each other and with all of the special people in your lives. Don't let the little things stress you out – not everything is going to go perfectly according to plan and that's OK (and with a fantastic wedding planner you won't even notice – thank you Loren!!). No matter what, it will be the most perfect day of your lives. As far as marriage advice, make sure that even in the hard times you use this most special day as a reminder of your love for one another. We are so lucky to have each other and with that love, anything is possible.
Supplier Shout Outs
For more information on Rosy and Shaun Wedding photography go to
[jprel]