Today we are moving away from our normal rustic style weddings as I share with you this super glam Wiltshire Wedding. I am a huge lover of all things sequin and rose gold, so when this gorgeous wedding filled with both sequins and accents of rose gold landed in my inbox I knew I had to share it with you. Melissa and Steven's surname is Peacock, so when they found The Larmer Tree which has peacocks walking around it's grounds, they took that as a sign and booked it straight away. They filled their day with subtle touches of a peacock theme, along with candles, beautiful flowers and a neon 'The Peacocks' light. The whole day is gorgeous from the beautiful outdoor ceremony to the balloon filled party reception, all captured perfectly by .Kate Gray Photography 
It really was perfection, somehow everything fell into place, making any stresses absolutely worth it. It was everything we imagined and wanted it to be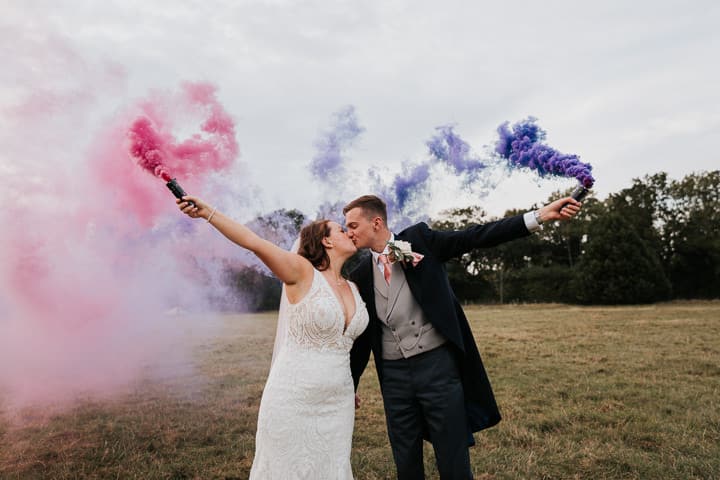 Melissa and Steven were married on 21st September 2019 at The Larmer Tree, Tollard Royal, Wiltshire. 'We wanted a venue that was slightly different but our guests would enjoy, we met with Gail, the events planner at The Larmer Tree and she was just fantastic. She told us, anything we wanted, she could make it happen! It's such a beautiful place and had everything we wanted for our wedding, we couldn't say no, especially as they have so many peacocks on site! We had 78 guests on the day (another 5 to the evening) It took roughly 2 years to plan, we booked the venue 22 months before the wedding and the photographer 18 months before but we mainly did everything in the last 11 months'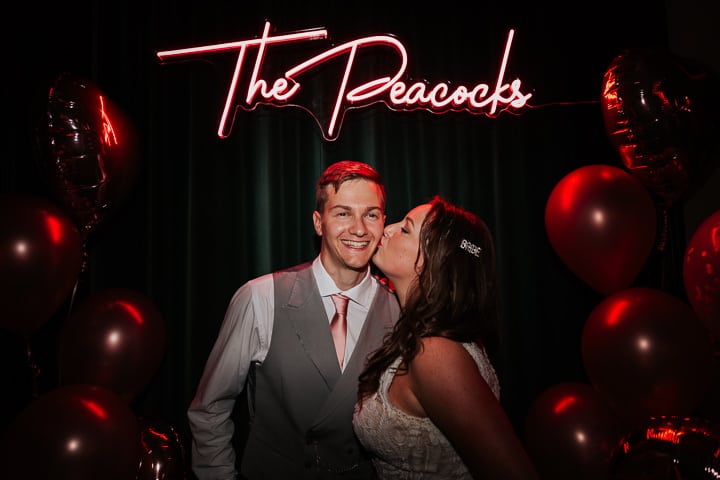 How they met 
We met in 2009 at the University of Winchester, we didn't become friends until second year and officially got together in January 2012 during our final year, so it's been 8 years but we got married almost 10 years to the day since we met.
The proposal
Steven bought me tickets to see Bruno Mars for Christmas one year at The O2, we were due to go the following April so nearer the time I booked us a hotel near by. We drove up and went to The OXO tower for lunch and cocktails, which is one of our favourite places that we've been to over the years for so many special occasions. We went to the concert, I was so excited I'd wanted to see Bruno Mars for years, we'd had a great day so far, we had a great standing position it was all perfect. Then about half way through the concert, Steve was stood right behind me and Bruno starts singing the famous 'Marry You'. Steve held something in my face, I could see it was a ring, so I turned around and he got down on one knee! Every one around us stood back and as he got up to his feet I jump on him which such joy and excitement. It was honestly the most perfect moment.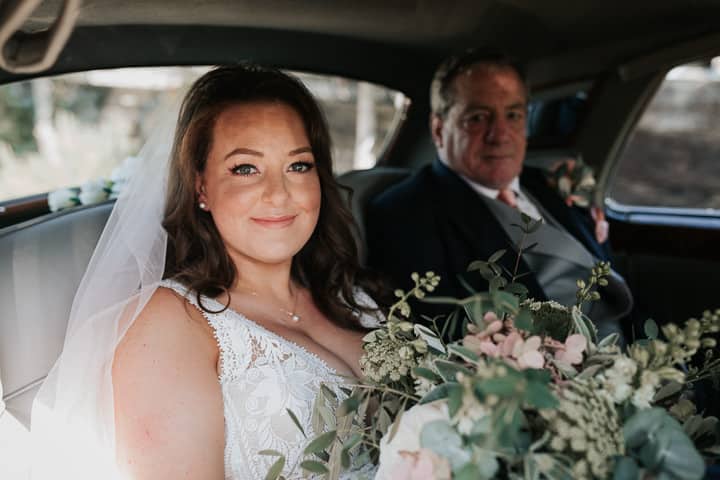 How did you allocate your budget?
We didn't have a set in stone budget, we knew how much we would need to spend for the kind of wedding we wanted but also knew we didn't want to just throw money into it. We spent money on the important things and that was the main bulk of our budget, for example, photographer, videographer, florist.
Where did you splurge and where did you save?
We splurged on the venue, photographer, photobooth, cake, videographer, the flowers, the suits, the make up artist and hairdresser. We saved on some of the bridesmaid dresses, the accessories (as some were gifted by my grandma), we didn't over spend on too many flowers and reused the ones we had throughout the day. The stationary, the DJ, the evening food (as it was cheaper to hire in a food truck than evening food provided by the venue). We didn't have canapes for the lawn reception, instead we served the cake! We saw this at another wedding and thought it was the best idea, that way, no one missed out on the cake.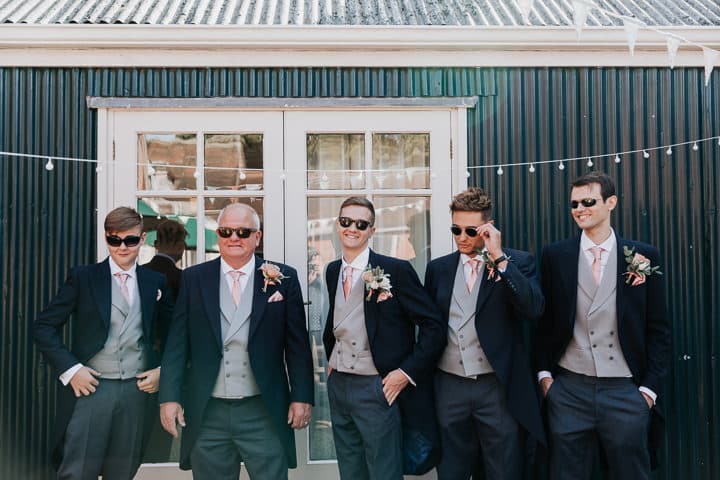 How did you choose your photographer?
Well I did a lot of research into photographers but decided Steve would have the final say. So I went to him with 3 different options, looking at prices, packages and portfolios to find what style we liked within our budget for an all day photographer. We both agreed on Kate Gray Photography, who I'd found on Instagram and she was the only non local photographer I looked at. Boy was it the right choice, the photographs are incredible and the bonus is we also got her husband Jon on the day as well! Everything was above our expectation of them and worth every single penny.
The dress 
Dress by Pronovias, Bond Street Flagship, London. Veil by Britten Weddings, Bradford-on-Avon. Shoes by Steven Madden, from John Lewis
The suit and bridesmaids
The suits were all hired from Moss Bros. The bridesmaids dresses were all from different places; Coast, Chi Chi London, Topshop, Asos and Dorothy Perkins.
Theme or colour scheme
We started with a rose gold and blush colour scheme but it changed to being Blush pinks with golds and rose golds. We also managed to created different themes through the day. The Ceremony and Lawn reception was very romantic with a floral archway and champagne tower and blush pink cake. Then more glamour at dinner with gold cutlery, candelabras and lots of candles on top table and sequin table runners. Finally, a full swing party in the evening with balloons, a photo booth and a personalised neon light.
Flowers 
White scented o'hara rose, blush pink spray rose,coffee rose,  populus eucalyptus, nicoli eucalyptus, white delphinium, silver senecio, silver olive, mottled pale pink hydrangea.
I stuck with bouquets for myself and bridesmaids, buttonholes for the grooms mens and corsages for our mothers and my grandma. We had a statement flower arch, but we used the bouquets in gold vases for the wedding breakfast, rather than have more flowers. We also had crates from base of the archway to add flowers into the evening reception room. This meant we made the most from the flowers we did have, without spending extortionate amounts to have so many flowers in every room.
Decoration 
A floral archway for the lawn reception. Then sequin table runners, gold cutlery and golden candelabras with a variety of candlesticks on top table and the bouquets for the wedding breakfast. The evening we created a party atmosphere with lots of bunches of balloons, a neon sign and the DJ added some additional lights.
Food 
We had a feast on each table, meaning we could please everyone and keep everyone full up, it went down so well and the food was fantastic and talked about by so many of our guests!
Mains: Roast Leg of Lamb, Stuffed Pork Fillet, Pink Trout and Samphire wrapped Puff Pastry
Trio Of Desserts: Lemon Posset , Strawberry Compote Shortcake and Clotted Cream, Sticky Toffee Pudding
In the evening we had a food truck which was newly available from one of our favourite local restaurants BAFFI Pizza, who served fresh Neapolitan pizzas cooked in a wood oven. This went down a treat, especially as some of our friends also enjoy going to their restaurants.
Wedding cake
The cake was quite simple and beautiful, 4 tiers, blush pink with flecks of gold leaf and a large silk bow tied beautifully around it. Each tier a different flavour, White chocolate and passionfruit, Lemon and Raspberry, Mocha and pecan then topped off with a Banoffee and salted caramel on top.
Entertainment
We had a fantastic photobooth, a great DJ, and the option for guest to toast marshmallows and make smores over a wood fire outside. During the lawn reception we had created a eclectic playlist which played whilst the guest played lawn games such as giant Jenga, croquet and badminton.
Who supplied the stationery?
We did most of our own stationary, including design, most of the printing, some crafts were involved and a lot of patience with the mirror table plan and welcome sign. We opted for our venue to provide the menus on the day but they did include place names and table plan in the price if we wanted.
Personal touches
I tried to make or craft as many of the smaller details as I could. The welcome sign and table plan were both handwritten on mirrors. I hand painted and wrote out the place names, I crafted the table names on purspex. We completely designed our Save the Dates, Invites and Order of service, just getting them printed professionally.
We had lots of little personal touches and thoughts to others, I had my grandfather's rosary beads entwined in my bouquet, Steve carried his Granddad's pocket watch with him, along with some other personal items to represent those family members we've lost.
We got married on Steven's birthday so that made it very very personal, it was running joke throughout the speeches and I took a moment to stand up and get everyone to sing Happy Birthday, complete with a galaxy themed birthday cake.
Amongst writing our own vowels to make it personal, I secretly planned a butterfly release with some special words at the start of our ceremony. This was to represent the presence of Steve's younger brother who passed some years ago. This was probably the most personal touch on our wedding, it was a special moment that I felt was so important for Steven and his family.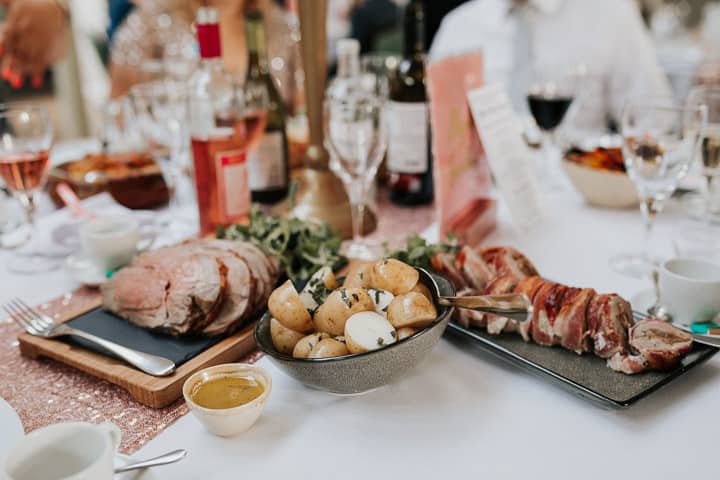 Special moments 
The whole day was just spectacular, getting ready in the morning with our friends and families, the anticipation and excitement was great. The butterfly release was very special. We always had great fun having group photos with our wedding party, there was so much laughter and we never stopped dancing which warmed us up all day for our upbeat first dance together. That was a great moment! Steven's speech was incredible and I'm not just saying this, but definitely the best Groom's speech I've ever heard, he really pulled it out of the bag.
What advice would you give other couples?
If you want it, do it! Think about your guests as a whole and don't worry too much about individuals, make sure no one goes hungry. Spend the money on your photographer and if you can stretch to it, get a videographer!!
Biggest surprise 
We had a few secret plans that the other didn't know about. During his speech, Steven surprised me with a mini moon trip to Venice (I had packed for a trip to Cornwall). The personalised Neon sign and the birthday cake and of course the butterfly release.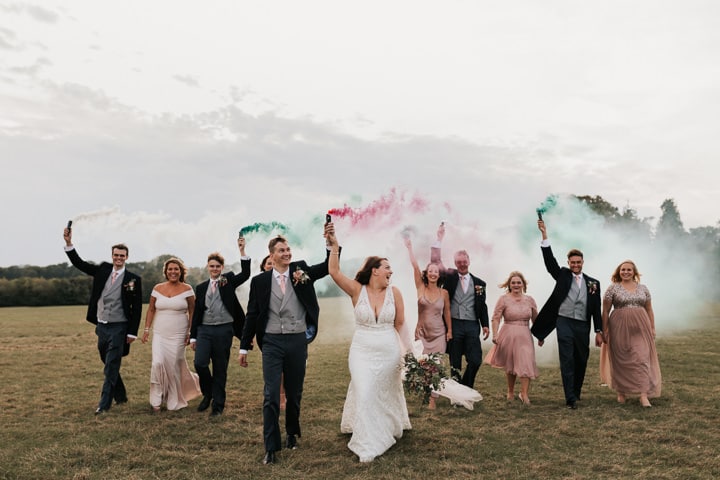 Supplier Shout Outs
For more information on Kate's work go to
www.kategrayphotography.com / www.kategrayphotography.com/blog / FACEBOOK / INSTAGRAM / INSTAGRAM