Today I am taking you to York for the totally beautiful wedding of Annie and James. I have seen  a lot of weddings in my life, so it isn't often I get that instant WOW feeling when I first see a wedding, but I did with this one. If you like fairy lights then you are in for a treat! The Normans Weddings is a working farm but they also put on the most beautiful weddings. The ceremony area of this wedding is definitely my favourite. Full of rustic charm and strings and strings of the prettiest fairy lights. Annie and James didn't need to do much to this venue to bring it to life but they added their own stamp and made it personal to them with vintage table wear and the most gorgeous flowers. M and G Photographic were there to capture the day in pure wedding perfection.
Our wedding day was truly magical from start to finish – it was wonderfully romantic, surprisingly relaxed and everything we wanted it to be. We had a picture perfect day surrounded by our favourite people, our favourite music and our favourite food – it was perfectly us!
Annie and James were married on 4th August at The Normans Weddings, Bilbrough, York. 'When we started looking for venues, we were living in the North East but we knew we wanted to get married near to where we had grown up in York. We wanted an exclusive setting that we could make our own. When we went to look round The Normans it was definitely a work in progress – they were still transforming the farm and hadn't held their first wedding yet. Despite the venue being half-finished, we fell in love with Oliver and Laura's vision. It was the first and only venue we visited and we booked it the same day. It wasn't until we sat down to write the guest list that we realised how many people we wanted to share our day with. We had 110 during the ceremony and meal, and an additional 50 people in the evening. We were engaged for four years and we discussed what we wanted throughout this period. The 'proper' planning started a couple of years out.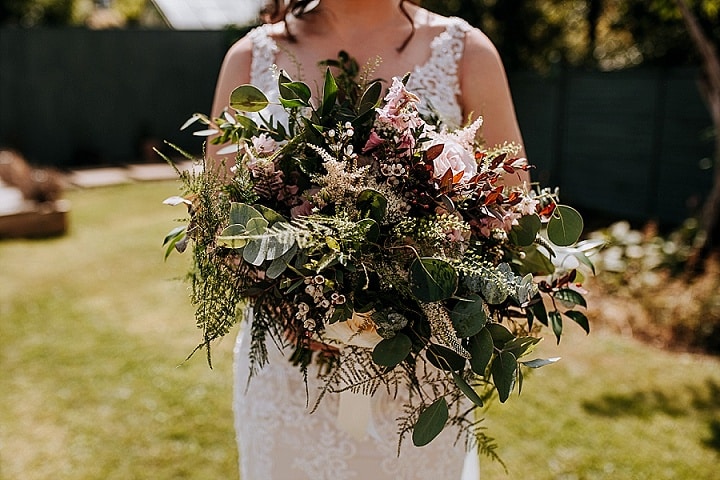 How they met 
We were childhood sweethearts. We were in the same year at high school and got together when we were 15. We continued dating through college and university and moved into together after that. By the time we got married, we had been together for nearly ten years.
The proposal
It took two attempts – James' nerves got the better of him the first time so he had to give it another go! Once he had plucked up the courage, he proposed at Bolton Abbey, North Yorkshire. We spent the day wandering through the woodland trails, picnicking and skimming stones.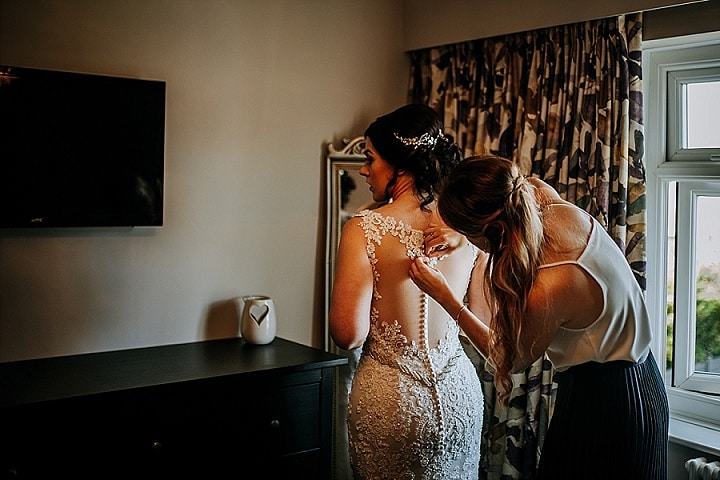 How did you allocate your budget?
We did a great job of managing our budget throughout the planning process and kept on top of the financials through the use of a budgeting spreadsheet. We knew the things that were a 'must have' and which things were a 'nice to have'. We allocated based on a worst case scenario therefore every saving we made was a bonus and allowed us to include a few more 'nice to haves' along the way.
Where did you splurge and where did you save?
Our biggest investment was definitely the venue – however this helped us save in other areas. We didn't have to spend much on decoration and we were lucky enough that our florist offered us lanterns, candles and urns to add those finishing touches. Our biggest saving was on the catering – we found an event caterer who specialised in tea parties and vintage themed celebrations as opposed to weddings who provided the afternoon tea. Having an ice cream van instead of canapés was also a budget friendly option.
How did you choose your photographer?
Initially we had decided we did not want a photographer and we would be happy to let our guests document our day. However, as we did more planning we realised that we wanted photographs that we could look back on and it was a big ask (and risk!) to rely on our guests to do this. Neither of us are naturals in front of a camera so it was important that we found someone who would help us relax. James did the majority of the searching when it came to photographers and when he came across M and G Photographic on social media we knew we wanted them to capture our wedding. Their natural, documentary approach to wedding photography was refreshing. Once we got our photos back we were overwhelmed by how many unique and intimate moments they managed to shoot and we got to see bits of the wedding that we had missed first time round!
The dress 
The dress was the easiest part of the entire wedding! About two years before we got married, I took my car in for a service and it had to be kept in for a few hours for some repairs. To kill some time I went for a look round a bridal shop and saw the perfect dress. It was in a sample sale and I took it home the next day. I found the most wonderful bridal attic where I had my alterations done, and on my final fitting I ended up buying my veil, hair accessories and a second dress which I changed into for the evening. After months of me looking, James found me the perfect shoes the week before the wedding.
The suit and bridesmaids
In contrast to the bride, dressing the groomsmen and bridesmaids was one of the more challenging parts of wedding planning. We wanted something a little bit different for the bridesmaids and it was important they all felt comfortable throughout the day. They wore skirts from Whistles and shoes from Dune.  The flower girls coordinated in navy blue dresses from Next and flower crowns we bought from EBay. The suits were from Racing Green and each groomsman had a different patterned tie which represented them.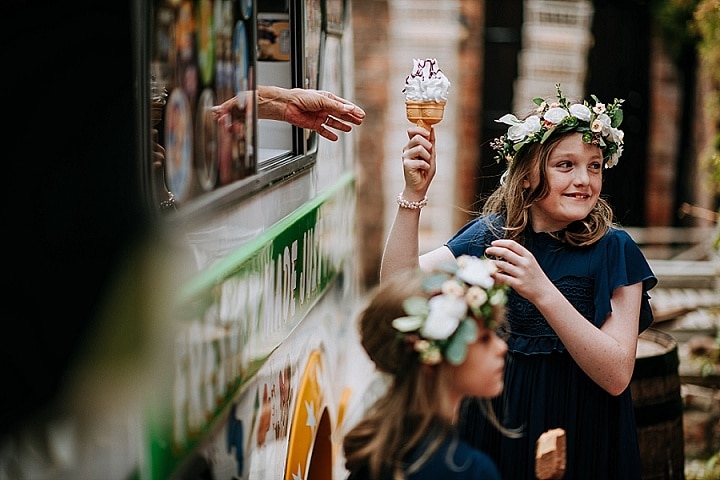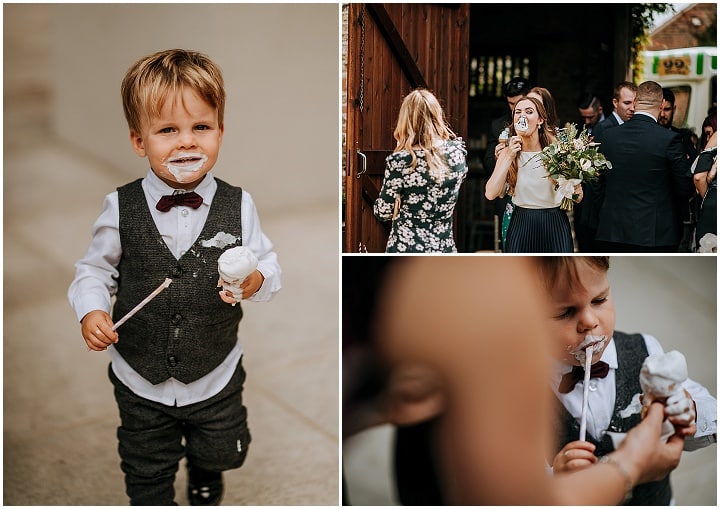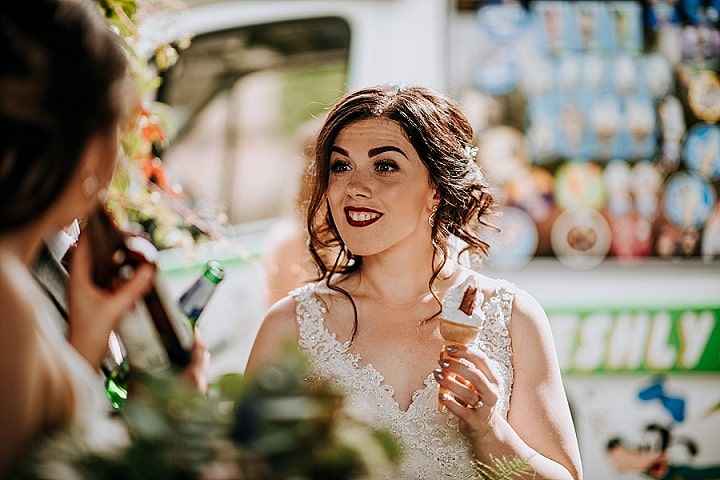 Theme or colour scheme
We didn't really have a set theme – if we liked it, we included it! Our colour scheme came together by coincidence rather than design and we ended up with hits of navy, pinks and golds running throughout.
Flowers 
We found the most wonderful local florist who didn't need much of a brief. We asked for floral arrangements that were filled with blush, white and pink flowers and lots of foliage. After the wedding we dried out my bouquet and have kept it as a memento of the day and gave away the rest of the flowers to guests and local care homes so that they didn't go to waste. For the cow sheds picked pinked hydrangeas from friends' gardens.
Decoration 
Our venue was stunning in itself that it didn't really need much in terms of decoration. With an existing abundance of twinkling fairy lights and a rustic charm we went for a 'less is more approach' and decorated the ceremony barn and grain shed with lanterns and flowers. We added extra touches to the cow sheds by hanging foliage and test tubes filled with flowers from the rafters.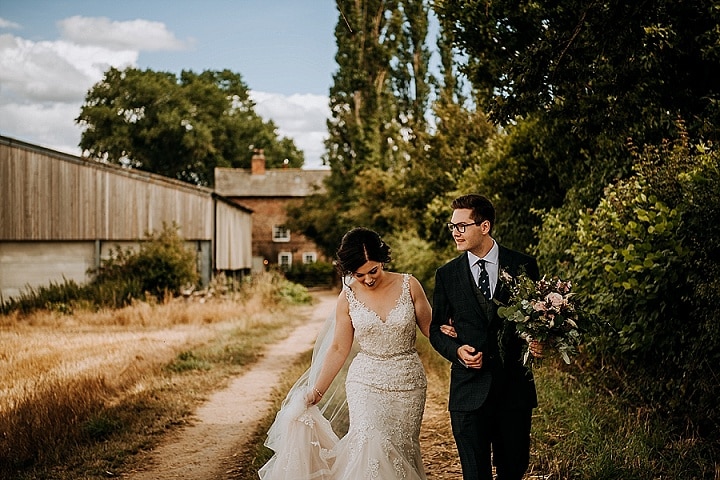 Food 
We had an ice cream van arrive after the ceremony which went down a hit! We had a traditional afternoon tea with pink lemonade and prosecco for our wedding guests. In the evening we had hog roast and paella served outside in the courtyard.
Wedding cake
A wedding cake made out of cheese and decorated with flowers and flamingo bride and groom toppers. We bought the cheese from a local supermarket the day before. After we cut the cake, we let guests help themselves to a giant cheeseboard with biscuits, chutney and dried fruit. 
Entertainment
During our drinks reception, we invited a local street busker to sing and play guitar. Our evening entertainment was provided by Four Shadows Theatre – a vintage inspired three piece band who did their own unique renditions of lots of our favourite songs. They kept everyone singing and dancing all night and put their vintage twist on our first dance song.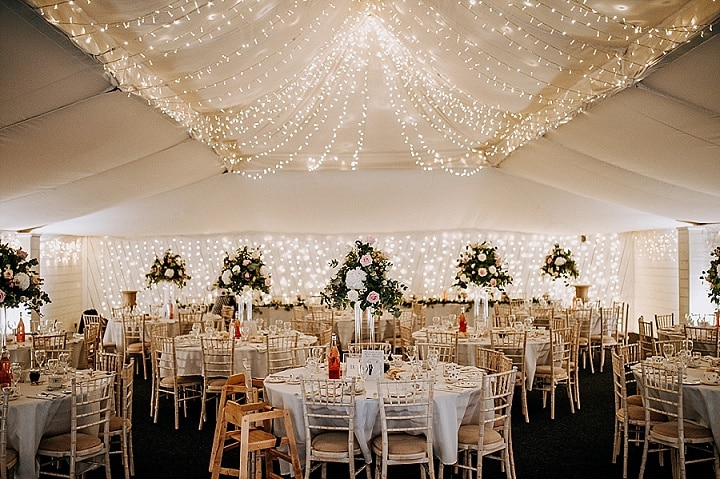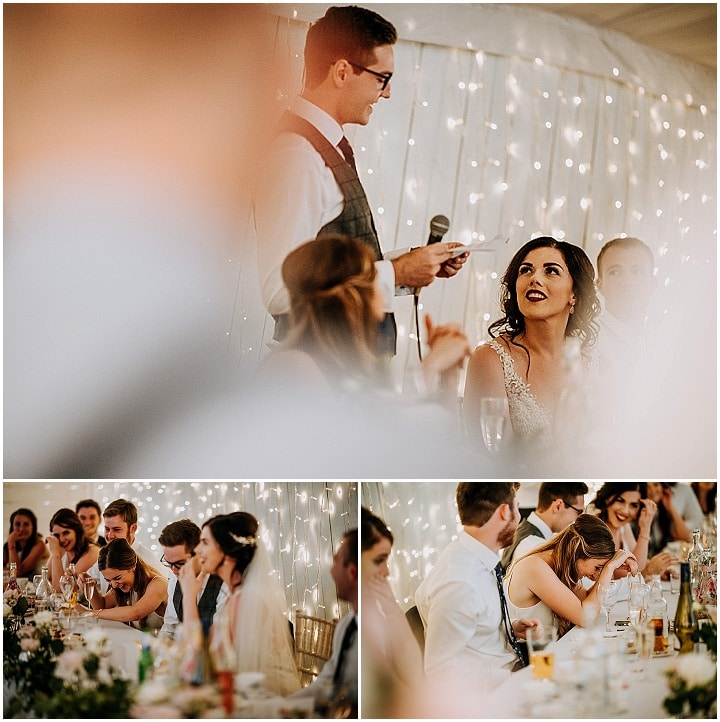 Who supplied the stationery?
James is an architect which means he had a natural artistic flair! He designed and printed all of our stationery.
Personal touches
We spent a lot of time writing our own vows and selecting three meaningful readings for the ceremony. We filled the day with music that was special to us and now whenever we hear those songs it brings back special memories. We also turned our hands at a bit of wedding DIY – creating our very own gin bar, making giant outdoor games and adding a hook a duck to the venue's water feature.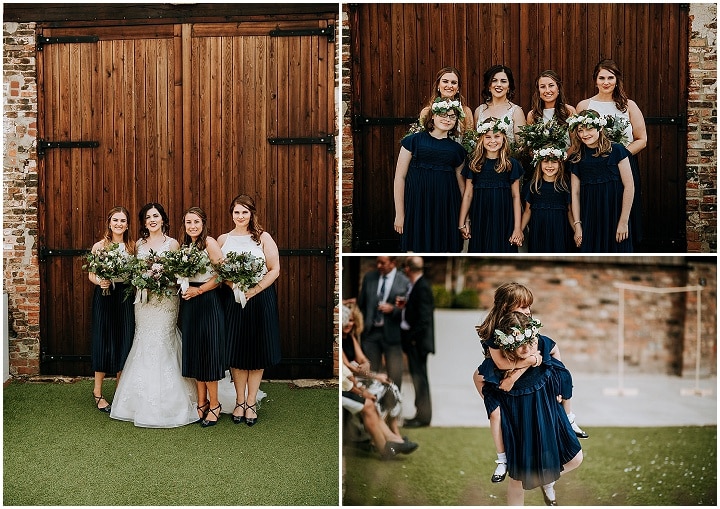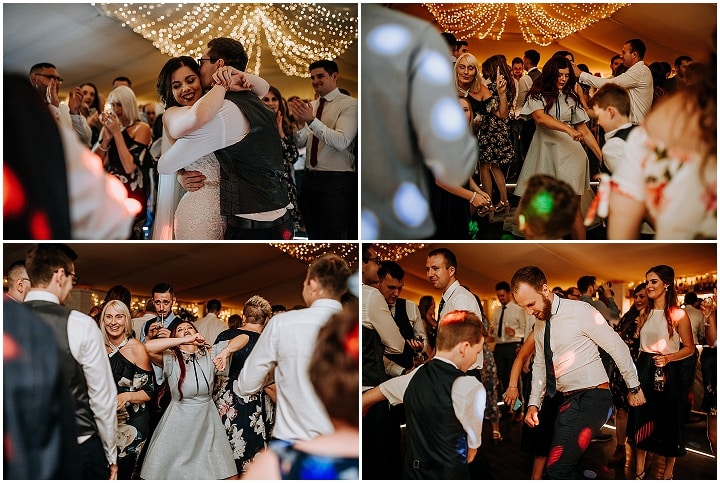 Special moments 
There were two main highlights of our day. The first was when I walked down the aisle – I walked by myself with an acoustic version of 'Somewhere over the Rainbow' playing in the background. It was such an intimate moment between me and James (despite the fact we were surrounded by over 100 friends and family). Secondly, whilst everyone was being seated for dinner we managed to spend a bit of time just the two of us. It was so special to be able to enjoy each other's uninterrupted company for a little while before the madness of the day continued.
Advice for other couples 
Do what you want as a couple, not what pleases others. Throughout the planning we made a number of controversial decisions including who we would be inviting, the fact I walked myself down the aisle, and shunning the traditional top table. We did what felt right for us and that's what made the day extra special.
Biggest surprise 
Our flower girls wrote the cutest poem about how James and I met – they included all of the major milestones in our relationship and turned it into a storybook. When we sat down for the wedding breakfast, every table had their very own copy with hand drawn illustrations. It was such a lovely touch! The other surprise of the day was how seriously our best man took his role. Instead of his usual desire to wind me up at every opportunity he did everything within his power to make sure we had the perfect day.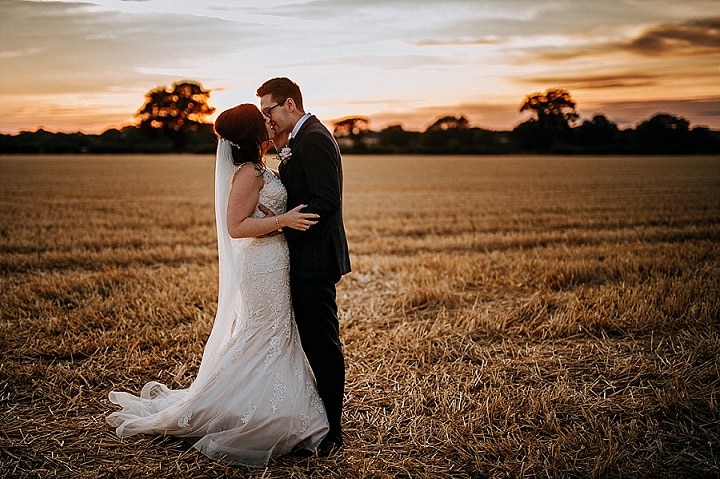 Supplier Shout Outs
FOR MORE INFORMATION ON M & G PHOTOGRAPHIC GO TO
www.mandgphotographic.com / [email protected] / FACEBOOK / INSTAGRAM