When looking at the budget for your wedding a large proportion will need to be set aside for the wedding entertainment. Wedding bands are generally more expensive than hiring a DJ, however there are a few ways that you can look at saving money, while still enjoying the benefit of a live band. This afternoon I am handing the blog over to music expert Adam from Bands for Hire as he shares with us a few of his industry 'hacks'. These 7 tips could be just what you need to secure that band you have always dreamt of!
These 7 Hacks Will Save You Money on Wedding Music
I'll pass you over to Adam from Bands For Hire
When you take your beloved's hand in marriage, you know the wedding will end up costing an arm and a leg. But if you use your head – which is what we're here to help you do – you'll be able to afford some top quality musical entertainment to make your special day even more unforgettable, and emerge relatively unscathed at the end of it.
1) Keep it Local
This is a smart way to approach most aspects of your wedding, from the catering to the transporting of your guests. Your dream wedding band might have a hard time getting to you in time without breaking the bank if they're based in Brighton and you're tying the knot in, say, Barnsley. Rest assured that the internet is teeming with thousands of quality wedding bands vying for your custom – so type in what you're after into the search box along with your wedding venue's area (e.g. "jazz bands in Yorkshire"), and you'll save yourself more than a couple of quid on travel costs.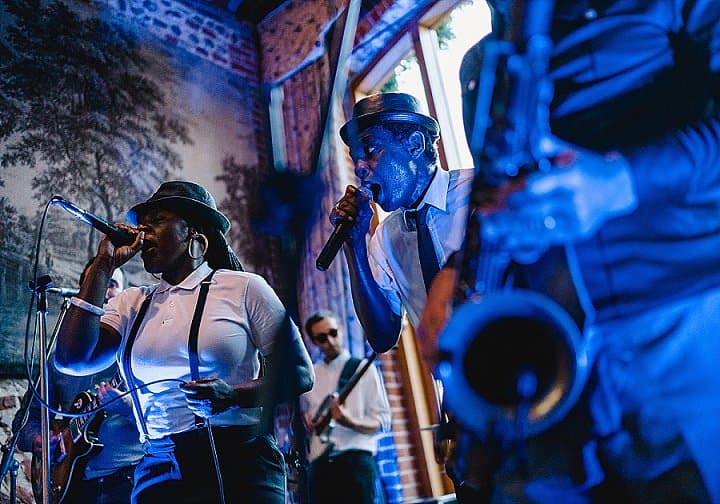 2) Leave it Late
Not too late, we hasten to add, but in the same way seats on planes need to be filled up, a band hates a schedule with empty spaces. That is to say, you can benefit from a band's last minute cancellation just as you can benefit from a last minute flight – if the band has to choose between playing for you at a discounted rate and not playing at all, they'll go for the former. Just be careful, as you won't exactly be spoiled for choice – but if you don't have your hearts set on a particular style of band, this could be the hack for you.
3) Book Off-Season
While winter might seem like more of a wasteland than wonderful to those dreaming of a warm summer's day, there's a lot to be said for avoiding the peak season. If you don't mind the cold and can face up to the fact that it may well rain (or even snow) on your parade, you'll find all kinds of wonderful deals for the November to April period. You'll most likely find it easier and cheaper to book the venue and band you really want, and you and your guests can sit back with your mugs of cocoa to some heavily discounted tunes, laughing at the thought of those summer couples running for cover at the first sign of rain.
4) Fewer Hands on Deck(s)
Nowadays, wedding bands have to be much more flexible to compete with their peers for your attention. This is great news for you, because you can take full advantage of the various package deals they offer. Many bands offer alternative lineups which often turn out to be more suitable – for example, if you're planning a more low-key, intimate reception, you might only need 2 or 3 members of a jazz ensemble rather than the whole band. Furthermore, gone are the days when you'd have to book a string quartet for the procession, a function band for the reception and an additional DJ for the end of the evening. You can of course do this if you really want to splash out, but more and more bands offer DJ services themselves – and it's a heck of a lot cheaper to hire a single act who'll take care of an entire day's worth of entertainment.
Bonus hack – if you prepare a playlist and ask your band nicely if you can pump it through their PA, you can be your own DJ!
5) Get Your Friends to Play
We're all aware of the benefits of mates' rates in other areas of our lives, so why not persuade your musician friends – who, let's face it, were probably going to come anyway for the free food – to play at your reception? As long as they sound decent, it's a foolproof plan – many of your guests will already be familiar with them, and you'll probably have an easier time twisting their arm to play your favourite songs. Just remember to treat them with the same respect you'd treat any other professional act with, as you still want to be friends after your big day!
6)  Agency or Private?
This is an important one to consider, as although an agency will need to take a commission, the additional services and security measures they'll provide could well prove invaluable. If you have complete confidence in an act you're booking privately and agree everything beforehand, then you won't be faced with any additional charges, so this could well be the way forward for you. However, if you're new to booking bands, you might not know all the terms you need to agree in advance – so booking through an agency will reassure you that everything's above board and paid for. There'll also be a lot less liaising for you to do yourself.
7) Run a Tight Ship
We understand that all you'll be interested in doing after you're officially married is enjoying yourself with your friends and family – and so you should. But a little bit of careful planning will go a long way – all too often, scheduling conflicts and miscommunication incurs far more expense than it should. Think of your wedding band like a taxi waiting outside with the meter on – you'll still be charged even if they're sitting around idly.
Realistically, you could arrange for your band to arrive at your reception venue during the dinner, allowing them time to tune up and soundcheck (which never takes as long as non-musicians think) before everyone's up and ready to dance. Then, whether they've either agreed to play the evening out or you've hired a DJ to do the honours once they've finished, you can make sure they're only their as long as they need to be. Plan your time frame, make sure everyone sticks to it, and you should end up only paying for services you actually use.
FOR MORE INFORMATION ABOUT BANDS FOR HIRE GO TO:
www.bandsforhire.net / [email protected] / FACEBOOK / INSTAGRAM /  PINTEREST / TWITTER / YOUTUBE
this is a sponsored post