Today is, in my mind, officially the start of the Christmas Countdown! Halloween is done, Bonfire night is now over for another year, so it's now all about the Christmas Countdown! And I couldn't be more excited! I absolutely adore Christmas, I have been booking in Christmas visits and activities since September, so I am all ready to get the sparkle and glitter out and spread some Christmas cheer! So what about Christmas weddings? If you are a Christmas lover then maybe you are planning a Christmas wedding or even a New Years Eve one? Well if you are, or if you are currently considering it, I have just the advice you need. I have invited Emilee Woodley onto the blog to help contribute some Christmas wedding planning ideas to help you plan the perfect Christmas wedding.
I'll pass you over to Emilee
Winter is an excellent time of year for celebrating, with the Christmas parties, Christmas Eve, Christmas Day, Boxing Day all that goes in between, and then it's time to get celebrating again for new years eve and new years day. With all that going on, why not throw in a wedding in there too? Whether you're planning for this year or next, now is the time to get everything you need for a Winter wedding and especially a Christmas or New Year's wedding. With everything available in the shops at this time of year and plenty of deals to be had with Black Friday coming up, offers on NetVoucherCodes.co.uk, and of course, the sales, you'll have no problem getting everything you need. So, what do you need? And what do you need to do? Check out this list:
Christmas
Get To The Christmas Markets
The Christmas markets are usually on pretty early and are now held in nearly every city or town across the country, so if you're stuck for wedding ideas, then head to a Christmas market for some inspiration. You never know what you might discover…
Make The Most Of The Cakes
At this time of year, you'll easily find plenty of plain white iced fruitcakes everywhere – and they'll be reasonably priced too and perfect for a wedding cake! Either leave it plain or do a bit of decorating, but either way, you'll have the ideal budget wedding cake.
And The Decorations
You can also find plenty of little things for centrepieces at this time of years, as well as Christmas wedding decorations. Also, make sure you take advantage of existing festive decorations for your wedding photos. Check with your venue what they're doing for decorating and see if it will work with your colour scheme.
Get Merry With Christmas Drinks
Mulled wine, Bailey's hot chocolate, and eggnog, people love a Christmas drink, so if you're having your wedding around this time, then make sure you have plenty to keep your guest happy. You don't need to have too much choice on offer either, keep it to two or three Christmas tipples and you won't get any complaints.
Add sparkle!
You can't go wrong with adding sparkle anywhere and everywhere and especially at this time of year.
New Year's
If you're getting married on New Year's Eve, then may of the Christmas tips will work, but there'll be a few others for this day, so here goes…
Extend Your Bar
There's not much point in having a New Year's Eve wedding at a venue that kicks everyone out at 12.30 or 1 am – so make sure your venue offers a late-night bar before you book it.
You will probably have to pay extra for a bar extension, but it'll be worth it to keep the party going on, and you'll probably want to lay on some late-night food too.
Block Book Accommodation
Wedding guests can often be very last-minute when it comes to booking their accommodation. On New Year's Eve, this can be a problem because places book up pretty quickly and can also be expensive. So, if you have lots of guests travelling to your wedding and are likely to need to stay over, rather than go home, then either block book as many rooms as you can in your venue or if your venue isn't a hotel too then see if there's one nearby which will take block bookings. Do try and tell your guests to book as early as possible though, it's in their best interest.
Hire a Bus
If lots of your guests live nearby and will be heading home, then instead of them all trying to find taxis, then it might be an idea to lay on transport for them. You could speak to your local cab firm and let them know, or hire a coach or mini-bus to take everyone home and do a couple of stops. Sorting out transport is one of those gestures that your guests will appreciate no end; it will put them at ease, and they'll be able to enjoy the night ahead without worrying about how to get home.
Have A Big Countdown
It's your wedding day, so you're not going to be watching the clock waiting for the New Year, so talk to your venue or give one of your guests the job of coordinating a countdown to midnight.
While your wedding is of course still the main reason for the celebration, you will still probably want to do something special at midnight. You could have a simple toast with more bubbly, get some sparklers or confetti, you go bigger and have a balloon drop or some fireworks. Speak to your DJ or your band about announcing the countdown, and make sure you've picked a good song for the first one of the new year.
Think Of The Photos
When choosing your venue, you should consider places that have a variety of indoor options for taking wedding photos. You might find a venue that has a beautiful area inside, which is suitable for photos of your entire wedding party, or you might have to be a little creative. However, you might also find that the weather on your wedding day happens to be glorious, and you can have some photos outside, however, remember that you don't want to keep everyone hanging around for too long in the cold and it might be an idea to get some umbrellas on hand, some heaters or some coats or shawls to keep people warm.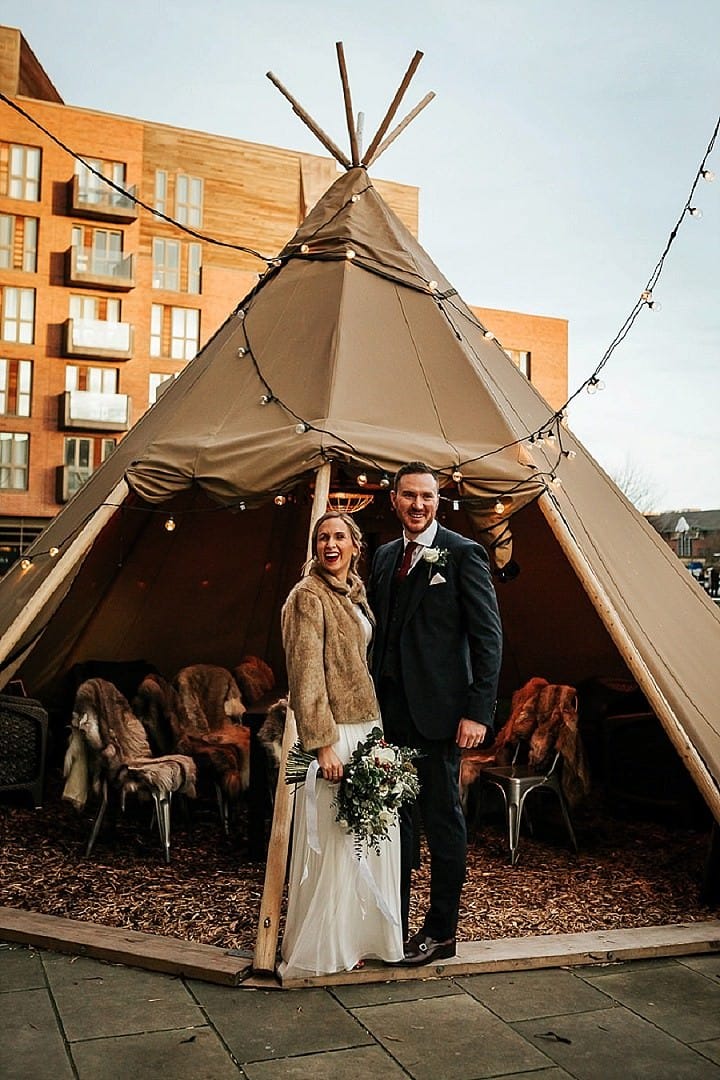 Flowers
If fresh flowers are an essential part of your day, you may need to speak to your florist to understand what varieties are available in the winter. If you don't want to eat into your budget massively, then be open-minded because shipping flowers can be very expensive. Take the time to research ideas and find examples, so your florist has an idea of what look you trying to achieve, or if you're really set on something that is out of season, go for fake flowers instead.
So there you have some fab advice for planning both a Christmas and a New year wedding. I would love to hear from you if you are currently planning a Winter, Christmas or New year wedding. What advice do you have?