I have something rather special for you today in the form of this rather gorgeous elopement with added honeymoon night pictures. Willow and Tate are a free spirited couple who love the outdoors and knew they wanted something different for their wedding day. They decided on a chilled desert elopement, complete with hanging macramé, crystals and a beautiful drip cake. The elopement took place on 29th September 2018 in Utah at the gorgeous Under Canvas Zion. The couple had a super personal ceremony, followed by fizz and cake and then an intimate shoot in their honeymoon suite. Such a stunning day captured beautifully by Taylor Made Photography LLC.
Willow and Tate are a modern love story. Bonding over their love of adventure and the outdoors, they knew they wanted something unusual for their elopement. One of their first adventures was a weekend in Zion, so it was only natural that they would return to celebrate their forever.
Taking place at Under Canvas Zion, their elopement was elevated from traditional camping, but still close to nature. Their tent had everything a new couple would need, including a window panel above the bed to stargaze on their first night together.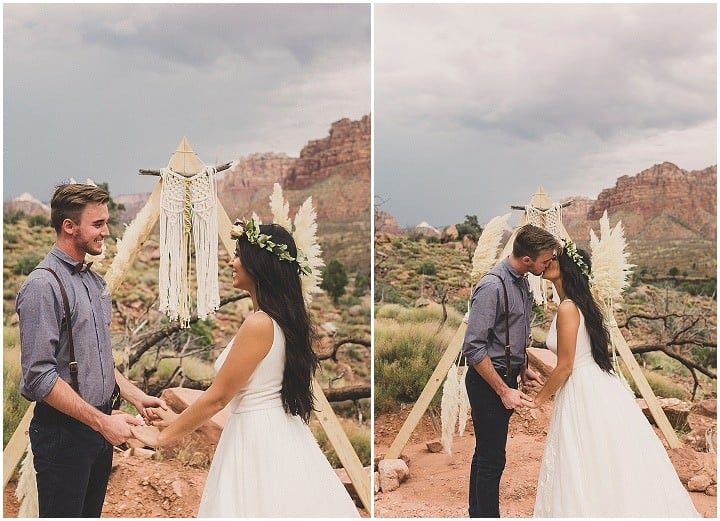 Tate is a hipster at heart, preferring handmade artisan details like his wooden bow tie, handcrafted suspenders, and custom built triangle altar.
Willow is a bit of a free spirit with a rock and roll edge. When Tate expressed a desire for Pampas grass to decorate the altar, she pulled over on the side of the road & picked it herself. On her wedding day, she wanted to be both feminine & practical, choosing to accessorise her beautiful traditional wedding dress with a dried flower bouquet & crown with rocker-chic Chanel boots.
She shares in Tate's love of the handmade, having her wedding jewellery uniquely made for her, & her wedding rings custom created using elements of nature as inspiration.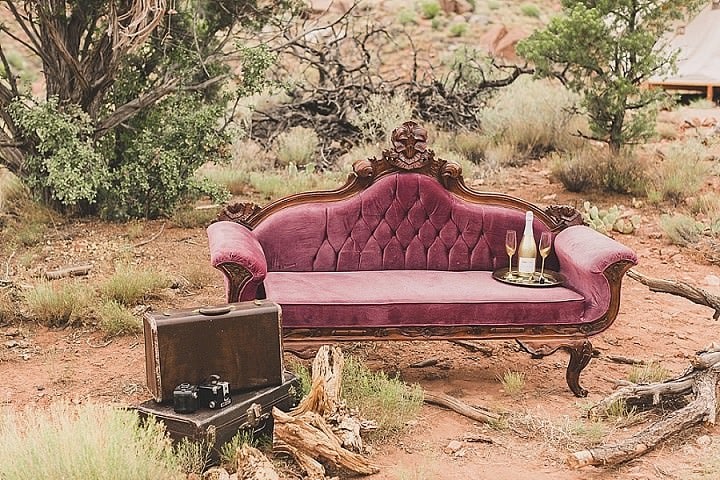 All the details of their elopement were selected together, a mix of new & vintage seamlessly representing their styles. Elements of nature flow throughout, natural wood, crystals, & elegant floral displays.
Nature can be unpredictable, and as luck would have it, their wedding day showed a chance of thunderstorms. Tate and Willow went ahead anyway, enjoying the electricity in the air & the beautiful skies. Just after their champagne toast, the skies opened up and Tate carried his new bride to snuggle in their tent, safe from the elements.
The thunderstorm was soon to pass, & the new couple enjoyed gazing at the stars, planning their future, & waking up together as man & wife.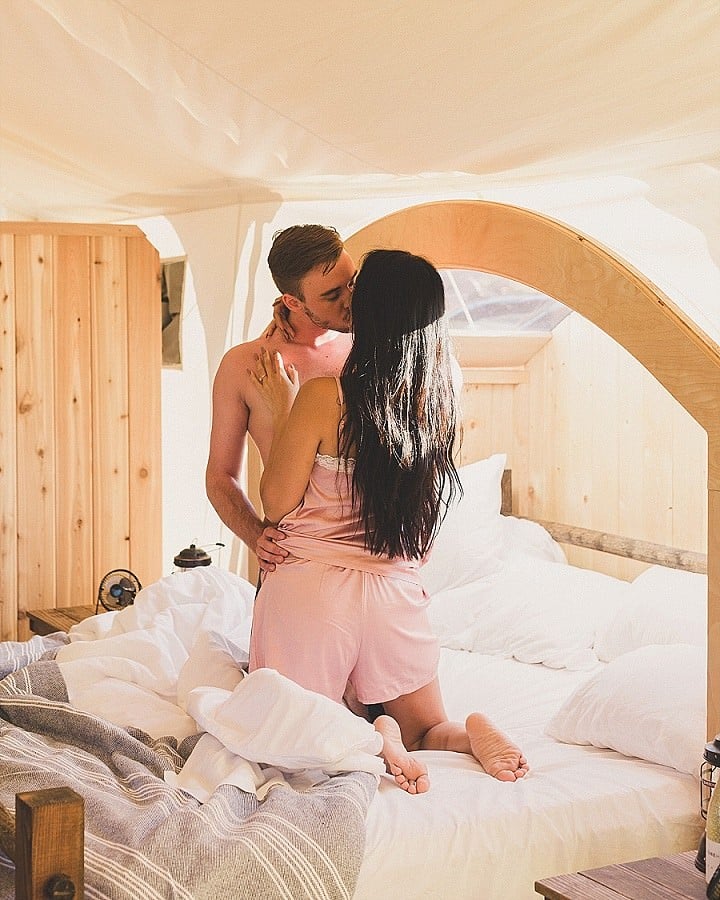 Supplier Shout Outs
For more information on Taylor Made Photography LLC go to
Due to an email issue if you have emailed me between the 2nd & 9th of December, please resend it.
X