Here at Boho we are BIG fans of Revelry, I have featured their beautiful bridesmaids and bridal gowns on a number of occasions, and they always go down well with you all. They offer so many options from full evening gowns to bridesmaids separates, play suits, chiffon, sequin, a huge array of colours as well as sizes, there really is something for every kind of shape, size and taste. Well today I would like to introduce you to their brand new, lush range of velvet bridesmaids dresses. This new collection oozes style, glamour and quality. The velvet fabric is lush and opulent and would be perfect for any upcoming autumn or winter weddings.
I'll pass you over to Revelry who will tell you more.
With the summer coming to a close and fall weddings right around the corner, we're spending every moment we can soaking up the last few days of scorching sunshine. Whether it's dreaming about autumn I dos, saving our favourite rings on Pinterest, or planning our head-turning Halloween costumes, visions of moody hues, swoon-worthy styles, and all-things fabulous are keeping us cool in these last few weeks of heat!
As more and more couples start to plan their weddings (hint hint, engagement season is almost here!) and visualize their walks down the aisles, we're here to help them pull off their perfect days — with the assistance of one of our favourite e-commerce boutiques, Revelry, of course!
This female-founded company recently made it on Inc. Magazine's list of the 500 Fastest-Growing, Privately Held Companies, and for good reason! Revelry knows that the most beautiful and bold looks for your wedding start with a combination of rich fabrics, a plethora of colour options, and unique styles that will compliment every bridesbabe's look. Known for their swoon-worthy separates, designer-quality garments, and budget-friendly cost, Revelry has tons of top and skirt options that offer major rewear value. In addition to their ever-famous fabrics and styles, though, they've officially upped the game with new styles, new separates, new accessories, AND a new fabric!
So, with the holiday season just a few months away, Revelry decided to celebrate early and gift the industry with some items our babes have been begging for: Velvet bridesmaid dress styles and some extra special menswear accessories that will make matching oh-so-simple!
Whether you go with the front-cross Sydney top or the simple-yet-sophisticated strapless Mia top, both soft styles are made of the most luxurious velvet and can be paired with virtually any bottoms (plus, can easily be worn again and again after the big event). Consider pairing them with another new style from Revelry: The Harlow Velvet pants. Complementary to the other new, velvet bridesmaid styles, and much like the dazzling Jackie Sequin Pants, these comfortable bottoms are perfect for unique maids who need extra flexibility for dancing. Whether you pair them with a velvet top for a jumpsuit look or a sequin or chiffon top for the mix-and-match of your dreams, there's no wrong way to rock them! Want something more traditional? The new, Hudson Velvet Skirt can assist in creating any look you've been longing for.
Still, if having a full gown is more your taste, Revelry has spell-bounding new styles for the most glamorous of babes. This season they've added five velvet dresses to their already vast assortment of 'grammable bridesmaid dresses, gowns and outfits.
Whether your eyes are on the Court, with its flirty off-the-shoulder sleeves and natural waist or the Reese, with its v-neck, flattering self-tie waist, and feminine ruffled sleeves, both looks are the perfect additions to a party looking to go full glam for the occasion. Looking for something sleek with a dash of sexy? The Naomi with its open, keyhole back or the Cleo, with its button and low open back will up the heat on any formal affair.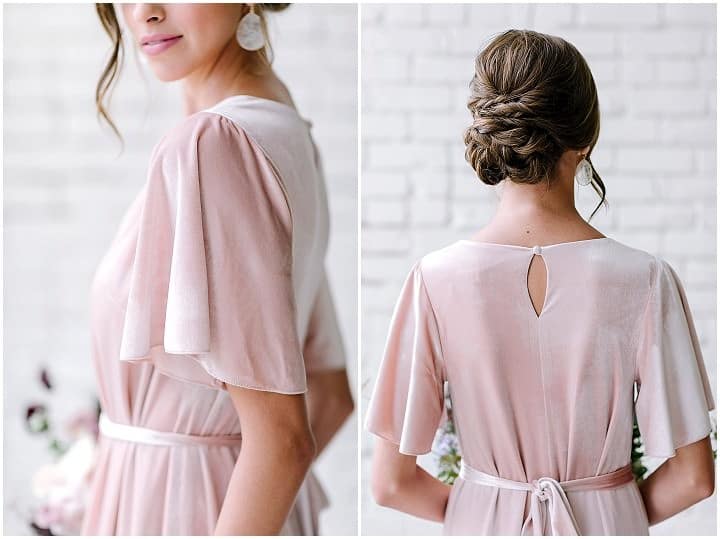 Plus, one of our favourite new velvet styles by Revelry that we're SUPER excited about? The Convertible Micah! The company is well known for its convertible gowns that your bridesmaids can wear a variety of ways (like the Kennedy Convertible in Chiffon or the Rosalie in Tulle), and now a new fave is in the mix! The Velvet Micah can be twisted and tied however your bridesmaids' desire to have both unique looks for each babe and a cohesive overall style!
While all of the new velvet bridesmaid dress and separates options from one of the best brands around is enough to spark any bride's interest, one of the most helpful additions to the Revelry line? Ties and Bow Ties! Made from the same fabric as their designer-quality dresses, these groomsmen accessories take all of the guesswork out of creating a cohesive wedding party look. Whether you choose a classic, Chiffon Tie or Bow Tie, or spice it up with a Velvet or Sequin Bow Tie, the guys are officially tied into the Revelry fun!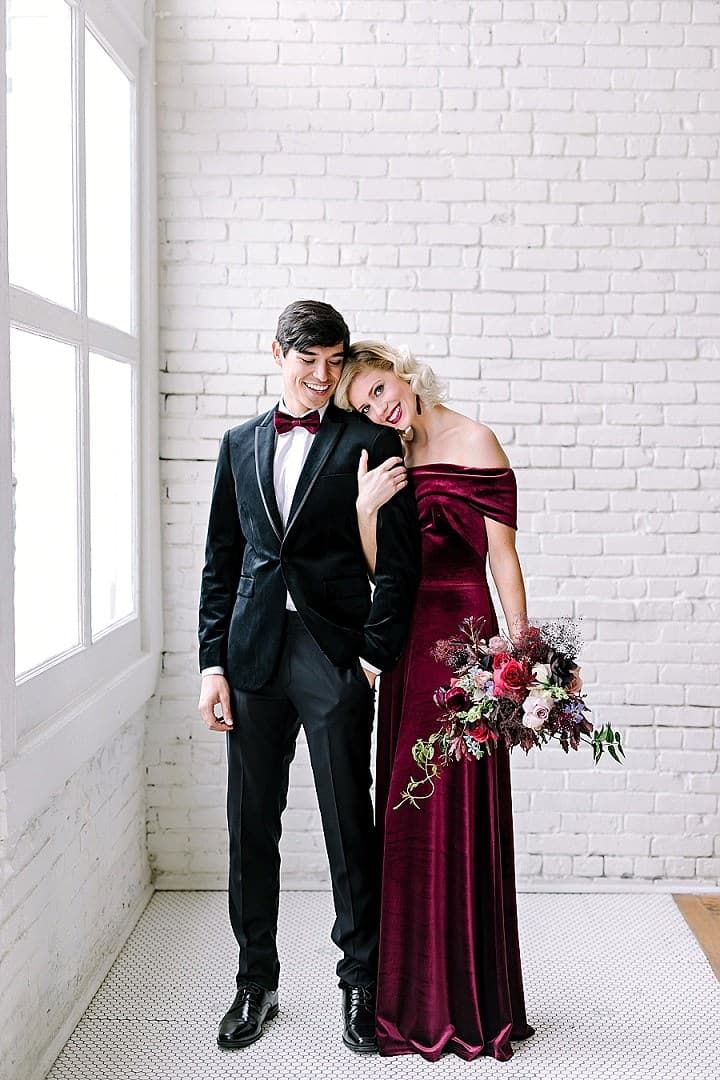 New to Revelry and the idea of an e-commerce boutique? The strictly online dress retailer is headquartered in Austin, Texas and specializes in made-to-order garments that are oh-so-Instagramable! It's not just their sensational styles that have made us fall head-over-heels, however. Revelry has a "try before you buy" option to ensure you find the perfect style and fit for the big day. Their Sample Box system allows you to select the styles and sizes of your choice to try on in the comfort of your home! Say "so long" to small fitting rooms and on-the-spot decisions!
Plus, with five different fabrics, 100+ colours, and styles that will fit everyone's event, Revelry is always the right choice. In addition to their wide variety, the ever-evolving bridesmaid line offers sizes 0-32 as well as both tall and petite length options, and never charges for extended sizes. Because when it comes to the business of making you feel as beautiful as you truly are, both inside and out, Revelry's sensational styles are always the most spectacular choice!
FOR MORE INFORMATION ABOUT REVELRY GO TO:
www.shoprevelry.com / FACEBOOK / INSTAGRAM / PINTEREST / TWITTER
THIS IS A SPONSORED POST