Happy Friday everyone, I hope you are all well and happy and have had a wonderful week so far! For me it's the weekend as I have today off to look after Dexter. As it's so rainy we are off to the cinema this morning and then meeting up with a few friends this afternoon. And then this evening I will be getting myself ready for the weekend as we are all off to Gloworm festival in Nottingham. Gloworm is a festival specifically for children, we've been for the past two years and we have had a fantastic time, so I'm hoping this year will be just as good. Dexter is super excited and I have the face glitter at the ready! For now though, it's on with today's wedding and it's the turn of Danielle and Rick and their elegant and modern New York Wedding courtesy of Ayres Photography.
Our wedding was not exactly traditional, but in subtle ways. It was simple, but elegant and 100% true to us.
Danielle and Rick were married on 2nd September 2018. 'The ceremony was held at The Karpeles Manuscript Library Museum on North Street in Buffalo, NY and the reception at The Lafayette – The Greenhouse Room – Downtown Buffalo, NY.Both of us are from Buffalo and we wanted our wedding locations to be in the city. We love the history and architecture in Buffalo and wanted to have our wedding in locations that embodied that. Our reception was at the Hotel at the Lafayette. Their Greenhouse Room has such a beautiful, rustic backdrop so we knew we wouldn't have to do a ton to get the overall look we wanted. The ceremony location at the Karpeles Manuscript museum was the same way. We loved the ceilings, columns, and woodwork of the location already so we didn't have to do much of anything to have the backdrop we wanted. We had 145 guests and it took 18 months to plan.'
How they met 
We met in the summer of 2012. We were both working at a restaurant, (a job we would probably both like to forget). However, we met a lot of great people there including each other! Rick had already worked there for awhile as a busser, and I was just starting as server. One of my first shifts, I was in the kitchen and remember seeing Rick standing there and thought he was cute. He seemed like my "type" and I think I asked someone about him, and my question ended up getting back to him. We got
to know each other a little through chatting at work and one day he asked for my number, which I was impressed by because I knew he was pretty shy. Currently, we have been together for 5 1/2 years.
The proposal
I knew we would be getting engaged somewhat soon because we looked at rings extensively and worked with someone to map out my ideal style. It was on Good Friday in April 2017. We had plans to order Chinese food that night because we had been craving it. We met back at home, ordered our food and drove the 20 minutes or so to go pick it up. We were finishing up and Rick started clearing the plates and brought the fortune cookies back out into the dining room. Turns out Rick had met my Dad earlier for a beer so they could talk and he could ask his permission. When I opened my cookie the first thing I saw was a shiny diamond ring and then a fortune that said "Danielle will you marry me?" Then Rick asked me the question, and I of course said yes! And then immediately, "But wait – how did you get it in the cookie??"
How did you allocate your budget?
Rick created an excel sheet that tracked what we would spend in each area or what we hoped to spend. This helped to give us a big picture of every little thing we were spending money on and make sure we weren't getting too out of hand in certain areas. It also helped us to budget, save and plan along the way.
Where did you splurge and where did you save?
We spent more money on our photographer, but decided to not have a videographer. The photos of our wedding were very important to us and we wanted to ensure that our photographers were experts and were going to capture the overall aesthetic we were looking for.
I feel we saved on flowers by deciding to do the larger floral centrepieces on every other table and small bud vases with greenery on the rest. It turned out great and I absolutely loved both centrepieces! We also saved by not doing any elaborate floral designs for our ceremony. The ceremony location was beautiful on its own so we decided to skip ceremony florals as well.
I also saved on my dress which was around $800 including alterations! Luckily the dress I truly loved was not the most expensive! Lastly, we did electronic RSVPs (no extra stamps) using The Knot's free website service!
How did you choose your photographer?
When looking for a photographer, I followed some of the Buffalo area Instagram bridal accounts that often featured different photographers. Whenever I saw photo styles I liked, I would visit that  photographers website and read about them and view their blog posts. I loved the natural, but still artistic look of Ayres Photography. We didn't want to looked "posed." Their photos were all so beautiful and resonated with us. After reading the hundreds of amazing reviews for Jenn and Ben, it sealed
the deal and I reached out to them to discuss our wedding further and see if they were available!
The dress 
I didn't have the typical "dress shopping" experience. I knew I wanted something with a vintage feel and a simpler silhouette and I really liked the off the shoulder look. I saw my dress on the BHLDN website (designed by Tadashi Shoji) and I was basically obsessed with it. It matched my vision, had a unique and vintage look, and also looked comfortable! When it came in the mail, I tried it on and it was everything I wanted it to be. Everyone thought it was perfect. I was so excited about how perfect it was, all I wanted to do was show Rick a picture of it (I didn't) ! My dress was literally the only dress I wanted and the only dress I tried on. I still love it so much.
The suit and bridesmaids?
The men's suits came from Macy's. The bridesmaid dresses were from BHLDN.
Theme or colour scheme
We didn't really have "colours", we just chose things that were complementary to each other and that we thought fit well together.
Flowers
I knew I just wanted neutral/nude colours with greenery, nothing too vibrant. I loved our florist's aesthetic so once I communicated the overall look I was going for, I totally trusted them to do their thing! I don't even know the names of the exact flowers that were used, but I loved all of the floral arrangements! They provided such a timeless, elegant touch to the wedding.
Decoration 
We wanted clean lines and to really just use neutrals and whites with touches of greenery and gold. We wanted a somewhat rustic/vintage look so we used little details like milk glass vases and antique trays to accentuate the already beautiful spaces! We wanted to keep the decor somewhat minimal so that the space just felt bright and clean.
Food 
Our main entree choices were beer braised pot roast, stuffed chicken breast and prime rib. We also had some fun appetizers like mac n' cheese bites! The food was delicious and I really wish we were able to enjoy it more.
Wedding cake
We didn't have a traditional wedding cake. We didn't feel this was important to us. Our reception venue provided assorted desserts and we then brought in about 600 donut holes from a Buffalo favourite, Paula's Donuts! We had various flavors including pumpkin cake which were my absolute fave! We also had little bags where guests could take home some donut holes as well.
Entertainment
For our ceremony we found string versions of some of our favourite songs and played those using an ipod. I love the sound of the string arrangements and the fact that they were familiar songs that people would recognize. I walked down the aisle to a string version of "Just Like Heaven" by the Cure and it was so beautiful and emotional.
For the reception, we had a DJ who did a wonderful job. He was a family friend so I knew he could be trusted to know our musical taste and not play anything out of left field. Rick and I love music and I wanted to make sure some of our favourite bands' music was featured throughout the reception so we made sure of that. Our DJ did a great job keeping the reception on pace and flowing smoothly.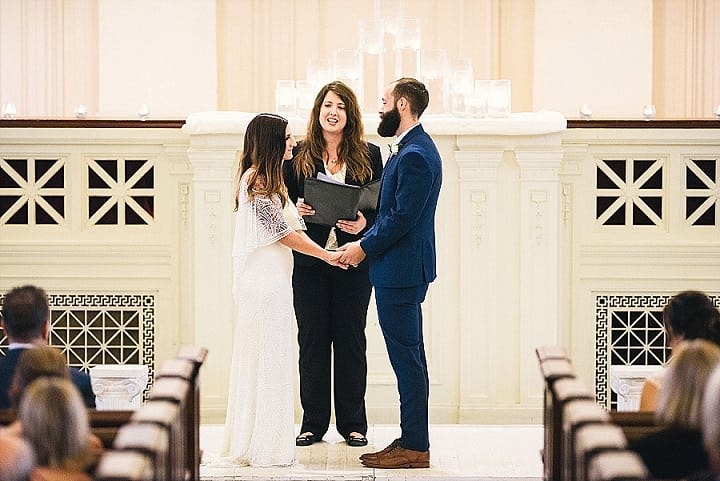 Who supplied the stationery?
Our save the dates, invitations and programs were from Minted. I fell in love with that design the first time I found it. My brother and his girlfriend are studying graphic design so they helped supplement a couple of the invitation suite pieces to save money as well.
Personal touches
I think one of the main things that made our wedding "different" was that we didn't have the traditional bridal party. We chose to have only our siblings in the wedding party. My sister was my maid of honor and Rick's sister was his "best woman." They both wore their own dresses in different colours and I loved that. My younger brother was also a groomsmen.
The night before the wedding we all stayed at the Hotel at the Lafayette, which was really fun. Rick and I stayed together in the bridal suite which is a pretty non-traditional thing to do. I knew it would be hard enough to get a good night's rest and I am the most calm and at peace when Rick is with me. I knew our best chance for getting some peaceful sleep the night before would be to stay together! We parted ways first thing in the morning when all of the getting ready festivities began.
We decided to skip the cake cutting and the bouquet toss/garter deal. We just didn't see ourselves doing this and wanted to save as much time for visiting with guests, having fun and dancing!
Special moments 
Danielle: Getting ready in the morning was a really fun and relaxing part of the day. It was so nice hanging out in the suite, drinking coffee and eating breakfast while everyone took their turn getting their hair and makeup done.
Seeing Rick for the first time during our "first look" was another great memory. It was raining all morning while we were getting ready and it finally stopped right before our first look. Being able to see each other and have a few minutes to take it all in was really nice (just like they say!).
I loved riding around downtown to all of our different photo sites. It was just really cool because people would walk or drive by and just yell out "Congratulations!" Cars were honking at us, people are just SO NICE on your wedding day.
The speeches from our sisters were another highlight for us. The speeches were just perfect, hearing those for the first time was a definite highlight.
The sunset photos we took on the rooftop also provided quite the memories.
Rick : My first memory was receiving my special wedding day present from Danielle. Danielle's father, Tim was holding a very large black case with "Fender" embossed on it. Inside was the most beautiful guitar I have ever seen; a surf green American Fender Telecaster with an all rosewood neck. I ended up bringing the guitar down from the hotel room and played it for the remaining guests. My cousin brought an amp that we hooked up and it was a really memorable way to end the night!
My next favorite memory was when I first saw Danielle in her wedding dress. We decided to take pictures before the ceremony so the first time I saw her in the dress was on the street in front of the Hotel at the Lafayette. I thought she looked so beautiful and the dress was meant for her. It was in every way her style and it looked stunning on her. I also remember thinking how lucky I am that I would soon have such a beautiful wife.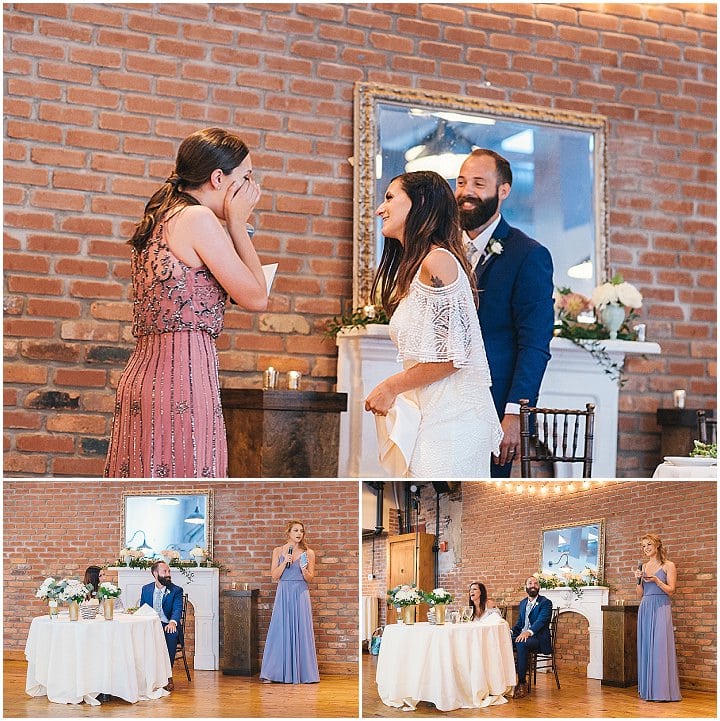 Advice for other couples
I would say do whatever you want! People are so afraid of not doing the "normal" wedding things and traditions. We decided to eliminate a lot of the typical traditions and we got so many compliments on our ceremony and reception style, some people didn't even notice the things we skipped!
I would also say find a reception site where you can stay overnight! We loved having friends and family all staying over at the hotel. It made the event into an even bigger, longer party!
Be as organized as possible! I utilized so many Google Docs and spreadsheets to organize vendors, guest lists, scheduling, etc. We also utilized the free wedding websites you can make from sites like The Knot, and we really enjoyed using it. We did all electronic RSVPS as well and it went pretty smoothly.
Supplier Shout Outs
For more information on Ayres Photography  go to
www.ayresphoto.com / [email protected] / (716) 812 – 0647 / FACEBOOK / INSTAGRAM / PINTEREST

We are four person team of like-minded photographers based in the Western New York area,
specializing in documentary style photography. We believe that a wedding day is not just about the
couple getting married, but also about the coming together of all of the people that couple holds near
and dear to their hearts, all under one roof. It's a celebration of love in every sense of the word. Our
goal is to capture all of the important moments, plus the moments in between, so that when our couples and their families look back at their images, they are reminded not only of the beauty of the day, but of the emotions behind the memories.

[jprel]