Happy Monday to you and how are you all this fine Monday morning? Did you have a good weekend? Mine was spent at Tramlines Festival in Sheffield and we had an awesome time! Such a  good weekend! This week it is the start of the summer holidays, so if you are currently juggling work and child care I feel your pain! Today though I have a wonderful woodland wedding to share with you courtesy of Nicola Thompson. Katie and Sam wanted an outdoor wedding so when they found Captains Wood Barn they were delighted. They filled their day with lots of different music, kept their decoration simple with a festival vibe and made it super personal by doing a lot of it themselves. A gorgeous day, I'm sure you will agree.
Festival vibes, with lots of music, booze and love going round. It was so much fun and very unique to us!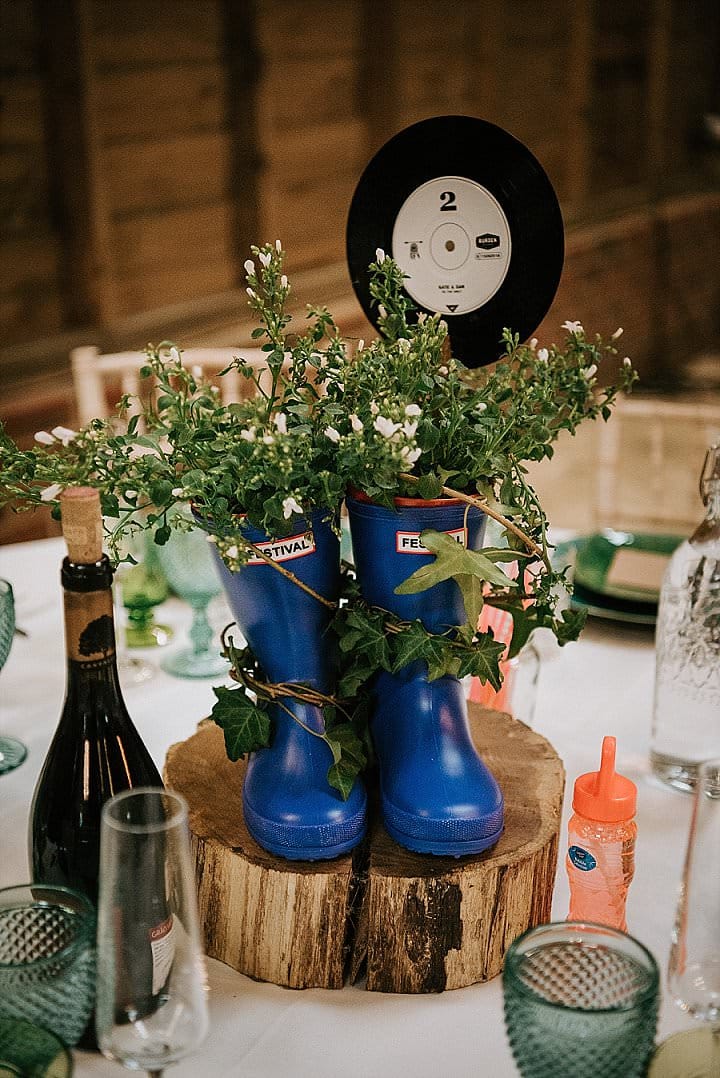 Katie and Sam were married on 15th September 2018 at Captains Wood Barn, Maldon in Essex. 'We fell in love with the venue from the moment we turned into the drive. We both love the outdoors and wanted to incorporate nature into the day, we always wanted to get married in the woods. Captains Wood Barn is simply stunning, it has private woodlands, ponds, a huge barn, loads of open lawn space and tractor…what more could you want. We had 150 guests and it took a year and a half to plan, with lots of ups and downs!
How they met 
I crashed a party at Sam's house 6 years ago, when a mutual friend invited me last minute. We met in our lounge; the same room our daughter runs around in today.
The proposal
Sam arranged a surprise trip to New York for my birthday. One of my favourite films is Sleepless in Seattle so we headed to the top of the Empire State building. By this point Sam was having a panic attack, he'd been carrying the ring around all day through the airport style security in all NYC buildings, hoping to not get found out! He put some money in the binoculars and got me to look while he got down on one knee. I was so enthralled by the New York skyline that I hadn't seen him, and eventually he had to call for my attention! haha!. Then he popped the question and we danced the night away.
How did you allocate your budget?
We had a spreadsheet and a budget in mind and tried to keep to it as best we could. As the day got closer, all those little touches we had initial ruled out came creeping in! It's so hard to limit yourself when you want it to be perfect but we were very lucky to pull a lot of favours.
Where did you splurge and where did you save?
The flowers were a big save as we had plants in little wellington boots that we bought in bulk on eBay. Having these instead of cut flowers saved a lot. The plants are still going strong in some people's gardens too! A splurge was probably on the table and glassware, we went for quite minimal table
settings so the tableware was intended to make up for it.
How did you choose your photographer?
Sam spent a long time researching the perfect photographer. We knew choosing someone to capture lasting memories of the day was going to be one of the most important decisions. We wanted someone that could document the feel of the day rather than do lots of formal group shots and Nicola was 100% the right choice. She really captured the atmosphere and fitted in so well with all of our guests which made everyone very relaxed around her.
The dress 
After spending hours and hours traipsing around the usual shops, I decided to design my own dress and had it made in a small village in Portugal. The lace in Portugal is incredible and their willingness to work with my designs made for a really special process resulting in the dress I'd dreamed of at a fraction of the usual cost.
The suit and bridesmaids
Sam wanted to go for a country vibe. He had the bowties and braces handmade in Poland and got the guys to all buy the same trousers from GAP. The bridesmaids wore white lace tops and turquoise skirts that I sourced separately online.
Theme or colour scheme
We'd talked a lot about having a colour scheme but didn't want the day to be too contrived so we just added stuff we liked as we went along rather than sticking to any rules.
Flowers 
The plants in boots as mentioned before and then very simple bouquets of gypsophila and sun flowers.
Decoration 
We kept it very simple, we had dream catchers and lanterns in the woods. Fairy lights in the barn and flowers on the walls.
Food
We had a posh BBQ style wedding breakfast provided by Browns Kitchen who were incredible. We imported all the red and rose wine from Portugal and Sam managed to wangle a favour so we had Mondo Brewing Co from Battersea come down and serve their awesome beers.
Wedding cake
My stepmother made a delicious cake to cut following the sunflower influence, and we
had a giant cheese tower from Godminster cheese which was incredible!
Entertainment
We hired in some lawn games and had lots of music throughout the day. We had a string quartet in the woods, a jazz band at the reception and then Sam put a band together to play in the evening. Sam's a music producer so it was always going to be a musical day!
Who supplied the stationery?
We designed our own wedding invites and had an illustrator in Brazil work on it. Funnily enough we started the invite design before we had found the venue, and centered the design around a large Oak tree. When we first visited the venue and saw that we would be getting married under a very similar Oak tree it seemed like it was written in the stars!
Personal touches
We did everything ourselves! Everything from tableware to the lawn games came from different suppliers that we'd carefully selected and researched.
Special moments 
When we were getting married, saying our vows, there was a moment when the sunlight shone through the trees and it felt like time just stopped, it was simply just me and Sam in this moment of wonder. It took my breath away at the time and still does when I think about it.
We also surprised our guests with a march through the woods with drums, tambourines and kazzo's singing 'Jump in the Line' by Harry Belafonte.
Advice for other couples
Just be yourselves, don't worry about what anyone else thinks or wants. All the small details you do yourselves can really save a lot of budget and also make it much more special and unique to you.
Biggest surprise 
It wasn't so much of a surprise but the feeling of being surrounded by so much love and happiness was addictive! We wish we could do it all again!…but with someone else paying.
Supplier Shout Outs
FOR MORE INFORMATION ON NICOLA'S WORK GO TO:
nicolathompsonphotography.co.uk / FACEBOOK / INSTAGRAM / PINTEREST / TWITTER
Nicola Thompson is an award winning wedding photographer based in Manchester and working throughout the UK and Europe. She's a creative, fun loving people person who prides herself on developing great relationships with her clients, working with them to produce a creative, beautiful, fun set of unique wedding photos.