Today I am taking you off to Tuscany for the most beautiful wedding. A wedding filled with the most amazing backdrop of the Tuscan hills, a super cute and incredibly stylish couple, lots of amazing flowers, one of the longest reception tables I have seen and the most breathtaking reception set up! Anna and Mattia were drawn to Tuscany for their wedding as it was the most romantic location they could dream of. They really hit the jackpot when they found Casale di Valle, with it's vast grounds and it's own chapel for the ceremony. Who could dream of a more perfect venue! They added in their own sense of style and personality with their outfits and pops of red within the flowers and Anna's amazing flower crown, which really work against the green backdrop of the hills. This wedding is jaw dropping, a real feast for the eyes, all captured perfectly by Duesudue.
A wonderful celebration of our relationship, witnessed by all our loved ones, in a truly gorgeous setting. And toasted with some amazing wine!
Anna and Mattia were married at Casale di Valle, a beautiful villa in the Tuscan hills. 'There's really no more romantic place in the world than Tuscany, in our opinion, anyway! As soon as we saw the villa we knew it was the location for us, as it had a beautiful sixteenth century chapel for the ceremony, and then gorgeous grounds for the drinks reception and meal. We had 96 guests, we wanted the day to be intimate and have time to speak with all of our guests. It took us just under a year to plan, helped by the wedding planner at the villa.'
How they met 
Mattia and I met through mutual friends, he was my friend Bianca's colleague, and she'd been talking about him for months, saying she thought we'd get on. I eventually agreed to a date with him just to shut Bianca up! But as soon as I walked into the bar where we had our first date, I knew Mattia was someone very special.
The proposal
Mattia proposed three and a half years after we met. He took me on a surprise weekend break to Dubrovnik, and then further surprised me with a sunset proposal on the city walls. It was unexpected, romantic and perfect, just like him!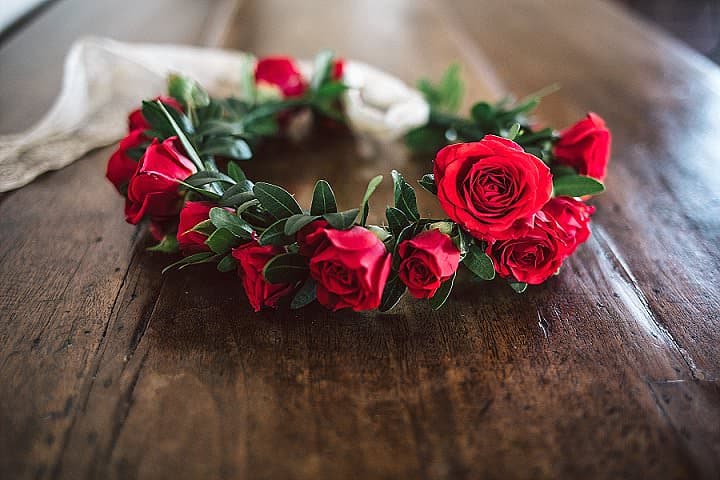 How did you allocate your budget?
We saved up for a year for the wedding as we wanted to make it really special. We then wrote down all the things that were important to us and made sure we budgeted for those, and then fitted in everything else around that.
Where did you splurge and where did you save?
Our biggest priority was ensuring our guests had a great time with lots of good food and wine, so we allocated a large part of our budget to that. I also knew I wanted a bespoke dress, and Mattia wanted a really special wedding suit, so we also took that into consideration. We then saved money on things like the decorations by making them ourselves. We were also lucky in that our venue provided us with a wedding planner as part of the hire charge.
How did you choose your photographer?
We found Duesudue after looking at lots of photographers online. We loved their reportage style and the wonderful couples' portraits they create. Then as soon as we met Alessandro and Francesca we knew they would be a good fit, we got on with them instantly.
The dress 
My dress was a bespoke design by Anna Fuca, an amazingly talented designer based in Florence. I wanted something that would feel bridal but also reflect my own sense of style, such as my tattoos and love of striking accessories, and she certainly delivered! She designed me a sheer lace dress that was worn over a white top, and that had so many intricate elements, such as the buttons running up the back and the flounced sleeves. I absolutely loved it, I felt like I was wearing something that was true to my own personality as well as something worthy of a wedding. It was a perfect blend of delicate fabric with bolder detailing. I accessorized it with a stunning red floral headpiece by Labotanique. I always wanted to wear a flower crown when I got married, something dramatic and colourful to complement the delicate white of the dress.
The suit and bridesmaids
Mattia's navy suit was by Gucci, as we both love their style. The fabric was interspersed with tiny purple bees, to add a fun touch and reflect the natural setting of the day, and his tie picked up on this colour.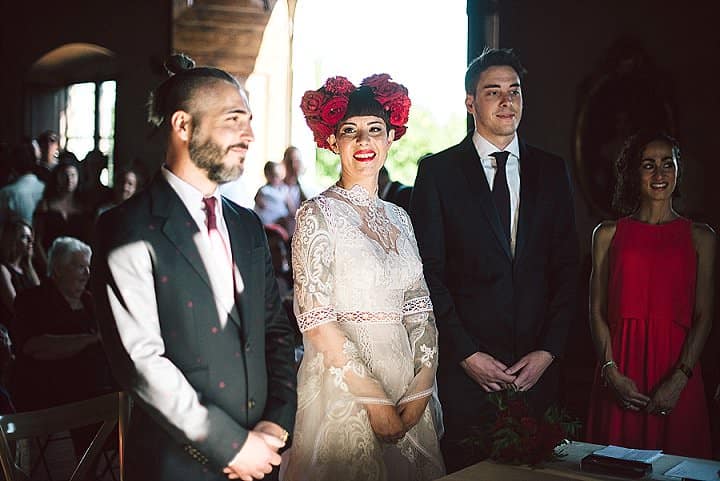 Theme or colour scheme
We wanted a natural and rustic feel to the wedding, to echo the stunning countryside we were in, that also had some bold and eclectic touches to reflect our personalities!
Flowers 
My floral crown set the tone for the day, we had white and pale coloured flowers, and then added red blooms for a pop of colour and to echo this stunning headpiece. We chose flowers that were in season, and that also had interesting shapes. So we used typical wedding flowers such as roses and ranunculus alongside more unusual flowers such as thistles. We complemented the flowers with greenery including eucalyptus, laurel and, of course rosemary, for Italians, it's considered good luck to include this herb in a wedding.
Decoration
We put some fun items in the grounds of the villa, such as vintage books, old telephones, mirrors and tennis rackets on antique trunks, which we thought people would have fun using as props in their photos. We also had a Polaroid camera and asked people to take photos and then hang them up as bunting, so our decorations evolved throughout the day!
For the meal, we had long wooden tables that were decorated with flowers in mismatched glass and earthenware jars and vases, and a simple white lace runner down the centre. The tables were dotted with white pillar and votive candles, which were lit as the sun went down, and swags of fairy lights were hung over the tables. Combine all these with the beautiful Tuscan hills in the background and you didn't need anything else!
Food
We enjoyed a delicious three course Italian feast with some of our favourite dishes, and we washed it down with lots of Chianti! Then lots of desserts instead of wedding cake.
Entertainment
We kept it simple and asked our guests for their favourite songs, which we turned into a wedding playlist along with our favourite tracks.
Who supplied the stationery?
We made our wedding stationery ourselves.
Personal touches
We made our table plan, which was pages from antique books that we hand wrote with the table numbers and guest names. We also hand wrote place names for each guest, and attached them to a tiny sprig of greenery.
Special moments 
When we were saying our vows, a shaft of light came in through the window and  illuminated us, which was just magical, it felt as if the universe was blessing our marriage. It was also lovely to wander off into the vineyard with our photographers and enjoy some couple time after the emotional intensity of the ceremony, all of our photos are amazing, but we really love these portraits.
Advice for other couples?
Everyone said to us that the day would go so quickly and they were right, it flashes past in a delightful blur. So our advice would be what we tried to do, take a few moments every once in a while to appreciate what's going on and soak it all in. It's so wonderful, and such a privilege, to have everyone you love all in one place together.
Biggest surprise
How well everything came together, all our hard work and planning was definitely worth it.
Supplier Shout Outs
FOR MORE INFORMATION ON DUESUDUE GO TO
www.duesudue-wedding.com / FACEBOOK / INSTAGRAM / PINTEREST / TWITTER

Duesudue is a creative wedding duo based in Tuscany, in Italy. Francesca and Alessandro work
togheter to tell heartfelt stories of love and adventure across the globe. Their work has been
described by many as timeless and poetic with a strong focus on storytelling.

[jprel]