As we reach the middle of the week, I can see the weekend in almost touching distance, I am super excited as we are taking Dexter to Alton Towers for the weekend and staying in the Splash Landings hotel, as an extra birthday treat. I don't know who is more excited, him, me or Nik! Today though I am taking you off to very sunny Colorado for the amazing backyard wedding of Lindsey and David who were married at home on 29th September 2018 with their reception later on at the American Mountaineering Center in Colorado. As their day was at home, it was super laid back and chilled, with lots of DIY projects and home crafted decor. They filled their day with lots of gorgeous bright flowers, which really added to the whole Boho vibe of the day.  Big thanks to Ashley Tiedgen Photography for the lovely images.
Ashley Tiedgen Photography tells us more about the day
This gorgeous backyard boho wedding was at the residence of the Bride + Groom in Golden, Colorado. Their stunning house was the perfect location for their low-key, but stylish wedding day. All of their closest family and friends were greeted with a basket of apples on their front porch, freshly picked that morning. As their guests made their way through the house to the backyard, they were presented with tons of DIY masterpieces, ranging from their wedding gift (a mosaic tile of jewels and handprints), to their altar. Every detail was a perfect representation of Lindsey and David: Down to Earth Couple with style and close bonds with their community.
We scampered across their neighborhood access trail on North Table Mountain for their wedding party and Couples photos. Everyone had such big smiles, so happy for these two.
They ended their evening at the Mountaineering Center in downtown Golden, where them immediately "Iced" their guests with shooters of Smirnoff Vodka under their chairs. They played the shoe game, ate hamburgers, and danced the night way. It was seriously magical.
How they met 
We met at a dive bar singing karaoke. He was singling Little Red Corvette and I was hooked! He proposed to me on a pre work hike up North Table Mountain in Golden Colorado. We were sitting on a rock looking out when he asked. I was totally taken aback ( and not quite awake yet since it was 7 in the morning) but it was perfect!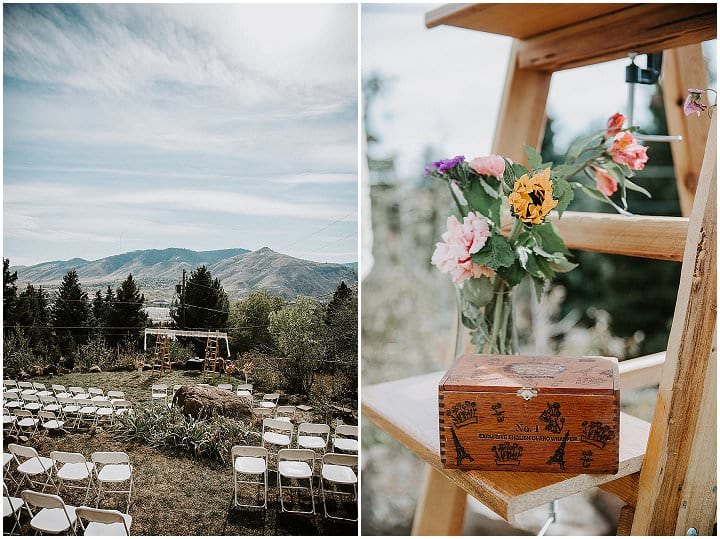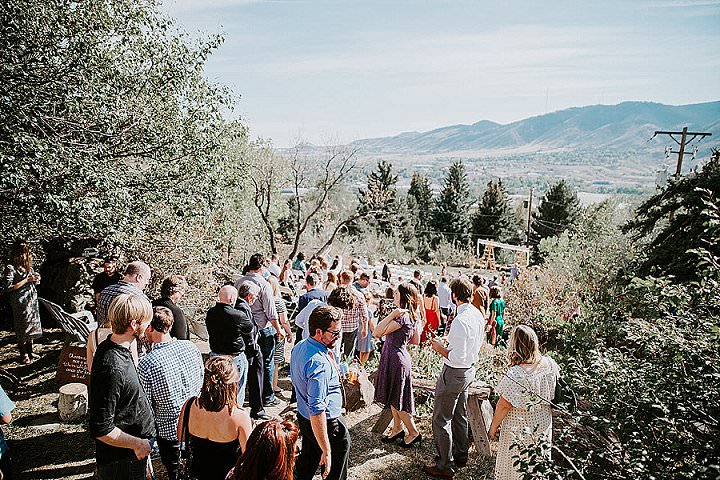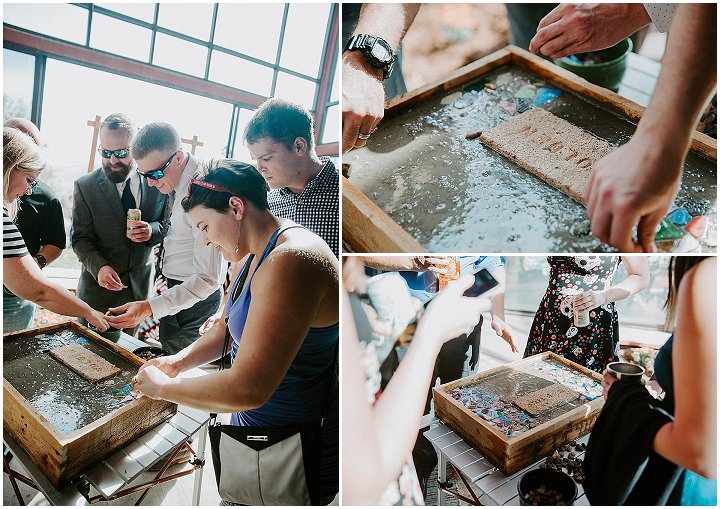 Outfits
My dress was by For Love and Lemons and had small white 3D flowers all over it with a tan underlay. I was looking for something fun and not so formal and fell in love with it from the moment I tried it on. My husband wore a blue suit with a floral bow tie which he chose thanks to a very persuasive tailor. He looked great!!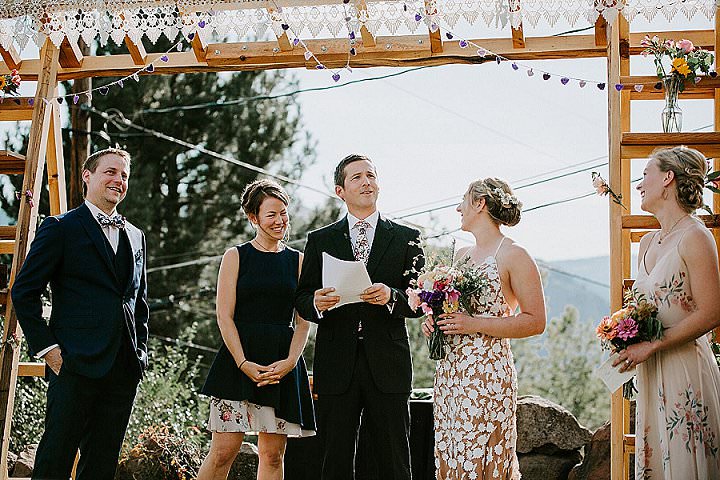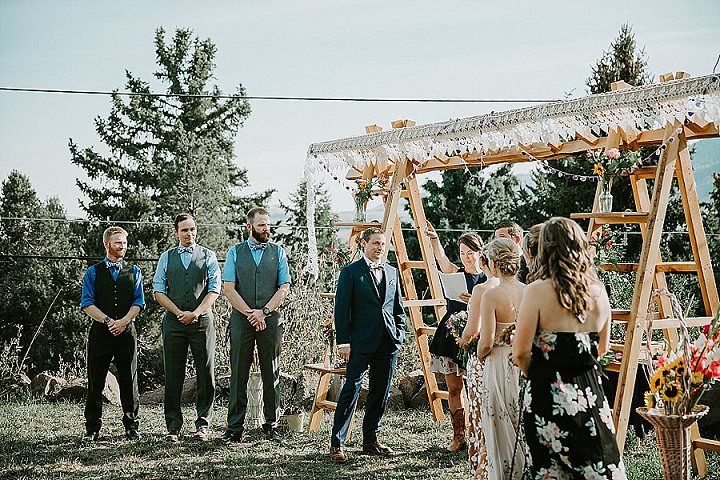 Theme or colour scheme
Our goal for our wedding was to have a casual, laid backed atmosphere to celebrate with all of our friends and family. We love our home and our backyard so it was the perfect setting for our ceremony. We didn't have a specific color palette but we did try to incorporate flowers wherever we could!
Decoration 
We purchased flowers from a local nursery and placed them in all sorts of vases and containers throughout our yard. We even had a family friend bring over her planter boxes for the day! We kept the decorations at our reception minimal with string lights and paper garlands.
Flowers
We had a variety of flowers! Our goal was to have a variety of colors to match the different colored bridesmaid dresses (which were also floral). For the bouquets we ended up adding quite a bit of "found" foliage from our yard to toe everything in.
Personal touches 
The best part of our wedding was the hayride which brought our guests to and from the wedding and reception. the distance was a little over a mile and it gave our guests a chance to enjoy the town of Golden and the warm summer day!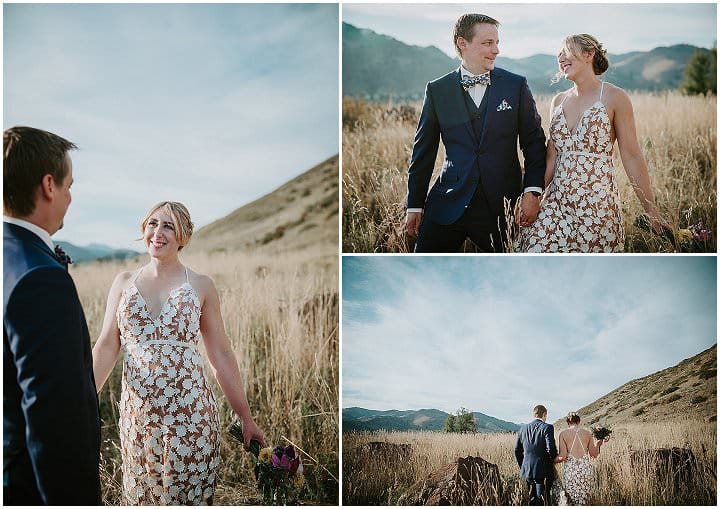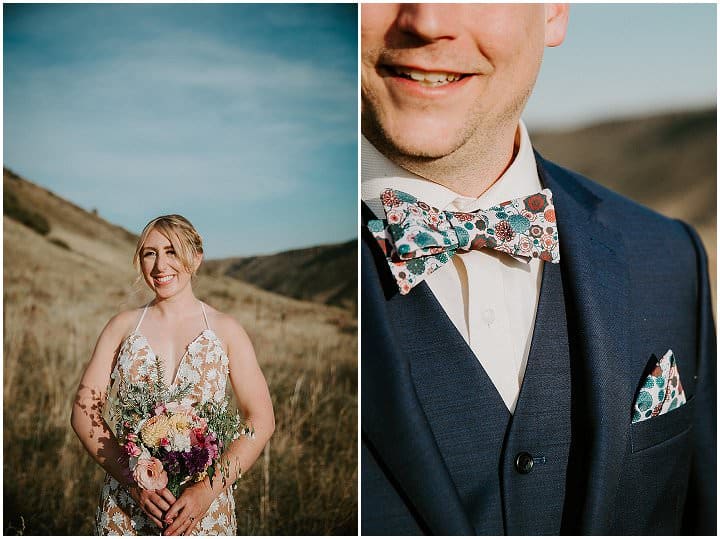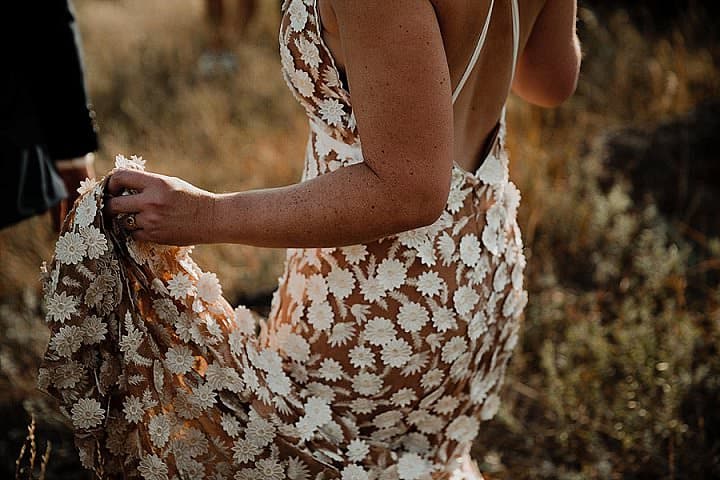 Special Moments 
When we read our vows to each other. It was really special and a memory I will keep for a long time.
Advice for other couples
We probably should have hired a day of planner! Everything ended up going really smoothly but there were quite a few last minute things that we didn't think of and definitely did not have time for. But nothing goes perfectly on your wedding day so we count ourselves pretty lucky!
Supplier Shout Outs