Yay for Friday! Is anyone else super exited for the weekend? If so, what have you got planned? Mine will be spent celebrating Dexter's birthday. It was his birthday on Wednesday so we could only celebrate after school, so this weekend is full on birthday celebrations. Toy Story at the cinema on Saturday morning, his party on Saturday afternoon, which I am super excited for, then we are out for the day on Sunday. What about you? I am finishing off the week with this gorgeous super laid back summer French wedding from Zephyr & Luna. Julie and Lionel created a lazy wedding vibe and kept everything super chilled by holding the reception outside and filling their day with rustic detailing and decor. The sunshine is bursting in from every angle and really fills the day with a summer party feel.
It was an incredible day! We are so happy it went so well and we'll keep amazing images for the rest of our lives!
Julie and Lionel were married on 18th August 2018 at La Chaponnière, St Rémy sur Durolle, Auvergne, France. 'This is the place we live in! However, our families live far away in different regions, so we were looking for a venue capable of hosting more than 80 persons on our wedding night. The venue had to also be close to the town hall where we got married. When we found La Chaponnière, we were over the moon!  It is a former night club very famous in the region that closed in 2000. It has the advantage of being located just in front of a small campsite for those who wished to stay. The exterior and the building were perfectly consistent with our country theme. We wanted to do the reception outside and enjoy the beautiful days and the landscape around the venue. We had 90 guests. We decided very quickly to celebrate our union in the summer of 2018, So we had a year and a half of preparation which gave us time to do a lot of decoration by ourselves and to take time for reflection. I loved poking around on the internet and blog to find inspirations. The hardest thing for us was to choose our DJ because we know the importance of the ambiance for the reception!'
How they met
We met with Lionel on school benches in high school at 16 in Bordeaux. After a year and a half of friendship in the same circle, the rapprochement took place and we have not left each other since. It was 12 years ago now. He followed me to Clermont Ferrand for the end of my studies and we never left.
The proposal
The marriage proposal is quite funny … I noticed a banking movement on our common account for a jewelry store. I did not dare to talk about it and I immediately informed my 2 best friends who will become my loving witnesses thereafter. Without me knowing it she was in the confidence and everything was done to dissuade me from this idea and after months of brainwashing they managed to get me out of this idea. So, for our 10 years anniversary in February 2016, we left our 2 children with Natacha for the weekend to mark the occasion. We had booked a tree house near the Gazenat Lap with private Nordic bath on the terrace. In the evening, he offered me a necklace box in which was the engagement ring! The surprise was perfect and fitted with the image of his character, player and introvert! I will remember all my life the 2-3 months before this weekend and the weekend itself of course!
Where did you splurge and where did you save?
The photographer was out biggest splurge but we're so incredibly happy we chose Ambre!
How did you choose your photographer?
Our photographer is Zephyr and luna. She was the first vendor we chose. I found her years ago and was following her on social media. I had not had the occasion to call her for my pregnancies and I wanted her at all costs for my marriage. We met one night at her place and it was obvious. I like her unique and personal work. She knows how to blend into the crowd and be forgotten to capture the moments "off" and that we do not necessarily notice during the wedding, and all the details of the wedding that brings back good memories.
The dress
I was looking for a dress rather fluid, without too much volume. Martine Mariage was the first shop. It was the 5th dress I tried and I immediately chose it despite the opinion of my witnesses which was rather mixed because it was too simple, not enough "me" as they said, but I knew!
The suit and bridesmaids
My bridesmaids chose their own dresses and Lionel chose his suit during the Clermont Wedding Fair.
Theme or colour scheme
100% rustic, organic and rural wedding
Flowers
We contacted Stéphane Chanteloube, Meilleur Ouvrier de France. They had total freedom… We made an appointment to discuss what I wanted, they gave me their opinion, we discussed colors, forms, ect and that's all …. I only saw my bouquet and table decorations on D-Day. So, I was a little stressed because I did not know what to expect and the result was better than I had imagined and wanted. A country bouquet and ten small vases installed on all tables with candlesticks. The decoration of the room and the place mats were put forward thanks to the different flowers.
Decoration 
More than 400 pennants to make garlands … cutting triangles (a special evening with my witnesses was necessary to get it done), sewing triangles and assembling them on rafia to make the triangles. They were installed outside with garlands of lights to bring a country and guinguette atmosphere.
All table sets in jute and lace sewn for the 90 guests so they could leave with a souvenir.
The cards are drawn in paper pencil then printed on thick kraft paper and colored / personalized. It took a whole evening to color a tree garland of pennants and lights …. Lionel is done with coloring for the rest of his life!
Tipis made for children so they can have fun outside. We also rented giant wooden games for the kids and my father had made me a giant jenga from scrap wood from his work.
Ark for the photobooth. We wanted to have a maximum of memories and different pictures and complementary to Ambre's. So we rented a photobooth via Selfizee, a French group renting a photo terminal.  We were able to use it outside during the reception and then inside during the evening and keep it for the brunch of the next day. Very intuitive and easy to use, it delighted both children and grown ups!!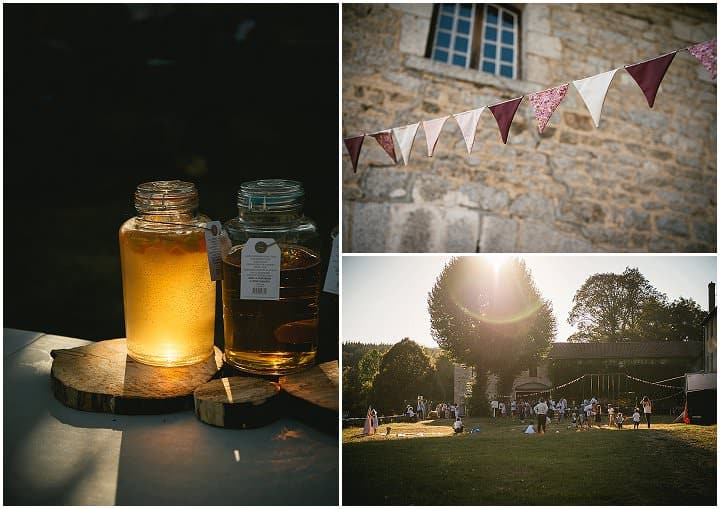 Food 
It was a mechoui kind of meal. We wanted our guests to try a local specialty so we chose a delicious Lamb with Aligot!
Entertainment
I did not see my country wedding without a jazz band outside during the reception. One of my colleague practices the saxophone and occasionally plays in a group for different events. We had an orchestra composed of a piano, saxophone, drums and bass. They were able to set the mood and mix popular songs and recent songs in jazz. And for the reception, we had an amazing DJ.
Who supplied the stationery?
Ourselves!
Special moments
The memory that I keep is the moment when we ended up with Lionel during the couple photos where everything was very quiet, alone in our bubble with Ambre and the music of Gala freed from desire jazz version in the background …. It was magical!!
Advice for other couples?
Do what you want for this day and enjoy to the maximum!
Biggest surprise
It was Lionel's song that he sung to me with a guitar during the reception.
Supplier Shout Outs
FOR MORE INFORMATION ON ZEPHYR & LUNA GO TO
zephyr-et-luna.com/en /  [email protected] / FACEBOOK / INSTAGRAM / PINTEREST

I'm Ambre, a destination wedding photographer based in France, drawn by light and colors, in love with the poetry of relationships. I capture people in love in the most authentic and timeless way possible, as a silent keeper of memories too quickly passed.

[jprel]