Happy Monday everyone, I hope you all had a wonderful weekend? Mine was superb! It was Dexter's birthday so we had a full on busy weekend, it was so much fun! Saturday he had not one but two birthday parties! One at our house in the garden with 10 of his friends, we hired a children's entertainer who was hilarious! Then we took 3 of his friends for a bowling party later in the afternoon! Sunday we went to Cadbury's World, he loved it!! Not forgetting Fathers Day of course, which we celebrated when we got back….Phew! I'm ready for a rest, but I have another busy week ahead. I am starting off the week with a guest post from David Gaff, who is the founder of David Charles Childrenswear, an iconic British designer children's wear company. David has put together a fascinating article on Wedding Traditions. There are so many traditions when it comes to weddings, some you may choose to ignore, which is totally your call, but some you may wish to stick to. BUT where do these traditions come from? How old are they and why do we still follow them? David is here with the answers for you.
The Stories behind 5 Common Wedding Traditions You Probably Never Knew
In almost all cultures, in nearly all the countries of the world, you will find some wedding ritual that marks the coming together of two people. And within these wedding rituals are a set of traditions and customs that often carry ancient significance. In many ways, traditions are at the heart of the wedding celebrations. These traditions are now accepted and enacted at most weddings with very few of us questioning what their significance truly is. But why do we wear a wedding ring on the fourth finger? Why do we dress bridesmaids in similar dresses to the bride? Why is it bad luck for a bride and groom to see each other before the wedding?
Today we are going to take a look at some of the most enduring wedding traditions and the stories, ideas and legends that shaped them.
The Rings
"Let's see the ring!" An engagement ring has become the ultimate token of enduring love and of the promise to love someone for the rest of their lives. Each year couples spend millions on finding the perfect ring to symbolise their love, saving for months to acquire the most dazzling sparkle and the most reflective design. But when did these bands become the symbol of love and commitment? Although some claim engagement rings weren't a staple in pre-wedding rituals until De Beers now iconic slogan "A diamond is forever" — which in 1947 encouraged hopeful grooms to spend big bucks on expensive jewellry — the history of the engagement ring is longer than that.
In Ancient Egypt, Greece and Rome, rings were tokens of devotion and the tradition has thrived since then. Sapphires and aquamarine were believed to signify marital bliss while a pearl engagement ring's tear-like shape and sheen are said to symbolise an unhappy and unlucky marriage. Victorian England, favoured snake rings with ruby eyes as people thought that the winding coils of the snake symbolised eternity and undying love.
The cyclical shape of a ring has long been accepted as a sign of an unbreakable bond but have you ever wondered why we wear engagement and wedding rings on the fourth finger? The wearing of the ring on the fourth finger reaches back to the Ancient Romans who believed that there was a vein that leads directly from the finger to the heart.
The Wedding Dress
The wedding dress as its known today in all its pristine white glory first emerged in 1840 — worn by none other than Queen Victoria herself. But dresses specifically chosen for the wedding day have been a staple of wedding rituals around the world. White has long been the colour of choice for bridal wear in Japan, while in China, brides wore robes embroidered with cranes to symbolise their fidelity and commitment to their marriage.
And no wedding dress would be the same without a veil. Legend has it that veils were first worn by Ancient Greek and Roman brides who donned them to protect themselves from evil spirits.
"Something Old, Something New, Something Borrowed, Something Blue" 
This ol' wives tale is repeated time and time again, and brides go to some lengths to ensure that they have all of the required items with them on their big day. As with many old wives tales, it's difficult to trace this saying back to a specific time or place — let alone person —  but the sentiment of the message has never been lost.
The "something old" is supposed to symbolise continuity with the past and connect you to your ancestors. "Something new" represents your future life with your partner.
"Something borrowed" should be from a friend who has already married to give you luck in your marriage and "Something blue" symbolises purity, fidelity and love.
The Wedding Cake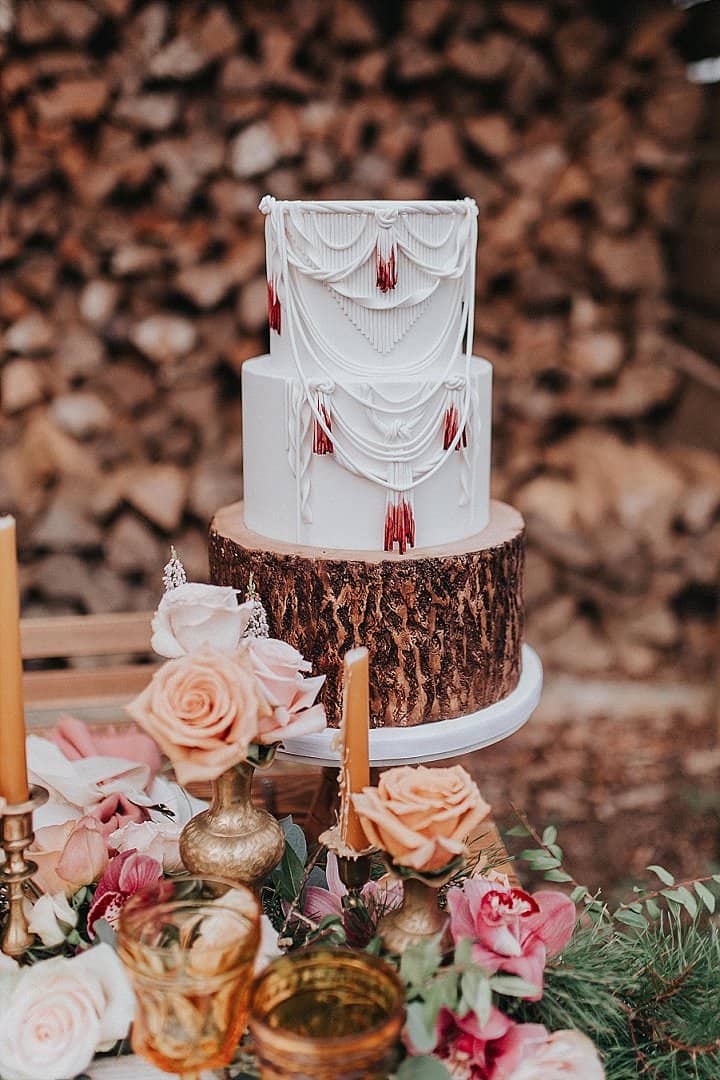 The wedding cake is another wedding day staple that has its origins in Ancient Rome. Back then it wasn't a sweet cake but rather a bread broken over the bride's head. The Romans believed that the wheat bread symbolised fertility and would lead to a fruitful marriage. Today, wedding cakes have moved on from the humble loaf and we've stopped breaking it over the bride's head — although some instead squish it into the couples' faces!  But the meaning remains the same — a fruitful marriage.
It just wouldn't be a wedding cake without tiers and tiers of frosted cakes, reaching precariously towards the sky. Legend has it that the tiered wedding cake emerged from a game played in medieval England where brides and grooms had to try and kiss over the cake without knocking it over. Whether true or not, good old Queen Victoria once again solidified the tradition with a wedding cake that weighed in at a staggering 300 pounds!
But wedding cakes aren't just for the newlyweds. Folklore has it that if a single female wedding guest puts a slice of the cake under her pillow, she will dream of her future husband. And hey, it makes for a wonderful midnight snack!
Nice Day for It 
Finding the perfect day for a wedding is tricky. There are so many variables to take into consideration and logistics to account for. For most, the wedding date will be set on a day that fits in with these various considerations and restrictions. We'd hate to give you yet another thing to take into account when planning your wedding — but you may want to take some inspiration from folklore and its superstitions.
In English tradition, it's Wednesday that is considered the ideal day to marry. As the saying goes,  "Monday is for wealth, Tuesday is for wealth and Wednesday is the best day!" Ironically, in this saying, Saturday is the worst day to marry. So, why not defy expectations and have a mid-week wedding? If nothing else, the venue would be cheaper!
If you're still trying to decide what day to marry, perhaps you could try the Ancient Roman way and read pig entrails for clues — although we'd rather not!
Not Seeing the Bride before the "I Dos"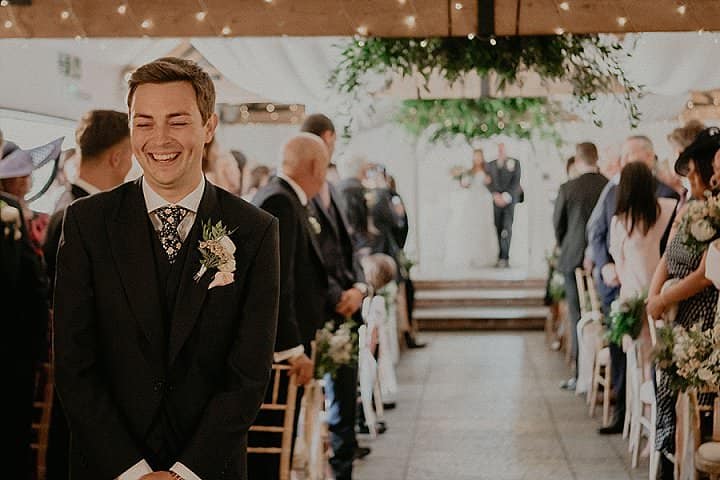 The thrill of seeing your bride walking down the aisle, the sense of anticipation and sweet release when you see one another — there's lots of romantic reasons couples observe this rule. However,  the origins of not seeing the bride are not quite as romantic as they may seem. Back when marriages were business affairs, brides and grooms were forbidden to see each other before the ceremony for fear that they would reject the arranged marriage. It's the same reason that brides wore veils until the "I dos" were uttered.
Bridesmaids and the Wedding Party 
In Ancient Roman times, ten witnesses were required for a wedding union for it to be legally binding. These five men and five women were the first iterations of the wedding party that we've grown accustomed to today. Wearing similar clothes and standing at the altar they were responsible for many of the same chores that bridesmaids and groomsmen have today, but with one major difference. The Romans believed that by wearing similar clothes to the bridal couple, these wedding guests would confuse evil spirits that sought to harm the newlyweds. 
Using bridesmaids as decoy brides didn't end in ancient times. In the medieval and early modern period, bridesmaids also wore bridesmaids dresses that were similar to the brides — and so put themselves in danger. But this time rather than acting as distractions for spirits, these unlucky bridesmaids were acting as decoys for kidnappers and highwaymen who made a living stealing brides and demanding hefty ransoms.  Who knew it would be so dangerous to attend a wedding?
this is a sponsored post