Today's wedding is a real beauty! A light and airy looking wedding full of some of the most gorgeous details. Amelia and John were married in at the Stone House Warren, New Jersey on 14th July 2018. They wanted a natural, whimsical looking day, but an elegant and romantic one at the same time. This they managed beautifully, with some gorgeous table arrangements, hanging decoration, the most amazing flowers and a stunning venue. With an ice blue colour scheme that worked perfectly against the white flowers and abundance of greenery, this wedding looks modern, yet relaxed and super stylish. I just love Susan Elizabeth Photography she has done a fantastic job of capturing the light, bright elements of the day. Pure perfection.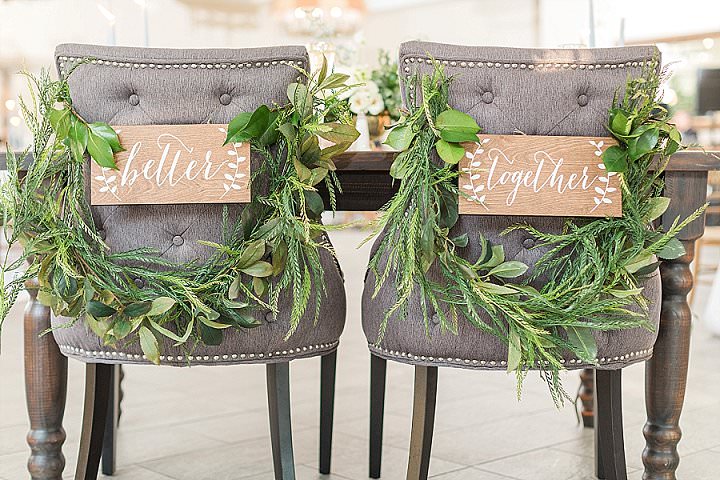 How they met and the proposal
My husband, John, and I got married in the month of our 10 year dating anniversary. We started dating our junior year of High School! We really grew up together and we hit so many milestones as a couple. Senior prom, high school graduation, college graduation, graduate school, our first jobs, yeah…we pretty much were together for it all! I think that's why it was so important for our wedding to be natural and organic because I feel like that's how our love evolved. John attended college in Fairfield, CT while I stayed and went to college in NJ. I always looked forward to visiting him about once a month because Fairfield had so much to do. On our way back from a New Years Eve party in Boston, we stopped to go to the beach in Fairfield on a weirdly warm January 1st. John proposed on the beach and I was in complete shock. I actually don't even think I said yes until my husband told me later that night that I never actually said "yes!" I was too overwhelmed and surprised to even think! Of course, John knew right away that I meant yes with all of my happy tears! It was our absolute favorite weekend (besides our wedding, of course).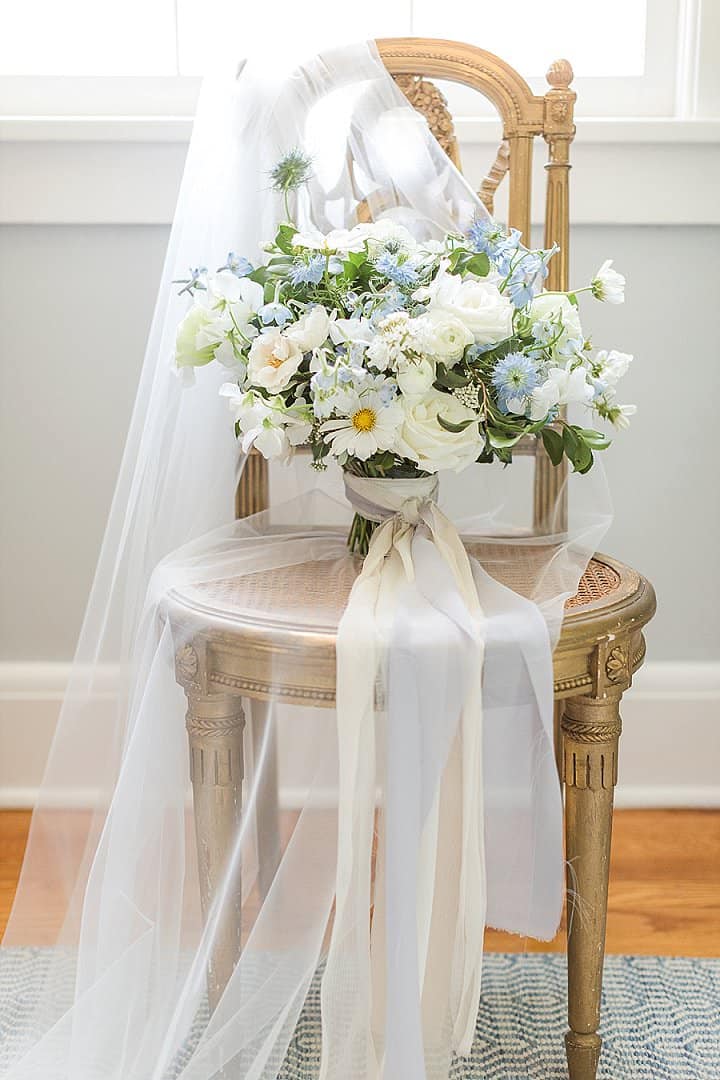 Theme or colour scheme
When I was dreaming of our wedding, I really envisioned it to be whimsical and romantic. I was never a bride that dreamed of showing up to my wedding in a horse and carriage, but more of a bride that dreamed of running through a garden of wildflowers. I also really wanted to stay true to our relationship and personality as a couple which is more organic and light. I first chose our venue because it stayed true to that vision. It had a more rustic, modern vibe that almost made you forget you were in New Jersey. I loved all of the windows that provided an abundance of natural light, and I loved all of the wood and stone accents throughout the space. The space is so elegant in an understated way. I wanted my dress, my bridesmaid's dresses, my flowers, and wedding colors to all be light and airy to enhance the organic, garden feel that I was going for. I am a Special Education teacher, and we got married in a church that I also admired from my classroom window. It meant a lot to both of our families that we got married in a church, so we decided to have our ceremony at St. Teresa of Avila in Summit, NJ. It was such a special ceremony for us. I'll never forget the feeling of walking down the aisle and seeing my husband waiting for me. The church was packed with our family, closest friends, and even some of my students.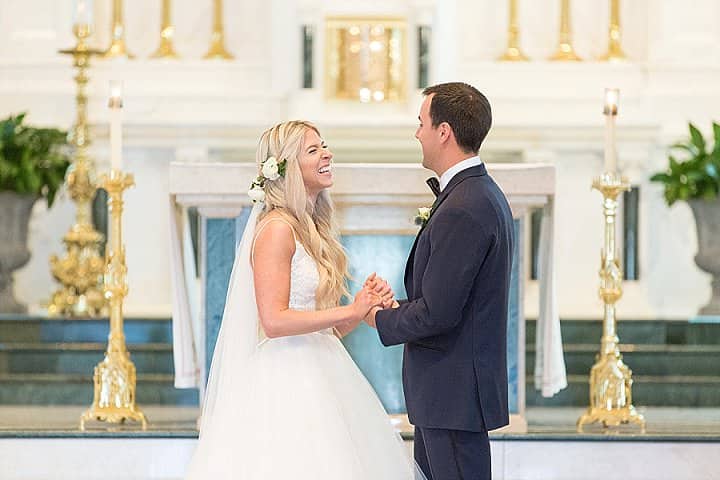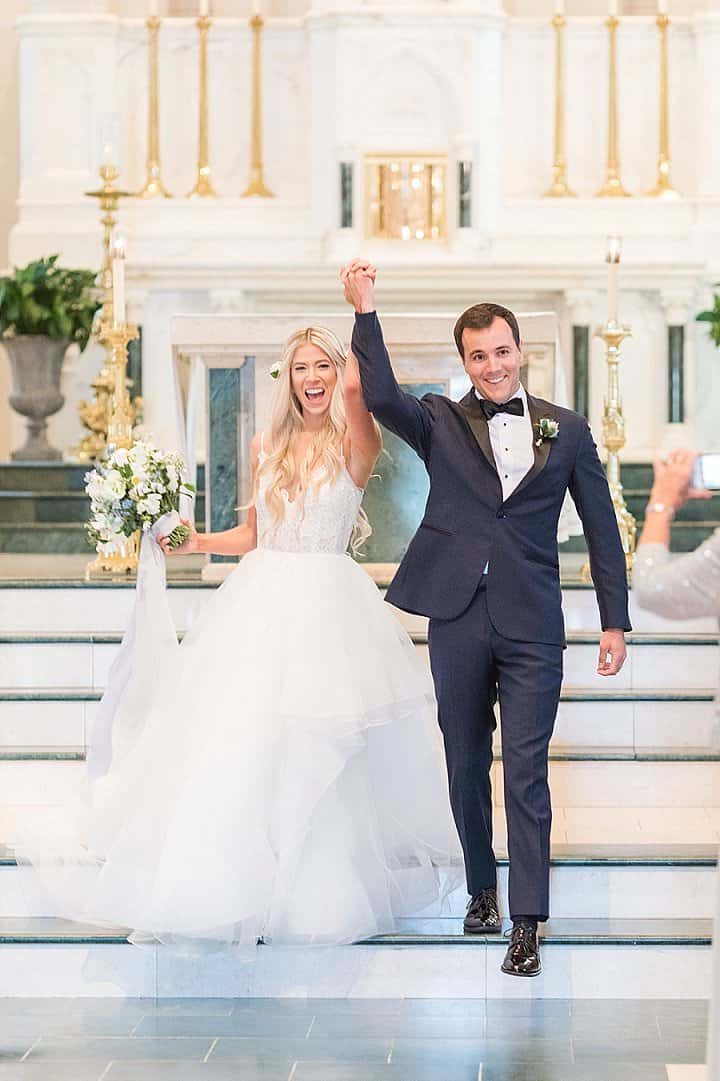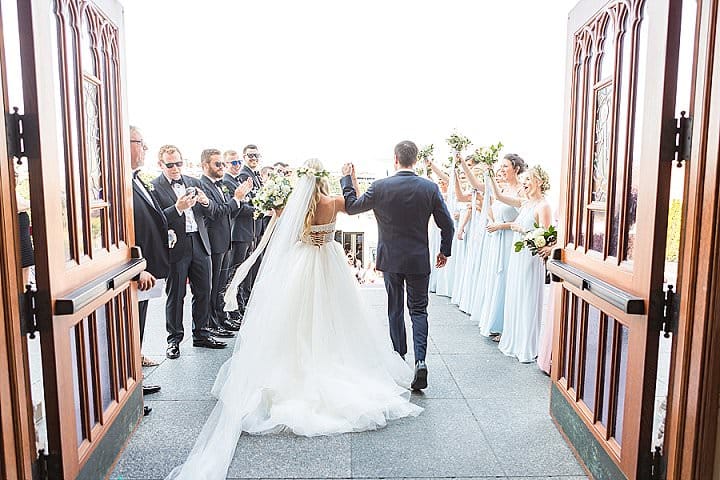 The Outfits
I went into dress shopping knowing what I didn't like, not exactly knowing what I did like. After trying on a few (or more than a few gowns), I started to be more drawn to lace and tulle. I absolutely love the whimsical vibe that Hayley Paige dresses give, so I ultimately went to Kleinfeld's in NYC to try some on. After trying on a few, I knew my dress was the one for me.
My husband is more traditional and wanted to wear a tuxedo. He always loved the look of a midnight blue tux, so he chose to wear that while his groomsman wore the traditional black. I am a sucker for suspenders and a bowtie and loved the way the tuxedos looked.
For my bridesmaids, I chose the color, brand, material, and length of the dress, but pretty much left the dress they chose up to them. I really wanted my girls to feel completely comfortable in a style that made them feel beautiful. No one likes to wear a dress in tons of pictures that they aren't comfortable in! I had 7 bridesmaids and they had 7 choices of dresses, and no one chose the same dress! That just shows you how everyone is looking for something different. I loved that!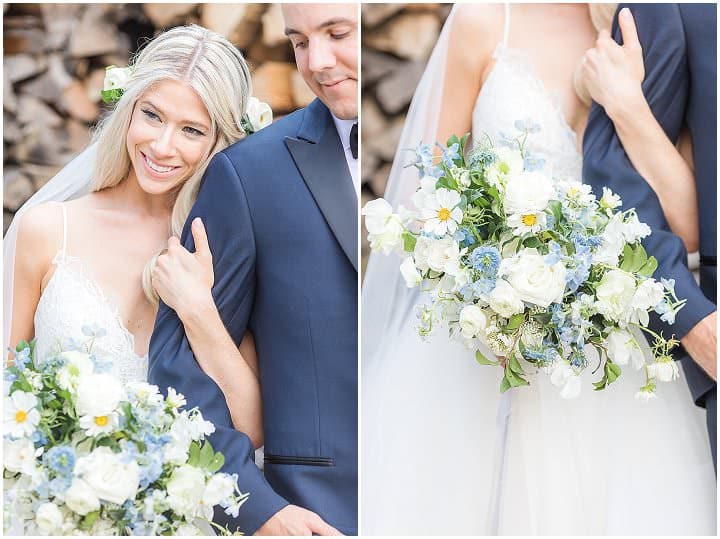 Decoration 
I really entrusted my florist, Blue Jasmine Floral, with everything. I chose Blue Jasmine because they have a very organic style which I of course was drawn to. We had several meetings where we just bounced ideas off of each other. Paulina did an amazing job using my vision and her wonderful talents to create something I thought I could only dream! This was one of my favorite parts of our wedding since flowers were such a big part of my theme!
Flowers
Organic and wild are two ways I would describe the florals at my wedding. I love lots of greens, white flowers, but I also wanted a touch of blue to tie in the light blue colors that the bridesmaid wore. I really wanted an oval shape bouquet that was natural, light, and slightly wild. I also wanted dreamy ribbons trailing the bouquets. One thing that I definitely wanted were flowers in my hair.  For the reception, I wanted a lot of greens, white flowers, hints of blue, and of course, candles! I love candles, and I love how Paulina of Blue Jasmine had these amazing light blue taper candles that matched my bridesmaids dresses perfectly! To bring in the garden theme, Paulina created tall branch/tree like arrangements that really brought the garden inside. Paulina created four different looks for our guest tables that were all so unique. For our sweetheart table, I really wanted a backdrop that was a statement. Paulina created these amazing rings made of fresh greens, and then accented our table with amazing florals, branches, greens, and of course, taper candles! When I walked into our ballroom for the first time, I was truly amazed.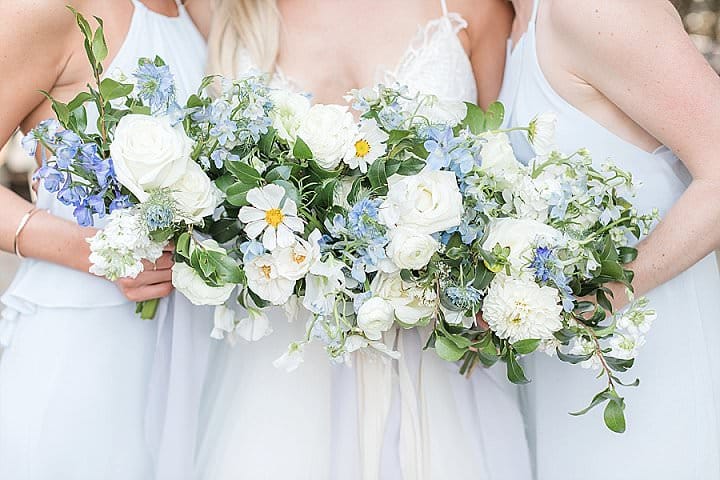 Entertainment
When I go to a wedding, I love to look at all of the beautiful decor of course, but I really just want to have fun! Booking a great band was extremely important to us since we knew that was what we always looked forward to as wedding guests. Our band was amazing and they had everyone dancing all night long. That was honestly probably our favorite part of the wedding, just dancing allllllll night long! I always say that if I didn't see you, you weren't on the dance floor!
Special moments
Honestly, everything! When planning a wedding you anticipate everything! I envisioned every single moment beforehand! But honestly, the most special moment was definitely walking down the aisle and seeing my husband. It was like woah- this is real! I was never so happy. I really wish I could go back to that moment.
Advice for other couples 
Enjoy it! I have met so many couples that seem so stressed over the planning, and some even say they can't wait for it to be over! I so wish I could convince them to just take a step back and enjoy this (sometimes stressful) process. You will never get this time back. I don't think you realize how special the lead up to your wedding is until it's over. Marriage is amazing and everything I thought it would be, but there is nothing like the anticipation of marrying the love of your life. There is also never another time you will have everyone you love and all of the people that have supported you since day one, in one room, celebrating YOU! So take a step back, realize what's important, and laugh even when you want to cry.
Supplier Shout Outs
For more information on Susan Elizabeth Photography go to