Today I have the most delightful Autumn wedding from Texas to share with you and it's a real beauty. When it comes to Autumn styling this wedding has it all, from warm rich colours, to giant pumpkins to amazing jewel tones. The flowers look amazing and decorate the wedding in abundance, giving it a very lush feel. As for the signage these really add another level of personality to the day and look amazing! Shana and Hogan planned this wedding while living apart, so they have done a wonderful job of creating such a beautiful day. Taylor Sivard was there to capture the day perfectly.
It was overwhelming in the best way possible. There were so many people there that love and support us and helped us make our dream wedding come true – we're so thankful for everyone who was a part of our special day.
Shana and Hogan were married on 6th October 2018 at Azle, Texas at The Orchard Venue & Retreat. 'The stunning pecan tree overhanging the wooden arbor says it all. I knew the moment I walked down the aisle to check out the space that it was mine. It felt so right. We invited 300 (Hogan has a very large extended family), but about 180 attend. It took 2 years to plan. Hogan and I lived long distance for a year and a half before we got married. It was very important to us to be able to plan the wedding without feeling rushed, especially with having to plan hundreds of miles apart from one another.'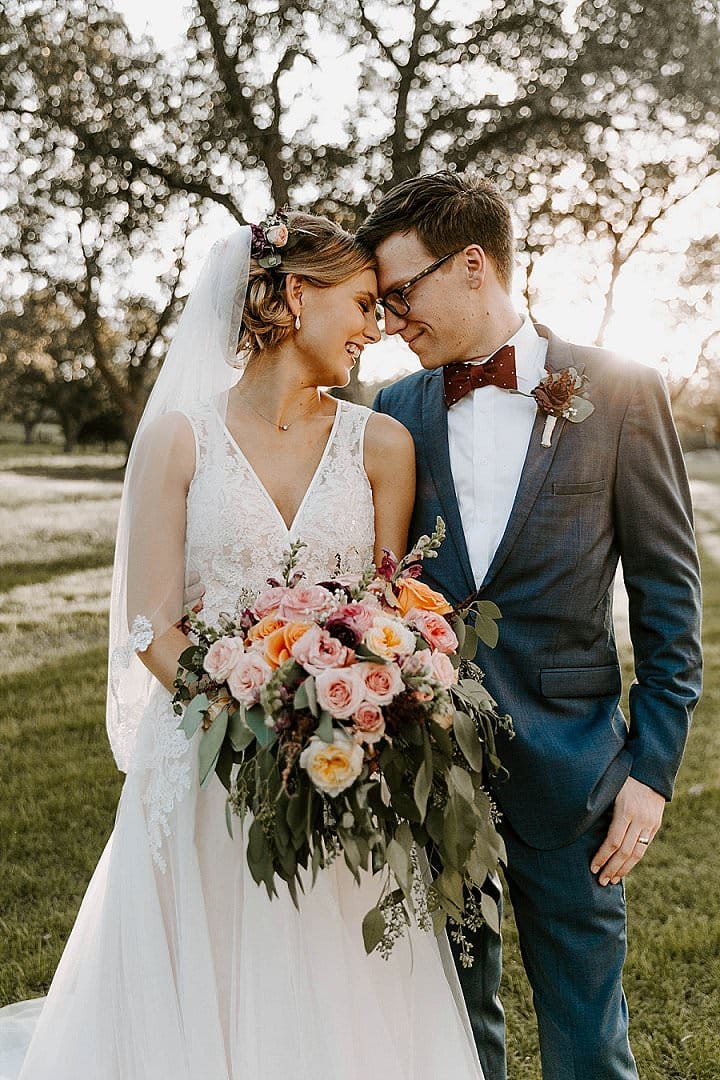 How they met 
It was our freshman year of college, We were invited by our groups to take a day trip to a local American modern art museum and were told if we were interested in attending to meet at a specific parking lot. My Big was there and he was standing next to this very handsome man who I thought was a senior. Little did I know this handsome man thought the same of me. We both discovered we were freshman and we grew up in nearby Texas towns and that he participated in a very well known marching band that I was obsessed with. After drilling him with questions all about his band experience we explored the art museum and have been inseparable ever since. We've been together for a little over 6 years.
The proposal
The week of the proposal Hogan suggested we have a "date battle royale" where each of us would have a day to plan the perfect date. His date was filled with visiting all of my favorite local places. That evening he surprised me again by taking me to the first place we met. Eventually, we walked outside to the beginning of one of the museum's trail paths. The trees were lined with pictures of Hogan and I throughout our relationship and handwritten poems were hung beneath each of them. As I turned the corner I saw a gazebo where Hogan was standing with a candle light dinner and music playing. We ate and chatted for a little bit before Hogan asked me to dance. When the song started to drift away he reached for the book in the middle of the dinner table and took out a ring box that was hidden inside it. He got down on one knee and I of course said yes! Then all of our friends came out from their hiding spots to congratulate us! He certainly won the date battle.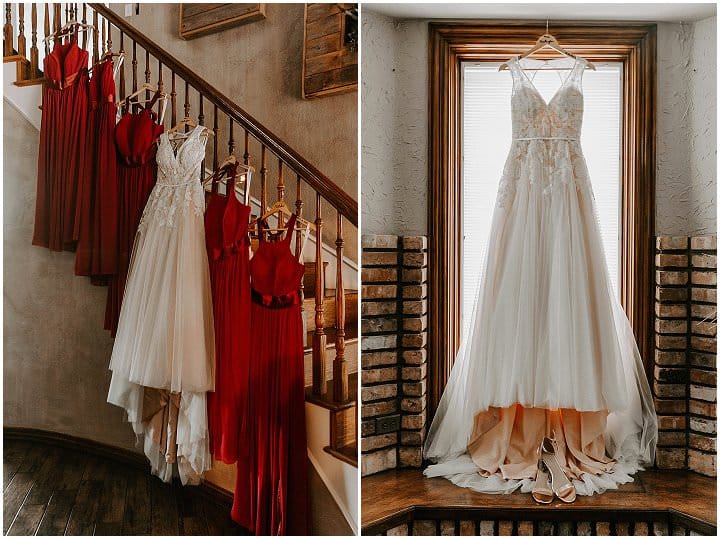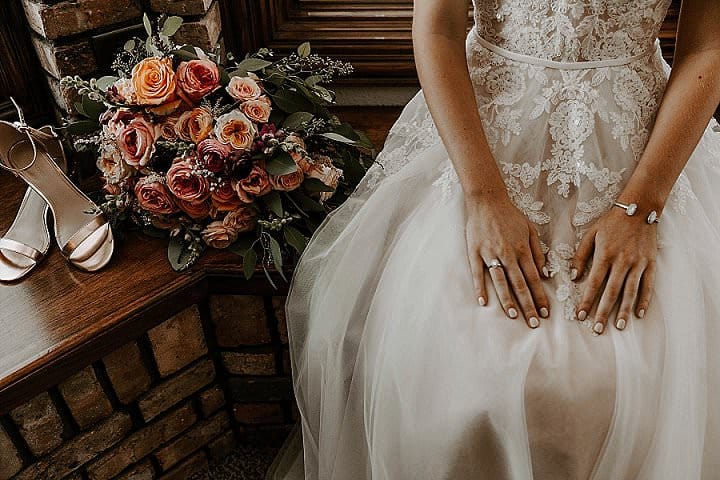 How did you allocate your budget?
Photography and videography we huge musts for us. Since I am a photographer myself and growing up with my Mom photographing my whole life I knew I needed to document my wedding the best I could afford. I made sure to get two photographers and one videographer to catch every moment and angle.
Where did you splurge and where did you save?
Definitely splurged on decorations, specifically flowers. A lot of what we had were borrowed from our family and friends or found at discount. I also have a very talented friend who does calligraphy and did all of our signage. Our flowers though were probably the most only because we had so many; however, the only real flowers was anything that was held by someone, while everything else was fake. I saved the most on my wedding dress. My dress was less than $500 and it was absolutely gorgeous and very high quality. I couldn't believe the amount of money girls spend on their dresses and I was determined to do better. My tailor was shocked that it was so cheap!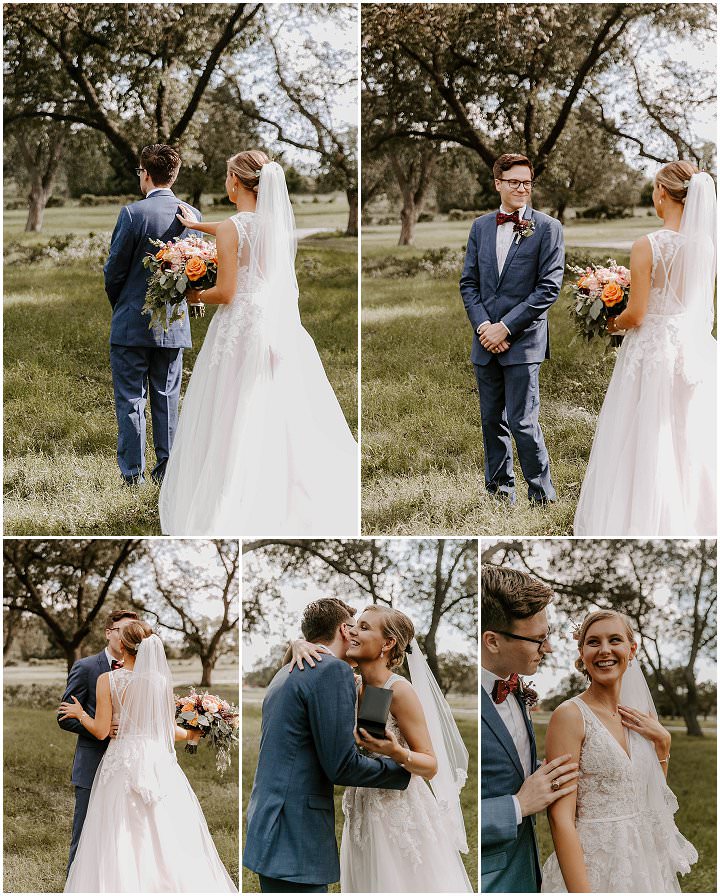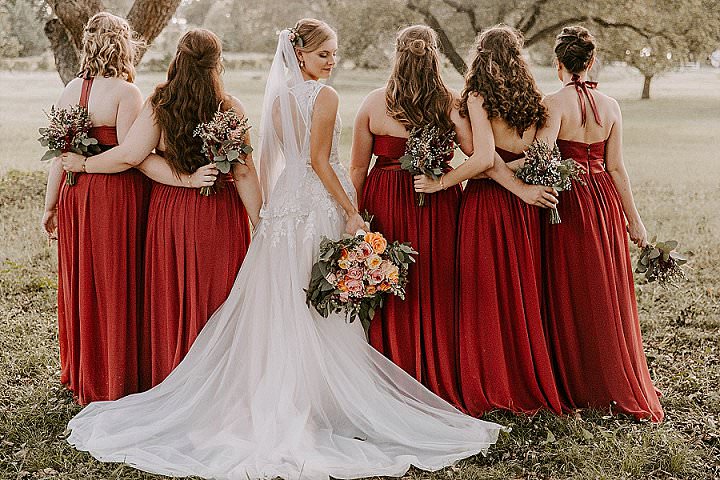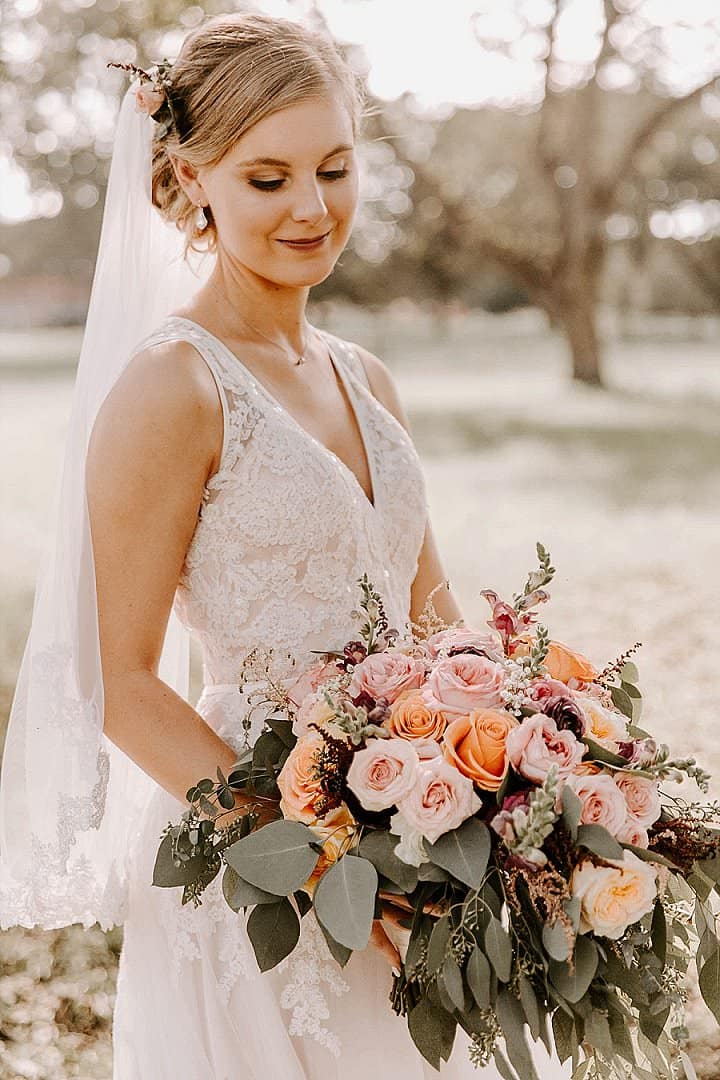 How did you choose your photographer?
The best advice I tell others is to join wedding Facebook groups. There are so many willing and helpful girls who will answers your questions no matter the question! I found my photographer and videographer by asking for recommendations of people who were within my budget, location, and fit my style.
The dress 
My dress was by the designer Coco Melody – an online retailer. They do have a brick and mortar store in Los Angeles. My veil was by Etsy shop Inspired Bloom – it was so so stunning and fit perfectly with the sequences in my dress. Jewelry was by Kendra Scott and shoes by Marc Fisher. What's really special about my accessories was my two garters and bouquet wrap were all made from my Mother's dress. I also sewed a piece of her dress in the lining of mine.
The suit and bridesmaids
The Groom, Groomsmen, and Ushers suits were from Generation Tux and bridesmaids dresses were from Azazie.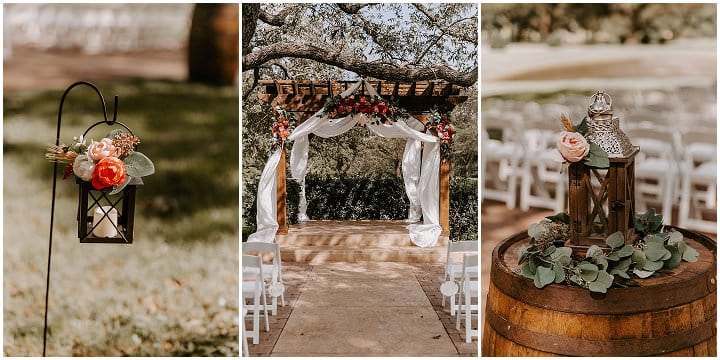 Theme or colour scheme
Autumn is Hogan and I's favorite season, so I knew that I wanted to embrace all the beautiful jewel tones and fall favorites of the season. Whenever people asked me what my theme was I would say picture a fall festival, but with elegance – lots of rich colors, wheat, and natural textures, but also crystals, clean lines, and simplicity.
Flowers 
My bouquet consisted of a variety of ranunculus, garden roses, and spray roses; burgundy & pink astillbe, burgundy amaranthus and snapdragons, as well as eucalyptus for greenery. The boutonnieres consisted of burgundy ranunculus, astillbe, and baby's breath and eucalyptus. The bridesmaids bouquets consisted of baby's breath, burgundy snapdragons, and burgundy, pink astillbe, as well as eucalyptus for greenery.
Decoration 
Our decorations were rustic, but had elegance about them. Our bridal cake tier actually had beautiful crystals hanging from it. Everything was very personal and took a lot of time and effort to come up with the design and gathering of the right items. I could never had created our perfect day without the advice and help of our family and friends. I'm forever grateful for their generousness.
Food 
Campisi catered Italian food. For cocktail hour we served square pieces of margarita and pepperoni pizza. For dinner there was pasta with a choice of two sauces, marsala and vodka, and two choices of meats, chicken and mini meatballs. There was also tuscan salad and house bread for the sides. However, I always dreamed of eating pizza on my wedding day, which is exactly what Hogan and I did.
Desserts
We had a dessert table filled with various goodies including a few family recipes. One of the desserts was a Sand Tart cookie – a pecan butter cookie covered in powdered sugar; handed down by Hogan's Great Grandmother. Another was Heath Bars – a chocolate cracker cookie with walnut sprinkles on top; handed down by my Grandmother. And White Trash – a pretzel, walnut, almond, and Golden Gram mixture covered in white chocolate; handed down by Hogan's Grandmother. We also had a bowl of glazed almonds and a s'mores bar on the outside covered patio.
Wedding cake
Market Street catered the cakes. They prepared a two tier Italian Cream with lemon filling and cream cheese icing for the bridal cake. The Groom's cake was a simple one tier marble cake with fudge filling and chocolate buttercream icing. The top of it had adorable fondue Razorbacks dressed up as a Bride & Groom. The base had chocolate covered strawberries decorated to look like footballs.
Entertainment
ML Entertainment and Events DJ'd our wedding.
Personal touches
There were many personal touches at our wedding. Many of the decorations were borrowed family heirlooms including the doilies on the sweetheart, gift, and remembrance tables, the step stool and Edgar Allen Poe book on top of the stool, and worn create all at the foot of the sweetheart table, and the wine barrel lazy susan the bridal sat on. My Mom is crazy crafty too and actually created both shutters, the sparkles send-off frame, and the corn hole boards with two hogs on it that said hogs & kisses.
Advice for other couples
Start planning now! Don't procrastinate. You'll be so thankful to have everything done save a few small errands the week of your wedding.
Special moments 
In the race to get ready Hogan had my Dad make a special delivery with a rose and a handwritten note. It was so so sweet and really gave me a moment to just take in the love we have for each other. I also really loved surprising our parents with their gifts. Back when I first got engaged my Mom passed onto me her wedding dress and told me I could do whatever I wanted with it – and I took full advantage of that. I surprised her with pieces of her wedding dress lace framed in a beautiful white picture frame. I also created my two garters and bouquet wrap from pieces of her dress, and even sewed a piece of lace to the lining of my dress. For my Dad I bought him a patch for the back of his tie and had etched in that I will forever be his Beano (his pet name for me) and gifted him a beer glass with a beautiful inscription of how much I admire him as my Father.
Biggest surprise 
The biggest surprise for me was the rush I felt right before walking down the aisle. I have never felt more anxious in my entire life. I remember my Dad telling me to take deep slow breaths and me telling him to not let me fall. Then the music queued, my body stopped shaking, and a new feeling fell over me – crying. My Mom always told me that when the music started playing at her wedding she immediately gushed tears. I was determined to not go down the aisle crying. Once we passed the stairs and I looked up to see Hogan I knew I was in the clear. I couldn't stop smiling. I will never forget the intense mixture of emotions I felt in those 5 minutes.
Supplier Shout Outs